Fi Milligan-Rennie and Gail Robertson, the Screen Scotland Film Education team, are hosting free monthly online CLPL sessions for teachers in 2022 on a variety of topics related to film education, from classroom activities and skills to career and further education advice.
Screen Sessions will give you the opportunity to hear from experts in their respective fields as well as chat to them and get to know other teachers.
Our Screen Sessions, formally titled Tuesday Team Talks, will start back up on Tuesday, 20 September 2022. In the meantime, you can catch up on all previous sessions below.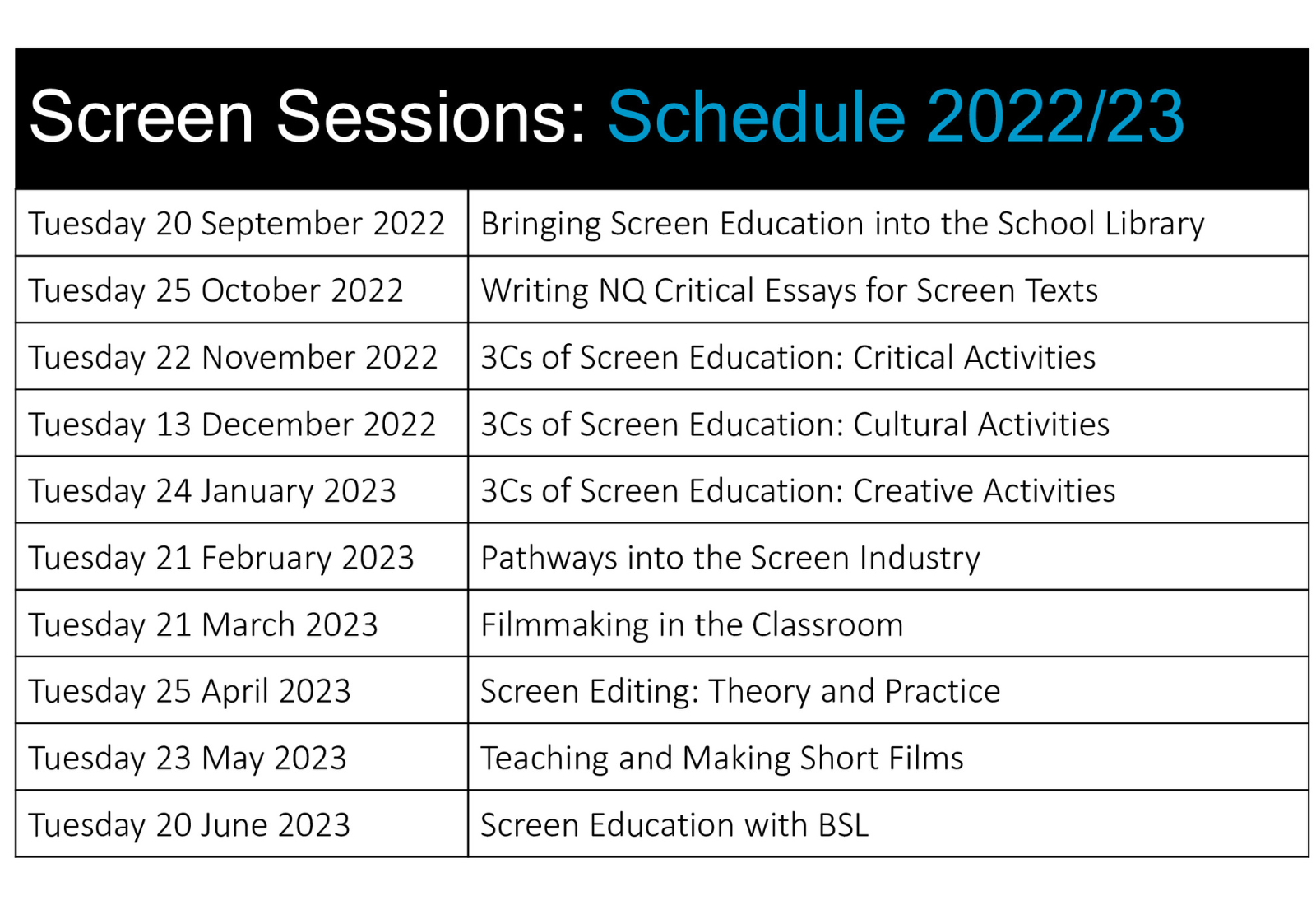 ---
Upcoming session
Screen Session: 3Cs of Screen Education - Critical Activities
Date: Tuesday 22 November 4:30pm - 5:30pm
The backbone of all screen education work is the development of critical, cultural and creative skills, taught interconnectedly – or the 3Cs. We will be running three sessions from November to January, each one focusing on a different 'C' and activities that could be used to teach it in Primary and Secondary classrooms. This month's session will be on how to approach teaching critical screen education.
Critical learning involves studying a film to learn how to identify, examine, develop, evaluate, respond, question, problem-solve and articulate. Examining a film critically also means introducing learners to screen language (mise-en-scène, camerawork, editing, sound…) as well as examining character, setting, imagery, theme, etc.
Louise Sedgewick, English/Media teacher at St Margaret's Academy in West Lothian and an Into Film ambassador, will be sharing an overview of what critical screen education looks like for both Primary and Secondary, along with a whole bunch of suggested classroom activities for you to take away and try.
There will also be an opportunity for participants to ask questions and share ideas with Louise and each other.
---
Catch up on previous sessions
Screen Sessions - Writing NQ Critical Essays for Screen Texts
Date: Tuesday 25 October

About: The Film and TV Drama option for National 5 and Higher English pupils is becoming more and more popular as educators recognise the many advantages to teaching screen texts. However, there remains a lack of confidence and resources in this area. In this follow-up to Screen Scotland's successful session in May (The Book Thief: Teaching Film for English at N5 and Higher), Screen Education Officer and ex-English and Media teacher Gail Robertson will address some key questions that arose following the May session, such as understanding structure, anticipating questions and formatting an essay, as well as where to find online resources and recommendations of texts.
---
Bringing Screen Education into the School Library
Date: Tuesday 20 September 2022

About: The school library is one of the most exciting, engaging and precious resources in any school. Pupils gain so much from the opportunities presented there, be it through timetabled classes, lunchtime clubs, study groups or simply dropping in! However, dedicated reading time in the library can be a difficult experience for those who struggle with the written word, one that could potentially cause young people to become disillusioned with libraries and miss out on all they have to offer.
How to circumnavigate this problem? Bring screen education into the library! Allowing pupils to do some filmmaking or use an online streaming service to watch short films will build their literacy skills and engage them in the world of the library without the same pressure to read a written text.
At this month's Screen Session, Moira Paton, librarian at Braes High School, Falkirk will talk about the different filmmaking and viewing ideas she's used with young people to enhance engagement, literacy and health and wellbeing. We will also share details of the screen education resources available on Screening Shorts for use in school libraries.
---
Cinema Paradiso: Cinemas and Schools
Date: 14 June, 2022

About this session: Going on a class trip to the local cinema can be the most wonderful experience for a young person, allowing them to become fully immersed in a film that they might never have considered watching in their own time. As Covid-restrictions are finally lifted, cinemas are once more in a position to welcome children and young people back into venues, and share the many incredible opportunities designed explicitly for them.
For June's Tuesday Team Talk, Screen Scotland welcome representatives from Scotland's exhibition centres who are also delivering successful education work: Duncan Harte from Film Hub Scotland, Mike Tait from Dundee Contemporary Arts Rebecca McSheaffrey from Glasgow Film Theatre Duncan talks about the many educational offers from cinemas across Scotland, while Mike and Rebecca share information about their specific work with the Discovery Film Festival and the Glasgow Film Education Alliance.
---
The Book Thief: Teaching Film for Higher and Nat 5 English
Date: Tuesday 17 May 2022: 4.30pm-5.30pm

About this session: As our idea of what constitutes literacy changes in the 21st century, teachers are more and more embracing the use of film as a text for National 5 and Higher English, but can find it challenging due to a lack of training, confidence and relevant classroom resources. To help with this, Screen Scotland are offering an online CLPL session for teachers who want to offer their pupils film as a Critical Reading text.
Our speakers in May's Tuesday Team Talk are English teachers Nicola Daniel from Broughton High School and Euan McGrouther from Alloa Academy, and Gail Robertson, Screen Scotland's Screen Education Officer. They talk about their experiences teaching film, offer advice on how you can bring this into your NQ practice and share resources.
Downloads
The Book Thief: Teaching Film for Higher and Nat 5 English – pptx opens in new window
Studying film for NQ English – pdf opens in new window
Teaching Film for Paper 2 – pdf opens in new window
---
Local Hero: Scotland on Screen and Teaching with Archive Film
Date: Tuesday 19 April 2022, 4:30pm - 5:30pm

About this session: Archive film is not only a vital and rich way to delve into history, its a fun and rewarding way to explore film and filmmaking in class. Scotland on Screen (one of Screen Scotland's suite of film education websites) contains hundreds of films to watch, talk about and use as inspiration for your own History-focused or cross-curricular projects, including making moving image essays. All films come from the National Library of Scotland's Moving Image Archive and provide a fascinating insight into 20th century Scotland.
Our speakers at this month's Tuesday Team Talk include Emily Munro, Learning and Outreach Officer for the National Library of Scotland and director of recently released archive feature Living Proof and Shane O'Sullivan, who runs the Make Film History project (part of Archives for Education). They talk about their experiences using archive film and inspire you with ways that you can bring these films into your classroom.
---
Short Cuts: The Benefits of Teaching with Short Film
Date: Tuesday 15 March 2022, 4:30-5:30pm

About this session: It has been said that short films are like poetry: intensely emotional human experiences that are dense with meaning and technique. This makes them a wonderful way to introduce screen education to classes, giving them copious amount of content to analyse in a film that only takes minutes to watch in its entirety.
We are excited and honoured to have two talented short-filmmakers presenting at this month's talk: Ainslie Henderson and Michaël Dudok de Wit. Ainslie is a BAFTA-winning writer, director and animator whose stop-motion shorts 'I Am Tom Moody' and 'Monkey Love Experiments' have won over 60 international festival awards. Michaël is a Dutch animator, director and illustrator who won an Academy Award for Best Animated Short Film for 'Father and Daughter' (2000) and was nominated for an Academy Award for Best Animated Feature for 'The Red Turtle' in 2016.
He has also made animation contributions to film and television productions including Disney's 'Beauty and the Beast' (1992) and 'Fantasia 2000' (2000).
Both Ainslie and Michael have films on our website Screening Shorts and we do encourage you to watch 'Stems', 'I Am Tom Moody', 'Monkey Love Experiments', 'Tom Sweep', 'The Monk and the Fish' and 'Father and Daughter' before the session.
Downloads
The Benefits of Teaching with Short Film – Powerpoint Presentation
---
Lost in Translation: Using Film in the Modern Languages Classroom
Date: Tuesday 18 January 2022

About this session: When we watch films in languages other than our native tongue, not only are exposed to incredible cinema, we also learn more about other cultures and celebrate other languages. As Languages Week Scotland 2022 approaches (31 Jan – 4 Feb 2022) we at Screen Scotland wanted to take the opportunity to explore the ways in which film viewing, film analysis and filmmaking can enhance the teaching of Modern Languages in both the Primary and Secondary classroom.
In this month's Tuesday Team Talk, four speakers will share their experiences in combining Film Education with Modern Languages:
Ciara Gibson, teacher at Grandtully Primary School, Perth & Kinross
Sophie Clarke, teacher at Simpsons Primary School, West Lothian
Ann Robertson, independent languages consultant, Our World multilingual film making competition by Scottish European Education Trust (SEET)
Lynne Jones, Professional Development Officer for SCILT (Scotland's National Centre for Languages).
---
Toy Story: Play Pedagogy and Film for Primary Teachers
Date: Tuesday 14 December 2021

About this session: This Tuesday Team Talk, hosted by Screen Scotland's Film Education Team, features a trio of speakers – filmmaker and educator Sandie Jamieson, and Primary teachers Jennifer Lilley and Anne-Mharie Pollock – who will share their experiences of integrating film education with play pedagogy and suggest ideas that you can take into the classroom with you straight away.
Downloads
Play in films and filmmaking – PDF
Play Pedagogy and Film for Primary Teachers – Powerpoint Presentation
---
Tuesday Team Talks: Introduction to teaching film using critical, cultural and creative approaches
Date: Tuesday 16 November 2021

About this session: In this Tuesday Team Talk , Screen Scotland's Film Education Team, Scott Donaldson and Gail Robertson, will be joined by Mark Reid, Head of Education at the British Film Institute's BFI Southbank cinemas. Mark will outline where the 3Cs came from and why they're important; Scott and Gail will illustrate the '3Cs' approach with two short films from our website Screening Shorts, outlining activities you can develop using each film
This session is ideal for teachers new to film education, but also for more experienced teachers looking for some new inspiration.
---
Step Up: University and College Courses in Film and Television
Date: 19 October 2021

About this session: In this Tuesday Team Talk, Screen Scotland welcomes speakers from four prominent Higher Education institutes with excellent courses in film study (Edinburgh Napier University, University of Stirling, University of Edinburgh and the University of the West of Scotland) who talk about the many opportunities that exist within their own and other universities and colleges, especially in Scotland but also elsewhere in the UK.
Downloads
Step Up: University and College Courses in Film and Television – PowerPoint Presentation
Screen Scotland Step Up Production - Dario Sinforiani
---
The Producers: Basic Filmmaking across the curriculum and film competitions
Date: 21 September, 2021

About this session: Filmmaking with a group of pupils can be one of the most exciting and rewarding classroom activities for all involved, but it can seem like a daunting and overwhelming process, particularly for those picking up the clapperboard for the first time. Three experienced filmmakers and film educators will speak about classroom approaches to filmmaking in different forms: documentary, fiction film and animation. They will show you how filmmaking can enhance the study of a variety of subjects at all levels, from Primary 1 to S6.
Downloads
The Producers - Basic Filmmaking Across the Curriculum – PowerPoint Presentation
---
Contacts
If you have any questions, please get in touch with:
Head of Film Education, Scott Donalson: [email protected]
Film Education Officer, Gail Robertson: [email protected]