Scott Donaldson and Gail Robertson, the Screen Scotland Film Education team, will be hosting free monthly online CLPL sessions for teachers this year on a variety of topics related to film education, from classroom activities and skills to career and further education advice.
Tuesday Team Talks will give you the opportunity to hear from experts in their respective fields as well as chat to them and get to know other teachers.
Here is the full schedule of planned events: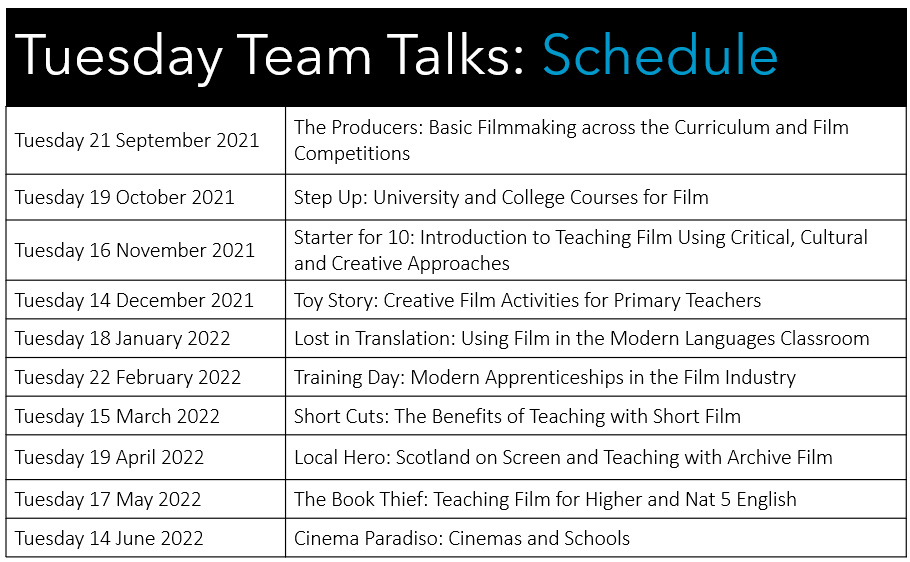 ---
Upcoming sessions
The Producers: Basic Filmmaking across the Curriculum and Film Competitions
Date: Tuesday 21 September 2021, 4.30pm – 5.30pm
Filmmaking with a group of pupils can be one of the most exciting and rewarding classroom activities for all involved, but it can seem like a daunting and overwhelming process, particularly for those picking up the clapperboard for the first time.
Three experienced filmmakers and film educators will speak about classroom approaches to filmmaking in different forms: documentary, fiction film and animation. They will show you how filmmaking can enhance the study of a variety of subjects at all levels, from Primary 1 to S6.
This session's speakers include:
Jonathan Charles of D Fie Foe will demonstrate a basic classroom animation set-up, and introduce the fundamentals of animation.
Yasmin Al-Hadithi is a Glasgow-based artist, filmmaker and film education practitioner. She is co-counder of DOCMAdocs, a global platform for the playful exploration of different documentary filmmaking styles. Yasmin will be introducing you to some simple approaches you can use to explore topics with your class through the use of fun, creative documentary films.
Alasdair Satchel is a film and theatre maker based on the Isle of Mull. His session will be looking at shot types and how we can create visual stories from very simple means.
---
Contacts
If you have any questions, please get in touch with:
Head of Film Education, Scott Donalson: [email protected]
Film Education Officer, Gail Robertson: [email protected]