Scott Donaldson and Gail Robertson, the Screen Scotland Film Education team, will be hosting free monthly online CLPL sessions for teachers this year on a variety of topics related to film education, from classroom activities and skills to career and further education advice.
Tuesday Team Talks will give you the opportunity to hear from experts in their respective fields as well as chat to them and get to know other teachers.
Here is the full schedule of planned events: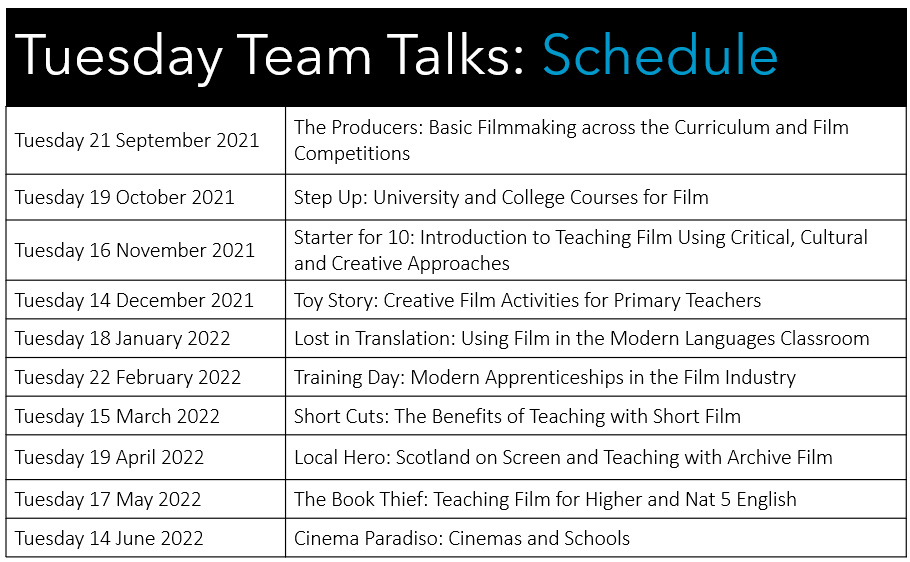 ---
Upcoming sessions
Starter for 10: Introduction to Teaching Film Using Critical, Cultural and Creative Approaches
Tuesday 16 November 2021 | 4.30pm to 5.30pm
Teaching film is a wonderful way to engage your classes and bring your subject to life in a new way, but can be daunting when it's not been part of your teaching approach until now. The '3Cs' approach - Critical, Cultural and Creative - can help to break film learning down into easy chunks so you can plan a pathway that suits your style, subject and level.
In November's Tuesday Team Talk, Screen Scotland's Film Education Team, Scott Donaldson and Gail Robertson, will be joined by Mark Reid, Head of Education at the British Film Institute's BFI Southbank cinemas. Mark will outline where the 3Cs came from and why they're important; Scott and Gail will illustrate the '3Cs' approach with two short films from our website Screening Shorts, outlining activities you can develop using each film.
This session is ideal for teachers new to film education, but also for more experienced teachers looking for some new inspiration.
Sign up now: https://rsvp.theworldsbest.events/_m13no
---
Catch up on previous sessions
The Producers: Basic Filmmaking across the curriculum and film competitions
Date: 21 September, 2021

About this session: Filmmaking with a group of pupils can be one of the most exciting and rewarding classroom activities for all involved, but it can seem like a daunting and overwhelming process, particularly for those picking up the clapperboard for the first time. Three experienced filmmakers and film educators will speak about classroom approaches to filmmaking in different forms: documentary, fiction film and animation. They will show you how filmmaking can enhance the study of a variety of subjects at all levels, from Primary 1 to S6.
Downloads
The Producers - Basic Filmmaking Across the Curriculum – PowerPoint Presentation
---
Step Up: University and College Courses in Film and Television
Date: 19 October 2021

About this session: In this Tuesday Team Talk, Screen Scotland welcomes speakers from four prominent Higher Education institutes with excellent courses in film study (Edinburgh Napier University, University of Stirling, University of Edinburgh and the University of the West of Scotland) who talk about the many opportunities that exist within their own and other universities and colleges, especially in Scotland but also elsewhere in the UK.
Downloads
Step Up: University and College Courses in Film and Television – PowerPoint Presentation
Screen Scotland Step Up Production - Dario Sinforiani
---
Contacts
If you have any questions, please get in touch with:
Head of Film Education, Scott Donalson: [email protected]
Film Education Officer, Gail Robertson: [email protected]