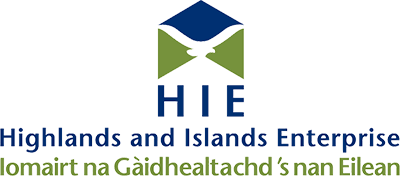 Highlands and Islands Enterprise (HIE) is an ambitious organisation with a unique remit from the Scottish Government that integrates economic and community development. We work in a diverse region which extends from Shetland to Argyll, and from the Outer Hebrides to Moray, covering more than half of Scotland's land mass.
We want the Highlands and Islands to be a highly successful and competitive region in which increasing numbers of people choose to live, work, study and invest.
The region's natural assets, ambition, skills base and cultural background means that Creative Industries is uniquely positioned to make enormous changes to the economy and life of the Highlands and Islands. This is a global sector, with a wide range of economic and social benefits, and our ambition is to maximise these. Working with the sector we support emerging and established creative entrepreneurs to build dynamic, innovative, sustainable and competitive creative businesses. Our support for this sector, which is characterised by small enterprises recognises its breadth, including music, screen and broadcast, writing and publishing, crafts, textiles and designer fashion, design, and digital media.
Creative entrepreneurs and businesses in the Highlands and Islands can access a wide range of support, including bespoke specialist screen support, ranging from advice or mentoring, access to finance, or direct support developing new products and business models, or identifying and accessing new markets.
We will also support communities to realise the commercial potential of creative and cultural activities, and, working with partners, seek to maximise the benefits from investments in facilities such as Mareel in Shetland, and the Creative Industries and Media Centre in Stornoway.
Our delivery mechanism for specialist support is XpoNorth. Details of the support, enquiry forms or if you would like to sign up for our newsletter outlining new opportunities, funding rounds, trade events and what we are doing to support the sector, please go to www.xponorth.co.uk
---
Creative Industries team contacts
Iain Hamilton, Head of Creative Industries: [email protected]
Jeni Oliver, Creative Industries Manager: [email protected]
Iranzu Galdeano, Project Co-ordinator - Leadership and Creative Industries: [email protected]
An Lòchran
10 Inverness Campus
Inverness
IV2 5NA
Scotland
Tel: +44 (0) 1463 245 245
Email: [email protected]
---
Key Links
See a summary of the business support that HIE can provide.
XpoNorth's Sector Support Programmes are delivered by a range of passionate sector specialists with extensive experience producing support programmes for creative businesses across the Highlands and Islands.
Read about all of HIE's Growth Sectors.
---