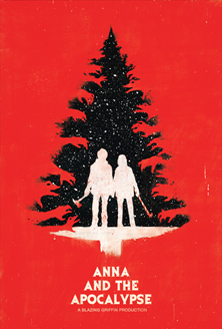 Director: John McPhail
Screenplay: Ryan McHenry, Alan McDonald
Starring: Ella Hunt, Mark Benton, Paul Kaye, Malcolm Cumming, Sarah Swire, Christopher Leveaux, Ben Wiggins and Marli Siu.
UK release date: 30 November 2018
---
Synopsis
Teaming up with her best friend John, Anna and her crew fight their way through zombified snowmen, a manic bachelor party and high school hormones to try and save family and faculty alike.
But they soon discover that no one is safe in this new world, and the only people they can truly rely on are each other.
Produced by Naysun Alae-Carew and Nicholas Crum of Blazing Griffin and Tracy Jarvis of Parkhouse Pictures, Anna and the Apocalypse is based on the 2010 BAFTA winning short film Zombie Musical; directed by John McPhail (Where Do We Go From Here); written by Alan McDonald and the late Ryan McHenry; with original music by Roddy Hart and Tommy Reilly.
Shot on location in Scotland, the musical comedy stars Ella Hunt (Our Robot Overlords) as Anna, with Mark Benton (The Halcyon) as her father Tony and Paul Kaye (Game of Thrones) as the wicked antagonist Savage. The cast also includes emerging stars Malcolm Cumming, Sarah Swire, Christopher Leveaux, Ben Wiggins and Marli Siu.
---
Anna and the Apocalypse was supported by the National Lottery through Creative Scotland's Targeted Screen Fund. It is Blazing Griffin Pictures' first feature length film. AMP International is handling international sales and XYZ Films represents the North American market.
Pulling off the impossible...
"I am so proud of what we have managed to achieve with Anna and the Apocalypse. Taking on such a mix of genres – musical, comedy, horror, action – all in the one film, was a pretty daunting task but I was lucky to have an amazingly talented team around me to pull off the impossible"
John McPhail
Director
Behind the scenes
Come with us to Rudolph's Christmas Tree Emporium where we go behind the scenes of Anna and the Apocalypse with producer Naysun Alae-Carew...