Lead image: Alchemy's artist-in-residence, Natasha Thembiso Ruwona.
---
Building on the success of Alchemy Live 2020, which attracted a world-wide audience of over 15,000 people, the 11th annual Alchemy Film and Moving Image Festival will also go ahead as a digital event. Running from 29 April – 3 May 2021, Alchemy 11 will feature over 170 films and artworks, including over 100 Premieres. It will showcase works by some of the world's leading exponents of film and the moving image and give a platform to Borders-based artists, as well as local groups who have worked with Film Town, Alchemy's community filmmaking project. All video content will be captioned for d/Deaf audiences, with a selection of the programme also available with audio description for blind and partially sighted audiences.
Alchemy 11 opens with a keynote address by the leading historian, journalist and political commentator, Vijay Prashad and an afternoon-long discussion event delivered in context of history repeating itself which will be presented in partnership with Stuart Croft Foundation. The opening day culminates in a live screening and performance on the Scottish Black Atlantic by Alchemy's artist-in-residence, Natasha Thembiso Ruwona.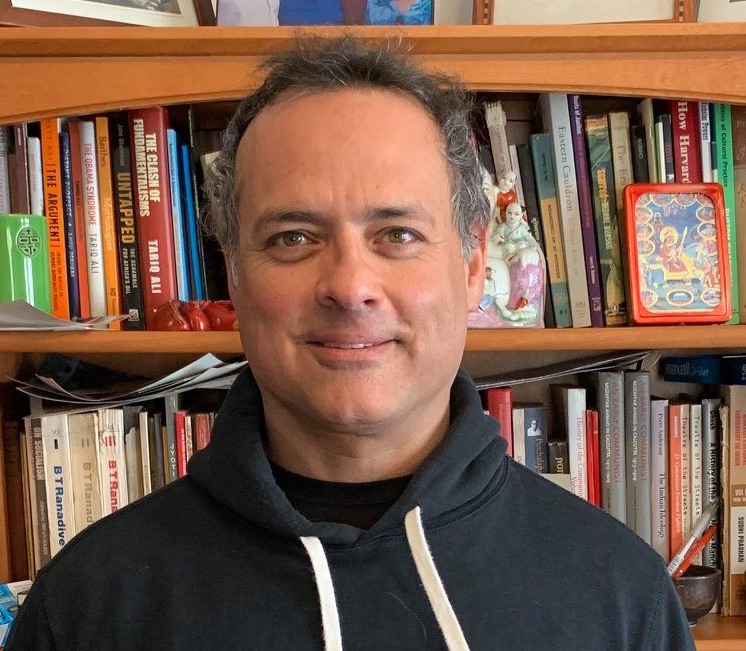 Keynote speaker Vijay Prashad
Over the following days work by artists and filmmakers from four continents will be presented in a series of free to view events. There will be a programme of shorts on the intersection of race and environment curated by Greg de Cuir (USA/Serbia); a live screening of Emma Wolukau-Wanambwa's Promised Lands with a new, contextual talk by artist; a new feature by Karel Doing; and the World Premiere of a new documentary about Bill Douglas and Charlie Chaplin (by Edinburgh-based Louise Milne and Seán Martin).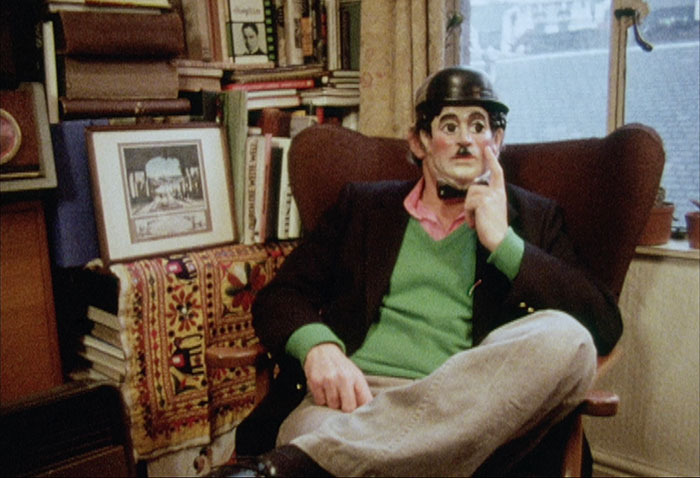 A still from Charlie Chaplin Lived Here (LouiseMilne and SeánMartin)
Running alongside the timetabled screenings will be a series of pieces presented under the Focus banner which will be available to view-on-demand throughout the festival. Artists featured in the Focus strand include Baff Akoto (Ghana/UK), Dagie Brundert (Germany), Emily Jacir (Palestine/USA), Richard Fung (Trinidad/China/Canada), belit sağ (Turkey/Netherlands), and Borders- and D&G-based artists Jason Moyes, Mark Lyken, poet Jules Horne, photographer Douglas McBride, visual artist Sukjin Kim.
An exhibition programme featuring works by Aminder Virdee and Sweætshops® will be presented in a specially curated zone of the Alchemy website, and six new text and image-based pieces have also been specially-commissioned for the festival from Jade Montserrat, Jamie Crewe, Ania Bas, Cinzia Mutigli, Kaiya Waerea, and Harry Josephine Giles.
Over the last two years Alchemy Film & Arts has been leading a programme of community projects through its Film Town programme. In Alchemy 11 a special platform will be given to the work created through the initiative. A programme of shorts curated by young people in the Scottish Borders under Alchemy's New Programmers mentorship scheme will be premiered as will a piece by Borders Additional Needs Group's Branching Out.
Pre-recorded introductions and supplementary materials for the programme, together with live Q&As and other points of participation, will also be available across social media channels.
"In 2020 we had to respond quickly to the reality of the first Covid lockdown presenting our 10th anniversary festival online, and we were delighted to welcome our largest ever audience. Faced with the same challenge this year we're giving the care and attention to curation and community that we always do, and can't wait to showcase the best international experimental films alongside new work made by Scottish Borders-based artists and community groups.
"This year's festival presents the widest range of artists to date. We are pleased to present a live performance from Natasha Thembiso Ruwona, one of our current artists in residence, and Vijay Prashad, who will give both the opening and closing keynote addresses. We're also delighted to have captioned all films for d/Deaf audiences, and a selection of the programme is available with audio description for blind and partially sighted audiences.
"Our aspiration to make Hawick Scotland's film town continues both through our annual festival, which is attracting a growing international audience, and also through our many local community projects. I am delighted to screen a programme curated by young people who were mentored through our New Programmers scheme as well as a new short film by Borders Additional Needs Group's Branching Out."
"Screen Scotland is a proud supporter of the Alchemy Film and Moving Image Festival and its mission to platform and showcase brilliant, absorbing experimental work by Scottish artists - including those local to the festival's home in The Borders - and from artists around the world," says Sambrooke Scott, Head of Audience Development at Screen Scotland.
"In 2020 the team managed the impossible; to move their distinctive festival online in a matter of weeks and deliver an authentic version of their in-person work that resonated and connected with audiences near and far. This year's festival will build on the learning and feedback from the 2020 edition and promises to be a rich and transportive experience, whether you're dipping in or immersing yourself fully."
To see the full Alchemy 11 programme visit: alchemyfilmandarts.org.uk
Background
Alchemy Film & Arts is supported by Screen Scotland, Esme Fairbairn Foundation, The Robertson Trust, Scottish Borders Council and Live Borders.
Alchemy Film & Arts receives RFO support from Creative Scotland.
Screen Scotland is the dedicated partnership for screen in Scotland. With funding from Scottish Government and the National Lottery, Screen Scotland is driving the cultural, social and economic development of all aspects of the sector in Scotland, through enhanced funding, services and support. Screen Scotland sits within Creative Scotland and is a partnership with Scottish Enterprise, Highlands and Islands Enterprise, Skills Development Scotland, Scottish Funding Council, working in close collaboration with the sector to ensure its success. Find out more at screen.scot and follow us on Twitter and Instagram.
Media Contact
For further information, images and interviews contact:
Lesley Booth, 07799414474 / [email protected]