Pact has today launched its third Scottish Indie Diversity Scheme, having been delayed for a year by the pandemic. Ten young people from diverse backgrounds will undergo six-month paid work placements with nine Scottish independent production companies: STV Studios, Synchronicity Films, Raise the Roof Productions, Objective Media Group Scotland, Tern TV, IWC Media, Firecrest Films, Beezr Studios, Firecracker (Tinopolis).
Screen Scotland continue to support this year's Scottish Scheme with additional funding, which allows smaller independent production companies to take part, and to help nurture a diverse pool of talent in Scottish TV production.
Young people's employment has been particularly affected by the pandemic, with recent ONS statistics showing that nearly two thirds of people who lost their job during the pandemic were under 25. In film and TV, concerns were raised early on that the gains made in making the sector more inclusive might be slowed by the negative impact of the pandemic.
Pact's six-month initiative brings new talent into the industry, targeting young people from diverse backgrounds currently under-represented in TV (BAME, LGBT, women, people living with disability and people from lower socio-economic groups). It provides them with their first paid opportunity in the TV industry, as well as training and mentorship to help ensure they can sustain a career in the industry well beyond the Scheme.
The aim is to ensure that all participants gain a better understanding of how the TV industry works and what role they might want to pursue within it. By the end of their placements, they will have started to make meaningful industry connections, and have developed some of the skills needed to thrive in a professional environment.
Following their placements, alumni are supported by the Pact Next Level initiative, designed to give access to jobs, training and ongoing mentoring to help to keep our trainees in the industry beyond the six months of the Scheme.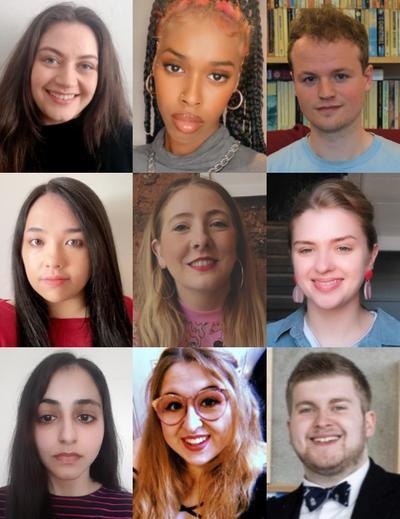 Nine of the selected participants of Pact's Scottish Indie Diversity Scheme
Commenting on the launch of the Scheme, Pact CEO John McVay said: "With broadcasters building on their commitments to shift focus to the Nations and Regions, we need to continue to ensure the production talent base is developing across the UK. I'm delighted that we're running our established and successful Scheme in Scotland again, which will give the participants the vital skills they need to forge a career in production."
Pact's Head of Diversity, Anjani Patel, said: "As we emerge from the pandemic it is now more vital than ever to continue to support new entrants from under represented backgrounds and we're pleased that despite the economic impact of the pandemic, so many of our members in Scotland are able to commit to the Scheme."
Isabel Davis, Executive Director, Screen Scotland said: "The Scottish Indie Diversity Scheme has never been more vital than it is today, as the effects of the pandemic are still keenly felt. The young people participating are taking invaluable steps in their individual careers as we look to a brighter future, with opportunities to be part of a vibrant Scottish TV production sector that is more truly diverse as we work together to remove barriers.
"Screen Scotland's expanded support for the scheme which means that placements will also now take place at smaller independent production companies, provides invaluable new learning experiences which reflect the wider, multi-faceted picture of Scottish TV production."
Claire Mundell, Creative Director and Founder of Synchronicity Films said: "We are delighted to take part in this year's Pact Indie Diversity Scheme in Scotland. We're living through a period of unparalleled opportunity for scripted production and if Scotland is to continue to compete, both commercially and culturally, it's more important than ever that we support and train the next generation of diverse and under represented talent in the most inclusive way."
Paul Sheehan, Chief Operating Officer of STV Studios added: "STV Studios are delighted to be once again taking part in Pact's scheme to support the development of diverse talent in Scotland. Whilst COVID has and continues to create innumerable challenges for production, it's vital that we continue to support talent development, especially engaging with under represented communities to ensure the diversity of our talent base for future generations of production staff."
Background
Pact is the is the trade association representing the commercial interests of UK independent television, film, digital, children's and animation media companies. For more information, visit www.pact.co.uk.
Screen Scotland is the dedicated partnership for screen in Scotland. With funding from Scottish Government and the National Lottery, Screen Scotland is driving the cultural, social and economic development of all aspects of the sector in Scotland, through enhanced funding, services and support. Screen Scotland sits within Creative Scotland and is a partnership with Scottish Enterprise, Highlands and Islands Enterprise, Skills Development Scotland, Scottish Funding Council, working in close collaboration with the sector to ensure its success. Find out more at screen.scot and follow us on Twitter and Instagram.
Media Contact
For more information about the scheme, please contact Anjani Patel, [email protected] / 07880 357528.