Little Pictures nurtures new talent to make their first funded film in fiction, documentary, animation or experimental genres. Little Pictures encourages new filmmakers to develop their voice, take creative risks and will help to kick start and develop film talent from across Scotland. Little Pictures is also committed to 50% of the commissions by women.
Little Pictures is funded by the National Lottery and the Scottish Government through Screen Scotland and run by GMAC Film. Up to 8 short films of 15 minutes or less and of all forms will be commissioned in July 2021 and will be developed through training workshops and mentorship throughout the scheme with up to £2,250 budget.
Filmmakers are expected to join the training workshops in August and September before they go into production. Films will be delivered by February 2022.
The applications are open till midnight, 30 June, 2021.
Little Pictures was launched in September 2020 and received around 200 applications. 8 filmmakers were funded from all genres to go through training and complete realise films in 2021.
Apply using the online application form: https://form.123formbuilder.com/5891170/form
For further information and press enquiries please contact [email protected] or call Little Pictures Project Manager Wilma Smith on 0754 094 8325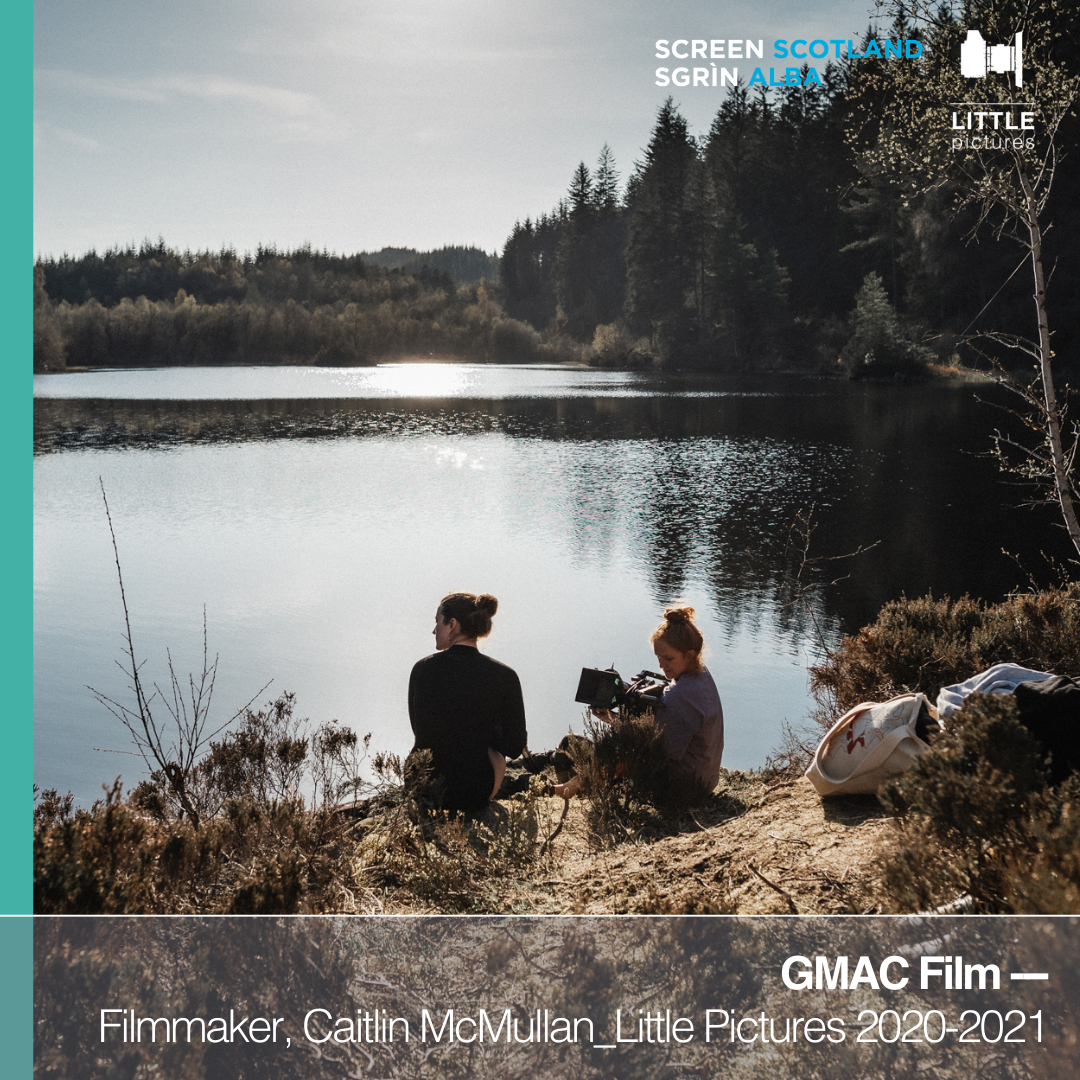 Filmmaker, Caitlin McMullan, taking part in the Little Pictures 20-21 programme. Courtesy of GMAC Film.
Paddy Higson CEO of GMAC Film said, "I am delighted that Screen Scotland has commissioned a 2nd year of Little Pictures following the huge success of the first year. It has been fantastic to see the variety and quality of the films that have been produced, and we are really looking forward to seeing what this year brings forward. I also want to thank all of the teams from 2020 for their amazing efforts in making excellent films in the midst of a pandemic – so well done to them and to our wonderful team of mentors and tutors and all of the companies who have contributed their services free of charge. We would love to be announcing the official premiere of the films, but that will have to wait until we have confirmation of a date when that can happen safely. Wilma and the Little Pictures team, as well as all at GMAC Film are truly grateful for everyone's continuing support."
Jennifer Armitage, Screen Officer at Screen Scotland said: "It is fantastic to be able to support Little Pictures for a second year. The first year of the programme reached out to aspiring filmmakers and supported them with their first film commission. The range of talent and quality of films has been impressive, and the programme has garnered support from across Scotland's screen sector. We look forward to working with GMAC again this year, and to discovering more new voices from right across Scotland."
About GMAC Film
Established as a charity in 1982, GMAC Film is an open access media centre that delivers a creative and artistic programme for all people interested in film, regardless of age, background or income. Their mission is to empower young people and adults by enabling them to acquire the skills, knowledge, confidence and resources to realise their ambitions in film or elsewhere in the creative industries. GMAC Film is a skills and talent development hub for independent filmmakers, young people and professionals working in film.
GMAC Film seeks to empower people of all ages and backgrounds to engage in projects free at the point of delivery so that low income is never a bar to taking part. As a membership organisation GMAC Film provides a welcoming, safe and inclusive environment to promote knowledge and appreciation of the creative sector and what it can do for the confidence, knowledge and ambition of those who wish to become involved in it, allowing each voice to be heard.
Full information about the history and ethos of GMAC Film please visit https://www.gmacfilm.com or find them on Twitter, Facebook and Instagram by searching @GMACFilm.
About Screen Scotland
Screen Scotland is the dedicated partnership for screen in Scotland. Sitting within Creative Scotland, it is a partnership with Scottish Enterprise, Highlands and Islands Enterprise, Skills Development Scotland, Scottish Funding Council, working in close collaboration with the sector to ensure its success. With funding from Scottish Government and The National Lottery, Screen Scotland is driving the cultural, social and economic development of all aspects of the sector in Scotland, through enhanced funding, services and support. For further information please visit: screen.scot and follow @screenscots on twitter and @screenscots on Instagram.