Glasgow Film Festival (GFF) today announces the full programme for its 2022 festival, which will run from 2 - 13 March at GFT and Cineworld Renfrew Street, as well as at partner cinemas across the UK and online. The 18th edition of the annual celebration of film will host 10 World premieres, 4 European premieres, 65 UK premieres and 13 Scottish premieres, encouraging audiences to return to the cinema and the film festival experience. GFF will also host a very exclusive preview screening of the first episode of Season 6 of STARZPLAY's worldwide smash-hit Outlander and welcome Glasgow-born creative force Armando Iannucci with a very special live 'In Conversation' event, looking back over his wide-ranging, multi-media career distinguished by his brilliant feel for character, unforgettable dialogue and razor-sharp wit.
For the first time ever, GFF will partner with cinemas across the UK to simultaneously screen some of its biggest premieres. The opening gala UK premiere of The Outfit, the closing gala UK premiere of Murina, plus a special International Women's Day gala UK premiere of Happening on 8 March, will show on big screens throughout the country, from Stornoway to Bristol via Edinburgh, Manchester, Dundee, Sheffield and London. A selection of festival highlights, including Scottish director Ruth Paxton's feature debut A Banquet and will screen both in GFT and online via the Glasgow Film At Home platform.
See the full programme now at glasgowfilm.org/festival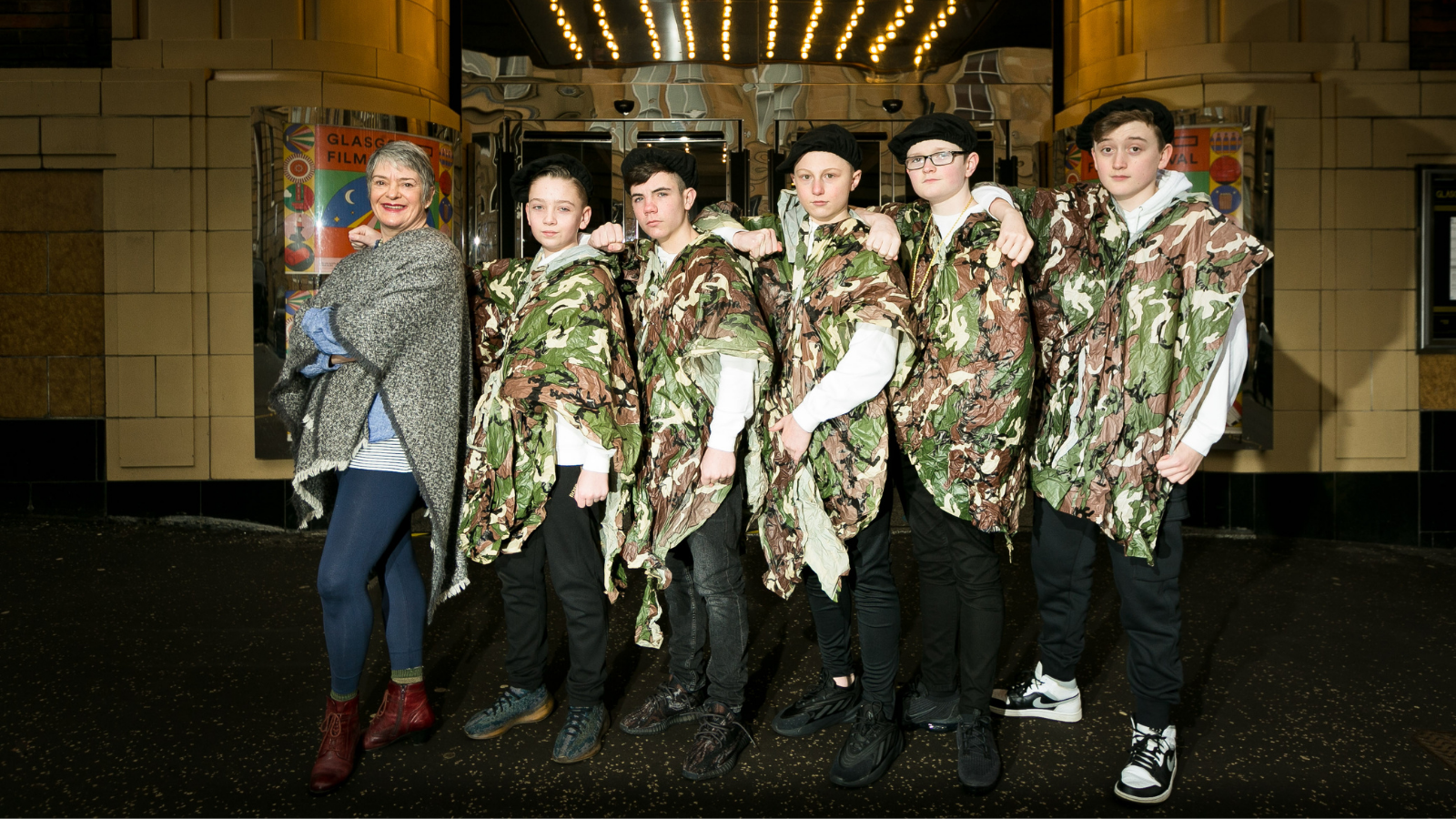 GFF co-director Allison Gardner with the young Glasgow cast from Angry Young Men, credit Eoin Carey.
Ticket Information:
Tickets for the Opening Gala (The Outfit), Closing Gala (Murina) and International Women's Day Gala (Happening) go on sale at 10am on Monday 31 January from GFT Box Office and glasgowfilm.org/festival
FrightFest passes go on sale at 10am on Tuesday 1 February from GFT Box Office and glasgowfilm.org/festival
All other screenings in the full GFF22 programme go on sale at 10am on Wednesday 2 February from GFT Box Office and glasgowfilm.org/festival
GFF is one of the leading film festivals in the UK and run by Glasgow Film, a charity which also runs Glasgow Film Theatre (GFT). GFF is made possible by support from Screen Scotland, the BFI (awarding funds from the National Lottery), Glasgow Life and EventScotland, part of VisitScotland's Events Directorate.
World, UK and Scottish Premieres
GFF is your first chance to catch a host of highly anticipated new releases on the big screen. Direct from Sundance, GFF will host the European premiere of Jono McLeod's My Old School. Starring Alan Cumming, the docudrama uncovers the real-life story of Bearsden Academy school pupil, 17-year-old Brandon Lee, who in 1995 was unmasked as 30-something former pupil, Brian MacKinnon, who returned to his old school under a new identity to retake his exams after failing medical school. MacLeod, who went to school with MacKinnon in the 1990s, uses interviews and archive footage to retrace the steps of the boy he knew as Brandon. Other European premieres include McCurry: The Pursuit of Colour, an exploration of the unforgettable, haunting images captured by renowned photojournalist Stephen McCurry; Stefan Forbes' Hold Your Fire, a riveting true crime story of a botched robbery, a murdered policeman, a media scrum and a hostage situation in 1970s Brooklyn and Shin Su-won's love letter to South Korean female film directors Hommage.
UK premieres include Audrey Diwan's timely and urgent Golden Lion Award-winning Happening; Thomas Robsahm's synth-pop-doc a-ha The Movie, charting the meteoric rise of Norway's first music superstars; Benedetta star Virginie Efira giving a magnetic performance in the Hitchcock-esque Madeleine Collins; Oscar-nominated directors Julie Cohen and Betsy West (RBG, My Name Is Pauli Murray) celebrating another extraordinary woman in Julia, a deliciously entertaining portrait of the legendary chef and television celebrity Julia Child; First time directors Maia Kenworthy and Elena Sánchez Bellot looking behind the scenes at the human dramas that fuel Extinction Rebellion's fight for the planet's survival in Rebellion and Indiwe Matshikiza's debut, One Take Grace, following the enigmatic Mothiba Grace Bapela, an actor and domestic worker as she retells the stories of her life, complete with startling visuals.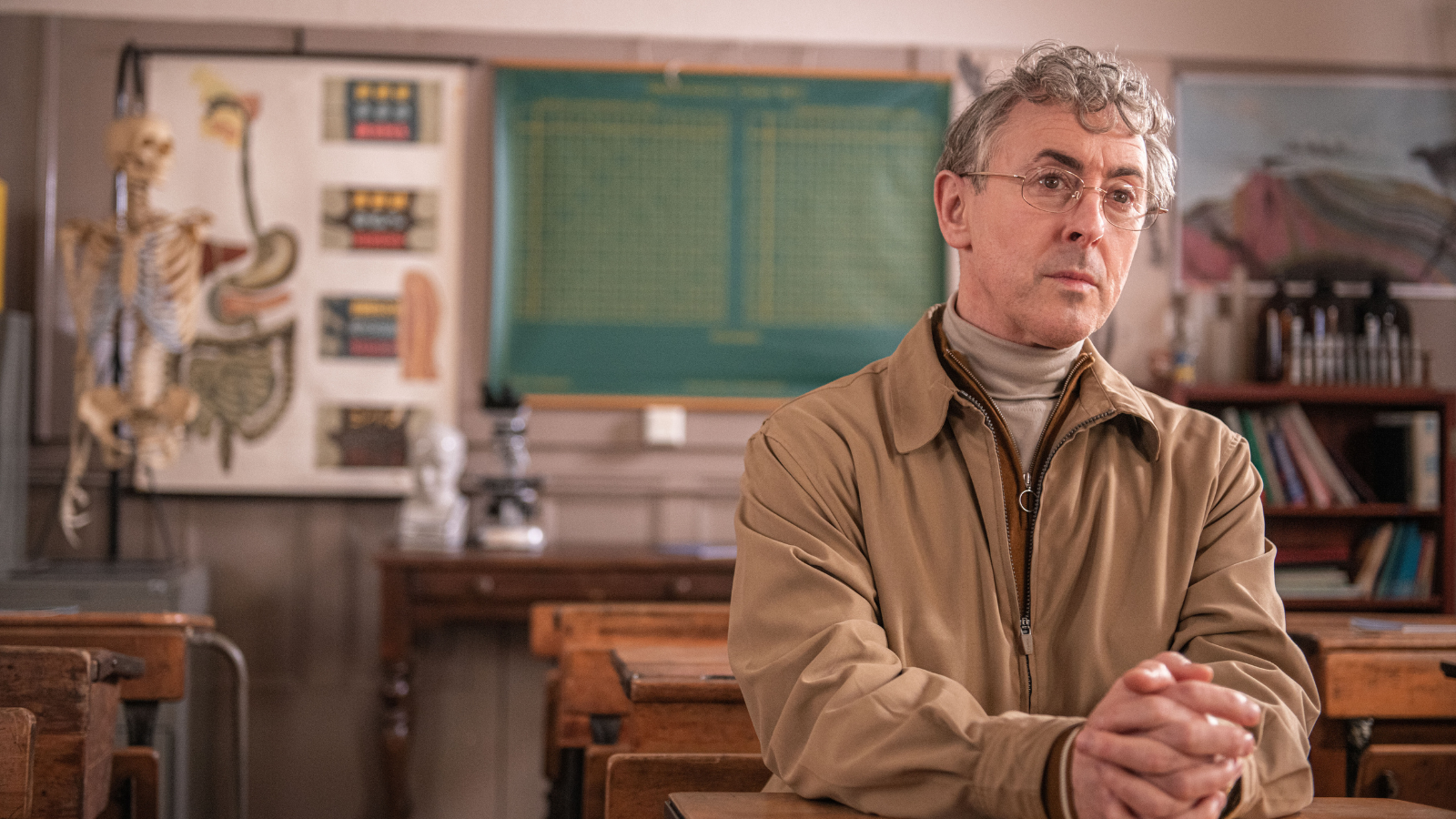 Still of Alan Cumming in My Old School.
GFF will see the first ever big screen outing of Skint, a series of powerful, heartfelt monologues commissioned for the BBC and now showing as a feature-length compendium. Skint brings together a wealth of talent on both sides of the camera, with a creative team including Peter Mullan, Jenni Fagan, Cora Bissett and Derry Girls creator Lisa McGee, to tell vivid, heartrending personal stories of living with poverty, homelessness and how it is used to define who you are. Other GFF World premieres include the freewheeling documentary Wake Up Punk from Joe Corré - the son of Malcolm McLaren and Vivienne Westwood who in 2016 burnt millions of pounds worth of punk era memorabilia in protest – who questions whether the counterculture legacy has been commodified and distorted and Doug Aubrey's hybrid feature, Legacy of an Invisible Bullet, which uses direct storytelling, technology and observational filmmaking to delve into the collapsed time universe of a cancer patient and war correspondent as he faces his demons, his archive and tries to survive.
GFF is thrilled to welcome back the double act of writer-actor-producer Jonas Chernick and writer-director-producer Jeremy LaLonde, whose James Vs. His Future Self was one of the sleeper hits of GFF20, with the World premiere of Ashgrove, a mesmerising new feature following a scientist played by Amanda Brugel (The Handmaid's Tale) as she desperately searches for a cure for the pandemic that is threatening both the world's water supply and the survival of the human race.
Some of the most talked-about films on the festival circuit will also be getting their first Scottish big screen outing at GFF22, including Benedetta, Paul Verhoeven's outrageous saga of a 17th century nun's forbidden affair with another woman, and Joachim Trier's freewheeling anti-romcom, The Worst Person In The World, starring a dazzling Renate Reinsve as woman trying to figure out her place in an unpredictable world.
Scottish Talent
Alongside My Old School, by Scottish director Jono MacLeod, GFF22 is thrilled to showcase a range of Scottish talent both behind and in front of the camera. GFF favourite Robbie Fraser (Final Ascent, Pictures From Afghanistan) reunites with legendary Scottish war photographer David Pratt in the World premiere of Pictures From Iraq, a fascinating, highly personal journey into the recent history of a war-torn land.
Young Glasgow-based filmmaker Paul Morris presents the World premiere of his micro-budget Hamilton-filmed debut feature, Angry Young Men, a riotous comedy following local young gang, 'The Bramble Boys', defending their home turf against rivals. There's the first big screen outing for Lizzie MacKenzie's documentary, The Hermit of Treig, a warm and heartfelt portrait of her friend, Ken Smith, who has spent the last four decades living off-grid in a log cabin near Loch Treig, 'the lonely loch'. Scottish director Ruth Paxton makes her long-anticipated feature debut with A Banquet, combining family psychodrama with an apocalyptic nightmare as a new widow tries to raise her teenage daughters alone. Martyn Robertson's thrillingly shot documentary Ride the Wave chronicles the 14-year-old Scottish surfing champion, Ben Larg, as he prepares to surf the one of the biggest and coldest waves on Earth, around County Sligo. Filmed in Scotland and starring a Scottish cast, Nobody Has to Know, directed by Bouli Lanners, is a touching romance that follows a stroke patient (Lanners) as he exiles himself to a remote Scottish island with amnesia. Can his ex, played by Michelle Fairley (Game of Thrones), help him piece together his memory and the secret relationship they had together?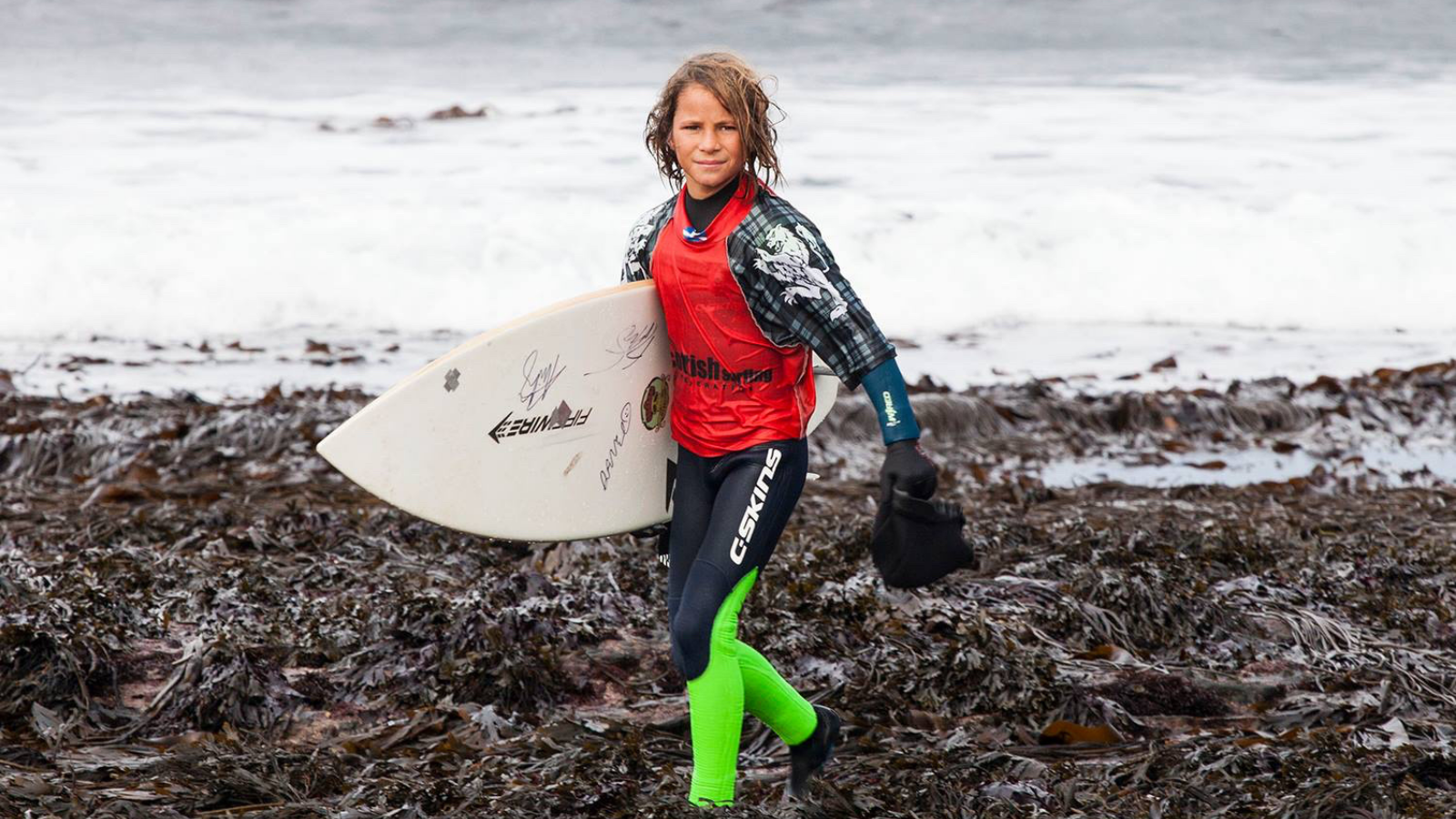 Still of Ben Larg in Ride the Wave.
Female Filmmakers
GFF22 celebrates female filmmaking talent from around the world, from brand new UK premieres to a rare retrospective of Norway's first woman director, Edith Carlmar. Erin Vassilopoulos' stylish noir thriller, Superior, makes its UK premiere at GFF22 and follows a woman on the run who hides out in her childhood home with her polar opposite, her estranged sister. Edinburgh-based filmmaker, Iciar Bollain (Yuli, Rosa's Wedding) returns to GFF with her latest film, Maixabal, which explores the idea of restorative justice when a widow comes face-to-face with the men who murdered her husband 10 years previously. Mia Hansen-Love's relationship drama, Bergman Island, will have its Scottish premiere at GFF. Filmed on Ingmar Bergman's island home, Faro, and starring Tim Roth and Vicky Krieps as filmmakers, the legendary director's presence soon makes itself known as they work on their next projects. The previously announced Edith Carlmar Retrospective celebrates the life and work of Norway's first female feature film director, who also directed the very first Norwegian film noir: her debut, Death is a Caress (1949). The programme is comprised of four films: the madcap comedy caper Fools in the Mountains (1957), which is still one of the most popular Norwegian films of all time; the illuminating portrait of addiction within a marriage, The Disappearance of a Young Wife (1953); and her candid final feature, the romantic drama, The Wayward Girl (1959) which starred Liv Ullmann in her first film role as a young woman who runs away to a remote cabin with her boyfriend, to his parents' disapproval.
Audience Award, Sponsored by Caledonian MacBrayne
Continuing with the theme of women filmmakers, the prestigious Audience Award – the only award given out at GFF and voted for by our most important guests, the festival audience – returns with seven outstanding films, six of which are directed by women. The shortlist includes Charline Bourgeois-Taquet's debut feature, the witty romantic tale, Anaïs In Love. Cecile Ducrocq's first film, Her Way, stars Laure Calamy (Call My Agent) as a sex worker doing all she can to create a better life for her son. Bertha Basholli's Hive was an award-winner at Sundance and follows the inhabitants of a village that was the site of the Krusha Massacres during the Kosovo War, and their attempts to move on without their loved ones. Set in Mexico and inspired by a true story, Teodora Mihai's gripping thriller, La Civil, explores what a parent can do to save their child after they've been kidnapped. Elie Grappe's Olga, follows up-and-coming teenage gymnast, Olga (Anastasia Budiashkina) as she leaves to train for the Olympics in Switzerland shortly before her home country begins to experience political upheaval. Exploring themes of exile and the strain put on young athletes, the film brings the personal and the political together in this tense, yet subtle drama. Mob mentality meets the supernatural in Arsalan Amiri's eerie, yet funny, Zalava, which sees townsfolk suspect a demon is nearby and find themselves caught between a local shamen, who claims to be able to exorcise the demon, and the local sergeant, who prefers a different approach. Lizzie MacKenzie's The Hermit of Treig is also nominated for the Audience Award, which is sponsored by Caledonian MacBrayne.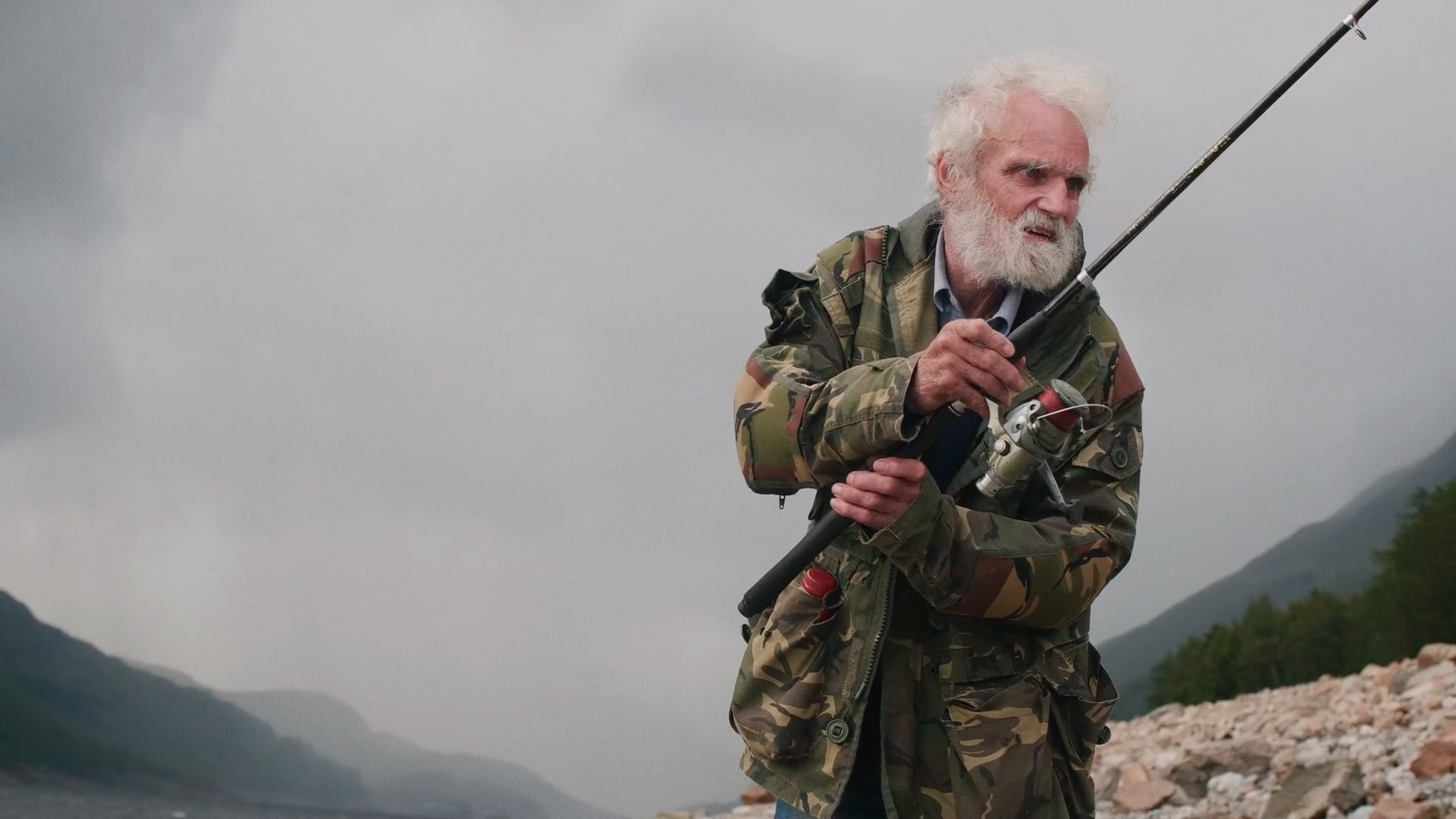 Still from The Hermit of Treig.
Arrow Video FrightFest
We're delighted to welcome back FrightFest for another weekend of thrills, chills and spills! This year's 12-strong programme features the world premiere of FrightFest veteran Chris Sivertson's (The Lost, I Know Who Killed Me) supernatural thriller, Monstrous, starring Christina Ricci as a traumatised mother fleeing with her seven-year-old son from her abusive ex-husband. However, their escape is short-lived when they realise that something else has found them. Other premieres include Sebastian Godwin's debut, the atmospheric chiller, Homebound, about an estranged father's attempt to reconnect with his children that goes dark when he realises their mother is missing and the children are acting very, very strangely; Connor McMahon's (Dead Meat, Stitches) latest, the wonderfully silly Let the Wrong One In, starring Anthony Head, combines rude humour, a Dublin vampire gang and two brothers, one human, one vampire, trying to survive it all without killing each other; Harold J. Ford's (Never Let Me Go) The Ledge, which sees a lone woman climber (Brittany Ashworth) fight to survive on a notorious mountain face as she is watched and goaded by a group of four men who killed her friend and are intent on killing her too.
African Stories
GFF22 will focus on an entire continent this year with African Stories - a collection of nine contemporary films celebrating the people, history and culture in some of the 54 countries in Africa. Robert Coe and Warwick Ross' feel-good documentary Blind Ambition follows the first Zimbabwean sommeliers to compete at the World Blind Tasting Championships in France. Nabil Ayouch's Casablanca Beats is a joyous salute to the power of music to transform lives in Morocco, while the feature documentary, Once Upon A Time in Uganda, directed by Cathryne Czubek and Hugo Perez, charts Isaac Nabwana's very impressive mission to create an action movie industry in Uganda. Pete Murimi's I Am Samuel follows young gay Kenyan couple Samuel and Alex as they commit to each other despite the danger and hardship they face. Elsewhere, Sabizanga, Sarah Maldoror's film adaptation of José Laundino Vieira's formerly banned anti-colonialist novel, gives a glimpse into life in Angola before the revolution in the 1970s. Khadar Ayderus Ahmed's multi award-winning Djibouti-set The Gravedigger's Wife is a touching portrait of a man trying to raise money for his wife's life-saving surgery.
Winds of Change: Cinema in '62
Another previously announced strand is our ever-popular free morning screenings of cinema's best cult classics and modern masterpieces, and this year, we're focussing on films released in 1962. An incredible year for cinema, some of the films on the programme include Cape Fear, Dr. No, Lonely Are the Brave, The Manchurian Candidate, The Man Who Shot Liberty Valance and To Kill a Mockingbird.
Comments
GFF Co-director Allan Hunter said: 'Welcoming audiences old and new to the 2022 Glasgow Film Festival is a source of great joy and not a little relief. I think we have all missed that sense of community and discovery you experience at a festival. The team have watched more films than ever to compile a programme rich in its diversity and wonders. There are so many great films to recommend from around the world and I am especially excited by the abundance of Scottish stories and productions that showcase the country's many shining talents. I can't wait for people to pick their own favourites.'
GFF Co-director Allison Gardner said: 'I can't begin to describe our joy at being able to have our loyal, committed and fun audiences back to the festival. We have all undergone different and difficult times over the last two years and nothing helps us to heal and connect like film. Having audiences in both our festival venues and our partner cinemas across the UK is a source of joy. The team have worked incredibly hard to pull together a unique and wonderful programme to enjoy.'
Sambrooke Scott, Head of Audience Development at Screen Scotland, said: 'We're thrilled that 2022 marks Glasgow Film Festival's return to the big screens of the city, giving audiences the opportunity to experience a rich programme of new films and classic cinema from Scotland, the UK and beyond. It's a festival that celebrates creativity and community, one that feels both local and global at the same time. Congratulations to the team on putting together a programme that exemplifies this spirit.'
Media Contacts:
Scottish and visiting press:
Ruth Marsh
[email protected]
07824 468 396
Amy Taylor
[email protected]
07843 096 365
UK and international press:
Zoe Flower
[email protected]
07734 254 362
Header image: GFF co-director Allison Gardner. All images courtesy of GFF.
---
Background
Glasgow Film Festival (GFF) is firmly established as a key event in the UK's cultural calendar. Launched in 2005, GFF has grown greatly in significance and is now a key launching pad for films and one of the top film festivals in the UK. GFF continues to grow and develop its international reputation. Held annually, it presents a unique programme of feature film premieres, special events, live and interactive experiences, and an Industry Focus programme for filmmakers at every stage of their career.
GFF was named Outstanding Festival of the Year at The Herald Scottish Culture Awards in 2019; GFF 2020 achieved more than 43,000 admissions; and in 2021, when the festival moved online due to the pandemic lockdown, GFF had a UK-wide audience of more than 41,000. The 2022 festival will take place from 2 to 13 March 2022.
Previous GFF guests include Richard Gere, Alan Rickman, John C Reilly, Saoirse Ronan, George MacKay, Richard Dreyfuss, Karen Gillan, Jessie Buckley, Sir Michael Palin, Josh O'Connor, Jonathan Glazer, Richard Johnson, Gemma Arterton, Ben Wheatley, David Tennant, Cliff Curtis, David Robert Mitchell, Carol Morley, Gemma Jones, Jason Priestley, Neil Jordan, agnés b., Armando Iannucci, Jack O'Connell, Dexter Fletcher, Peter Mullan, George Sluizier, Peter Capaldi, Ty West, Richard Ayoade, David Dastmalchian, Eli Roth and Jean-Pierre Jeunet. www.glasgowfilm.org/festival
Glasgow Film Festival would like to thank its partners:
Screen Scotland
Screen Scotland is driving the cultural, social and economic development of all aspects of Scotland's film and tv industry through enhanced funding, services and support with backing from Scottish Government and The National Lottery. Screen Scotland sits within Creative Scotland and works in partnership with Scottish Enterprise, Highlands and Islands Enterprise, Skills Development Scotland, Scottish Funding Council to ensure the sector's continued growth. screen.scot / Twitter / Instagram. Learn more about the value of art and creativity in Scotland at www.ourcreativevoice.scot
The BFI
The BFI Audience Fund invests £5.6m of National Lottery funding each year to expand access and encourage greater enjoyment of cinema by connecting audiences with great films - in venues, at events and online. We do this by supporting:
leading exhibition organisations, including film festivals, to deliver culturally rich and nationally significant programmes and events on a year round basis
projects which help exhibitors and distributors bring the best of UK and international cinema to audiences across the UK through events, distribution releases, multiplatform distribution proposals, touring film programmes and more
initiatives that address under-representation and are innovating audience development
The BFI is the UK's lead organisation for film, television and the moving image. It is a distributor of National Lottery funding and a cultural charity that:
Curates and presents the greatest international public programme of world cinema for audiences; in cinemas, at festivals and online
Cares for the BFI National Archive – the most significant film and television archive in the world
Actively seeks out and supports the next generation of filmmakers
Works with Government and industry to make the UK the most creatively exciting and prosperous place to make film internationally
Founded in 1933, the BFI is a registered charity governed by Royal Charter. The Interim Chair of the BFI Board of Governors is Pat Butler.
Glasgow Life
Glasgow Life is an independent charity which provides culture and sport services to citizens and visitors to Glasgow on behalf of Glasgow City Council. In 2019/20, more than 18m attendances were recorded across our venues, events and festivals.
For more information on the work we do in Glasgow and how you can support it please visit www.glasgowlife.org.uk
EventScotland
EventScotland is the national events agency. EventScotland is working to make Scotland the perfect stage for events. By developing an exciting portfolio of sporting and cultural events EventScotland is helping to raise Scotland's international profile and boost the economy by attracting more visitors. For further information about EventScotland, its funding programmes and latest event news visit www.EventScotland.org. Follow EventScotland on Twitter @EventScotNews. EventScotland is a team within VisitScotland's Events Directorate, the national tourism organisation which markets Scotland as a tourism destination across the world, gives support to the tourism industry and brings sustainable tourism growth to Scotland. For more information about VisitScotland see www.visitscotland.org