Award-winning production company Synchronicity Films (The Cry, Only You, The Party's Just Beginning), Mr. B Films and Wild Sheep have attracted new financiers for writer/ director Rodger Griffiths' feature debut KILL.
Library Pictures International (Library) and Great Point Media have now boarded the film alongside Screen Scotland.
KILL, which was developed with support from Screen Scotland and Northern Ireland Screen, is Griffith's first feature film, co-written by Rob Drummond and produced by Synchronicity's Claire Mundell and Mr. B's Lee Brazier, alongside executive producer Erik Barmack of Wild Sheep, David Taghioff from Library and Great Point's Jim Reeve.
CAA Media Finance is handling worldwide sales for the film, which starts principal photography on 6 June and stars Brian Vernel (Gangs of London, Dunkirk, Star Wars: Episode VII - The Force Awakens); Daniel Portman (Game of Thrones, Vigil), Calum Ross and Paul Higgins (Couple in a Hole, Slow Horses, The Ipcress Files, Victoria and Abdul, The Thick of It) as father and sons caught up in a dark family thriller. Anita Vettesse, James Harkness and Joanne Thomson complete the cast.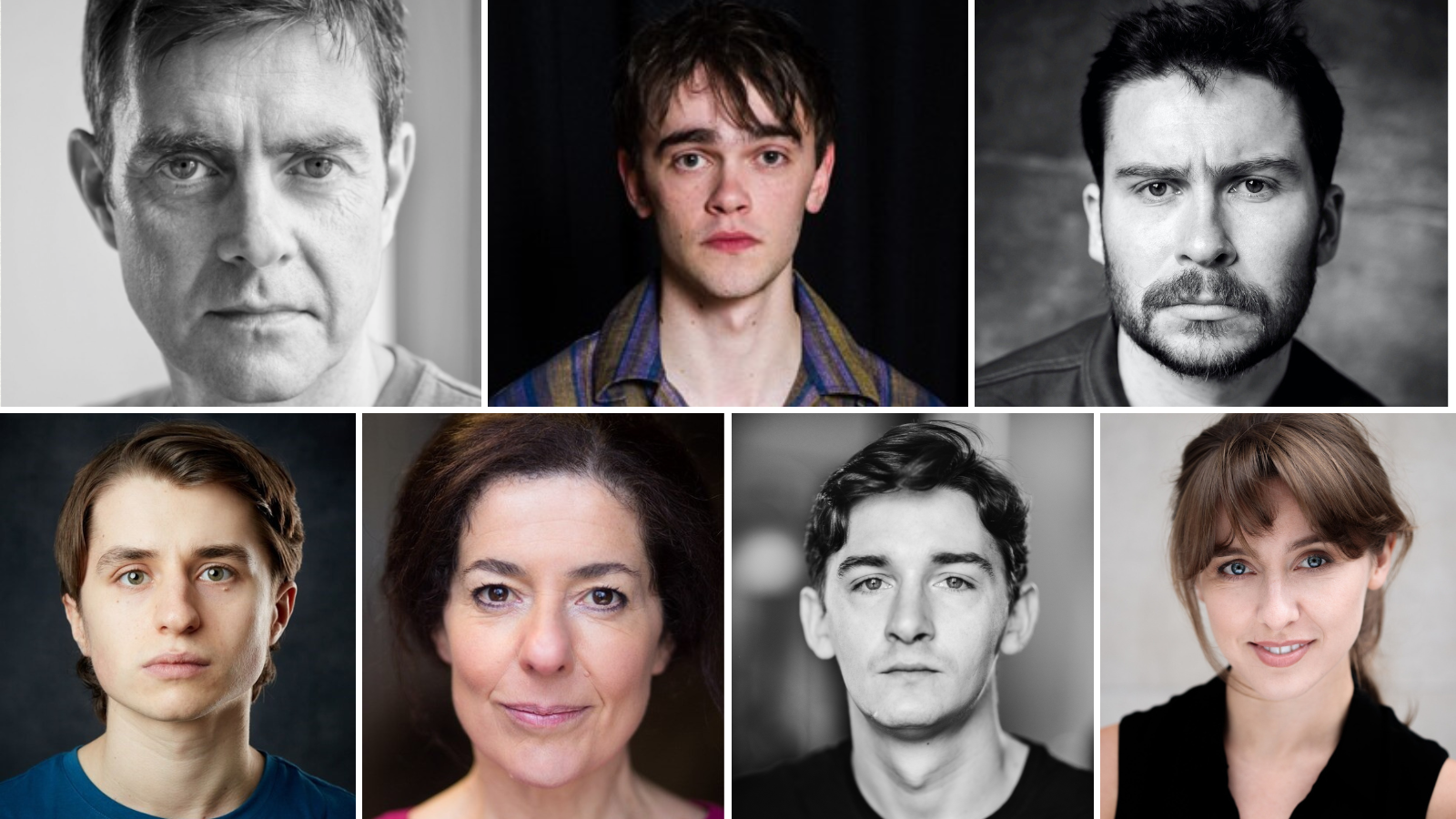 Top row (L-R): Paul Higgins, Brian Vernel, Daniel Portman
Bottom row (L-R): Calum Ross, Anita Vettesse, Joanne Thomson, James Harkness
Claire Mundell, Creative Director at Synchronicity Films, said: "Getting an independent, first-time feature made in the new world order of film financing is nothing short of miraculous, but it's inspiring to see that great material still attracts gutsy financiers with the commitment to support new talent. Lee, Erik and I are thrilled that we've secured Library Pictures International, Screen Scotland and Great Point Media as our financiers on KILL, the cracking debut film from writer-director Rodger Griffiths and our stellar Scottish cast."
Kieran Hannigan, Head of Scripted at Screen Scotland added: "It is fantastic to be able to support Rodger Griffiths to make his first feature at this incredibly important stage in his career, and with Lee Brazier and Claire Mundell, they're a formidable team. The calibre of the film's producing and directing talent is matched in the film's incredible Scottish cast who're sure to captivate audiences in this taut and tense thriller."
KILL is a nail-biting thriller which explores the sins of a father and the relationship between three damaged boys, trying to survive.
In a remote forest, the daylight dying fast, three brothers, Henry, John and Vince are on a hunt with their domineering father Don. Finally, they catch sight of a deer, but as Don takes aim something catches his eye – a rope hangs around the deer's neck. As John stands a few feet away, finger nervously straining on the trigger, Don realises that the animal is a decoy and he is the prey.
Don, a violent and abusive father, is responsible for the recent death of the boys' mother Kate. Her sons are here to avenge her murder and put an end to the cycle of violence that has consumed their young lives. After fatally wounding him with one shot. they bury Don in a shallow grave and make their way back to the farmhouse. But what should be the start of their freedom, kicks off a whole new set of problems. Before long, they realise the key to the safe containing Don's life savings is still around his neck and so the boys must return to the forest to face the gruesome task of digging up their dead father. But when they do so, Don's corpse is no longer there and in its place lies, instead, the carcass of a freshly killed deer…
Lee Brazier previously Executive Produced the Danny Boyle/Richard Curtis hit Yesterday, which to date has taken over $150M at the box office. He also Executive Produced Calibre, which won The Michael Powell Award for Best British Feature Film at the Edinburgh Film Festival. Mr B Film's current slate includes an adaptation of the hit stage play The Holy Holy Bus and an original thriller from David Scinto (Sexy Beast).
Media Contact
For further information, please contact Janet Balmforth DDA PR:
+44 (0) 7748 185656
[email protected]
[email protected]
---
Background
About Synchronicity Films:
Synchronicity Films is an award-winning independent production company, founded and headed by Claire Mundell, headquartered in Glasgow and run with co-directors Mark Young (Chairman) and Adrian Burns (Operations Director). The company creates, develops and produces feature films and television drama which showcases original voices and brings stories to life with energy, passion and dynamism. Key credits include BAFTA winning BBC One Series 'The Cry', BIFA winning 'Only You', BIFA winning 'Weekend' and actress Karen Gillan's writer/ director debut 'The Party's Just Beginning'.
About Mr B Films:
Following the closure of Cinescope Entertainment due to the tragic death of its founder, Lee set up Mr. B Films and Executive Produced the feature film CALIBRE, which picked up The Michael Powell Award for Best Feature Film 2018 at the Edinburgh IFF and a Best Actor award at the Scottish BAFTAS.
Lee Executive Produced the Richard Curtis written & Danny Boyle directed 'YESTERDAY' for Working Title and to date, has taken over $150M at the Box office.
Feature Documentary OWEN – based on the tragic death of WWE superstar OWEN HART is also in pre-production as a Canadian / UK co production.
THE BEAUTY OF SHARKS – an Italian set period Thriller will be directed BY Peter Chelsom and co-produced by Colin Vaines is casting.
About Library Pictures International:
Los Angeles-based Library Pictures International (Library) is a global local-language content financier with a focus on supporting industry-leading storytellers around the world by investing in local production slates. Library, which in 2019 announced an investment by Legendary Pictures, has co-financing deals in South Korea, Indonesia, Vietnam, Turkey, and India.
About Screen Scotland:
Screen Scotland is the national body that drives development of all aspects of Scotland's film and tv industry, through funding and strategic support. Screen Scotland is part of Creative Scotland and delivers these services and support with funding from Scottish Government and The National Lottery. Find out more at screen.scot and follow us on Twitter and Instagram.
About Wild Sheep:
Wild Sheep Content is founded by Erik Barmack, the former head and originator of of Netflix's International Original strategy, which included shows such as CASA DE PAPEL, THE WIITCHER, and DARK. Over the last two years, WSC has become one of the fastest growing production companies in the world, with 20 projects sold into development at ten major partners, and 13 projects greenlit to film or series in 9 different territories.
About Great Point Media:
Founded in 2013 by Robert Halmi and Jim Reeve, Great Point specialises in the development, investment, distribution and sales of intellectual property in entertainment media. To date, the company has backed over 200 projects and invested in excess of $650 million in film and television productions. Television credits include Steve McQueen's BAFTA-winning SMALL AXE series, LINE OF DUTY, THE PACT, MANHUNT, and CREEPSHOW, amongst many others. Film credits include THE MAURITANIAN, GREENLAND, ZAPPA, THE PARTY, LADY MACBETH and THE LAST TREE.