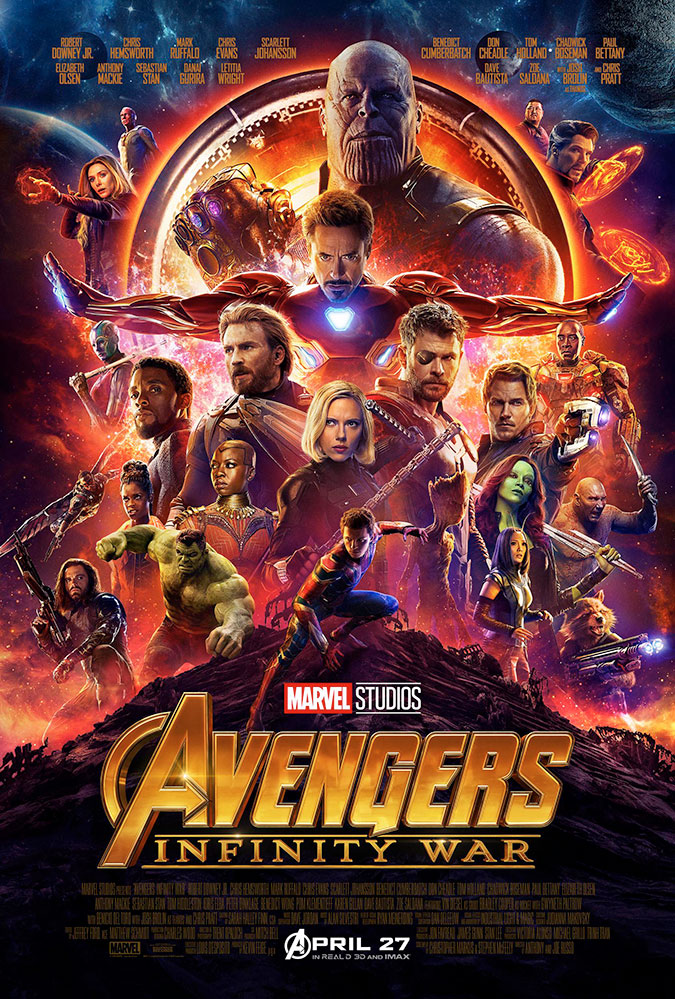 Year: 2018
Directors: Anthony Russo, Joe Russo
Producer: Kevin Feige
Co-Producer: Mitch Bell
Executive Producers: Victoria Alonso, Louis D'Esposito, Jon Favreau, Michael Grillo, James Gunn, Stan Lee, Trinh Tran
Screenwriter: Christopher Markus, Stephen McFeely
Principal Cast: Robert Downey Jr., Chris Hemsworth, Mark Ruffalo, Chris Evans, Scarlett Johansson, Don Cheadle, Benedict Cumberbatch, Tom Holland, Chadwick Boseman, Zoe Saldana, Karen Gillan, Tom Hiddleston, Paul Bettany, Elizabeth Olsen, Anthony Mackie, Sebastian Stan, Chris Pratt, Josh Brolin
---
Synopsis
Avengers: Infinity War is an unprecedented cinema event, ten years in the making and spanning the entire Marvel Cinematic Universe to date.
The Avengers return to our screens once more to face their most powerful adversary yet - the formidable Thanos, who is on a mission to collect all six Infinity Stones, which are said to be the most powerful items in the universe.
With the fate of the universe at stake, Iron Man, Thor, Black Panther and the rest of the Avengers - with help from the Guardians of the Galaxy, are tested like never before in their efforts to defeat Thanos before he can acquires all of the stones.
A really diverse topography
Scotland offers an incredible amount as a film location. There are very different looks between Glasgow and Edinburgh. Within in an hour you can be to the coast, you can be to the lochs, you can be to the mountains- it's a really diverse topography.
Joe Russo
Director, Avengers: Infinity War