Year: 2019
Director: Alex Parkinson, Richard Da Costa
Producers: Alex Parkinson, Richard Da Costa, Al Morrow, Stewart Le Maréchal, Angus Lamont, Dylan Williams
Executive Producers: Jonny Persey, Vesna Cudic, Leslie Finlay
Writer: Alex Parkinson
Principal Cast: Chris Lemons, Duncan Allcock, Dave Yuasa, Craig Frederick, Morag Martin
Scottish Premiere: Glasgow Film Festival 2019
Screen Scotland Funding: £100,000 Production Funding, £15,000 Exhibition and Distribution Funding
Synopsis
At the time of the incident, Chris Lemons was relatively new to saturation diving; it was an exciting time in his life, he was engaged to be married and building a house in the highlands with his fiancée Morag Martin. On this particular rotation he would be working with his mentor, Duncan Allcock and the very experienced diver, Dave Yuasa.
When the alarm sounded, Dave and Chris were carrying out routine maintenance on an oil well on the bottom of the North Sea. What they didn't realise was that the positioning system had failed on their dive support vessel 100 metres above and was now drifting out of control, away from the dive site.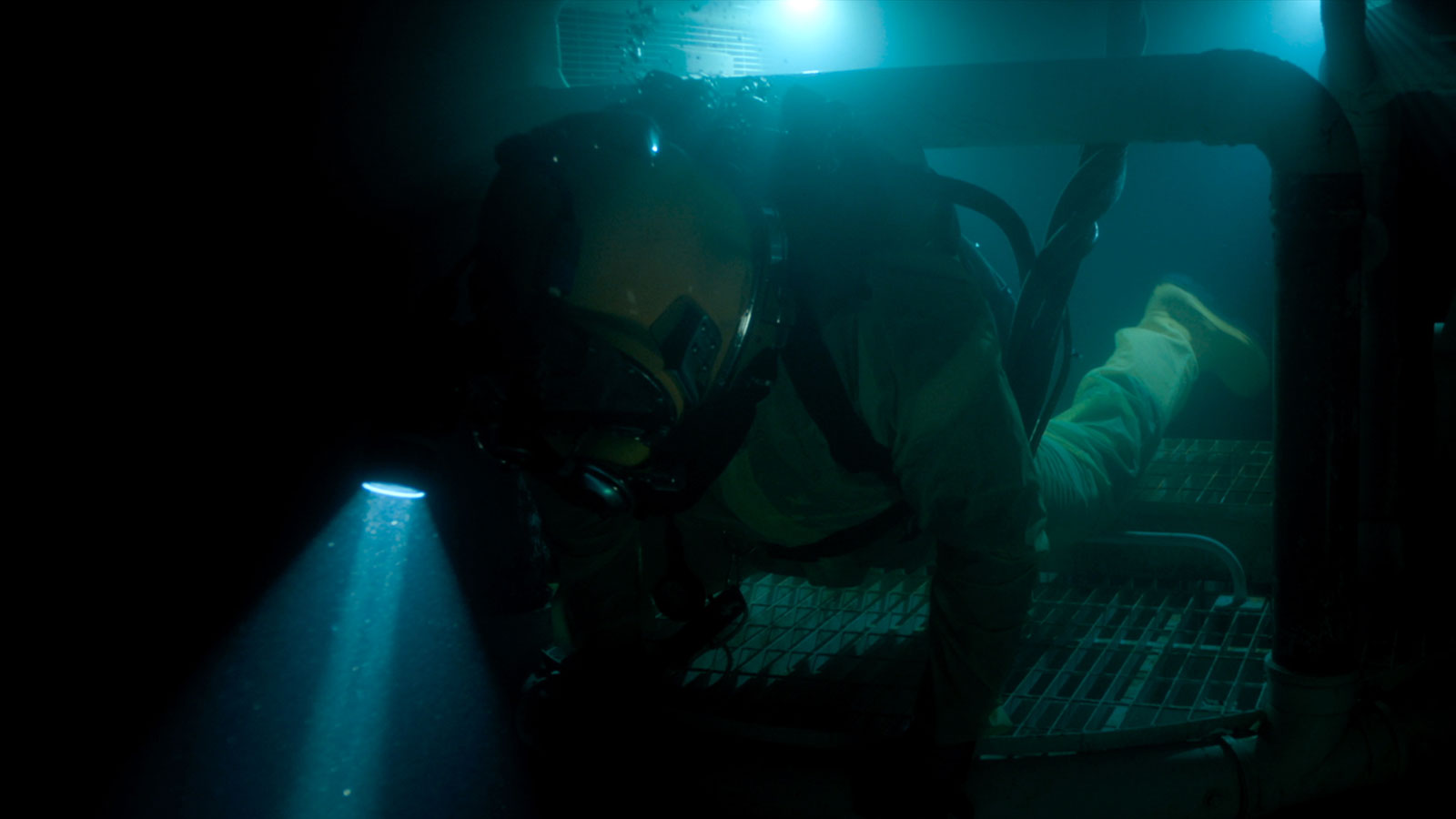 Dive Supervisor, Craig Frederick immediately instructed his divers to return to the safety of the bell. As always Dave and Chris were attached to the bell by their umbilicals — long intertwined cables and hoses that carry breathing gases, hot water to combat the frigid North Sea, power to the divers' headlamps and communications to the ship. When working, the umbilical is a diver's lifeline.
As the ship drifted further away from the dive site everything attached to the vessel began being dragged along with it. Everything except for Chris; his umbilical was snagged on the structure he and Dave were working on. As the full weight of the 8,000 tonne ship strained against his lifeline, his umbilical started to stretch. Seeing what was happening, Dave desperately tried to get back to Chris to try and free him.
He nearly made it, but just as the two men came face-to-face they hear a loud tearing noise followed by a deafening bang. Chris' umbilical had snapped and Dave was dragged backwards, away from Chris and off the structure.
Chatting with director, Alex Parkinson and Chris Lemons
We spoke to Last Breath director, Alex Parkinson and Chris Lemons during the film's Scottish tour, to hear more about how they put the film together and what it was like to be a part of it.
Broadcast
Last Breath will screen on BBC Scotland at 10pm on Tuesday 7 May, and on BBC Four at 9pm on Monday 27 May. You can catch up on iPlayer here: https://www.bbc.co.uk/programmes/m0004y5s