Year: 2018
Director: David Mackenzie
Producers: Gillian Berrie, Richard Brown, Steve Golin
Co-Producer: Danny McGrath
Executive Producers: Stan Wlodkowski
Screenwriter: Mark Bomback, Bathsheba Doran, David Harrower, James MacInnes, David Mackenzie
Principal Cast: Chris Pine, Florence Pugh, Aaron Taylor-Johnson, Stephen Dillane, Tony Curran, James Cosmo, Callan Mulvey, Duncan Lacroix, Alastair Mackenzie
TIFF World Premiere: Thursday 6 Sept 2018
Global Launch: via Netflix on Friday 9 November 2018
Creative Scotland investment: £500,000 Production Fund and £500,000 Production Growth Fund
Synopsis
The untold, true story of Robert the Bruce who transforms from defeated nobleman to outlaw hero during the oppressive occupation of medieval Scotland by Edward I of England. Despite grave consequences, Robert seizes the Scottish crown and rallies an impassioned group of men to fight back against the mighty army of the tyrannical King and his volatile son, the Prince of Wales. Filmed in Scotland, Outlaw King reunites director David Mackenzie (Hell or High Water) with star Chris Pine alongside Aaron Taylor-Johnson, Florence Pugh, Billy Howle.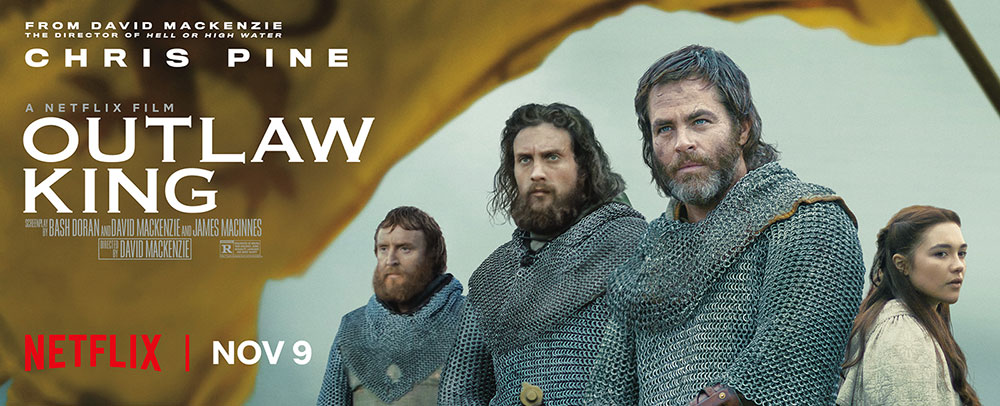 UK Selected Cinema Screenings
David Mackenzie's epic Outlaw King, starring Chris Pine as Robert the Bruce, opened the highly prestigious Toronto International Film Festival on Thursday 6 September 2018.
The largest feature film to be made in Scotland to date, Outlaw King was developed and produced by some of Scotland's foremost filmmakers, director David Mackenzie and producer Gillian Berrie.
The Netflix and Creative Scotland backed feature sits alongside three other exciting titles from Scotland to receive their World Premieres at the festival: Tell It To The Bees, Wild Rose and Freedom Fields.
Robbie Allen, Senior Screen Executive at Creative Scotland said: "We are enormously excited and proud to see the epic Outlaw King receive its Premiere at one of the world's most important film festivals. It's an incredible achievement for David, Gillian and all involved."
Outlaw King has also hosted Scotland's biggest ever single film trainee initiative, with 35 trainees experiencing working across the creative, technical and business areas of the production. Dedicated to nurturing the next generation of filmmakers, the programme reflects the aims of valuable similar initiatives taking place across Scotland working to develop a continuous flow of skilled and creatively ambitious craft and technical crew.
Nicola Braid, Camera Trainee, said: "It has been an incredible experience working on the biggest film in Scotland. I have learnt more than I can say from director of photography Barry Ackroyd and Director David Mackenzie. I have never worked so hard and had so much fun in my life."