Writers: Rob Williams, Karla Crome, Roanne Bardsley
Executive Producers: Sarah Brown, Rob Williams
Producer: Brian Kaczynski
Cast: Nina Sosanya, Jamie-Lee O'Donnell, Faraz Ayub, Stephen Wight, Ron Donachie, Laura Checkley, Jack Bardoe, Jorden Myrie
Production company: STV Studios
Filming Location: Kelvin Hall
Broadcaster: Channel 4
Training scheme: Screen Scotland supported training placements for ex-offenders to work on Screw. The scheme, which was coordinated by STV Studios, hired a writer, costume trainee, construction trainee, one speaking part cast member and several SA's, all of whom are from offending backgrounds. The training shceme aimed to make meaningful positive change to the lives of a group of ex-prisoners and bring more diversity of experience and background to the television industry workforce.
Number of episodes: 6x60
---
Synopsis
Screw is prison as never seen before – the uncensored, shocking and often darkly funny reality of life as a prison officer in an all-male prison in 21st century Britain.
At the head of our gang of embattled prison officer 'screws' is Leigh (Nina Sosanya – His Dark Materials, Killing Eve) a woman who has devoted her entire adult life to this prison and its population. On a wing bursting at the seams, at the front line of a train-wreck of broken bureaucracy and short-term thinking, Leigh keeps her inmates in line and has their backs when they need it. But she is an enigma to her team, and has her own secrets that if discovered could cost her more than her job.
Into the pressure cooker of Long Marsh Prison enters Rose (Jamie-Lee O'Donnell – Derry Girls), a 21 year old trainee officer. It's a baptism of fire even for this street smart young woman. She joins fellow screws Ali (Faraz Ayub – Line of Duty, Bodyguard), Gary (Stephen Wight – I May Destroy You, Manhunt), Don (Ron Donachie – Deadwater Fell, Game of Thrones), and Jackie (Laura Checkley – King Gary, Detectorists). They will be joined by other prison staff, Toby (Jack Bardoe – Belgravia) and Raheem (Jorden Myrie – Dancing in the Dark).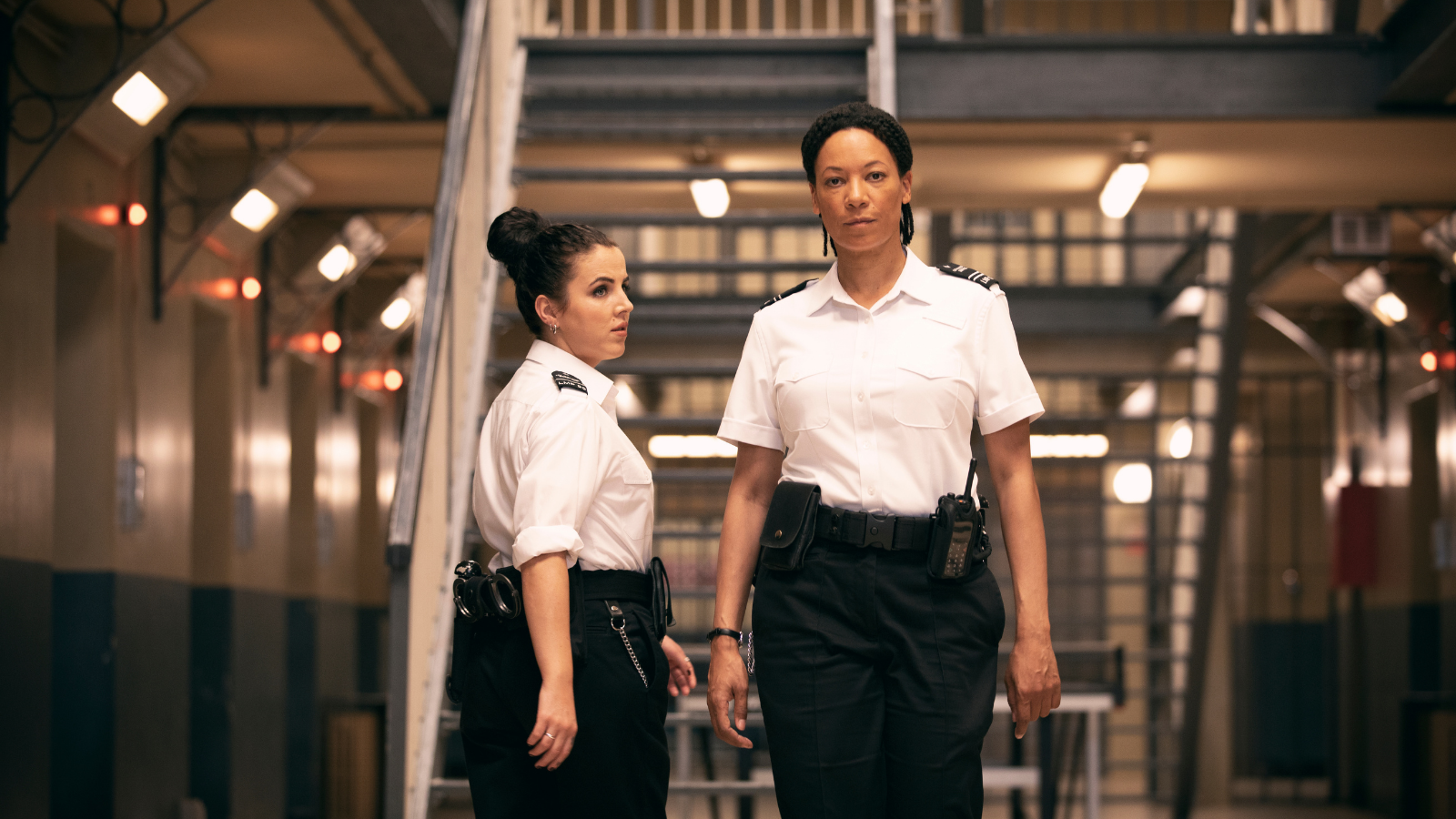 Still from Screw, courtesy of Channel 4.
More information
STV Studios were the first production to use Kelvin Hall as a film studio in summer 2021.
The series will premiere January 6 2022 on Channel 4.