Leading television industry event, the Edinburgh TV Festival (ETF) brought to you by YouTube and Screen Scotland, today announced the first sessions for this year's Festival.

Led by 2021 Advisory Chair, Georgia Brown, this year's Festival theme is 'Accelerating Change', and will see a focus on what and how change is happening in the TV business at every level, what can and does happen as a result of the issues being highlighted and discussed at the Festival and the need to make positive change happen.

Following the success of the 2020 Festival which took place online, this year the Festival will be refreshing a number of the digital elements that proved so popular as part of a hybrid event, with the Festival week taking place between 23 - 26 August.

In the first sessions to be announced for 2021, the Festival will welcome Hollywood royalty and provide a new take on discussions with the industry's leading decision makers.
The International Icon Interview with Whoopi Goldberg
With a career in TV, film, and theatre lasting over 40 years, and the only Black woman to have achieved the EGOT (winner of an EMMY, Grammy, Tony and Oscar), global icon Whoopi Goldberg talks candidly about her life on and off screen and her experiences as a multi-award winning artist, producer, author, entrepreneur and humanitarian. Goldberg will be characteristically frank in this one-on-one interview where she will share insight and anecdotes about a career spanning four decades. Who better to discuss how the entertainment industry has evolved, for better and worse and what it might look like in the future?

"We're thrilled that Whoopi Goldberg is coming to the Edinburgh TV Festival," said Creative Director, Stewart Clarke. "Across TV, film, and theatre her work resonates the world over and Whoopi truly embodies the 'International Icon' billing.

"We are also eager to launch Spotlight," he continued. "Our reimagined controller sessions which will bring a new, fresh approach to these hugely popular sessions and really dig into the industry trends that have a direct impact on commissioning."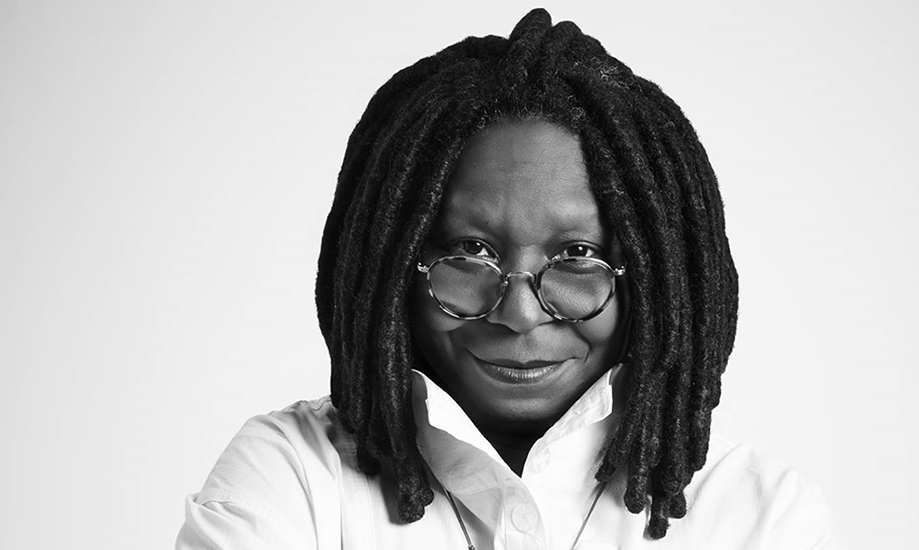 Whoopi Goldberg headshot courtesy of the Edinburgh TV Festival
Spotlight On…
The Festival's flagship controller sessions will be changing to reflect the industry shift in commissioning. New 'Spotlight' sessions will feature one-on-one interviews with creative content chiefs and bosses including the Festivals' Advisory Chair, Georgia Brown, Charlotte Moore, Ian Katz, Kevin Lygo, Marcus Arthur and Ben Frow.

Each will discuss their vision for their channels and platforms as well as addressing wider industry issues. The second instalment of the Spotlight sessions will see the commissioning and genre chiefs including Polly Hill, Sebastian Cardwell and Phil Edgar Jones, step in and give their take on programming trends and detailed updates on their specific content needs.
Spotlight and Commisioner line-up
Amazon
Georgia Brown
Genres:
Dan Grabiner, Head of Unscripted
And more TBC
BBC
Charlotte Moore, chief content officer
Genres:
Kate Phillips, Director, Entertainment
Patrick Holland, Director, Factual
Piers Wenger, Director, BBC Drama
Channel 4
Ian Katz, Director of Programmes
Genres:
Caroline Hollick, Head of Drama
Danny Horan, Head of Factual
Phil Harris, Head of Entertainment & Events
Jo Street, Head of Daytime and Features & Head of Hub Glasgow
Channel 5
Ben Frow, Chief Content Officer
Genres:
Sebastian Cardwell, Deputy Director of Programmes
Daniel Pearl, Commissioning Editor, Factual and Current Affairs
Denise Seneviratne, Commissioning Editor, Factual and Factual Entertainment
Adrian Padmore, Commissioning Editor, Factual and Factual Entertainment
Kit Morey, Commissioning Editor, Factual and Factual Entertainment
ITV
Kevin Lygo, Managing Director, Media and Entertainment
Genres:
Sue Murphy, Head of Factual Entertainment
Polly Hill, Head of Drama
Katie Rawcliffe, Head of Entertainment
Sky
Zai Bennett, MD of content, Sky UK and Ireland
Genres:
Gabriel Silver, Director Drama
Jon Mountague, Director Comedy
Poppy Dixon, Director Documentaries and Factual
Phil Edgar Jones, Director Sky Arts and Entertainment
Lucy Murphy, Director, Kids Content
UKTV
Marcus Arthur, CEO
Genres:
Richard Watsham, Director of Commissioning
Hilary Rosen, Deputy Director of Commissioning
Pete Thornton, Head of Scripted
Further panels and sessions are currently being finalised and will be announced in due course.
Passes for this year's Festival are available to purchase here.
Further information and details about the Edinburgh TV Festival and the TV Foundation can be found on the Edinburgh TV Festival website.