Our economic, historical and emotional entanglement with North Sea Oil gets ever more complex as we hurtle towards climate breakdown. Black Black Oil which airs on the BBC Scotland channel at 10.00 pm on Wednesday November 3 examines the interconnection between oil, finance and the challenges for the UK to keep its emissions at 1.5%, according to the Paris Climate Agreement.
North Sea oil has been an invisible machine at the core of the UK. It now faces an uncertain future as activists and investors demand change. Is the era of North Sea oil over?
Black Black Oil draws on the voices of young activists, oil company executives, economists and pension fund managers to explore the vital questions that affect all our lives. We have five to ten years to control our oil addiction, and yet the licensing of new oil fields such as the Cambo oil field off Shetland is seen to be in direct contradiction to the Government's alignment with the Paris Climate Agreement and hosting of COP. This documentary looks at how the drama of global climate action is playing out in the fight over North Sea oil. Oil companies are convinced that they can continue to keep drilling while keeping to Net Zero ambitions through adopting new technologies, such as Carbon Capture. But climate scientists are deeply sceptical of the Net Zero concept and the time it would take for these technologies to be effective.
The film reveals the hidden infrastructure of oil from the offshore rigs and the buried pipelines to its flow through the stock markets of London. As the North Sea industry struggles to meet the need to cut carbon emissions, oil workers see their livelihoods under threat, and investors seek to protect their assets. Meanwhile a younger generation of climate activists are motivated by the signs of impending chaos, and the very real threat of global sea level rises. Black Black Oil explores the complexities of transitioning away from oil and gas as a society and considers how quickly can we do it?
Black Black Oil is a new documentary feature from the award-winning team behind I Am Breathing of Director Emma Davie and Producer Sonja Henrici.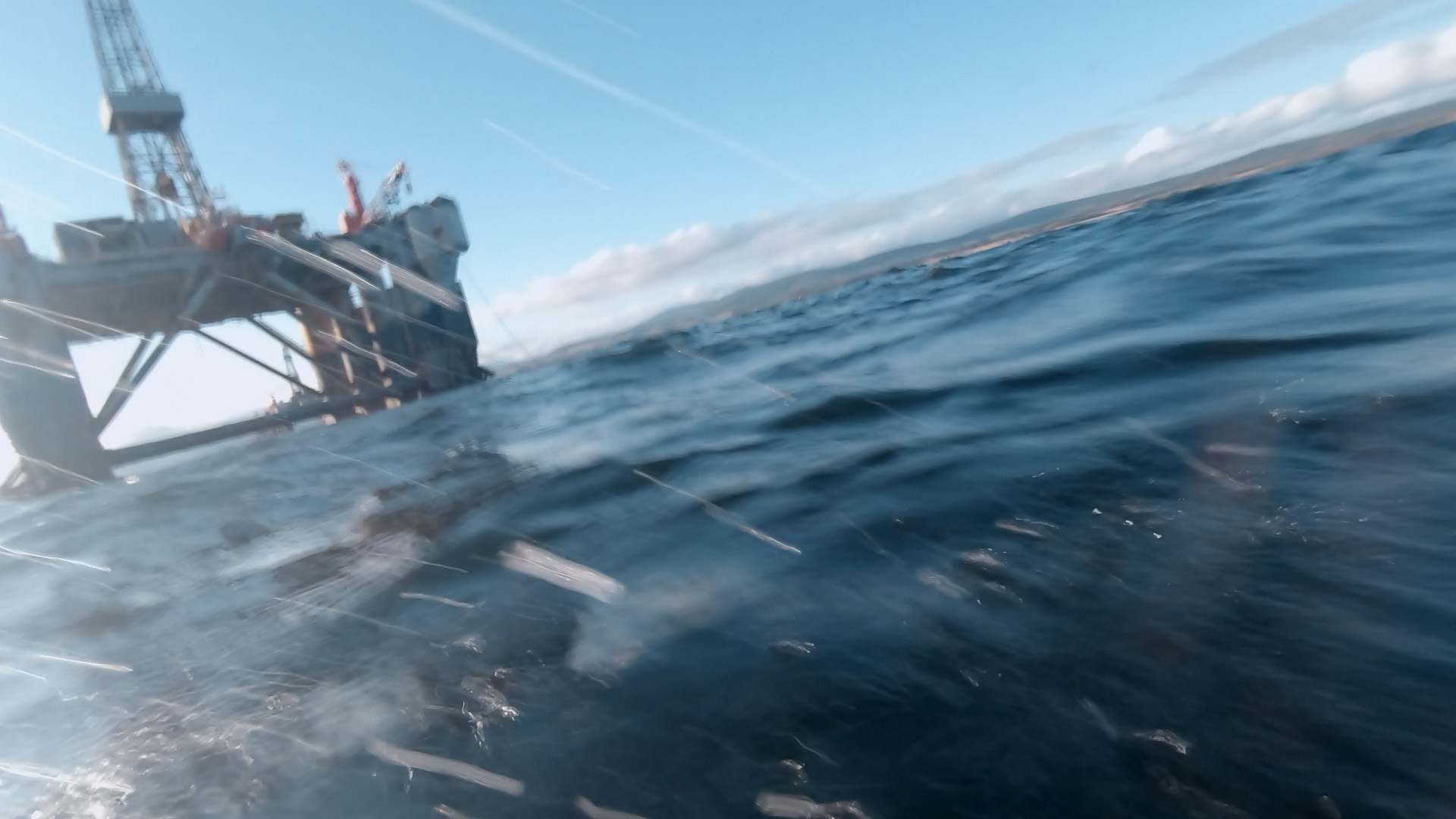 North Sea oil rig. Credit: Sonja Henrici

Director Emma Davie said: "This documentary was initiated by a sense the urgency of addressing the issue of the oil in our own backyard. It seems that the huge 'elephant in the room' in terms of Scotland's or the UK's aspiration to be climate change leaders is North Sea Oil. We wanted to bring together disparate voices involved in the interlinking worlds of oil, finance, activism who would normally never dialogue together. We sought to express an emotional as well as analytical look at where we are at with North Sea Oil - it seems incredible that in 50 years so much has changed. The changes coming are, of course, even more radical and we wanted to understand how they might be implemented in the complex world of oil."

Producer Sonja Henrici said: "In this pivotal year, with COP26 taking place in Glasgow, and so much pressure to shift things, we wanted to make a film which really was a 'state of the nation' work, from many different perspectives on the subject. We were not seeking easy answers, but felt that the problems need to be clearly named and explored for us to move forward. By hearing very different opinions about the future of North Sea Oil, we hope to look at the real complexities of transitioning from oil as a society."
The film brings together a fascinating array of voices including: Holly Gillibrand (dubbed "Scotland's Greta"), Emeka Emembolu (Senior VP of BP North Sea), Jake Molloy (Regional Organiser, RMT Union), Kevin Anderson (Professor of Energy & Climate Change, Manchester University), Mikaela Loach (Edinburgh medical student currently suing the UK government), Sir Ian Wood (ex CEO, Wood Group), James Marriott (co-author of Crude Britannia), Sir David King (former UK Govt. Chief Scientific Advisor), Deirdre Michie (CEO of Oil & Gas UK), Steve Waygood (Chief Responsible Investor at Aviva Investors), Tessa Khan (climate lawyer from Uplift), Ann Pettifor (economist & author), and others.
Black Black Oil will be shown for the first time on BBC Scotland on 3 November 2021 10pm and will be available after on BBC iPlayer. The documentary is part of BBC Scotland's programming looking at climate and environmental issues ahead of COP26 in Glasgow.
Black Black Oil is a Sonja Henrici Creates production for BBC Scotland, supported by the Scottish Government and the National Lottery through Screen Scotland. www.sonjahenrici.com
A feature documentary for cinema release is currently in production.
Contacts
For further information, preview and interview requests please contact:
Michelle Mangan PR
[email protected] | 07979227909
Jim Gough
BBC Scotland Press Office 07740818424
[email protected]

---
More information
Director: Emma Davie
Emma Davie is an award-winning filmmaker who also teaches documentary film at Edinburgh College of Art. Her last film BECOMING ANIMAL was co-directed with Peter Mettler and was nominated for Best Documentary at CPH Dox, Vision du Reel and many other festivals. 'I AM BREATHING', co-directed with Morag McKinnon, won a Scottish BAFTA for Best Director and played in over 50 countries. Previously, she directed for many years for BBC, Ch 4 and oth­ers - work which has been nominated for a Grierson and other awards. She has collaborated and mentored many directors from around the word, and was made an Academy member last year.
Producer: Sonja Henrici
Sonja Henrici is an international BAFTA-nominated producer of multiple international feature documentaries: BECOMING ANIMAL (CPH DOX 2018); TIME TRIAL, a film with ex-cyclist David Millar (IDFA 2017 & SXSW); DONKEYOTE (2017) (EIFF Best Feature Documentary); SEVEN SONGS FOR A LONG LIFE (2015) (SxSW 2016);): I AM BREATHING (2013) FUTURE MY LOVE (2012). Her films have screened on all continents, in over 60 countries. She joined Scottish Documentary Institute at its inception in 2004 and was instrumental in developing SDI into a flourishing talent hub for creative documentary, renowned world-wide. She was co-founder of SDI Productions (2007) and co-director of the Institute from 2013-2020, leading it to its charitable status. She was a founding trustee of the charity until 2020. In 2021 she set up Sonja Henrici Creates Ltd for all her future creative and production work.
BBC Scotland
BBC Scotland operates from 13 staffed centres around the nation, from Orkney and Shetland in the north to Dumfries and Selkirk in the south. With its headquarters in Glasgow, it provides television, radio and online services, in English and Gaelic, to viewers and listeners across the length and breadth of Scotland's major urban conurbations as well as its rural and island communities.
Screen Scotland
Screen Scotland is driving the cultural, social and economic development of all aspects of the sector in Scotland through enhanced funding, services and support and backing from Scottish Government and The National Lottery. Screen Scotland sits within Creative Scotland and works in partnership with Scottish Enterprise, Highlands and Islands Enterprise, Skills Development Scotland, Scottish Funding Council, working in close collaboration with the sector to ensure its success. Twitter / Instagram.
Header image: Holly Gillibrand, campaigner from Fort William Credit: Sonja Henrici