Glasgow Short Film Festival has announced the full programme for the fifteenth edition of the festival, which will take place in venues for the first time since 2019. GSFF22 will run from 23 to 27 March and screenings will take place in Civic House, Glasgow Film Theatre (GFT) and the Centre for Contemporary Arts (CCA).
Alongside the previously announced GSFF22 Scotland's Year of Stories Short Film Award and the Bill Douglas Award for International Short Film, the 15th edition of Glasgow Short Film Festival will present programmes of films that hold revolution in subtle and grand ideas; films that reflect on our futures, that demand active engagement and a belief in the potential of cinema for collective good.
Programme highlights
The opening gala film is something quite special: the UK premiere of Greek animator Aristotelis Maragkos's THE TIMEKEEPERS OF ETERNITY, a collage remix of a forgotten 1990s Stephen King TV mini-series. By re-editing the narrative, printing and animating each frame, Maragkos has created a hypnotic black and white paper nightmare.
GSFF presents a programme of four titles from the 1960s by revolutionary Cuban filmmaker SANTIAGO ÁLVAREZ, whose influential agitprop 'nervous montage' documentaries connect global liberation struggles. Screening from 35mm, this is a rare chance to see some of the few Álvarez films that have been preserved and are still available to the public.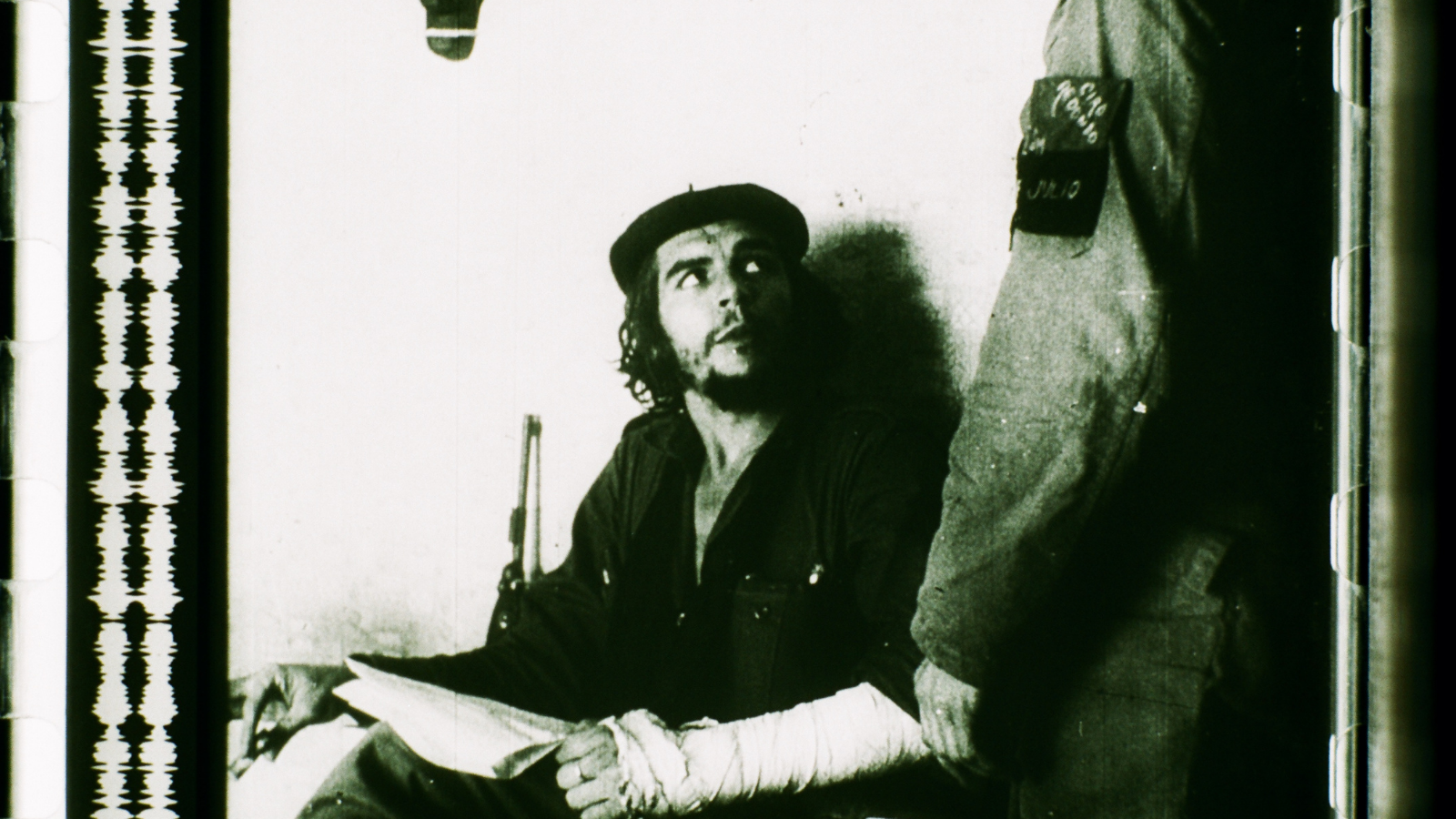 Film still from Santiagi Álvarez, titled Hasta la Victoria Siempre
Also from the revolutionary archives, GSFF will show three episodes from the avant-garde KINO-PRAVDA (translated as "film truth") newsreel series, which was launched exactly a century ago by Dziga Vertov, and was to have huge influence on subsequent trends in global cinema. The films are curated and co-presented by FEKK Short Film Festival (Slovenia) and will be live scored by Scottish musician Gerard Black. GSFF22's official media partner, The Skinny, is supporting this programme and a DJ set by Junglehussi will follow the event.
CAMILLE & ULYSSE is a 45-minute hybrid documentary by Spanish filmmaker Diana Toucedo, staging readings by philosophers Donna Haraway and Vinciane Despret, who with 'The Camille Stories' tell intertwined tales of the first generations of communities of humans and non-humans, the communities of compost. This UK Premiere brings speculative fiction, surreal animation and reflections on hope and potential in an increasingly uncertain future.
A feature documentary sneaks into the programme with Sundance award winner ALL LIGHT, EVERYWHERE by Theo Anthony, which has been making waves on the festival circuit this past year. Drawing connections between colonial photographic methodologies of the 19th century and modern police technologies in Baltimore, the film questions and reimagines the very idea of the 'objective lens', positioning the camera as a weapon for both the oppressors and the oppressed.
Katie Goh, author of THE END: Surviving the World Through Imagined Disasters explores how shorts deal with apocalyptic narratives, while Ane Lopez from A+E Collective has curated the strand ECO-SPECTRALITY, which asks how we attune to the spatial and aural vibrations of the more-than-human, and invokes other worlds in the making through different ecological encounters. GSFF also present TECHNO-FIX, two programmes that explore relationships between technological developments, state control, surveillance and colonialism, as well as ideas of progress and preservation.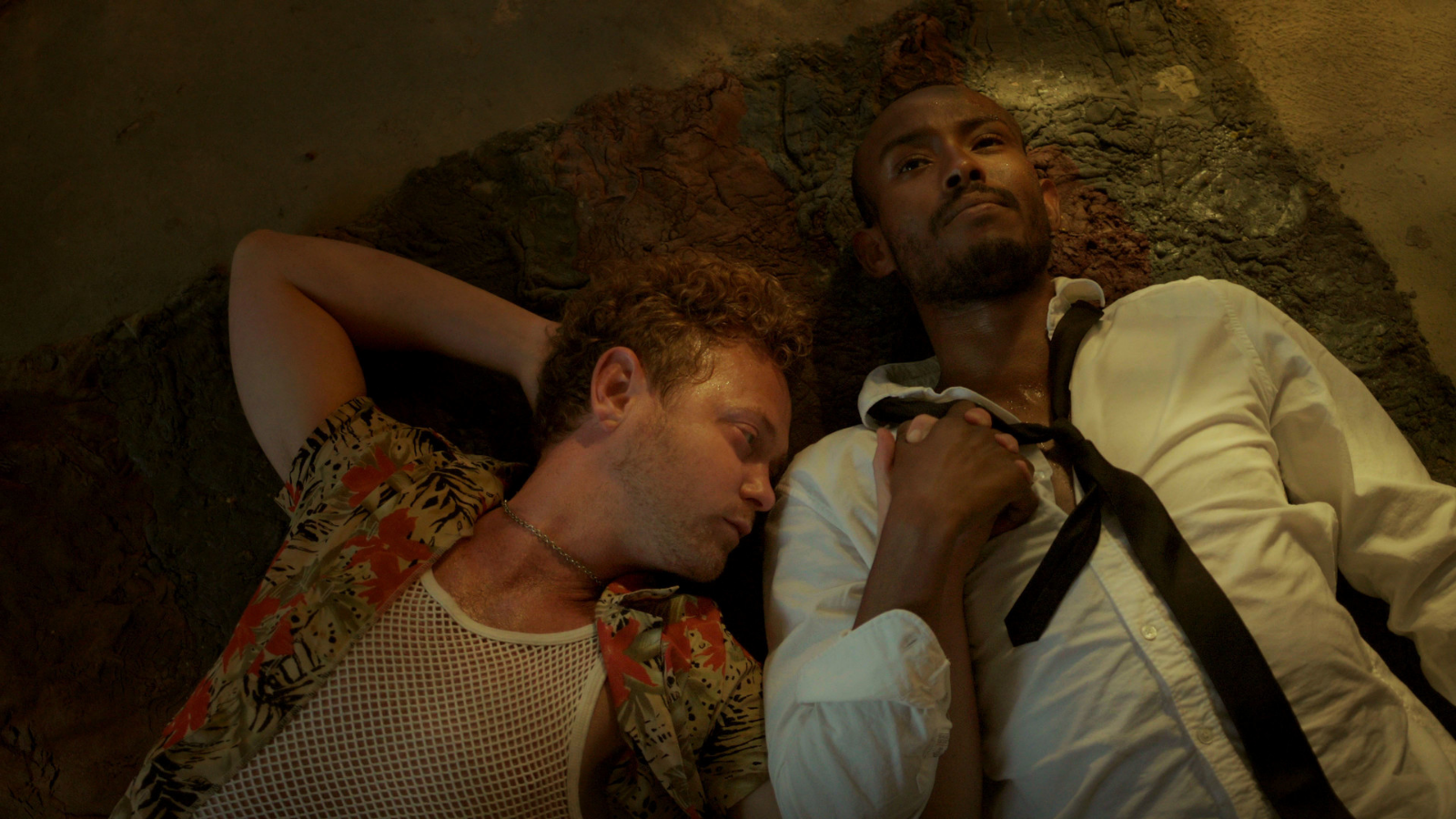 Still from BBQ & Apocalypse, as part of Katie Goh's collection of shorts titled The End
To mark Scotland's Year of Stories, GSFF will revisit rarely seen early shorts by the likes of David Mackenzie and Peter Mullan. In YOU'VE BEEN TELT: SCOTTISH FILM STORIES, six films tackle themes of storytelling head on, subverting folk tales, theatrical forms and cinematic genres with wry self-awareness and caustic humour.
GSFF are pleased to welcome back regular programme partners LUX Scotland with the Scottish premiere of their DWOSKIN COMMISSIONS, and from Thailand comes 2021's Bill Douglas Award winner RATCHAPOOM BOONBUNCHACHOKE for a conversation about his work and its explorations of his country's colonial history.
The screening programme will be accompanied by industry and social events, mostly taking place in the Civic House festival hub. The programme of industry events – free and open to all –will be announced on 7 March 2022.
Nearly all of GSFF22 programmes will be captioned for D/deaf and Hard of Hearing audiences and all Scottish Competition Q&As will be BSL interpreted. Ticket prices at GSFF22 are set according to a Pay What You Can sliding scale, in order to make our events more accessible. Sliding scale tiers for most events are £2 – £4 – £6 – £8.
The Scottish and International competitions will be available online and on demand for the duration of the festival, as will Scottish Film Stories and the comedy, horror and family programmes. Online festival passes will be available to anyone in the UK, also on a Pay What You Can sliding scale. One payment offers unlimited on demand access to all online screenings for the duration of the festival. Sliding scale tiers are £7 – £9 – £11 – £14.
Tickets for GSFF22 are on sale from Wednesday 23 February at midday. Press and Industry accreditation is now open.
For the full list of GSFF22 programmes and films, please visit: https://glasgowshort.org/programme/short-films
Matt Lloyd, GSFF Director, said: "When GSFF became an independent organisation in August 2019, we of course had no idea that our first in-person event would only take place in March 2022. It's fitting that we finally bring our showcase of cinematic storytelling to the screen in Scotland's Year of Stories. We're celebrating emerging Scottish film talent, whilst presenting Scottish and UK premieres of some of the most compelling and arresting new international cinema, from shorts to mid-length and even a couple of …whisper it… features. We look forward to welcoming filmmakers and industry guests back to Glasgow, and most of all to enjoy GSFF with our audiences, to whom we send our love and thanks for their continuous support throughout the past two years."
Header image: Still from Aristotelis Maragkos's The Timekeepers of Eternity. Courtessy of GSFF.
---
Background
Glasgow Short Film Festival, the largest competitive short film festival in Scotland, champions new film talent by providing an annual showcase and meeting point for new and established Scottish and international filmmakers, industry delegates and the local audience. Our programme celebrates diverse forms of cinematic expression, and foregrounds disruptive, ground-breaking work that transgresses the boundaries of conventional narrative film. In 2019 the festival reconstituted as an independent Scottish Charitable Incorporated Organisation (SCIO), charity number SC049556.
The 15th edition of the festival will run 23-27 March 2022. The full GSFF22 programme will be announced at midday on 23 February.
Subscribe to GSFF's newsletter for updates and visit www.glasgowshort.org for further information. Follow GSFF on Facebook, Twitter and Instagram.
Glasgow Short Film Festival is funded by Screen Scotland, the dedicated partnership for screen in Scotland. Sitting within Creative Scotland, it is a partnership with Scottish Enterprise, Highlands and Islands Enterprise, Skills Development Scotland, Scottish Funding Council, working in close collaboration with the sector to ensure its success. With funding from Scottish Government and The National Lottery, Screen Scotland is driving the cultural, social and economic development of all aspects of the sector in Scotland, through enhanced funding,services and support. Find out more at screen.scot and follow us on Twitter and Instagram..
The festival is supported by Film Hub Scotland, part of the BFI's Film Audience Network, and funded by Screen Scotland and National Lottery funding from the BFI.
The Scottish Competition has been supported by the Year of Stories 2022 Community Stories Fund. This fund is being delivered in partnership between VisitScotland and Museums Galleries Scotland with support from National Lottery Heritage Fund thanks to National Lottery players.
Media contact
For further information and press requests, please contact [email protected]