Edinburgh International Film Festival returns for its 75th anniversary year with a fully in-person programme of screenings and events championing innovative filmmaking from Scotland and beyond.
This year's festival will return to in-person screenings and events indoors across the city centre at Filmhouse Cinema, Cameo Picturehouse, Everyman Edinburgh at the St James Quarter and Vue Edinburgh Omni and outdoors with Film Fest in the City in St Andrew Square, in a rich programme celebrating the collective cinema experience.
The programme of 90 new feature films is structured across 5 strands with 10 films in competition as part of the new Powell and Pressburger Award. In 2022, EIFF reimagines its major award, The Michael Powell Award for Best British feature with a renewed commitment to internationalism by presenting The Powell & Pressburger Award for Best Feature Film. This competition of ten films is shared equally between UK and international talents and honours imagination and creativity in filmmaking.
Each strand in the festival programme will have a headline film which addresses the strand's main theme and as well as its own retrospective title.
This year's strands and taglines are:
The Conversation: Cinema to get you talking
The Chamber: Quality arthouse for the culturally curious
Heartbreakers: Friends, family, lovers, and cheaters
Night Moves: Cult, music, late night thrills
Postcards From the Edge: Bold visions to expand horizons
A soon-to-be-announced Opening Gala and a Central Gala will join Closing Night Gala of filmmaker Kogonada's After Yang starring Colin Farrell to bookend the festival. Kogonada has also curated Carte Blanche, a beautiful selection of films, offering audiences a special insight into some of the films that have inspired After Yang.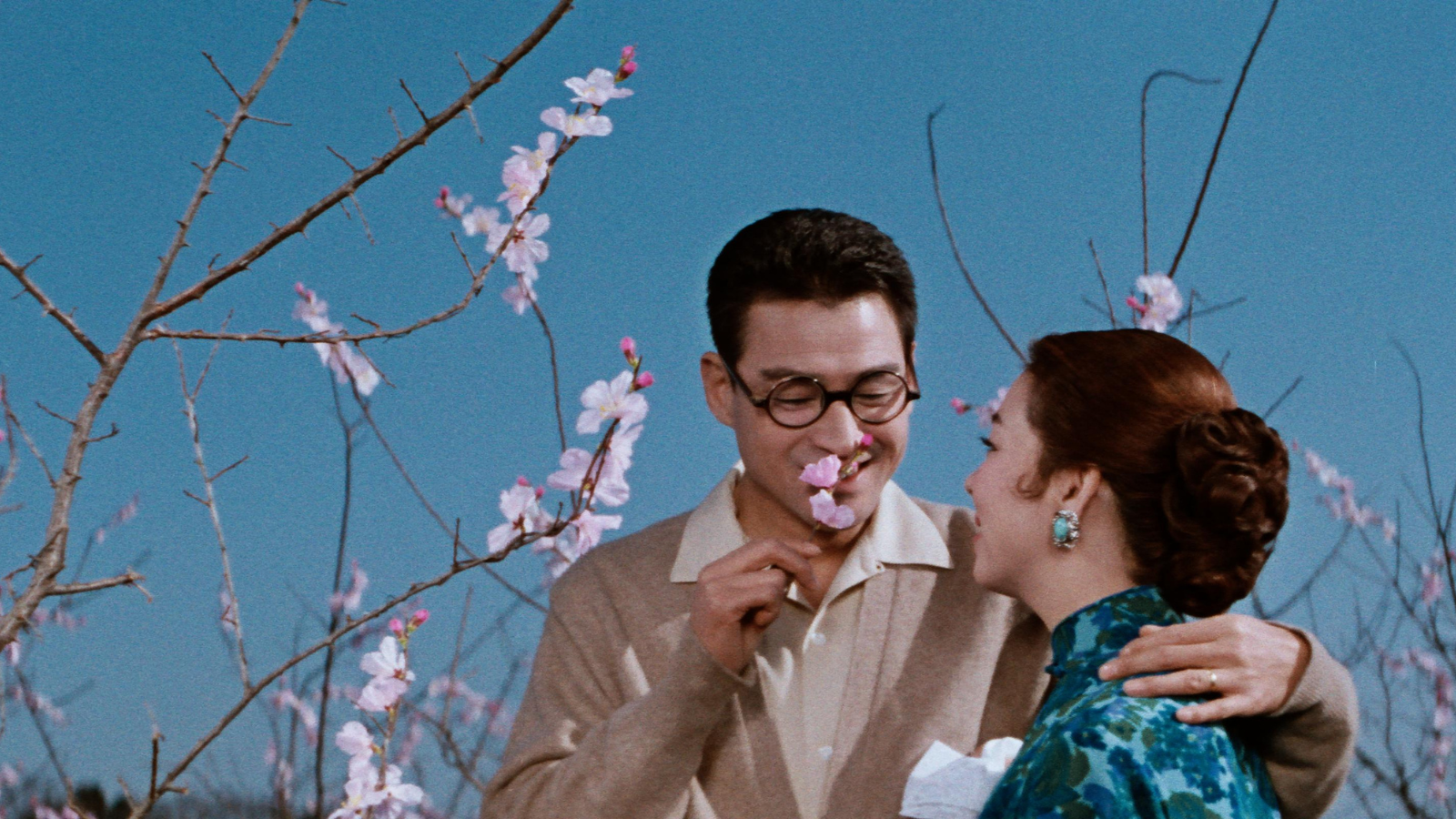 Still from The Wandering Princess from director Kinuyo Tanaka, courtesy of EIFF
Exploring this year's festival theme is a major retrospective of the work of performer and film director Kinuyo Tanaka (1909 - 1977) who played an essential role in the history of Japanese cinema. Moving gracefully across genres, these six new 4K restorations of films from Tanaka as a director offer a unique perspective on a nation grappling with the aftermath of war, social upheaval, and modernisation: all seen through the lives of its female citizens. First conceived by Lili Hinstin and presented at the Lumière Festival in 2021, this retrospective Social Studies: Six Films by Tanaka Kinuyo is programmed with notes by Kristy Matheson and presented here in partnership with the BFI Southbank, Glasgow Film Theatre, Bristol Watershed and Janus Films.
Films included in the retrospective are:
Love Letter (Koibumi), a star-studded tale of love and social dislocation
The Moon Has Risen (Tsuki wa noborinu), a bright comedy about love and family
Forever a Woman (Chibusa yo eien nare), a bold examination of female desire and agency
The Wandering Princess (Ruten no ohi), Tanaka's lavish historical epic, starring Kyô Machiko (Rashamon)
Girls of the Night (Onna bakari no yoru), an emotionally charged melodrama on the plight of sex workers
Love Under the Crucifix (Ogin-sama), a sweeping historical drama of illicit love set in feudal Japan
Reframing the Gaze: Experiments in Women's Filmmaking, 1972 to Now is a retrospective programme which responds to the 50th anniversary of the 1972 Women's Event held at the Edinburgh International Film Festival and is also inspired by the broader landscape of the festival during the 1970s, particularly in its attention to feminist film theory and avant-garde.
Film Fest in the City in St Andrew Square Gardens returns from Friday 12th to Sunday 14th August with a free programme of new and classic cinematic favourites which reflect the wider EIFF themes, delivered in partnership with Essential Edinburgh and supported by Innis & Gunn, EIFF's Official Beer Partner, our travel partners LNER and supported by EventScotland as part of the Year of Stories 2022. The programme of films also reflects EIFF's return to August embracing other cultural festivals around it. Saturday's film schedule celebrates Scotland's Stories on Screen and Sunday's film schedule is shaped and programmed by EIFF Young Programmers who have selected a line-up of films from a diverse range of female identifying filmmakers. Announcements on outdoor programme will be made in due course.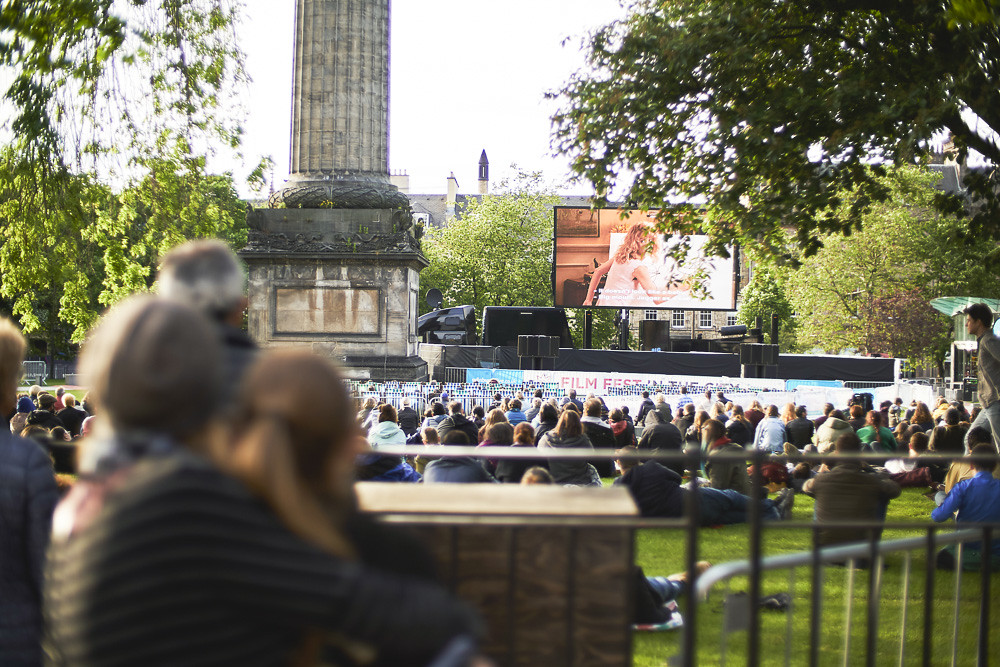 Still from 2019 Film Fest in the City, courtesy of EIFF
In addition, the Festival is collaborating with partners to widen its reach through a programme of network presentations across Scotland, opening up access and inspiring curiosity from those who may previously not have been able to experience the Festival programme. Details will be announced in the coming weeks.
This year's industry events will take place in-person from 16 to 19 August with a programme designed to engage and energise by creating meaningful unexpected bridgeways across cultural platforms and practitioners. Press screenings and events will take place throughout the festival with accreditation opening next week via the film festival website. Please check EIFF social media channels for more information.
This year's Edinburgh International Film Festival programme has been brought together by a team of programmers led by Kristy Matheson, Creative Director of the Festival.
The full festival programme will be announced on Wednesday 20 July with tickets on sale to Filmhouse Members and Screen Saver Passholders from 12pm on the 20th.
Tickets will be on sale to the general public at 10am on Friday 22 July.
EIFF press and industry accreditation for screenings, talks and industry events will open next week. Please head to https://www.edfilmfest.org.uk/ for more details.
Kristy Matheson, Creative Director of the Edinburgh International Film Festival, said: "I would like to thank all my programming and festival production colleagues for their smarts, dedication and generosity in preparing our 2022 edition. To the filmmakers who've trusted us with their stories, and our many collaborators for their time and creative input into the festival, a very big thanks. We've crafted a programme that we're enormously proud of and we can't wait to share it with audiences this Summer in Edinburgh."
Sambrooke Scott, Head of Audience Development at Screen Scotland said: "We are proud to support the 75th anniversary edition of EIFF - the first edition that reflects the new creative leadership and vision of Kristy Matheson. With the event fully back in-person, in August with an expanded footprint across the city and a fantastic array of local and international film talent on offer, it promises to be an exciting return and bold renewal. Congratulations to Kirsty and the team at EIFF on this programme which really exemplifies the renewed ambition for the festival."
EIFF 2022 Festival Theme
In 1972, the Edinburgh International Film Festival presented the first global film event entirely dedicated to the cinematic achievements of female directors, curated by Claire Johnston, Lynda Myles, and Laura Mulvey. Honouring the spirit of this original programme provocation, EIFF's 2022 Theme will acknowledge the multiplicity and variety of feminisms in contemporary society across our entire programme with a focus on: contemporary directorial works, two large-scale retrospectives, training, and targeted professional programmes.
---
Background
About Edinburgh International Film Festival
Inspired by the unique identity of Edinburgh and our love of film, EIFF connects audiences with essential storytellers. Intimate in scale, ambitious in artistic scope, EIFF is your annual celebration of screen, at the heart of a global cultural gathering. On our 75th anniversary, EIFF returns to the Scottish capital's summer festival season, to centre film as amajor art form within this vibrant, cultural conversation and invite audiences, artists, and innovators to imagine new worlds with us.
EIFF is supported by Screen Scotland, the PLACE Programme (a partnership between the Scottish Government, City of Edinburgh Council and the Edinburgh Festivals), the Scottish Government through the Festivals Expo Fund, the City of Edinburgh Council, EventScotland and the British Film Institute.
The Edinburgh International Film Festival Limited is a company registered in Scotland No: SC132453. It is a subsidiary of the Centre for the Moving Image (CMI) which is a company limited by guarantee with charitable status with Scottish Charity No. SC006793. The Centre for the Moving Image (CMI) currently comprises EIFF, Filmhouse in Edinburgh and the Belmont Filmhouse in Aberdeen.
About Scotland's Year of Stories 2022:
Scotland's Year of Stories 2022 will spotlight, celebrate and promote the wealth of stories inspired by, written, or created in Scotland.
Led by VisitScotland, the Year of Stories 2022 will sustain and build upon the momentum of preceding Themed Years, showcasing a nationwide programme of major events and community celebrations.
From icons of literature to local tales, Scotland's Year of Stories encourages locals and visitors to experience a diversity of voices, take part in events and explore the places, people and cultures connected to all forms of our stories, past and present.
Scotland's Year of Stories will encourage responsible engagement and inclusive participation from the people of Scotland and our visitors.
Following an industry consultation, Themed Years will take place every second year to enable more time for planning and collaboration. The next Themed Year will take place in 2024.
Join the conversation using #YS2022 and #TalesOfScotland