This year the YFF Skye Screenwriting Residency Programme had over 250 applications for just 6 places on its exciting new edition which will run from September 2023 to November 2024.
The programme begins on 26 September 2023 and will provide the lucky participants with the unique opportunity to develop a screenplay for a feature film or TV drama or comedy series with individual support from established industry mentors as well as receiving inspiring masterclasses and tutorials from well-known Film and TV writers, directors, and producers. This year also sees the addition of a Script Editor to the programme team, providing dedicated support to all our participants throughout the development of their scripts.
Each script will be commissioned and paid for by one of the following Broadcasters – BBC Drama, Sky Studios, Channel 4 Drama, Channel 4 Comedy, Film4 and BBC Film. The programme will culminate in writers bringing their developed scripts for a week-long residency in Skye in September 2024 where every aspect of their scripts will receive in-depth analysis from mentors, experts, and commissioners. Time will also be given for the writers to work with established actors and directors on scenes from their draft scripts in the studio in Skye.
The successful 2023/24 screenwriters are:
Mariem Omari

Katrina Allen and Sarah Grant (Writing Partnership)

Alice Clark

Leyla Josephine

Stuart Doherty

Jo Spencely
Programme founder Chris Young said "Once again I'm delighted by the quality and the quantity of our applications - we have been inundated with hundreds of applications and this clearly demonstrates both the strong demand and the obvious value of our screenwriting programme.  We are so pleased that our partners - BBC, Channel 4, Film4, BBC Film and Sky continue to give us such valuable support. And we are especially pleased that Screen Scotland have increased their support this year, allowing us to hire a dedicated script editor for the entire programme. I share Isabel Davis' recent inspiring call for us to focus on the development of locally originated film and television and where else does this start but with screenwriting?
Our new 7 participants takes the number of new Scottish screenwriters nurtured and developed by the Young Films Foundation to 27 - we are immensely proud to have the privilege of supporting these writers and providing them with this unique opportunity to step up and realise their talent on the global stage. Scotland will only sustain a film and television industry if we can match our ambition for success with screenwriting at the highest level and this programme aims to deliver exactly that."
Kieran Hannigan, Head of Scripted at Screen Scotland added: "It is fantastic to be able to support Young Films Foundation again this year, with this edition promising to be even stronger with Chris and his brilliant team consistently finding ways to improve the already excellent programme. The seven chosen were selected from an incredibly competitive field and shone through with outstanding ideas and writing samples. We are really excited for them to begin what will be a great year and an important moment in their career."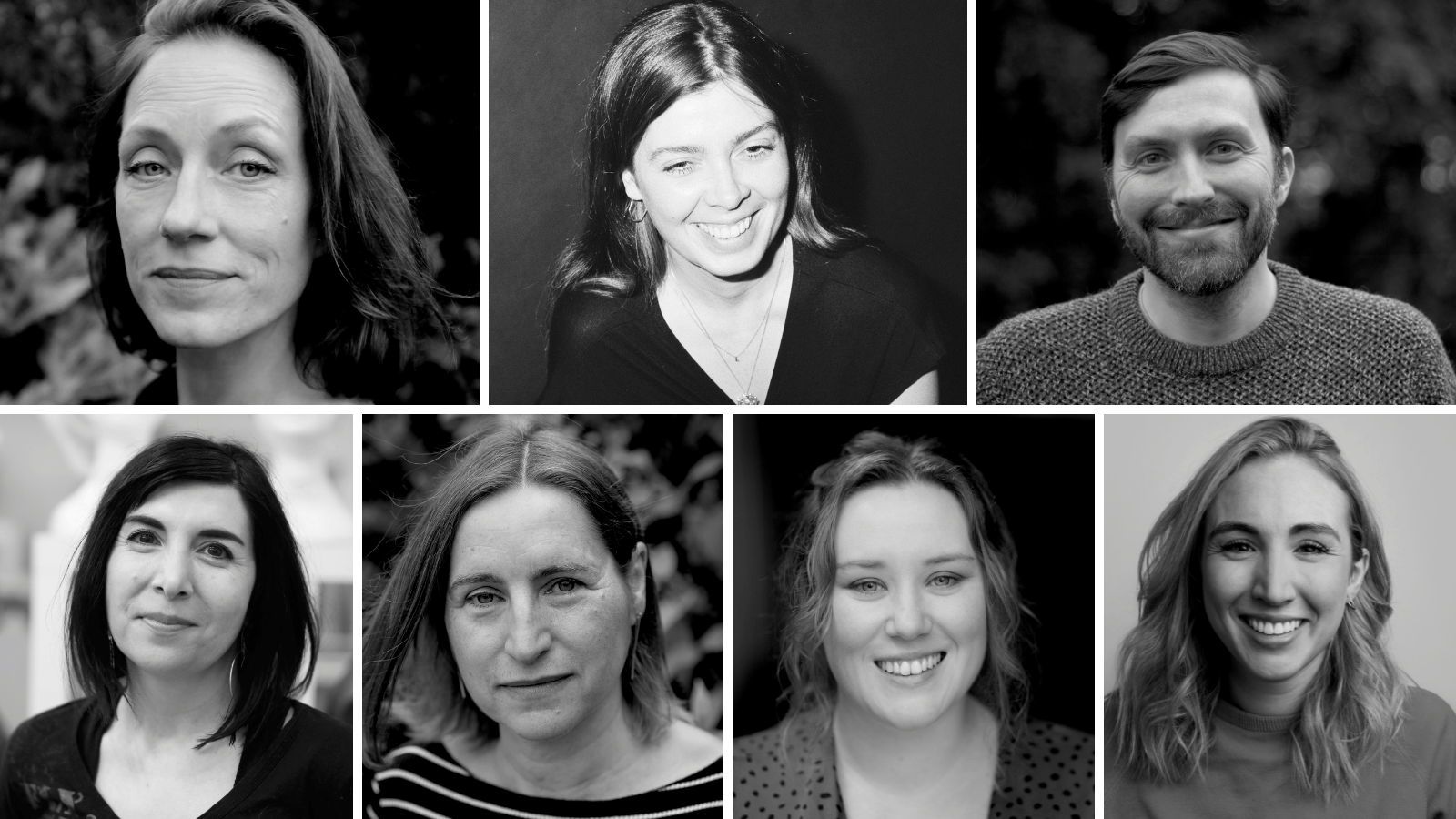 Top row (left to right): Alice Clarke, Leyla Josephine, Stuart Doherty
Bottom row (left to right): Mariem Omari, Jo Spencely, Sarah Grant, Katrina Allen
The Participants will experience the journey of a script commission from idea to a completed first draft script over the year – for which they will all uniquely receive a script commission fee. They will work closely with their experienced and accomplished industry mentor who will offer support and guidance in developing the Participant's ideas and voice, with regular feedback and input from their partnered Broadcaster.
The Programme will include monthly in-person or online masterclasses from world-leading experts in film & TV (which for this year includes John Collee, Olivia Hetreed, Hania Elkington, Fiona McDermott and Jonny Campbell), which will offer the Participants a unique perspective into the world of screen and developing their writing process. The Programme will cumulate in a week-long immersive residency in September 2024, where Participants, Mentors, Experts and Commissioners will come together to discuss and develop their work with further masterclasses and networking on the Isle of Skye.
---
More information
Young Films Foundation Skye Screenwriters' Residency Programme 2023/24 is financially supported by the participating Broadcasters (Channel 4 Comedy, Channel 4 Drama, Sky Studios, BBC Film, BBC Drama and Film4), Young Films, Screen Scotland, Channel 4 Nations and Regions and Torabhaig Distillery.
Full details to be found on the Young Films Foundation website: www.youngfilmsfoundation.co.uk
Young Films is a Scottish Film & TV production company with a reputation over 30 years for working with established and new UK talent in delivering award-winning drama and comedy for film and television.  Production credits include: Bannan (BBC Alba), The Inbetweeners Series 1-3 (C4), The Inbetweeners Movie (C4/Entertainment), Festival (Film4/Pathe), Gregory's Two Girls (Film4), Prague (BBC Films), The Final Curtain (Universal) and Venus Peter (Film4). Their latest film, Silent Roar, was selected to open the Edinburgh International Film Festival in August 2023.