Today, Wednesday 23 August 2023, Screen Scotland publishes latest figures evidencing continued growth in the value of Scotland's film and TV industries to the country's economy.     
Commissioned by Screen Scotland and produced by Saffery Champness and Nordicity, the independent report which looks at The Economic Value of the Screen Sector in Scotland in 2021 finds that significant growth was found in all areas of production, particularly inward investment film and High-End TV (HETV) production:  
Inward investment film and HETV production spend increased by 110%, from £165.3 million in 2019 to £347.4 million in 2021.  

In total, an estimated £617.4 million was spent on the production of film, TV and other audiovisual content in Scotland in 2021, compared to £398.6 million in 2019, up 55% compared to 2019*.  
This included content made by Scotland-based producers, producers based outside of Scotland filming in Scotland and Public Service Broadcasters (PSBs) commissioned content.     
The employment impact in Scotland's production sub-sector rose from 5,120 full time equivalent jobs (FTEs) in 2019 to 7,150 FTEs in 2021, a 39% increase. The employment impact across Scotland's entire sector increased at a lower rate, by 5.6%, from 10,280 FTEs in 2019 to 10,940 FTEs in 2021 – with the covid impacts in that year on employment in the cinema exhibition and screen tourism accounting for the difference.   
According to the research, undertaken by Saffery Champness and Nordicity as a follow-up to their recent study of 2019, growth is in large part due to sector development work undertaken since Screen Scotland's formation in 2018, including significant skills development work and the opening of new or expanded studio facilities, particularly FirstStage Studios in Edinburgh, where Prime Video's The Rig (which has returned to Scotland to film series 2) and Anansi Boys were filmed, and the expansion of The Pyramids in West Lothian, home to another Prime Video HETV series, Good Omens 2.
These studio facilities have made Scotland an even more attractive place to film, opening in time to catch the global post pandemic boom in production**.    
Alongside film and TV development and production, the wide-ranging study analyses the economic contribution of the full screen sector value chain - film and TV development and production, animation, VFX and post-production, film and TV distribution, TV broadcast, film exhibition - and extends into the supply chains that provide services at each stage of the content process, including facilities, equipment, transport, catering and accommodation.  Beyond that direct supply chain, the study looks at where the screen sector stimulates economic activity elsewhere in the Scottish economy: screen tourism, the education and training sectors and infrastructure.      
In total, the screen sector in Scotland contributed Gross Value Added (GVA) of £627 million to Scotland's economy in 2021, providing 10,940 full time equivalent (FTE) jobs, up from £568 million and 10,280 FTEs in 2019. GVA is the standard measure used by the Office for National Statistics (ONS) and other national statistical agencies for measuring the monetary value of economic activity and the economic performance of industries.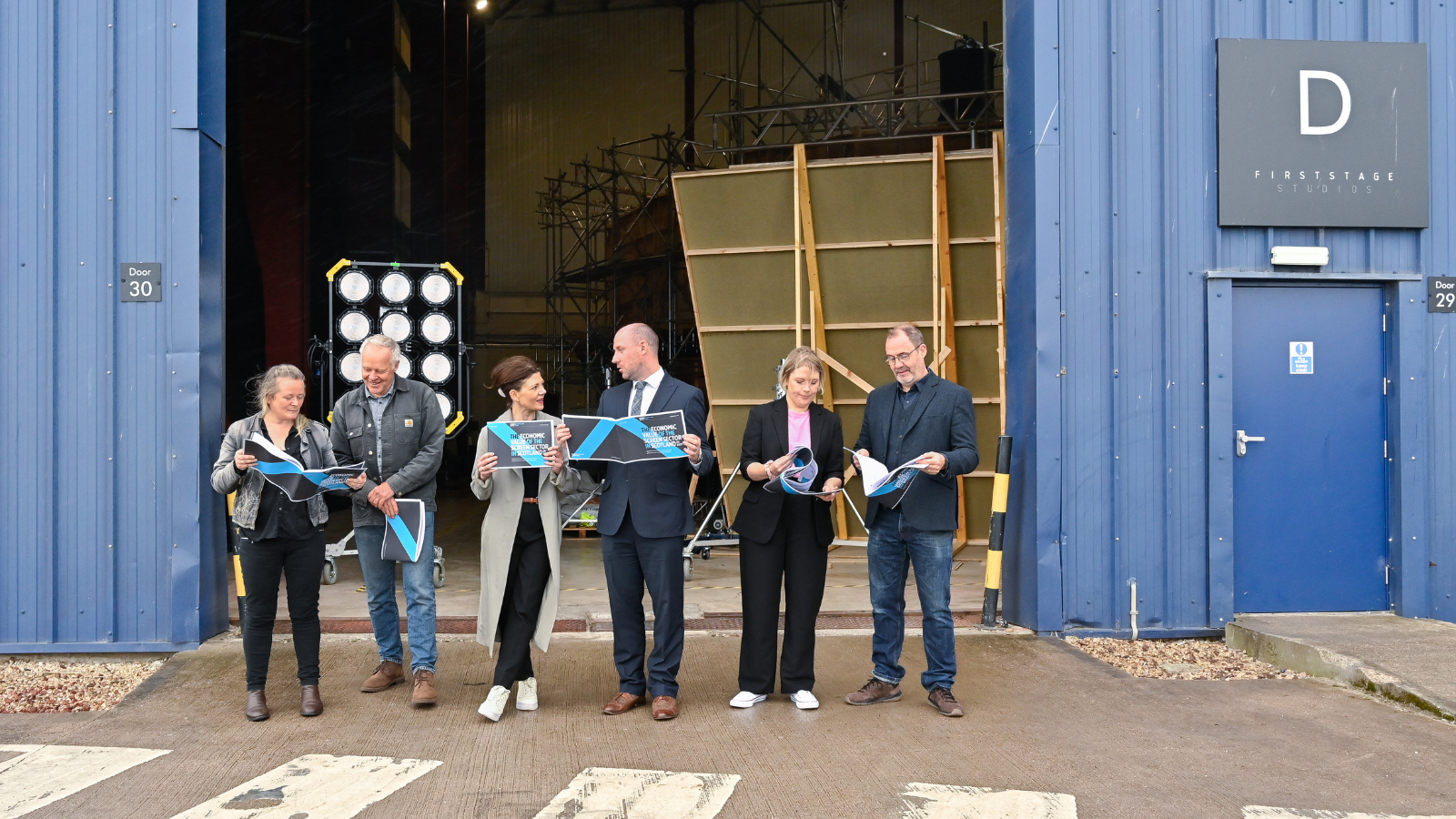 From left to right: Suzanne Reid  (film and HETV producer), Bob Last (CEO of FirstStage Studios), Isabel Davis (Exexcutive Director of Screen Scotland), Wellbeing Economy Secretary Neil Gray, Daisy Mount (Prime Video's Development Executive), and David Smith (Director of Screen Scotland).
Isabel Davis, Screen Scotland's Executive Director said: "The growth in all forms of production in Scotland between 2019 and 2021 is a phenomenal result.  It shows us that public investment via Screen Scotland in infrastructure, development, production and skills development, combined with attractive levels of production incentive are the catalyst for a successful industry.  
  "Now is the time to build on these newly created jobs and growth with a sustained funding commitment towards skills development, attraction of large-scale productions and a focus on the development of locally originated film and television.  Screen Scotland is committed to delivering further growth, working hand in hand with the commercial production and studio sectors.  This will rely upon sustained funding and support in order for Scotland to seize the opportunities ahead of it and see that growth trajectory continue." 
Authors of the Report, Stephen Bristow, Partner, Saffery Champness LLP and Dustin Chodorowicz, Partner, Nordicity noted further significant Report findings: "The doubling of Scotland's annual level of inward investment film and high-end TV production between 2019 and 2021, was nearly three times the 39% growth rate experienced by the UK as a whole, according to published BFI statistics. In addition, Scotland's screen sector GVA rose by 9.7% in those two years - well ahead of the 1.2% increase in nominal GVA (i.e. not adjusted for the effects of price inflation) posted by Scotland's overall economy during that period." 
Wellbeing Economy Secretary, Neil Gray said: "This report highlights another banner year for Scotland's screen sector, which is all the more significant for the jobs, investment and economic growth it has delivered. The scale of the return to the Scottish economy from the investment in screen production is remarkable. 
"Beyond film and TV, this report also highlights how our tourism, hospitality and construction sectors have benefitted from this investment through screen tourism, catering contracts, and infrastructure expansion, and the supply chains that support these activities. 
"The efforts of Screen Scotland have been key to this result and we are committed to working with them and the sector to ensure this growth and the wider benefits being delivered can continue." 
Bob Last, who's FirstStage Studios in Leith has housed Prime Video's Anansi Boys and The Rig, and where the second series of The Rig is currently filming, said: "We at FirstStage Studios are excited to have created a facility that helps our customers and their creatives realise ambitious visions for audiences both local and global.  We are pleased to have rapidly built relationships with, in particular Amazon Prime Video, enabling us to play a part in anchoring more of this global industry and its varied employment opportunities in Scotland and Leith. We thank all those who have chosen to make our facility their creative home and especially the crews whose hard work we witness daily, every one of them is a part of the good news today's Screen Scotland report outlines." 
As a highly experienced Scottish based film and HETV producer, and currently producer on The Rig, Suzanne Reid commented: "As I progressed in my career the higher-level productions I wanted to work on just didn't exist in Scotland, in part due to a lack of studio facilities – so I had to head to England and Wales for this type of work. It has been wonderful to be working back at home and to be able to work alongside our brilliantly talented Scottish crew on such a highly ambitious series. While it may have been a very successful couple of years for the Scottish Film and TV industry, we need to keep pushing for more high-end productions to be based in Scotland so we can continue to grow our talent base and keep them working at home." 
Discover more
The full report is available to download from our Economic Value of the Screen Sector in Scotland in 2021 webpage where a summary of the key findings including case studies can also be found.
---
Background information
* Screen Scotland's participation in the British Film Institute (BFI) led Screen Sector Taskforce enabled early agreement of safe-work protocols with the UK and Scottish Governments and the restart of film and HETV production in Scotland from the late winter of 2020.  Investment in skills development work - again by Screen Scotland in partnership with broadcasters, platforms and production companies - enabled higher investment in crew training across 2021, giving inward investor increased confidence in Scotland's ability to meet demand. The Outlander Training Programme, Screen NETS and the Good Omens Training Scheme (supported by Prime Video and BBC Studios) were among the training initiatives co-funded by Screen Scotland in that year.  
**Productions shooting in studios and on location in Scotland in 2021 included: Disney+ Star Wars series Andor, Indiana Jones and the Dial of Destiny, DC's The Flash, Netflix's Princess Switch 3: Romancing the Star, The Lost King starring Sally Hawkins and Steve Coogan, Prime Video's series The Rig, Apple Original film Tetris produced by Glasgow-based Sigma Films, Annika, Peaky Blinders which shot on location in Aberdeenshire, Channel 4 prison drama Screw, Irvine Welsh's Crime starring Dougray Scott, Guilt 2 starring Mark Bonnar and Jamie Sives, female detective drama Karen Pirie and ambulance call centre drama The Control Room.  
*** According to the British Film Institute (BFI), the combined value of spending on the production of films and high-end TV programmes across the UK grew at an annual average rate of 25.8% between 2013 and 2022 and reached a record £6.3 billion in that year.     
1. Screen Scotland commissioned international consultancy Saffery Champness LLP and Nordicity to prepare a full-scale economic impact study to assess the value of the Scottish screen sector, its sub-sectors and activities, and linkages to and influences on wider economic activity across Scotland.    
2. The work was undertaken with the support of industry partners including the BFI, ONS, Ofcom, public service broadcasters (PSBs) and VisitScotland.   
3. The purpose of the study was determine the full impact of the Scottish Government's investment in the screen sector, against the consistent method of data collection established in the initial 2019 study, highlighting the sector's development and progress against targets, tracking back to a clear baseline.   
4. The screen sector has been defined as inclusive of film and TV development and production, animation, VFX and post-production, film and TV distribution, TV broadcast, film exhibition, film and TV skills and education, and film and TV production facilities. The study covers film, TV and other audio-visual content; it does not cover the video games sector, nor does it include all of the commercials/corporate sector or online video production. In that regard, the report focuses on film and TV that is intended for initial release in cinemas, on broadcast or multichannel TV or related catch-up services, or subscription video on demand (SVOD) services.   
5. The study draws upon a variety of different sources – the Annual Business Survey (ABS), other data from the Office for National Statistics (ONS), BFI, Ofcom, Companies House filings and D&B Hoovers, industry surveys and interviews – to provide a comprehensive estimate of the contribution that the entire screen sector value chain and its spillover impacts – particularly screen tourism and screen education and skills development – make to Scotland's economy.   
6. Screen Scotland drives development of all aspects of Scotland's film and TV industry, through funding and strategic support. Screen Scotland is part of Creative Scotland and delivers these services and support with funding from Scottish Government and The National Lottery. Find out more at screen.scot and follow us on Twitter and Instagram. 
Media Contacts
Wendy Grannon [email protected] / +44 (0)7916 137 632 
Eilidh Walker [email protected] / +44 (0)7545 402 064