The full programme has been announced for Glasgow Film Festival's annual Industry Focus strand. The four day event, running from 6-9 March 2023, brings together Film and TV professionals from across the UK, Europe and further afield for a packed programme of panel discussions, workshops, screenings and networking, with a big focus on female talent across all aspects of the industry. GFF Industry Focus highlights a range of topics geared towards all levels and sectors of the industry - from recent graduates to established professionals - with a programme that provides a platform for professional development and a meeting place to help connect creative and business delegates.
Highlights include:
Celebrated author Stuart Cosgrove discussing the screen adaptation of bestseller Cassius X
Poly Styrene: I Am a Cliché director Paul Sng delving Inside the Documentary with Seahorse and The Great Hip Hop Hoax director Jeanie Finlay. Paul will also give audiences a first-look into his latest projects
A celebration of 20 Years of Reclaim The Frame, a spotlight for films by women and non-binary filmmakers in cinemas across the UK, featuring Birds Eye Films director Melanie Iredale and film critic and curator Xuanlin Tham
A look at how gender imbalance in the animation industry can be addressed with a Women in Animation event featuring Lauren Castro (Netflix), Helen Argo (Aardman) and filmmaker Isabel Barfod with journalist and author Hannah Flint as moderator
Training on how to pitch your big idea from the co-founders of My SMASH Media (a new creative platform designed to connect innovative content creators with decision-makers in film and TV) followed by the opportunity to listen to a top industry panel including Alice Whittemore (Film4) and Jen Davies (Conic Distribution)
1:1 consultancy opportunities for first and second time filmmakers to discuss their festival strategy with Catherine Bray from British Council
Censor producer Helen Jones in discussion with Film London's Jordan McGarry about how the annual Production Finance Market can help, from encouraging new business relationships to attaching international sales companies
A new strand at Glasgow Film Festival Industry Focus: Scotland and Europe. Guests will be welcomed from different areas of the European film sector, highlighting their successes, and discussing the nature of international collaboration in a post-Brexit Scotland. For its inaugural edition, the Festival welcomes Clara Kiskanc, Open Doors Coordinator at Locarno Pro. Open Doors champions filmmaking from regions where independent cinema is especially challenging, building bridges for collaboration across regions, countries and continents
The launch of the fourth edition of the Young Films Foundation, a talent development scheme based on the Isle of Skye that aims to find and aid a new generation of Scottish screenwriting talent
The launch of GFF's Town Hall, a new space for individuals from across the different sectors within the Scottish film industry to celebrate our successes, share our goals, exchange knowledge and build bridges to help us grow together as an Industry. Town Hall 2023 will be an opportunity to hear more about the plans for this annual event, share ideas and the launch of our Scottish Industry survey
At a private reception last night with industry leaders, the festival also announced its first step towards developing their new vision for the industry programme. A new Industry Advisory Board formed of leading industry experts and voices from across the sector will be established later in the year. The Festival have revealed that writer and director Raisah Ahmed will be the Chair of this group
Industry Focus passes are available to buy until Sunday 19 February, at £120 / £105 concession. To purchase and for more info visit https://glasgowfilm.org/glasgow-film-festival/industry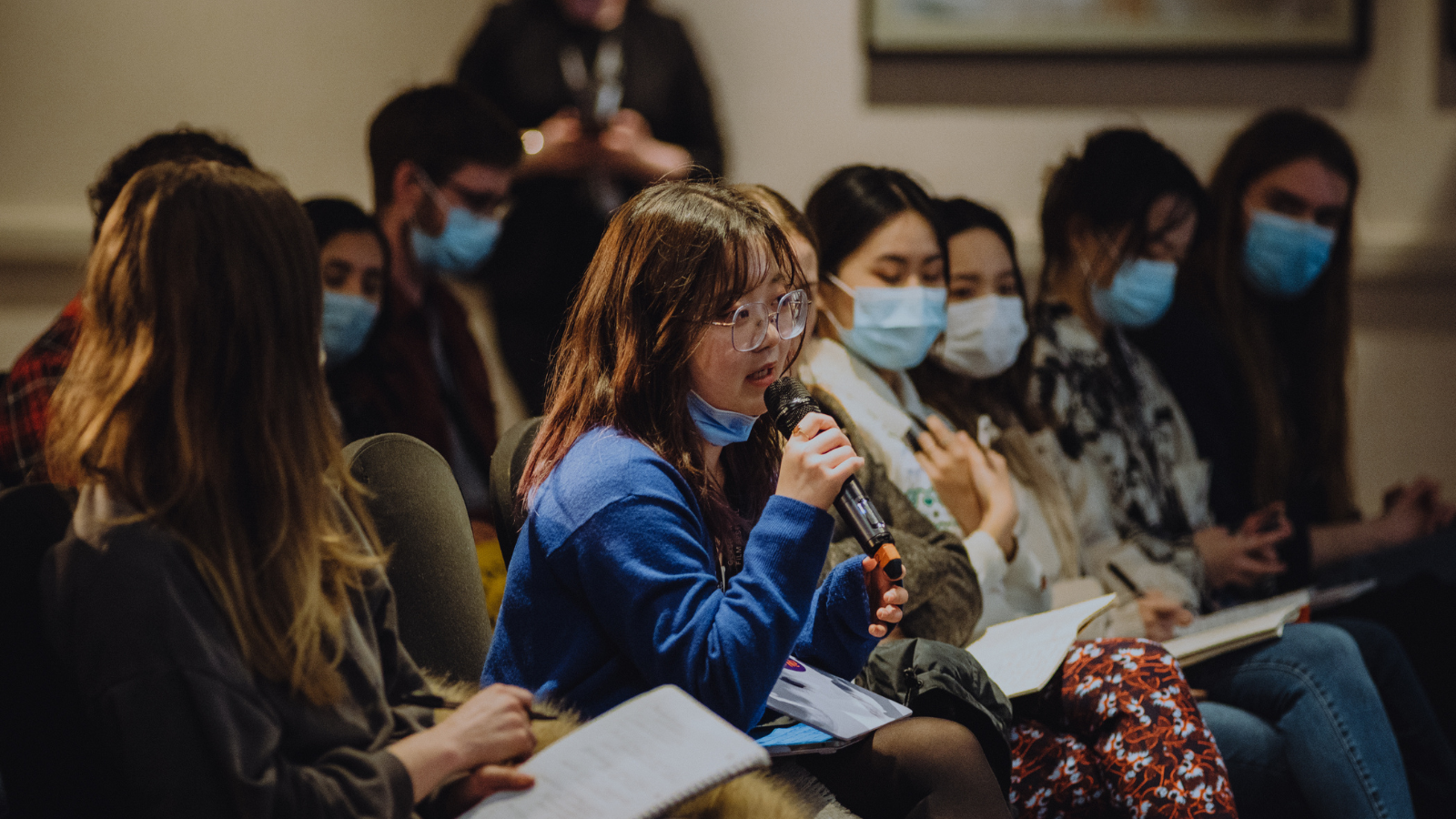 GFF Industry Focus audience, courtesy of GFF
Allison Gardner, Co-Director of GFF, said: "The Industry Focus at Glasgow Film Festival provides a vital opportunity for film professionals from Scotland, the UK and further afield to meet, network and share. The events we provide are designed to enhance the growing industry in Scotland and share our talent with our film colleagues from across the world."
The 19th annual Glasgow Film Festival will run from 1–12 March at Glasgow Film Theatre (GFT) and other venues across the city. GFF is one of the leading film festivals in the UK and run by Glasgow Film, a charity which also runs GFT. GFF is made possible by support from Screen Scotland, the BFI Audience Fund (awarding funds from the National Lottery), Glasgow Life and Event Scotland. Tickets to all GFF screenings are on sale now at www.glasgowfilm.org/festival
Isabel Davis, Executive Director of Screen Scotland, said: "Glasgow's industry programme provides a really useful set of events which will help filmmakers connect to financing and co-production opportunities, gain valuable insight into the filmmaking process and discuss critical issues facing the industry today."
---
Information on GFF
Glasgow Film Festival (GFF) is firmly established as a key event in the UK's cultural calendar. Launched in 2005, GFF has grown greatly in significance and is now a key launching pad for films and one of the top film festivals in the UK. GFF continues to grow and develop its international reputation. Held annually, it presents a unique programme of feature film premieres, special events, live and interactive experiences, and an Industry Focus programme for filmmakers at every stage of their career.
GFF was named the Big Screen Event of the Year at Screen International's Big Screen Awards in November 2022 for achieving a record high of 73% audience capacity at its first in-person edition post-Covid.
Previous GFF guests include Richard Gere, Alan Rickman, John C. Reilly, Saoirse Ronan, George MacKay, Richard Dreyfuss, Karen Gillan, Jessie Buckley, Sir. Michael Palin, Josh O'Connor, Ben Wheatley, Armando Iannucci, Jack O'Connell, Dexter Fletcher, Peter Mullan, George Sluizier, Peter Capaldi, Ty West, Richard Ayoade, David Dastmalchian, Eli Roth and Jean-Pierre Jeunet. www.glasgowfilm.org/festival
Information on GFF's major funders
About the BFI Audience Fund
The BFI Audience Fund invests £5.6m of National Lottery funding each year to expand access and encourage greater enjoyment of cinema by connecting audiences with great films - in venues, at events and online. We do this by supporting:
leading exhibition organisations, including film festivals, to deliver culturally rich and nationally significant programmes and events on a year round basis
projects which help exhibitors and distributors bring the best of UK and international cinema to audiences across the UK through events, distribution releases, multiplatform distribution proposals, touring film programmes and more
initiatives that address under-representation and are innovating audience development
We are a cultural charity, a National Lottery distributor, and the UK's lead organisation for film and the moving image. Our mission is:
To support creativity and actively seek out the next generation of UK storytellers
To grow and care for the BFI National Archive, the world's largest film and television archive
To offer the widest range of UK and international moving image culture through our programmes and festivals - delivered online and in venue
To use our knowledge to educate and deepen public appreciation and understanding
To work with Government and industry to ensure the continued growth of the UK's screen industries.
Founded in 1933, the BFI is a registered charity governed by Royal Charter.
The BFI Board of Governors is chaired by Tim Richards.
Screen Scotland
Screen Scotland is the national body that drives development of all aspects of Scotland's film and TV industry, through funding and strategic support. Screen Scotland is part of Creative Scotland and delivers these services and support with funding from Scottish Government and The National Lottery. Find out more at screen.scot and follow us on Twitter and Instagram.
Glasgow Life
Glasgow Life is a charity working for the benefit of the people of Glasgow. We believe everyone deserves a great Glasgow life and we find innovative ways to make this happen across the city's diverse communities.
Our programmes, experiences and events range from grassroots community activities to large-scale cultural, artistic and sporting events which present Glasgow on an international stage. Our work is designed to promote inclusion, happiness and health, as well as support the city's visitor economy, in order to enhance Glasgow's mental, physical and economic wellbeing.
For more information, visit www.glasgowlife.org.uk
Event Scotland
EventScotland is the national events agency. EventScotland is working to make Scotland the perfect stage for events. By developing an exciting portfolio of sporting and cultural events EventScotland is helping to raise Scotland's international profile and boost the economy by attracting more visitors. For further information about EventScotland, its funding programmes and latest event news visit www.EventScotland.org. Follow EventScotland on Twitter @EventScotNews. EventScotland is a team within VisitScotland's Events Directorate, the national tourism organisation which markets Scotland as a tourism destination across the world, gives support to the tourism industry and brings sustainable tourism growth to Scotland. For more information about VisitScotland see www.visitscotland.org