Scotland's First Minister, Nicola Sturgeon visited BBC Studioworks' recently launched multi-camera television studio at Glasgow's Kelvin Hall to see first-hand the world class multi camera facility and meet with young trainee graduates who have kick-started their career in studio entertainment production by completing the National Film and Television School (NFTS) Scotland's new Multi-Camera TV Conversion Programme.
The new 10,500 sq. ft purpose-built studio, set in the heart of Glasgow's West End in the iconic Kelvin Hall launched in September. Co-funded by the Scottish Government, through Screen Scotland and Glasgow City Council, the facility is a major boost to Scotland's capacity to produce multi-genre TV productions.
With the growing demand to make more TV shows and films in Scotland, the requirement for local, skilled production crews has increased significantly.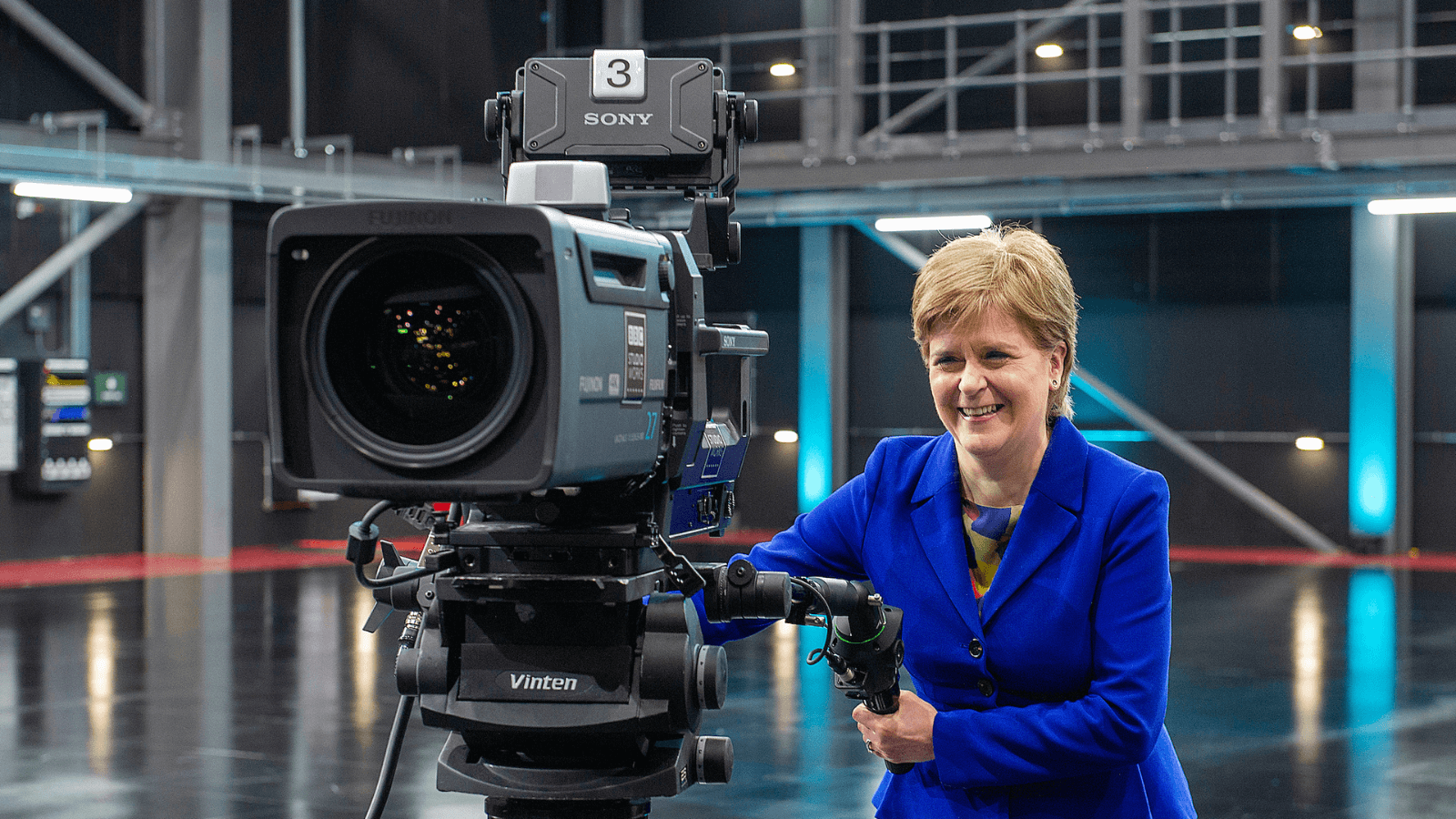 First Minister, Nicola Sturgeon visits BBC Studioworks, Kelvin Hall, courtesy of BBC Studioworks
The Multi-Camera TV Conversion Programme, supported by BBC Studioworks, Screen Scotland and Glasgow City Council aims to fuel the growth of Scotland's creative workforce and support the development of a skilled, dynamic and diverse pipeline. It has been designed to strengthen existing skills, provide on-the-job training and encourage new entry points into the industry.
BBC Studioworks provides paid work opportunities for each of the programme participants, giving them the opportunity to translate their learnings into practical skills and work alongside experienced TV production professionals in a state-of-the-art setting.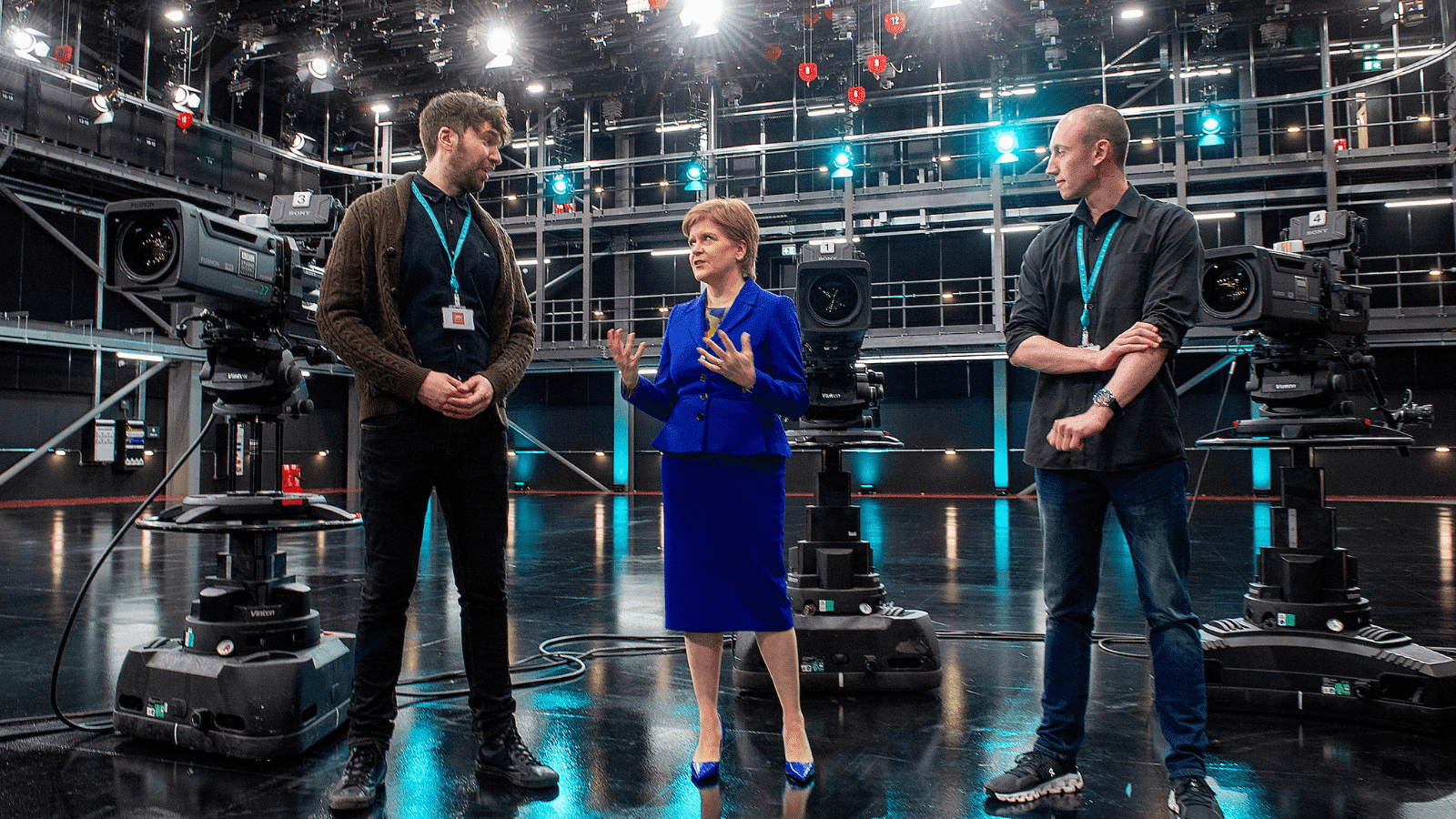 First Minister, Nicola Sturgeon meets recent Multi-Camera TV Conversion Programme at Kelvin Hall, courtesy of BBC Studioworks
Since its opening BBC Studioworks has facilitated 40 episodes of television at Kelvin Hall for two production residencies; BBC One's quiz show Bridge of Lies, produced by STV Studios (33 episodes) and BBC Two's Frankie Boyle's New World Order, produced by Zeppotron (seven episodes recoded with a 300 strong studio audience).
Nicola Sturgeon, First Minister said: "BBC Studioworks is a welcome addition to Scotland's existing range of studio space and is already delivering expertise in the entertainment genre and supporting existing skills and training schemes to further develop a sustainable creative economy.
"The studio will help meet the growing demand for Scottish film and high-end television production, and its opening provides a further boost to a building that has played a key role in Glasgow's cultural and sporting life."
Andrew Moultrie, CEO BBC Studioworks said: "Three years ago, we started a conversation with the Glasgow City Council and Screen Scotland where we shared a vision of creating a world class TV facility, based in central Glasgow, operated by Glaswegians and used as a hub to grow the future talent of the global entertainment sector.
Today, with their support, we deliver that vision through a sustainable state-of-the-art TV studio at Kelvin Hall with best-in-class operational capabilities and real work opportunities for local Glaswegians."
David Smith, Director at Screen Scotland said: "BBC Studioworks first started discussing the potential for a new state-of-the-art entertainment studio with Screen Scotland in early 2020. The Scottish Government and Glasgow City Council immediately recognised the potential when we raised the opportunity with them, and we have all worked together to deliver this opportunity for Scottish TV producers and crew.
Importantly, Kelvin Hall remains a destination for the people of Glasgow, as it is a facility where audiences can watch TV being made live – can see the wide range of rewarding creative jobs available behind the camera."
Councillor Susan Aitken, Leader of Glasgow City Council, said: "The state-of-the-art Kelvin Hall studio is key to the continuing development of the thriving film and broadcast sector here in Glasgow, with all the jobs, skills and economic opportunities that it brings. 
The success of productions already made at Kelvin Hall point to a very healthy future for both the studio and the sector, and, with the ongoing support of partners, this hugely important industry can go from strength to strength."
---
More information
About BBC Studioworks
BBC Studioworks is a commercial subsidiary of the BBC providing studios and post production services to all the major TV broadcasters and production companies including the BBC, ITV, Sky, Channel 4, Channel 5, Nexflix, Banijay and Hat Trick Productions.
Located across sites in London (Television Centre in White City, BBC Elstree Centre, Elstree Studios) and in Glasgow (Kelvin Hall), its facilities are home to some of the nation's most watched and loved television shows. 
BBC Studioworks' credits include:
Good Morning Britain, Lorraine, This Morning, Loose Women, The Jonathan Ross Show, Saturday Night Takeaway and The Chase for ITV
Sunday Brunch and The Lateish Show with Mo Gilligan for Channel 4

A League of Their Own and The Russell Howard Hour for Sky

Love Island Aftersun and CelebAbility for ITV2

The Crown and Crazy Delicious for Netflix

The Graham Norton Show, Pointless, Strictly Come Dancing, It Takes Two, Frankie Boyle's New World Order, Bridge of Lies and EastEnders for the BBC  
About NFTS Scotland

Since opening its doors in spring 2018, NFTS Scotland has been delivering the National Film and Television School's world-class training and innovation for the film and television sector in Scotland. Initially delivering from its base at BBC Scotland in Glasgow's Pacific Quay, the organisation also hosts online courses and sessions in the NFTS Scotland Virtual Classroom.
With a growing portfolio of over 60 courses and online sessions, spanning creative, craft and technical skill areas in development, production and post-production, the hub is committed to supporting the development of the local industry by offering a range of bespoke courses designed to develop the creative talent and expertise of graduates and people already working in Scotland's screen sector.
About Screen Scotland
Screen Scotland is the national body that drives development of all aspects of Scotland's film and TV industry, through funding and strategic support.
Screen Scotland is part of Creative Scotland and delivers these services and support with funding from Scottish Government and The National Lottery. 
Find out more at screen.scot and follow on Twitter and Instagram.
Technical equipment installed at Kelvin Hall
Cameras, visions mixers and monitors
Six Sony HDC-3200 studio cameras. The 3200 is Sony's latest model which has a native UHD 4K image sensor and can easily be upgraded to UHD.
Sony XVS7000 vision switcher, LMD and A9 OLED monitors for control room monitoring.
Hardwired and radio communications systems   
32 Bolero radio beltpacks with the distributed Artist fibre-based intercom platform and for external comms, VOIP codecs. 
A SAM Sirius routing platform solution to support the most challenging applications in a live production environment and to ensure easy adoption of future technology innovations.
Audio  
Studer Vista X large-scale audio processing solution that provides pristine sound for broadcast. 

Calrec Type R grams mixing desk. A super-sized grams desk providing ample space for the operation of the Type R desk and associated devices, such as Spot On instant replay machines. 
A Reaper multi track recording server.
Lighting
ETC Ion XE20 lighting desk and an ETC DMXLan lighting network.
108 lighting bars with a mix of 16A and 32A outlets (if tungsten is required).

48 Desisti F10 Vari-White Fresnels.

24 ETC Source 4 Series 3 Lustr X8 coming early 2023.
Sustainability
The studio has been designed without dimmers to support LED and low energy lighting technology. The reduced heat generated by the low energy lighting has enabled the use of air-source heat pump technology for heating and cooling, and the ventilation plant has class-leading efficiency using heat recovery systems. The studio will reduce the carbon footprint of local TV production.
Media Contact:
Mhairi Clarke
Founder, Shine PR
[email protected]
0780 955 8375