The Hippodrome Silent Film Festival has announced the programme for its 13th edition. Scotland's only festival dedicated to silent film takes place in the country's oldest purpose built cinema, the Hippodrome in Bo'ness, Wed 22 - Sun 26 March 2023.
The Festival, affectionately referred to as HippFest, is renowned for its varied programme celebrating silent film with live musical accompaniment - and 2023's edition looks to continue that tradition, bringing silver screen gems, world-class musicians and renowned experts on silent film from across the world to Bo'ness. This year served by a daily Festival shuttle bus between Linlithgow station and the Hippodrome, bookable in advance.
The Festival opens on Wednesday 22 March with a screening of The Blue Bird (1928), Maurice Tourneur's fantasy fairy-tale of two children's quest for happiness. The magical journey of Tyltyl and Mytyl, based on playwright Maurice Maeterlinck's hugely popular 1908 play L'oiseau bleu, echoes The Wizard of Oz, with its charming allegory about what is really important in life. With bewitching costumes, stunning sets and gorgeous production design, every frame is visual delight. The film will be accompanied by the world premiere of a new commission by Sonic Bothy, an award-winning Glasgow-based inclusive ensemble that explores, composes and performs experimental and contemporary music. Online audiences can learn more about the film's hugely influential director, Maurice Tourneur, with a lively HippFest at Home presentation by his French biographer: Christine Leteux (premiering on Mon 20 February).
Earlier in the day critic and filmmaker David Cairns will be joined by Chris Heppell, a Campaigner with Changing Faces, the UK's Visible Difference and Disfigurement charity for a talk "All Faces are Masks": Visible Difference in Silent Cinema. The talk will examine the ambivalent attitude of Hollywood to themes of disfigurement and difference with images and clips from The Hunchback of Notre Dame and The Man who Laughs, explore the early origins of the "horror" genre, and discuss the I Am Not Your Villain campaign, which calls out those in the film industry using scars, burns or marks as a shorthand for villainy. The Man who Laughs will be shown as part of the HippFest Community screening programme at the atmospheric Victorian Barony Theatre on Saturday 18 March, and at the Hippodrome on Saturday 25 March.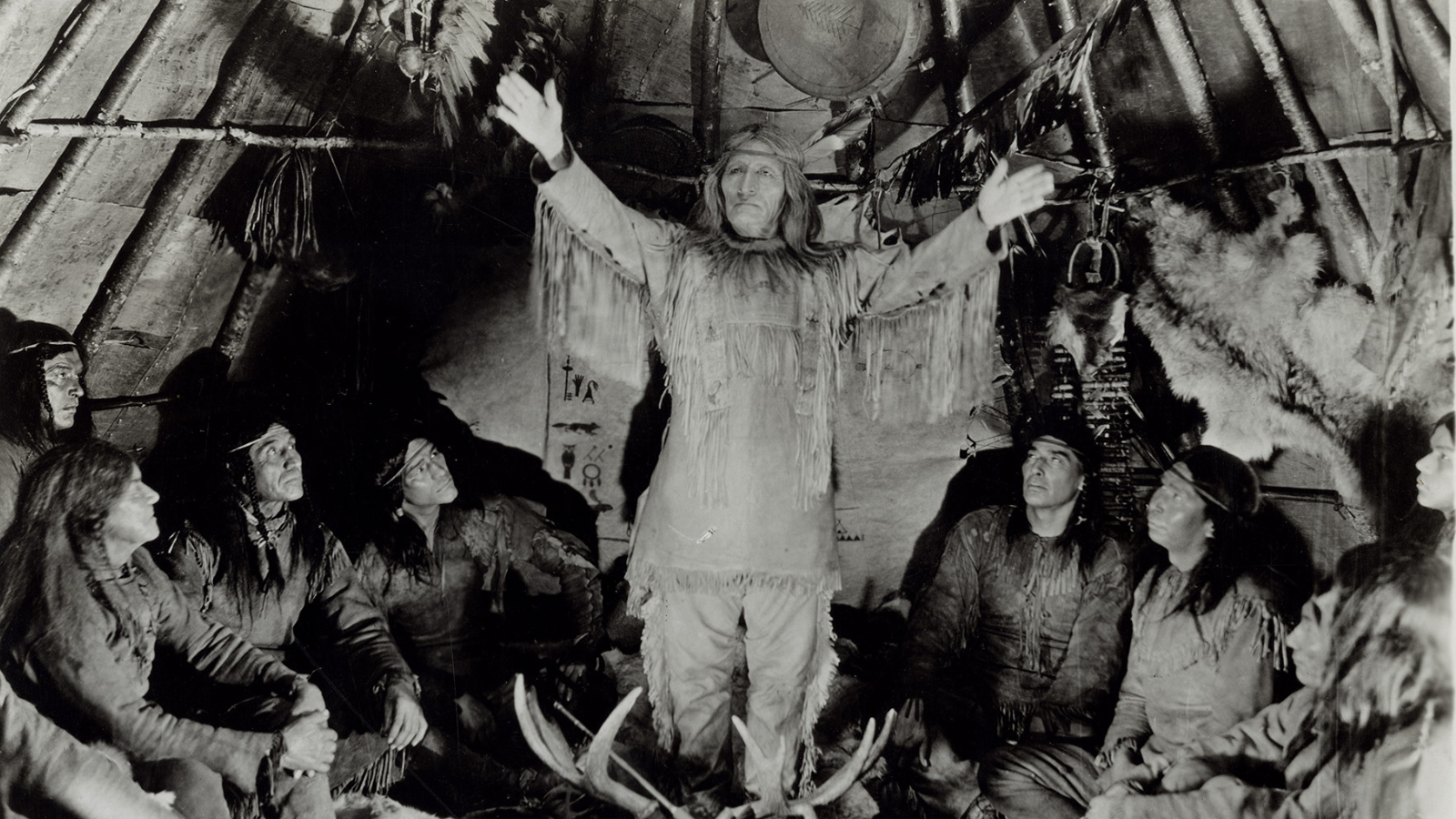 The Silent Enemy (1930), courtesy of Hippfest
Thursday's programming begins with an extremely rare and precious silent film collection depicting rural life in Ireland in the 1920s. Step back in time with Kathy Rose O'Regan of the San Francisco Silent Film Festival as she presents The Accidental Anthropologist: Benjamin T. Gault, footage captured by American naturalist Benjamin T. Gault from his time in west Kerry and Cork. O'Regan, who directed the digitisation of the films, will unravel the story of how the films were unearthed and what they reveal about Ireland's past and present.
In the evening HippFest travels to the Canadian Northwest and an exciting, dramatised reconstruction of the authentic ways of life of the Ojibway indigenous tribe. The Silent Enemy (1930) features an all-Native American cast and follows the tribe as they struggle to survive in the face of 'the silent enemy': Hunger. Declared a masterpiece by critics, the film will be accompanied by Günter Buchwald on piano and violin, with Frank Bockius on percussion.
It's a double bill of silent comedies on Friday 24 March, starting with Master of the House (1925), a gently funny battle of the sexes played out on a domestic scale by one of cinema's greatest filmmakers and unexpected master of subtle comedy, Carl Th. Dreyer (Passion of Joan of Arc). The film will be accompanied on piano by John Sweeney.
HippFest's renowned Friday Night Gala closes the week with What Happened to Jones (1926), featuring Reginald Denny – the most charming, hilarious silent-era film-star you've (probably) never heard of. Based on the 1897 Broadway play by George Broadhurst, the story is a hilarious farce in which Denny shows off his comedic chops. With live musical accompaniment from Neil Brand (piano) and Frank Bockius (percussion); the dress code for the evening cops and bishops - or your finest HippFest glamour. Audience members will be invited to stay for post-screening film-themed entertainment plus a vintage clothing pop up, complimentary single malt 'giggle water' courtesy of Ian Macleod Distillers, and much more.
The weekend starts, as all weekends should, with HippFest's traditional Jeely Jar screening: a double bill of silent comedy with Dog Shy (1926) and Mighty Like a Moose (1926). It's a welcome return to HippFest for the comedy genius that is Charley Chase, whose fame has been unfairly eclipsed by the familiar trinity of Chaplin, Keaton and Lloyd. With live musical accompaniment from Neil Brand on piano.
Kathy Rose O'Regan, Frank Bockius, Mindy Johnson, Stephen Horne. Courtesy of Hippfest.
Saturday afternoon is a centenary celebration. First up is the debut of bone-afide movie royalty, Rin Tin Tin in Where the North Begins (1923). Rescued as a puppy from a French WW1 battlefield, Rin Tin Tin came to be known as The Dog Who Saved Hollywood with the success of this film. With live musical accompaniment from John Sweeney (piano).
Later in the afternoon, award-winning American author, historian and filmmaker Mindy Johnson will, for the first time, share with audiences outside the USA her game-changing research and newly discovered film footage which redefine our understanding of women's historical roles within early animation. "The Only Woman Animator" Bessie Mae Kelley and Women at the Dawn of the Animation Industry reveals the hitherto untold 'herstory' of Bessie Mae Kelley who worked elbow-to-elbow with Max Fleischer (creator of Betty Boop and Popeye), Paul Terry (Mighty Mouse) and Walter Lantz (Woody Woodpecker). Kelley was a pioneering animator whose animated mouse couple Roderick and Gladys, predates the birth of animation royalty: Mickey and Minnie.
Saturday evening begins with an avant-garde loveletter to Kyiv from filmmaker Mikhail Kaufman. In Spring (1929) is a devastatingly poignant portrait of Kyiv filmed a few years after a brief spell of independence and on the cusp of its subsequent subjugation by the Soviet Union. HippFest is proud to welcome Ukrainian musicians Roksana Smirnova and Misha Kalinin to the Hippodrome for the UK premiere of their new score for this film. The HippFest programme continues its celebration of Ukranian culture with a Pysanka workshop on Sunday 26 March; the traditional art of writing Pysanky and decorating Ukrainian Easter eggs.
HippFest 2023's Encore screening on Saturday evening is The Man Who Laughs (1928); a thrilling, historical melodrama starring Conrad Veidt. The distinctive 'look' of Vedit's character Gwynplaine is cited as a major influence for the visual aesthetics of Batman's grinning nemesis: the Joker. Veidt's extraordinary performance, and the film overall however, deserve to be celebrated for far more than this. With live musical accompaniment from pianist Meg Morley and percussionist Frank Bockius.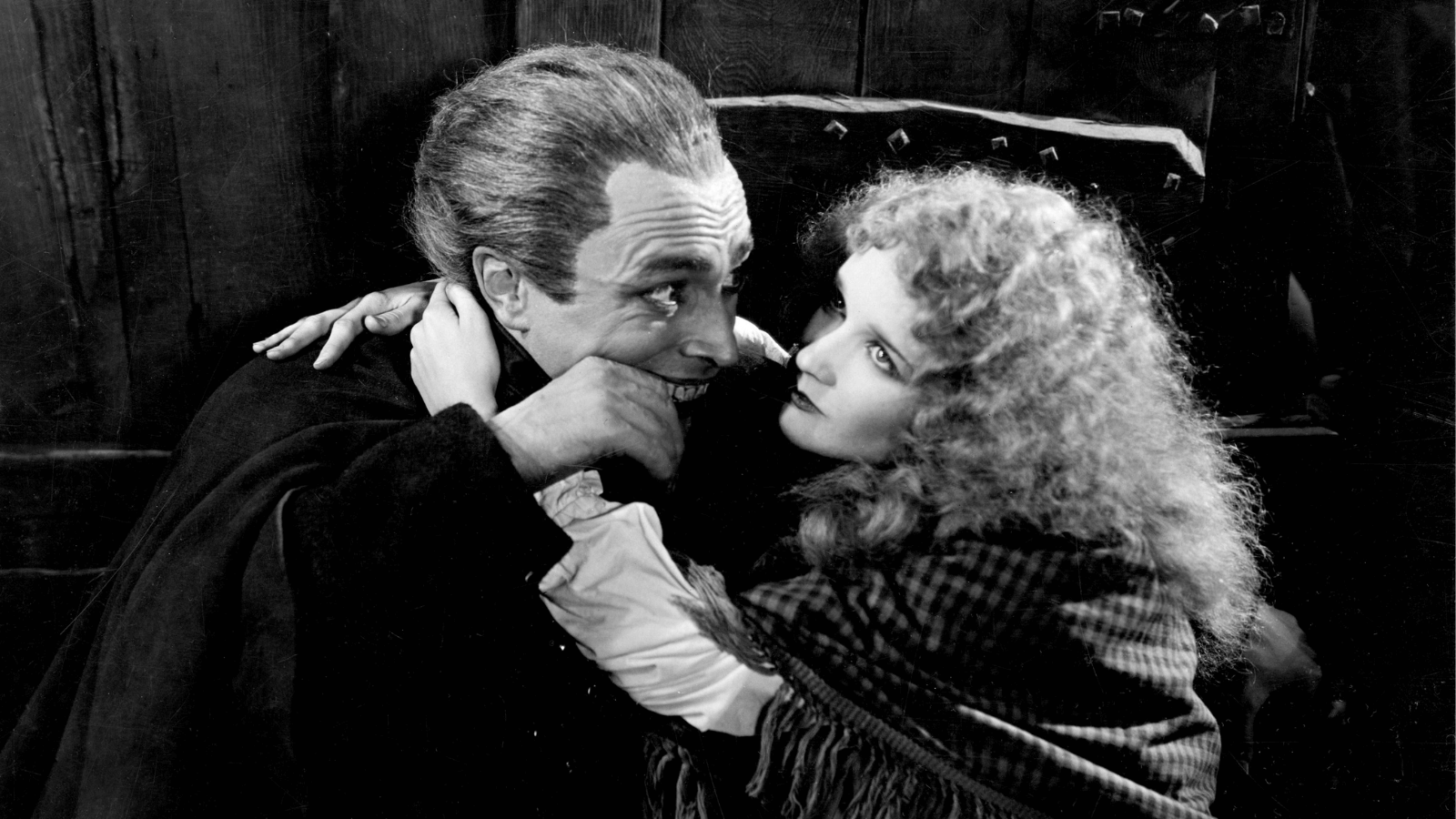 The Man Who Laughs (1928). Courtesy of Hippfest.
The boys in bowlers are back at the Hippodrome for the final day of the festival. Laurel and Hardy appear in Angora Love (1929) and Bacon Grabbers (1929) for a glorious afternoon in the company of the world's best-loved comedy team. With Meg Morley (piano) and Frank Bockius (percussion) performing live; it is just the ticket for guaranteed belly laughs.
Snuggle into Sunday evening with a hair-larious Swedish/German rom-com, His Majesty the Barber (1928). The film stars Enrique Rivero, heralded as the next Valentino, as the handsome young wannabe barber Nickolo. This film is lots and lots of fun, with an appealing central couple and a host of charming supporting characters. With live musical accompaniment from John Sweeney (piano).
The festival closes its 2023 edition with Shooting Stars (1928), Hollywood Babylon - UK style! A behind-the-scenes film-biz satire in which the glitz and glamour of a 1920s British movie studio is the setting for seediness, betrayal and intrigue. Despite the director credit going to veteran filmmaker A.V. Bramble, this is the original work of rising talent Anthony Asquith (Underground) – whose dynamic cinematography combines with the cast's subtle performances to make for a masterpiece of British silent cinema. Maestro Stephen Horne will provide the closing live accompaniment, on piano, flute, and accordion.
In addition to this packed programme, HippFest's regular events will also take place at the Hippodrome, around Bo'ness and beyond. Young local musicians will premiere their compositions for Scottish archive films in New Found Sound - fast becoming the Festival's hot ticket each year; the silent film of China enters the spotlight with Volcanic Passions (aka Loving Blood of the Volcano) (1932), a delicious fusion of Chinese peasant drama with Hollywood-style island exotica; British Film Institute National Archive Curator Bryony Dixon and composer and railway enthusiast Neil Brand will invite audiences to ride the rails back to the turn of the 20th century when cinema's love affair with the railway began, for HippFest's site-specific heritage railway platform screening Platform Reels; Curator and writer Jenny Brownrigg will uncover the extraordinary work of fourteen pioneering women photographers and filmmakers working in Scotland during the early 20th century at an event at Glasgow's Kelvin Hall; and historian Geoff Bailey will uncover The Lost Landscape of Bo'ness with a walking tour around the town. Plus a rare chance to see behind-the-scenes of the Hippodrome with a guided tour.
And HippFest at Home returns with a selection of online events for those looking to join in with the Festival from afar. The first in the online series, The Serial Queens: Cinema's First Action Heroes, premiered on Monday 30 January, with more events planned in the run up to and during the Festival dates including Gone to the Dogs: a joyous celebration of dogs in silent film on Monday 13 March presented by comedy film historian Steve Massa, with Library of Congress Film Moving Image Section curators George Willeman and Lynanne Schweighofer.
HippFest Director, Alison Strauss shared her excitement upon announcing this year's programme: "HippFest has grown to be a world class festival for silent film, cultivating a real community of people who share an adventurous appetite for extraordinary cinema and live music. We can't wait to welcome everyone to explore the programme with us, and to come and be part of the unique atmosphere of the Festival, of Bo'ness and of the Hippodrome itself. The team has worked incredibly hard to pull together all the ingredients of HippFest that our audiences love, and this year the mix of great films, great fun and great music will be hard to beat."
Lesley O'Hare, Cultural Services Manager at Falkirk Council said: "We are proud to present this 13th edition of the Hippodrome Silent Film Festival at the Hippodrome Cinema in Bo'ness; and would like to thank the Festival's core funders, local businesses, artists, and musicians for their continued support in making HippFest one of Scotland's finest cultural celebrations. Showcasing the region and community outreach has always been at the core of the Festival; and we are proud to deliver the Hippodrome's Pay-It-Forward scheme at HippFest, which subsidises tickets and travel for someone in the community to experience the joy of silent film with live music who otherwise would not be able to attend."
Sambrooke Scott, Head of Audience Development at Screen Scotland said: "We're thrilled to welcome HippFest back for its 13th edition. Alison and the team have lined-up a brilliantly diverse programme of classics and hidden gems which audiences can enjoy in person, at the beautiful Hippodrome, or take part online from around the world. With BSL-English support for all screening events online and in the Hippodrome, it'll once again prove to be a wonderfully welcoming and accessible festival for all."
Information about Hippodrome Silent Film Festival 2023
The Hippodrome Silent Film Festival 2023 will take place at the Hippodrome Cinema in Bo'ness, Wednesday 22 to Sunday 26 March 2023. Talks and screenings in the Hippodrome and online will be BSL-English supported. The Festival has introduced the brand new HippFest Festival Pass for this year, which will give access to all Festival events at the Hippodrome and online for its 13th edition. Further information about the Festival Pass, the shuttle bus to and from Linlithgow, programme, and individual tickets can be found at www.hippfest.co.uk.
The Hippodrome Silent Film Festival is organised by Falkirk Council, supported by Film Hub Scotland part of the BFI's Film Audience Network, and funded by Screen Scotland and National Lottery funding from the BFI.
---
Background
The Hippodrome Silent Film Festival (aka ' HippFest ') was launched in 2011 and has since become a key annual event in the cultural calendar, drawing audiences from across Scotland and beyond, and generating significant interest internationally. The event is organised by Falkirk Community Trust and supported with funding from Film Hub Scotland, part of the BFI's Film Audience Network, and with funding by Screen Scotland and National Lottery funding from the BFI. HippFest's 2021 online edition has been shortlisted in the Hearts for the Arts Awards 'Best Arts Project' category (National Campaign for the Arts). www.hippfest.co.uk
The Hippodrome Cinema in Bo'ness is a stunning pre-art deco picture palace dating back to 1912. In 2009, following a major restoration, it was reopened with digital and 35mm projectors and a state- of-the-art sound system, a café and licenced bar, and is a four-star VisitScotland attraction. The Hippodrome has a year-round screening programme of new releases, family blockbusters, classics, international, independent, archive and art-house films. The cinema was recently awarded a grant from Screen Scotland's Cinema Equipment Fund to further upgrade the projection and sound equipment. The Hippodrome was named 'Best Cinema Experience in Scotland' in the 2019 Scottish Hospitality Awards and shortlisted for 'Cinema of the Year' at the 2019 Screen Awards. www.hippodromecinema.co.uk | www.hippfest.co.uk
Screen Scotland is driving the cultural, social and economic development of all aspects of Scotland's film and tv industry through enhanced funding, services and support with backing from Scottish Government and The National Lottery. Screen Scotland sits within Creative Scotland and works in partnership with Scottish Enterprise, Highlands and Islands Enterprise, Skills Development Scotland, Scottish Funding Council to ensure the sector's continued growth. screen.scot | Twitter | Instagram Learn more about the value of art and creativity in Scotland at www.ourcreativevoice.scot.
Film Hub Scotland - as part of the BFI's Film Audience Network, Film Hub Scotland are one of eight Hubs set up across the UK to extend film choice, increase and broaden film audiences, and enhance opportunities for audiences to engage with and learn about film. www.filmhubscotland.com