Director: Jack Archer
Editor: James Alcock
Sound Designer: Rob MacNeacail
Composer: Scott Twynholm
Production Managers: David Brown and Mhairi Valentine
Associate Producer: Andy Kimpton-Nye
Executive Producers: Clara Glynn and Mark Thomas
Producer: John Archer
Production company: Hopscotch Films
Funding: Bill Douglas: My Best Friend received £15,000 through our Film Development and Production Fund to support Scotland-based production company Hopscotch Films and director Jack Archer make his first documentary feature.
---
Synopsis
The story of the extraordinary friendship between Scottish film maker Bill Douglas and his lifelong companion and collaborator Peter Jewell. Bill Douglas was Scotland's finest director, celebrated by other great film makers including Lynne Ramsay, Lenny Abrahamson, Satajit Ray and Yuliya Solntseva. In his short career he made four films, an autobiographical trilogy My Childhood, My Ain Folk and My Way Home about his appalling childhood and Comrades an epic about a momentous moment in English history. Every shot in these films is an art work and every sequence a poem.
Bills life was transformed when he was on National Service in the Egyptian desert and met the man who would become his lifelong friend, Peter Jewell. The two men had very different backgrounds but they formed a unique bond that channelled a tremendous creative energy. In this film Peter reminisces about the life he shared with Bill in their tiny Soho flat filled with cinema memorabilia. Their love of the movies lead them to start experimenting with an 8mm camera. Peter's memories and musings about the legacy Bill left behind are illustrated with these never-before-seen short films.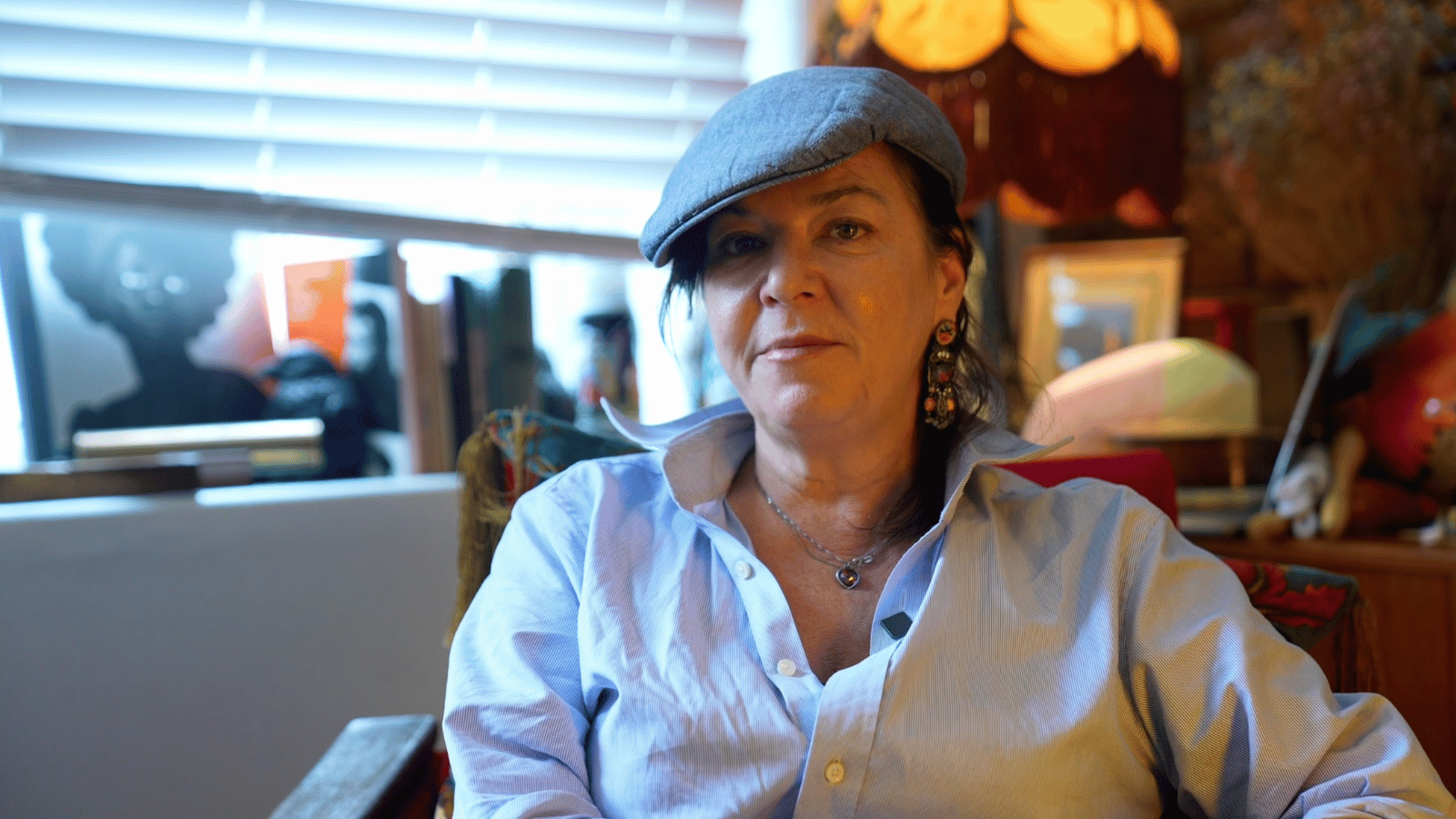 Lynne Ramsay interview shot in Bill Douglas: My Best Friend, courtesy of Hopscotch Films
More information
World premiere: Bill Douglas: My Best Friend will have its world premiere at Venice Film Festival 2023
---
Header image: Bill Douglas wearing flower cap, courtesy of Hopscotch Films