This year the YFF Skye Screenwriting Residency Programme had over 350 applications for just 7 places on its exciting new edition which will run from 24 June 2021 to 31 July 2022.
The programme begins this week on Thursday 24 June and will provide the lucky participants with the unique opportunity to develop a screenplay for a feature film or TV drama or comedy series with individual support from established industry mentors as well as receiving inspiring masterclasses and tutorials from well-known Film and TV writers, directors, and producers.
Each script will be commissioned and paid for by one of the following Broadcasters – BBC Drama, Sky, Channel 4 Drama, Channel 4 Comedy, Film4, BBC Film and BBC/MG Alba. The programme will culminate in writers bringing their developed scripts for a week-long residency in Skye in June 2022 where every aspect of their scripts will receive in-depth analysis from mentors, experts, and commissioners. Time will also be given for the writers to work with established actors and directors on scenes from their draft scripts in the studio in Skye.
The successful 2021/22 screenwriters are:
Aileen Ritchie & Manu Kurewa (Writing Partnership) – Mentor: John Collee (Writer - Master and Commander: The Far Side of the World, Hotel Mumbai (AACTA Nominee Best Screenplay 2019), Happy Feet)

Holly Tennant – Mentor: Joe Thomas (Writer & Actor – The Inbetweeners (Channel 4), Chickens (Channel 4), White Gold (BBC)

Keiron Nicholson – Mentor: Hilary Martin (Producer - From Darkness (BBC), In The Flesh (BBC – BAFTA Winner Best Mini-Series 2014), In The Dark (BBC)

Lana Pheutan – Mentor: Mairead Hamilton (Writer & Director – Bannan (BBC Alba)

Lorna King – Mentor: Stevie Lee (Producer – Frank, The Reason I Jump (BIFA Winner Best Documentary 2021)

Nas Saraei – Mentor: Hania Elkington (Writer & Producer – The Innocents (Netflix))

Rachelle Atalla – Mentor: Olivia Hetreed (Writer – Girl with a Pearl Earring (BAFTA Nominated Best Screenplay, Adapted 2004), Wuthering Heights, Spy Princess)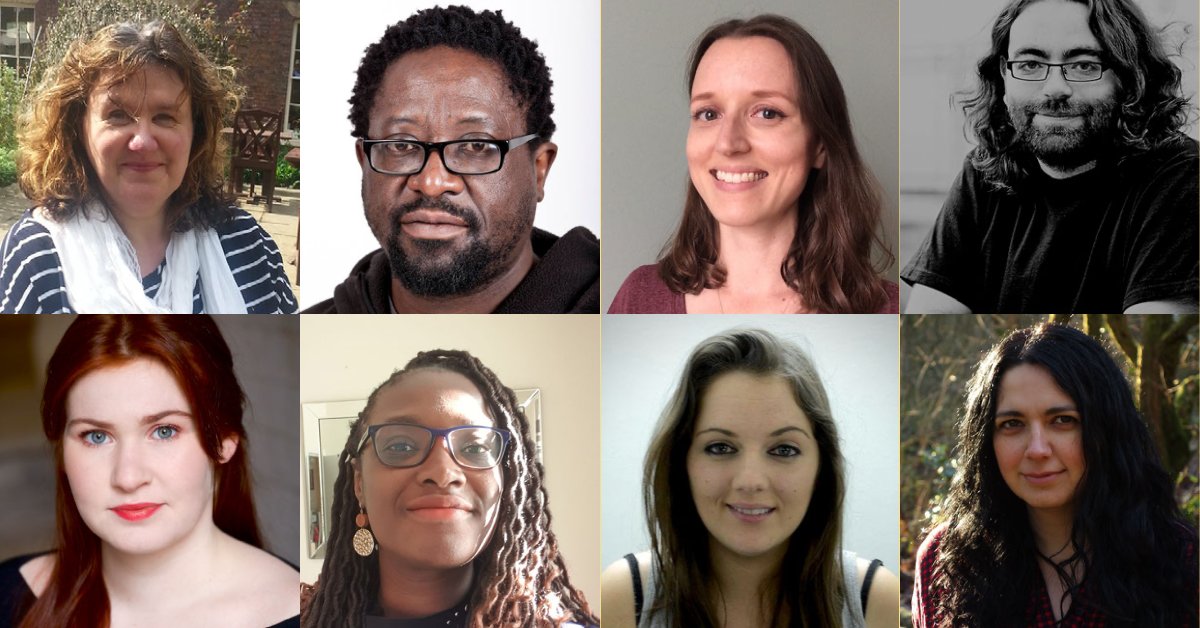 Partcipant headshots. Top Row (L/R): Aileen Ritchie, Manu Kurewa, Holly Tennant, Keiron Nicholson
Bottom Row (L/R): Lana Pheutan, Lorna King, Nas Saraei, Rachelle Atalla
Programme founder Chris Young said today: "We were astonished by the sheer volume of applications for this year's programme, and it has been a tough process narrowing it down to 8 from over 350! Overall, we've been very impressed by the quality and range of submissions, and the passion expressed for screenwriting expressed by so many. It's encouraging for us to see how much Scotland's new talent appreciates the unique opportunity offered by this programme, and it's clear that there is an important gap here in Scotland which we're hoping to fill – namely to connect up the talent with the bigger industry out there and feed the ambition of these new voices."
Beth Willis who has teamed up with Chris Young to run the programme added: "We were overwhelmed by the wealth of Scottish talent who applied to the programme. It was a difficult but inspiring process to select the final few. Together with our mentors and incredible range of inspiring experts we will give these 8 Scottish screenwriters the time to find their writing voice with support and feedback and encouragement throughout the year. A commissioned script and a relationship with the broadcaster commissioners is the holy grail in this industry – and all participants will have instant access to both."
The Participants will experience the journey of a script commission from idea to a completed first draft script over the year – for which they will all uniquely receive a script commission fee. They will work closely with their experienced and accomplished industry mentor who will offer support and guidance in developing the Participant's ideas and voice, with regular feedback and input from their partnered Broadcaster.
The Programme will include online monthly masterclasses from world-leading experts in film & TV (which for this year includes Lenny Abrahamson, Nicole Taylor, Jackie Kay, John Yorke, Andrew Macdonald & Neil Gaiman – full list below), which will offer the Participants a unique perspective into the world of screen and developing their writing process. The Programme will cumulate in a week- long immersive residency in June 2022, where Participants, Mentors, Experts and Commissioners will come together to discuss and develop their work with further masterclasses and networking on the Isle of Skye.
Young Films Foundation Skye Screenwriters' Residency Programme 2021/22 is financially supported by the participating Broadcasters (Channel 4 Comedy, Channel 4 Drama, Sky, BBC Film, BBC Drama, Film4 & MG Alba/BBC Alba), Young Films, Screen Scotland, Channel 4 Nations and Regions and Torabhaig Distillery.
Full details to be found on the Young Films Foundation website: www.youngfilmsfoundation.co.uk
For further information please contact: [email protected]
List of Contributors:
Karen Gillan – Actor, Writer & Director – Doctor Who (BBC), The Party's Just Beginning (BIFA Nominee Best Debut Screenwriter 2018), Avengers: Endgame

Neil Gaiman – Writer – Good Omens (Science Fiction and Fantasy Writers of America Winner 2020), Doctor Who (Writers' Guild of Great Britain Nominee 2011), American Gods, Stardust, Coraline

Daisy Haggard – Writer, Actor – Back to Life (BBC – International Emmy Nominee Comedy Series 2020), Episodes (BBC)

Joe Thomas – Writer & Actor – The Inbetweeners (Channel 4), Chickens (Channel 4), White Gold (BBC)

Nicole Taylor – Writer & Producer – The Nest (BBC), Three Girls (BBC – BAFTA Winner – Writer, Drama 2018), Wild Rose (BAFTA Scotland Winner Best Feature Film 2019/BIFA Nominee Best Screenplay 2019)

Steven Moffat – Writer & Producer – Sherlock (BBC – BAFTA Winner Best Writer 2012, Primetime Emmy Winner Outstanding Writing 2010) & Doctor Who (BBC – BAFTA Winner Best Writer 2008)

Sue Vertue – Producer – Sherlock (BBC – Primetime Emmy Winner Outstanding Television Movie 2016 / BAFTA Winner Best Drama Series 2011), Coupling (BBC), The Vicar of Dibley (BBC – BAFTA Nominee Best Comedy 1998 & 1999)

Lenny Abrahamson – Director – Room (Academy Award Nominated Best Director 2016) & Normal People (BBC)

John Yorke – Story Consultant, Writer & Producer

Kirstie Swain – Writer – Pure (Channel 4), Sweetpea (Sky Atlantic), Run (HBO), Eve (CBBC – Nominee British Screenwriters' Award 2015)

Jackie Kay – Scottish Poet Laureate, Author & Screenwriter

Hilary Martin – Producer – From Darkness (BBC), In The Flesh (BBC – BAFTA Winner Best Mini-Series 2014), In The Dark (BBC)

Hania Elkington – Writer & Producer – The Innocents (Netflix)

Stevie Lee – Producer – Frank, The Reason I Jump (BIFA Nominee Best Documentary 2021)

Olivia Hetreed – Writer – Girl with a Pearl Earring (BAFTA Nominated Best Screenplay, Adapted 2004), Wuthering Heights, Spy Princess

John Collee – Writer – Master and Commander: The Far Side of the World, Hotel Mumbai (AACTA Nominee Best Screenplay 2019), Happy Feet

Caroline Leddy – Producer – Derry Girls (Channel 4 – BAFTA Nominee Best Scripted Comedy 2019) & Friday Night Dinner (Channel 4 – BAFTA Nominee Best Situation Comedy 2012), The Inbetweeners (Channel 4 – BAFTA Winner Audience Award 2010, BAFTA Nominee Best Writer 2011, Best Situation Comedy 2010 / British Comedy Awards Winner Best TV Sitcom 2010)

Andrew Macdonald – Producer – Shallow Grave (BAFTA Winner Best British Film 1995), Trainspotting (BAFTA Scotland Winner, Best Feature Film 1997/BAFTA Nominee Best British Film 1996), Ex Machina (BAFTA Nominee Best British Film 2016)

Beth Willis – Producer – Doctor Who (BBC), Ashes to Ashes (BBC)

Chris Young – Producer – The Inbetweeners (Channel 4 – BAFTA Winner Audience Award 2012 & 2009), The Inbetweeners Movie (BAFTA Scotland Winner Award for Special Achievement 2012), Bannan (BBC Alba), Festival (BAFTA Nominee Best British Film 2006)

Nick Drake – Writer & Poet – Romulus My Father (AFI Nominee Best Screenplay 2007)

Francesca Gardiner – Writer – Killing Eve (BBC – Emmy Nominated Outstanding Drama Series 2019), His Dark Materials (BBC/HBO)

Robyn Slovo – Producer – Tinker Tailor Soldier Spy (BAFTA Winner Best British Film 2012, BAFTA Nominee Best Film 2012), The Two Faces of January, Morvern Callar

Peter Straughan – Writer – Tinker Tailor Soldier Spy (BAFTA Winner Best Adapted Screenplay 2012/Academy Award Nominee, Best Writing – Adapted Screenplay 2012), Wolf Hall (BBC – Emmy Nominee Outstanding Writing for a Limited Series 2015), Frank (BIFA Winner Best Screenplay 2014)

Dan MacRae – Producer – Head of Development StudioCanal – '71, Macbeth, Paddington

Robin Slovo – Producer – Tinker Tailor Soldier Spy (BAFTA Nominee Best British Film & Best Film 2012), McMafia (BBC)

Margaret Matheson – Producer – Run, Shell (BAFTA Nominee Outstanding Debut by a British Writer, Director or Producer 2014), Katie Morag (BBC – BAFTA Scotland Winner Best Children's Programme 2014, British Academy Children's Award Winner Best Drama 2014)

Ian Sellar – Writer & Director – Venus Peter, Prague

Douglas Mackinnon – Director & Producer – The Flying Scotsman (BAFTA Scotland Nominee Best Director 2006), Doctor Who (BBC), Sherlock (BBC – BAFTA Scotland Winner Best Directing in Film or Television 2016), Good Omens (BBC/Amazon)

Jonny Campbell – Director – Dracula (BBC/Netflix), Westworld (HBO), Informer (BBC/Amazon)

Vítor Gonçalves – Writer & Director – The Invisible Life, A Girl in Summer

Annie Griffin – Writer & Director – The Book Group (Channel 4.- BAFTA Nominee Situation Comedy Award 2003), Festival (BAFTA Scotland Winner Best Director 2005 / BIFA Winner Douglas Hickox Award 2005), Fresh Meat (Channel 4)

Anna Symon – Writer & Producer – Mrs Wilson (BBC – BAFTA Nominee Best Mini-Series 2019 / Writers' Guild of Great Britain Nominee – Best Short Form TV Drama 2020), Deep Water (ITV)

Iain Morris – Writer, Director & Producer – The Inbetweeners (Channel 4 – BAFTA Winner Audience Award 2012 & 2009, BAFTA TV Nominee Best Writer 2011), The Inbetweeners Movie (BAFTA Scotland Winner Award for Special Achievement 2012), The Festival, Next Goal Wins

Damon Beesley – Writer, Director & Producer - The Inbetweeners (Channel 4 – BAFTA Winner Audience Award 2012 & 2009, BAFTA TV Nominee Best Writer 2011), The Inbetweeners Movie (BAFTA Scotland Winner Award for Special Achievement 2012), White Gold (BBC)
Partner Broadcaster Commissioners
Liz Lewin – Commissioning Editor (Sky)

Gwawr Martha Lloyd – Commissioning Editor (Channel 4 - Drama)

Fiona McDermott – Head of Comedy (Channel 4 – Comedy)

Ollie Madden – Head of Creative (Film4)

Rose Garnett – Director of BBC Films (BBC Films)

Piers Wenger – Controller BBC Drama (BBC Drama)

Gaynor Holmes – Scotland Commissioning Editor (BBC Drama)

Bill MacLeod – Commissioner (MG Alba)