Three feature films, Ride the Wave, A Banquet and She Will, made by Scotland-based filmmakers will debut as part of this year's Cannes GREAT8 Showcase which presents new UK feature films from some of the UK's most exciting emerging filmmakers to international distributors and festival programmers in the run-up to this year's Cannes Marché.
Now in its fourth edition, the GREAT8 Showcase is funded and run by the BFI and the British Council, in partnership with BBC Film and Film4.
Martyn Robertson's first funded directorial feature documentary, Ride the Wave, follows 14-year-old Scottish surfing champion Ben Larg who is not afraid of a challenge, and what bigger challenge for a young surfer than one of the biggest and most dangerous cold-water waves in the world at Mullaghmore, Ireland. Martyn trained at The Royal Conservatoire of Scotland. He has produced and directed a range of short films which have screened at the Edinburgh International Film Festival, the BFI London Film Festival and the Berlin International Film Festival. In 2015 his no-budget documentary Marty Goes to Hollywood won a BAFTA Scotland New Talent Award and sold to Amazon Prime. Ride the Wave is Martyn's first funded directorial feature documentary. He is currently in development on his next feature Wild Rider, with Sky Documentaries.
Martyn Robertson, Director / Producer, Ride the Wave said: "It's a film about boyhood, growing up, becoming an adult, the challenges of living in a remote community, and doing something exceptional against all the odds. We are really honoured to be included in such a fantastic line up of films and filmmakers for Great8."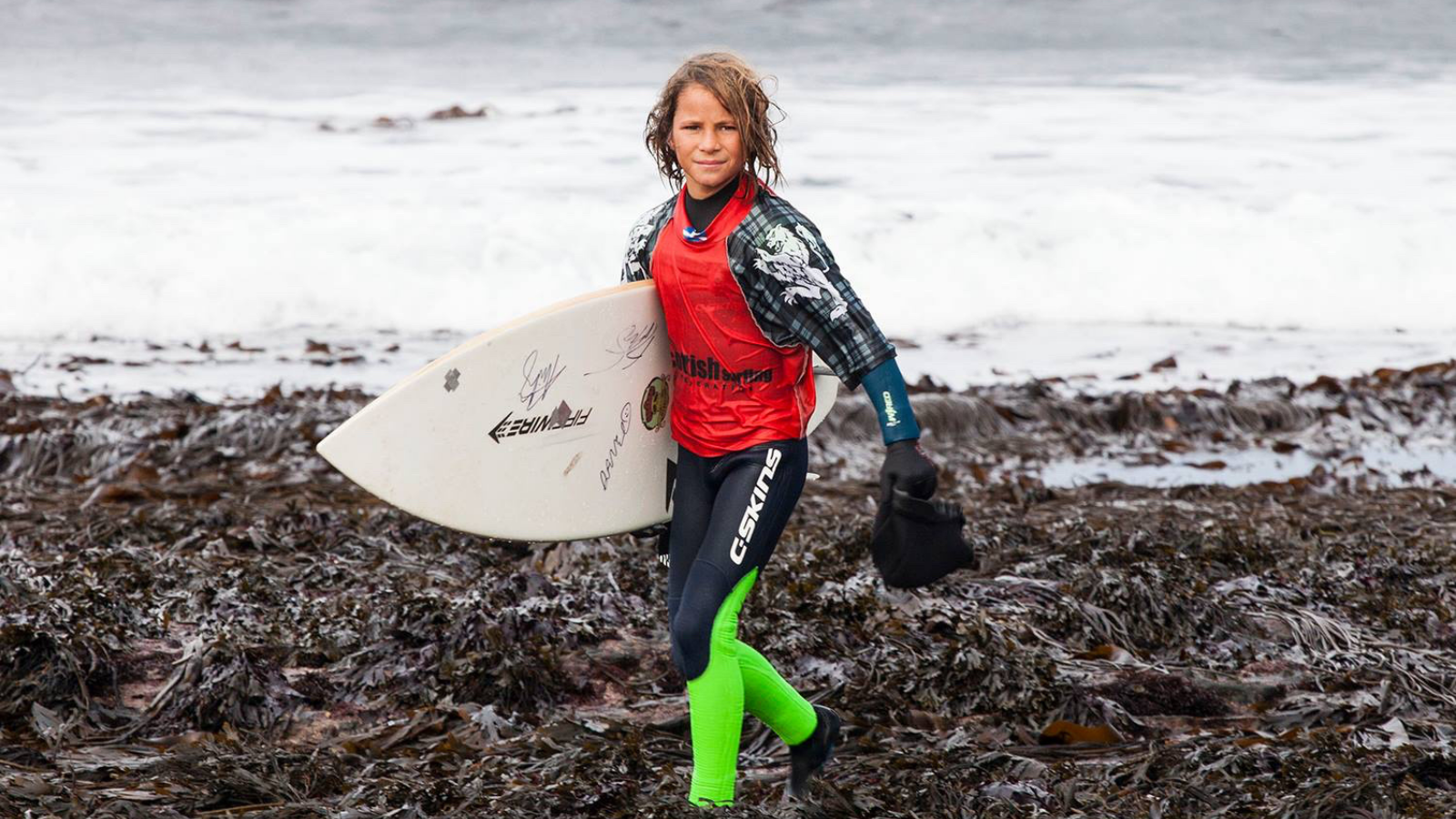 Still of Ben Larg with a surfboard from Ride the Wave.
A Banquet is Ruth Paxton's feature directorial debut, exploring the strains and the love between three generations of mothers and daughters. A Screen Academy Scotland graduate in film and TV, Ruth's award-winning shorts include Pulse and Paris/Sexy both premiered at the Edinburgh International Film Festival and Be Still My Beating Heart, starring Maxine Peake, premiered at the BFI London Film Festival in 2019. She was the subject of a career retrospective at the London Short Film Festival and has been named as one of Canongate Books 40 Scottish Storytellers of the Future. She currently has a number of other features in development.
Shot on location in Scotland, She Will is produced by Scotland-based producer Bob Last (Tommy's Honour, The Illusionist) and directed by Charlotte Colbert (Huffs and Puffs, The Silent Man). After a double mastectomy, fading star Veronica Ghent goes to a healing retreat in rural Scotland with her young nurse Desi.
Charlotte Colbert is an established artist and an award-winning filmmaker. Her artwork has been shown internationally at prestigious institutions including Somerset House, the V&A Museum of Childhood, the Saatchi Gallery, Art Basel and the Centre Régional d'Art Contemporain in Sète. She has written a number of award-winning screenplays for Olivier Dahan, Eric Cantona, Tony Grisoni and Harry Wootliff. She has also written and directed award-winning short films including The Silent Man (2016) starring Simon Amstell and Sophie Kennedy Clarke. Colbert's practice, spanning film, photography, ceramics and sculpture, often plays with and questions narrative structures, time, language, psychoanalysis, and socio-political constructions of gender and identity. She Will, which she also co-wrote, is her debut feature film.
In preparation for the Marché, unseen first-look footage from each of the titles will be introduced by their filmmakers and screened on Thursday 17 June exclusively to buyers and festival programmers and made available across five different time zones. All of the features are now in post-production and will be available to buyers during the online Cannes Marché (21-25 June).
Neil Peplow, the BFI's Director of Industry and International Affairs, says, "The high quality and diversity of UK filmmaking talent bringing their stories to film is exciting and a conversation that has grown through GREAT8. The level of interest shown by international buyers, programmers and the wider industry in the programme has been encouraging and we look forward to seeing their response this year.
"GREAT8 plays an important part in our activities to support the export of UK film around the world and build international relationships, work that we will be expanding thanks to our Government's support for the new UK Global Screen Fund."
International buyers and festival programmers welcome the opportunity offered by the GREAT8 to have an early look at the consistently high-quality new UK films and co-productions being produced and the introductions given by their filmmakers. Films which have been presented in previous GREAT8 showcases include Rungano Nyoni's I Am Not A Witch (Camera d'Or nominee, 2017), Nick Rowland's Calm with Horses, Rose Glass's Saint Maud, Simon Bird's Days of the Bagnold Summer, Fyzal Boulifa's Lynn + Lucy, Rubika Shah's White Riot, Michael Pearce's Beast, and Tinge Krishnan's Been So Long.
Briony Hanson, the British Council's Director of Film says: "This is the fourth time we've laid out our annual GREAT8 showcase as an international launch-pad for some of the UK's most talented and distinctive new voices. It's gratifying to see that those voices are shouting loud and clear, despite the challenges of the past year.
"I'm really excited to follow the careers of these filmmakers and know that these special films are going to be embraced by international audiences."
Background:
A Banquet
UK | Psychological horror
Director: Ruth Paxton
Writer: Justin Bull
Producers: Leonora Darby, Mark Lane, James Harris, Nik Bower, Laure Vaysse
Cast: Sienna Guillory, Jessica Alexander, Ruby Stokes, Kaine Zajaz, Lindsay Duncan
Production: Tea Shop Productions/Riverstone Pictures/REP Productions 8
Sales: Hanway Films
Synopsis: Widowed mother Holly is radically tested when her teenage daughter Betsey experiences a profound enlightenment and insists that her body is no longer her own, but in service to a higher power. Bound to her newfound faith, Betsey refuses to eat, but loses no weight. In an agonising dilemma, torn between love and fear, Holly is forced to confront the boundaries of her own beliefs. A slow-burn psychological horror with supernatural elements, A Banquet explores the strains and the love between three generations of mothers and daughters. 
Ride the Wave
UK | Documentary
Director: Martyn Robertson
Producers: Martyn Robertson, Louise Storrie
Production: Blackhouse Films
Sales: MetFilm Sales
Synopsis: Having participated in competition surfing since he turned 11, 14-year-old Scottish champion Ben Larg is not afraid of a challenge, and what bigger challenge for a young surfer than one of the biggest and most dangerous cold-water waves in the world at Mullaghmore, Ireland. If he gets it right, he joins an elite group. If he gets it wrong, the consequences are terrifying. Danger, opportunity, and parental dilemma collide, propelling Ben and his family towards an unknown destiny. 
Screen Scotland Funding: £106,000 supported by The National Lottery and the Scottish Government through Screen Scotland's Film Development and Production Fund.
She Will
UK | Psychological thriller
Director: Charlotte Colbert
Writer: Kitty Percy, Charlotte Colbert
Producers: Jessica Malik, Bob Last
Cast: Alice Krige, Kota Eberhardt, Malcolm McDowell, Rupert Everett
Production: Popcorn Group, Rocket Science, Intermission Film, Pressman Film
Sales: Rocket Science
Synopsis: After a double mastectomy, fading star Veronica Ghent goes to a healing retreat in rural Scotland with her young nurse Desi. The two develop an unlikely bond after mysterious forces give Veronica the power to enact revenge in her dreams.
For information on all eight films selected for The Great8 Showcase, please visit: bfi-press-release-british-council-cannes-great-8-2021-06-10-v2_1.pdf
Notes to Editors:
Screen Scotland is the dedicated partnership for screen in Scotland. With funding from Scottish Government and the National Lottery, Screen Scotland is driving the cultural, social and economic development of all aspects of the sector in Scotland, through enhanced funding, services and support. Screen Scotland sits within Creative Scotland and is a partnership with Scottish Enterprise, Highlands and Islands Enterprise, Skills Development Scotland, Scottish Funding Council, working in close collaboration with the sector to ensure its success. Find out more at screen.scot and follow us on Twitter and Instagram.
Media Contact
Tina McFarling
Press, Corporate, Industry & Partnerships
Tel: +44 (0)20 7957 4797 / +44 (0)7879 421 578
Email: [email protected]