The second season of Amazon Original Series hit Good Omens (Series 2) is confirmed to shoot in locations across Scotland from this summer.
Starring Scottish actor David Tennant (Doctor Who, Broadchurch) and Michael Sheen (The Good Fight, Quiz), the six-part series another significant production from Amazon Studios to be filming in Scotland this year, following their choice of Edinburgh's FirstStage Studios for Amazon Original Series, The Rig. Both series will launch exclusively on Amazon Prime Video in the UK and around the world.
Neil Gaiman continues as executive producer of Good Omens and will co-showrun along with Scottish executive producer Douglas Mackinnon, who will also return to direct. Rob Wilkins, John Finnemore and BBC Studios Productions' Head of Comedy Josh Cole will also executive produce, with Finnemore serving as co-writer alongside Gaiman.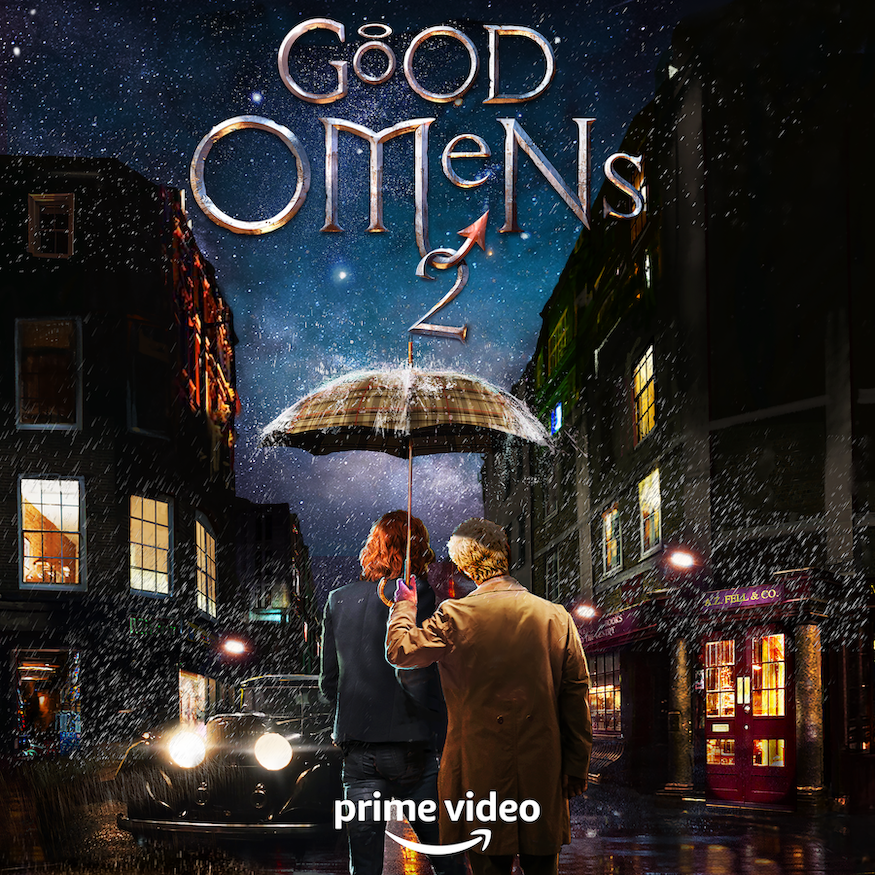 Promotional image for Good Omens 2, courtesy of Amazon Studios.
Culture Secretary Angus Robertson said: "The Scottish Government and our agencies are committed to strengthening support for the creative industries in Scotland. Securing major screen productions like this will create high-quality creative jobs and help promote economic growth."
Isabel Davis, Screen Scotland's Executive Director said: "Douglas Mackinnon has been instrumental in bringing this series to Scotland and it's been a pleasure to support Amazon, Douglas and his team in setting up here.
"This is a transformational moment for the Scottish industry, with momentum building across the country through increasing large scale productions using our highly respected crew base and rich depth and variety of locations to a global audience."
David Smith, Director of Screen at Screen Scotland, added: "Screen Scotland's Screen Commission has worked closely with the production team across 2020 and into 2021 to secure Good Omens for Scotland. With series producers committed to developing substantial training plans, we look forward to continuing our work with them as part of our efforts to grow Scotland's film and TV skills base."
Background
The Amazon Studios announcement can be accessed here.
Neil Gaiman's blog post about the announcement can be found here.
Good Omens is based on the novel by Neil Gaiman and Terry Pratchett.
Films and High-End TV produced and / or shot in Scotland in 2020/21 include:
Tetris, produced by Gillian Berrie, starring Taron Egerton and Toby Jones, filmed on location in Glasgow and Aberdeen; My Son, from Ken Loach's Sixteen Films, starring James McAvoy and Claire Foy, which filmed in and around Lochaber late autumn; returning TV dramas Outlander, Guilt, Shetland, and The Rig (Wild Mercury for Amazon Studios) which commenced filming at Leith's FirstStage Studios; Netflix returned to Edinburgh and the Lothians for the threequel, Princess Switch 3: Romancing the Star, and Peaky Blinders filmed in Aberdeenshire earlier this year.
Screen Scotland is the dedicated partnership for screen in Scotland. With funding from Scottish Government and the National Lottery, Screen Scotland is driving the cultural, social and economic development of all aspects of the sector in Scotland, through enhanced funding, services and support. Screen Scotland sits within Creative Scotland and is a partnership with Scottish Enterprise, Highlands and Islands Enterprise, Skills Development Scotland, Scottish Funding Council, working in close collaboration with the sector to ensure its success. Find out more at screen.scot and follow us on Twitter and Instagram.
Media Contact:
Eilidh Walker, Media Relations and PR Officer – Screen
[email protected] / +44 (0)7545 402 064