Today, Thursday 8th July 2021, Short Circuit has announced the 16 shortlisted films that will be developed through the short film scheme Sharp Shorts.
Short Circuit is a film talent initiative for Scotland delivered by Film City Futures in partnership with Glasgow Film, and supported by Screen Scotland and BFI NETWORK (using funds from the National Lottery) running initially until the end of March 2022.
In April 2021, Short Circuit invited writers, writer/directors or filmmaking teams of writer, director and producer to submit a one-page outline of their film idea. After a rigorous selection process, 16 projects have been selected for the development phase of the scheme, leading up to the opportunity to pitch for production funding.
The following 16 projects have been shortlisted:
A Good Burning – Writer/Director: Laura Cameron-Lewis; Producer: Andrew Eaton-Lewis
Candy – Writer/Director: Sarah Grant
Ernie's Bird – Writer/Director: Polly B
Everything Changes But You – Writer/Director: Clare Duffy; Producer: Carys Evans
FRO – Writer/Director: Eubha Akilade
Lily – Writer/Director: Jack Guariento
Living With It – Writer/Director: Holly Summerson
Milkgum – Writer: Marcelle Nuke
On The Twelfth Day of Findom – Writer: Joanne Thomson
Revert – Writer/Director: Miranda Stern
The Air We Breathe – Director: Lucas Chih-Peng Kao; Writer: Zoë Bullock
The Fulmar – Writer/Director: Katy Beveridge
The Jubilee – Writer/Director: Wilma Smith; Producer: Carol Brown; Executive Producer: Ken Anderson
The Proof – Writer/Director: Jinling Wu; Co-Writer: Sean Wai Keung
The Singer – Writer/Director: Cora Bissett; Co-Writer/Performer: Jamie Rea; Producer: Laura McBride
YOU LAND – Writer/Director: Debora Bottino
The filmmakers and projects - shortlisted from 248 applications - will receive training and development support over a three-month period to take their initial short film idea to a script.
In early autumn 2021, up to 9 teams will be selected to receive up to £15,000 of funding to get their film made.
Sharp Shorts launched in May 2020 with a call for short film ideas. 16 projects were selected for an intensive development phase, and 9 were awarded funding through Sharp Shorts at the end of August 2020. You can read about the awarded projects here.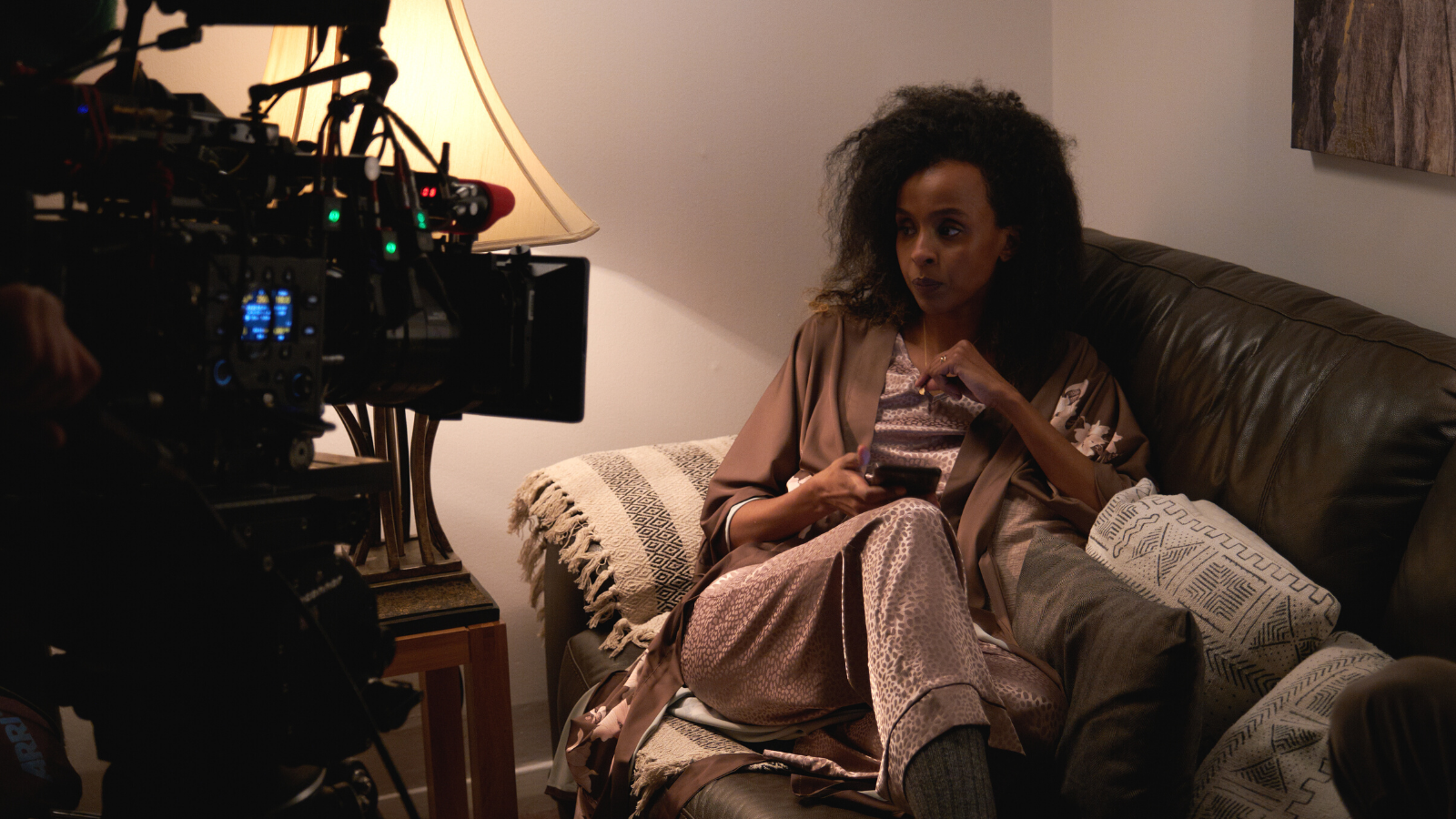 Behind the scenes of Victoria Thomas's Sharp Shorts funded film A Birthday Party - credit to Matt Towers
Alice Whittemore, Talent Executive at Short Circuit said: "It's been invigorating to assess the high calibre of Sharp Shorts applications for a second year running. We can't wait to work with these teams to develop a fresh crop of stories that reflect a plethora of voices from creative talent based in Scotland."
Allison Gardner, CEO at Glasgow Film said: "Glasgow Film are delighted by the quality and diversity of projects submitted for the second round of Sharp Shorts. Our ongoing work to reach filmmakers from under-represented communities continues to show results and we are excited to see the finished films on the big screen."
James Weddup, Head of BFI NETWORK at BFI said: "At BFI we are so excited to see this new batch of Sharp Shorts head into development. Across the UK, new filmmakers are using BFI NETWORK funding from the National Lottery to stake their claim as the future of UK cinema, and make leaps and bounds in career progression. This has meant BIFA nominations and Oscar longlists, and moving from calling card shorts to astounding first features - like Aleem Khan has just done with the BFI-backed After Love, following his short Three Brothers in 2014 (supported by BFI NETWORK/Film London). The 16 selected Sharp Shorts are fizzing with ideas and startling perspectives, and we look forward to seeing how the development journeys ahead propel these filmmakers to new heights."
Kieran Hannigan, Head of Scripted at Screen Scotland said: "It is fantastic to see the diversity and brilliance of the voices and projects uncovered by this year's Sharp Shorts shortlist. This is such a vital step on the path for these filmmakers, giving them exposure and experience through the development programme. Short Circuit is core to the mission at Screen Scotland to identify and nurture the best of Scotland's emerging talent."
The National Lottery raises over £30 million each week for good causes across the UK.
To stay informed of events and further opportunities, visit the Short Circuit website: www.shortcircuit.scot
Header Image: Behind the scenes of Razan Madhoon's Sharp Shorts funded film Go Home – credit to Kevin J. Thomson
About Short Circuit
Short Circuit is an ambitious new film talent initiative for Scotland delivered by Film City Futures in partnership with Glasgow Film, and funded by Screen Scotland and BFI NETWORK, running initially until the end of March 2022. Up to 9 short films will be produced and 5 feature length scripts will be developed through the programme each year.
The partnership between Film City Futures and Glasgow Film brings together two world-class film institutions based in Scotland, combining the filmmaking expertise at Film City with Glasgow Film's leadership in film exhibition with a strong following from young, diverse audiences. Short Circuit aims to become a key hub for emerging fiction filmmaking talent in Scotland, supporting writers, directors and producers to develop creatively and professionally, and stimulating the creative and commercial success of Scotland's film sector.
About Film City Futures
Film City Futures' mission is to connect people, space and opportunity, enabling access and entry to the screen industries for all. We offer industry focused programmes that are creative, challenging, and most importantly meet the needs of the screen sector in Scotland, from the engagement of new and emerging talent, to personal and business development. Projects to date include Jump Cut, a talent development initiative for 16-25 year olds; Frontrunners, an Executive Coaching programme for business leaders from television, film and related media businesses; and FOCUS, a business development initiative for screen businesses in Scotland.
Film City Futures is a not for profit organisation based at Film City Glasgow, a screen production facility which houses over 25 companies from across the Scottish production and post-production sector, which was co-founded by one of Scotland's most successful film production companies, Sigma Films.
Film City Futures is the trading name of Jump Cut Crew, a registered Scottish charity with charity number SC031842.
https://www.filmcityfutures.com/about-us
About Glasgow Film
Glasgow Film is an educational charity which runs Glasgow Film Theatre (GFT), Scotland's original independent arthouse cinema and the home of film in Glasgow; Glasgow Film Festival (GFF), one of the UK's leading public celebrations of cinema; and Glasgow Youth Film Festival (GYFF), a fast-growing international three-day festival co-curated by teenage film-lovers in the city. Glasgow Film is also the lead organisation for Film Hub Scotland, a membership organisation that supports more than 200 exhibitors across the country.
As one of the UK's leading independent cinemas, GFT plays an important part in the cultural life of Glasgow, screening a wide variety of international cinema, classic films and documentaries, alongside locally made work and material aimed at a range of community groups. GFT also has a strong education programme of outreach, courses and school screenings.
GFT was awarded Accessibility Champion at the SCoD Star Awards 2016 and became the first UK cinema to scoop the Autism Friendly Award 2017. GFF was named Outstanding Festival of the Year at The Herald Scottish Culture Awards 2019. Glasgow Film Theatre is a charity registered in Scotland. No. SC005932. www.glasgowfilm.org
About Screen Scotland
Screen Scotland is the dedicated partnership for screen in Scotland. Sitting within Creative Scotland, it is a partnership with Scottish Enterprise, Highlands and Islands Enterprise, Skills Development Scotland, Scottish Funding Council, working in close collaboration with the sector to ensure its success. With funding from Scottish Government and The National Lottery, Screen Scotland is driving the cultural, social and economic development of all aspects of the sector in Scotland, through enhanced funding, services and support. For further information please visit: screen.scot and follow @screenscots on twitter and @screenscots on Instagram.
About BFI NETWORK
Made possible through National Lottery funding, BFI NETWORK exists to discover and support talented writers, directors and producers at the start of their careers. We collaborate with film organisations and leading cultural venues across the UK to provide funding for short films, support for the development of first features, as well as a range of professional and creative development programmes.
Find out more and watch supported work: https://network.bfi.org.uk/
@bfinetwork
About the BFI
BFI is a cultural charity, a National Lottery distributor, and the UK's lead organisation for film and the moving image. Their mission is:
To support creativity and actively seek out the next generation of UK storytellers
To grow and care for the BFI National Archive, the world's largest film and television archive
To offer the widest range of UK and international moving image culture through their programmes and festivals - delivered online and in venue
To use their knowledge to educate and deepen public appreciation and understanding
To work with Government and industry to ensure the continued growth of the UK's screen industries
Founded in 1933, the BFI is a registered charity governed by Royal Charter.
The BFI Board of Governors is chaired by Tim Richards.

Media Contact:
Rachel Wilson
M: 07961011099
E: [email protected]