Short Circuit has announced the nine films that will be produced through the short film scheme Sharp Shorts.
Short Circuit is a film talent initiative for Scotland delivered by Film City Futures in partnership with Glasgow Film, and funded by The National Lottery through Screen Scotland and BFI NETWORK. The programme, running initially until the end of March 2022, aims to support new and emerging filmmaking talent across Scotland through a combination of funding, events and training opportunities.
In April 2021, Short Circuit invited writers, writer/directors or filmmaking teams of writer, director and producer to submit a one-page outline of their film idea. After a rigorous selection process, 16 ideas were selected to take part in further development, supported by industry experts and the Short Circuit Talent Executives, to take their project from idea to script.
The sixteen teams then pitched their project to the Short Circuit panel, for the chance to receive production funding to make their film. The following nine films are today announced as the selected projects:
Black Wool – Writer/Director: Eubha Akilade; Producer: Tara Trangmar
On her first day at a high school in rural Scotland, a London teenager is targeted for her afro hair by cocksure class bully and must harness her inner power.
Candy – Writer/Director: Sarah Grant
Plus size burlesque enthusiast, Mandy, prepares for her first public performance with help of best friend Jenna, but instead of a glittering stage as expected, it happens on top of her car to get Jenna out of a bad situation.
Jubilee – Writer/Director: Wilma Smith; Producer: Carol Brown
Mimi is an old lady who remembers fragments of her life through a cloud of dementia, through the help of Elder her husband, against a confusing backdrop of their 60th Wedding Anniversary party.
Living With It – Writer/Director: Holly Summerson; Co-writer: Niki Rooney; Producer: Reece Cargan
Perfectionist Lee must adapt to the imperfect reality of living with an illness - brought to life as a chaotic supernatural flatmate.
Milkgum – Writer/Director: Marcelle Nuke; Producer: Ciarán Charles
An Edinburgh sex worker becomes fascinated with an Oedipal creature entrancing the men in her life.
The Air We Breathe – Writer: Zoë Bullock; Director: Lucas Chih-Peng Kao; Producers: Mark Lacey, Marilyn Edmond
In a near-future Glasgow where the air is so polluted you have to pay to breathe, Eliza, a disillusioned healthcare-worker, plans to blow up an oxygen-distribution company in a final act of protest. A gritty dystopian sci-fi about capitalism, resistance, and hope.
The Singer – Writer/Performer: Jamie Rea; Writer/Director: Cora Bissett; Producer: Laura McBride
Joe is a young deaf man whose ambition in life is to become a singer. Only when he stumbles across struggling street musician Andy, who himself is losing his hearing, do they discover how much they can help each other to become a symbiotic performing team.
Revert – Writer/Director: Miranda Stern
A man radically departs from his rural island roots by converting to Islam to marry the women he loves, only to question everything when he is widowed unexpectedly and left with a small baby to care for. Confronted with the prospect of being his daughter's primary caregiver, he struggles with faith and ritual in the wake of loss.
You Land – Writer/Director: Debora Bottino; Producer: Katie Mallinder
A downtrodden Scottish farmer caring for her mother living with dementia attempts to become an influencer after discovering the popularity of cottagecore lifestyle.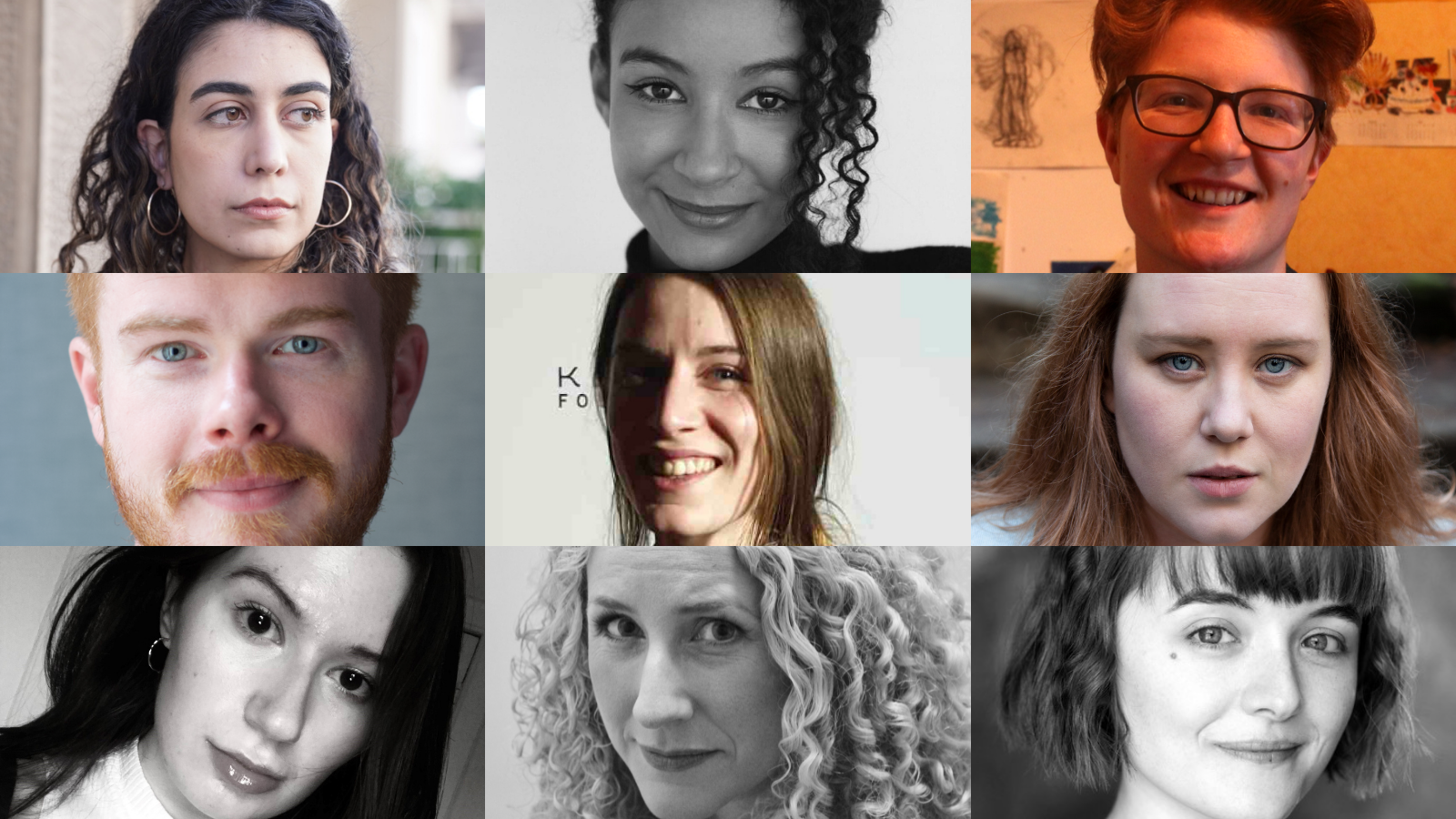 1st Row (L-R): Debora Bottino, Eubha Akilade, Holly Summerson
2nd Row (L-R): Jamie Rea, Miranda Stern, Sarah Grant
3rd Row (L-R): Marcelle Nuke, Wilma Smith, Zoë Bullock
The selected teams will each receive up to £15,000 to produce their film. Teams will also take part in intensive production training, and will be paired with an established Producer, Director or Writer who will mentor the team to help them to deliver their final film.
Gillian Berrie, Co-Director at Film City Futures, said: "We are delighted to be supporting a new cohort of filmmakers to take their projects from inception to completion. The selected short films reflect modern Scotland and include a variety of diverse stories and talent – we can't wait to see where this journey takes them!"
Allison Gardner, CEO at Glasgow Film, said: "​​Glasgow Film is excited about the broad range of voices reflected in this cohort of selected talent. We are constantly working to reach out to new voices across Scotland through our series of free events, sign up and join the Short Circuit community."
Kieran Hannigan, Head of Scripted at Screen Scotland said: "We are hugely excited by this crop of short films. We always look for exciting filmmakers with bold and distinctive ideas and this slate of films certainly answers that call. It shows that there is an amazing talent pool in this country. We look forward to seeing these films and feel confident that they will provide a wonderful platform for these filmmakers moving forward."
Short Circuit has also announced the appointment of two new Talent Executives, taking over from Alice Whittemore and Mar Vila Barcelo. Iria Pizania and Miriam Newman will deliver the film talent development project that nurtures new talent across Scotland.
Iria Pizania joins the Short Circuit team following a period of freelancing in TV. Born and raised in Athens, Greece, Iria has been working in the UK film industry for the last decade. Iria has a varied experience across all sectors of the film and TV industry working in physical production with credits on shows for Apple TV+, BBC and Starz, developing short and feature films and working with devised theatre and dance performers. Previously Iria worked on establishing the Equal Access Network at Film London with a clear focus on promoting diversity, equal opportunities and widening access for underrepresented and marginalised talent.
Iria Pizania, Talent Executive at Short Circuit said: "The slate of films selected for this round of Sharp Shorts is incredibly exciting and highlights the diversity of stories coming out of Scotland. I look forward to working with such a talented group of filmmakers who have already impressed us with their talent and determination. Huge congratulations to all the selected teams!"
Miriam Newman joins the Short Circuit team from Edinburgh-based Ossian Pictures. After starting her career at the BBC in development and acquisitions, she went on to work in the independent sector where she has a track record of identifying, developing and promoting new talent and stories. To date, she has supported multiple projects through development into production – including the short Egúngún (Masquerade), supported by BFI NETWORK via More Films for Freedom in association with British Council and BFI Flare: London LGBTIQ+ Film Festival, which premiered at this year's Toronto International Film Festival and will receive its UK premiere at the BFI London Film Festival.
Miriam Newman, Talent Executive at Short Circuit said: "With an enduring love of Scottish cinema, it is an honour to be working with this new round of Sharp Shorts filmmakers. I'm excited to start active development with the teams and provide ongoing creative and practical support to the next generation of Scottish talent."
The Talent Executives will continue to encourage the professional and creative growth of Scotland's emerging filmmakers whilst providing advice and guidance for all filmmaking talent in Scotland.
For more details about the selected projects, and to stay informed of events and further opportunities, visit the Short Circuit website: www.shortcircuit.scot.
The National Lottery raises £36 million each week for good causes across the UK.
---
Background
About Short Circuit
Short Circuit is an ambitious new film talent initiative for Scotland delivered by Film City Futures in partnership with Glasgow Film, and funded by Screen Scotland and BFI NETWORK, running initially until the end of March 2022. Up to 9 short films will be produced and 5 feature length scripts will be developed through the programme each year.
The partnership between Film City Futures and Glasgow Film brings together two world-class film institutions based in Scotland, combining the filmmaking expertise at Film City with Glasgow Film's leadership in film exhibition with a strong following from young, diverse audiences. Short Circuit aims to become a key hub for emerging fiction filmmaking talent in Scotland, supporting writers, directors and producers to develop creatively and professionally, and stimulating the creative and commercial success of Scotland's film sector. http://shortcircuit.scot/
About Film City Futures
Film City Futures' mission is to connect people, space and opportunity, enabling access and entry to the screen industries for all. We offer industry focused programmes that are creative, challenging, and most importantly meet the needs of the screen sector in Scotland, from the engagement of new and emerging talent, to personal and business development. Projects to date include Jump Cut, a talent development initiative for 16-25 year olds; Frontrunners, an Executive Coaching programme for business leaders from television, film and related media businesses; and FOCUS, a business development initiative for screen businesses in Scotland.
Film City Futures is a not for profit organisation based at Film City Glasgow, a screen production facility which houses over 25 companies from across the Scottish production and post-production sector, which was co-founded by one of Scotland's most successful film production companies, Sigma Films. Film City Futures is the trading name of Jump Cut Crew, a registered Scottish charity with charity number SC031842. https://www.filmcityfutures.com/about-us
About Glasgow Film
Glasgow Film is an educational charity which runs Glasgow Film Theatre (GFT), Scotland's original independent arthouse cinema and the home of film in Glasgow; Glasgow Film Festival (GFF), one of the UK's leading public celebrations of cinema; and Glasgow Youth Film Festival (GYFF), a fast-growing international three-day festival co-curated by teenage film-lovers in the city. Glasgow Film is also the lead organisation for Film Hub Scotland, a membership organisation that supports more than 200 exhibitors across the country.
As one of the UK's leading independent cinemas, GFT plays an important part in the cultural life of Glasgow, screening a wide variety of international cinema, classic films and documentaries, alongside locally made work and material aimed at a range of community groups. GFT also has a strong education programme of outreach, courses and school screenings.
GFT was awarded Accessibility Champion at the SCoD Star Awards 2016 and became the first UK cinema to scoop the Autism Friendly Award 2017. GFF was named Outstanding Festival of the Year at The Herald Scottish Culture Awards 2019. Glasgow Film Theatre is a charity registered in Scotland. No. SC005932. www.glasgowfilm.org
About Screen Scotland
Screen Scotland is driving the cultural, social and economic development of all aspects of Scotland's film and TV industry through enhanced funding, services and support with backing from Scottish Government and The National Lottery. Screen Scotland sits within Creative Scotland and works in partnership with Scottish Enterprise, Highlands and Islands Enterprise, Skills Development Scotland, Scottish Funding Council to ensure the sector's continued growth. screen.scot / Twitter / Instagram. Learn more about the value of art and creativity in Scotland at www.ourcreativevoice.scot
About BFI NETWORK
Made possible through National Lottery funding, BFI NETWORK exists to discover and support talented writers, directors and producers at the start of their careers. We collaborate with film organisations and leading cultural venues across the UK to provide funding for short films, support for the development of first features, as well as a range of professional and creative development programmes.
Find out more and watch supported work: https://network.bfi.org.uk/
About the BFI
We are a cultural charity, a National Lottery distributor, and the UK's lead organisation for film and the moving image. Our mission is:
To support creativity and actively seek out the next generation of UK storytellers
To grow and care for the BFI National Archive, the world's largest film and television archive
To offer the widest range of UK and international moving image culture through their programmes and festivals - delivered online and in venue
To use their knowledge to educate and deepen public appreciation and understanding
To work with Government and industry to ensure the continued growth of the UK's screen industries
Founded in 1933, the BFI is a registered charity governed by Royal Charter.
The BFI Board of Governors is chaired by Tim Richards.
Media Contact:
Rachel Wilson
M: 07961011099
E: [email protected]