Ten years after Scottish producer Chris Young broke UK theatrical box office records with the hit comedy The Inbetweeners Movie (which grossed a massive £46m), shooting begins on Young Films' latest theatrical feature film Silent Roar.
A contemporary adolescent tale of surfing, sex and Hellfire set on a Scottish Hebridean island, this first feature from Scottish writer/director Johnny Barrington, born and bred on the Isle of Skye, is backed by BBC Film, British Film Institute (BFI) and Screen Scotland both awarding funds from the National Lottery.
Silent Roar will be shot entirely on the Isle of Lewis, in the community of Uig; shooting will run for six weeks from Monday 6 September on a budget of £2.6m.
Silent Roar stars newcomers Louis McCartney as Dondo, a young surfer struggling to accept his father has died in a fishing accident and Ella Lily Hyland as Sas, a high-achiever dreaming of escape, with stage veteran Mark Lockyer taking the role of Paddy, a charismatic maverick preacher recently returned to the island.
Young previously produced Johnny Barrington's award-winning short Tumult which was supported by Creative Scotland and was nominated for a BAFTA after having its World Premiere at the Sundance Film Festival. Young also runs the Young Films Foundation on the Isle of Skye, is a talent development scheme that aims to find and aid a new generation of Scottish screenwriting talent.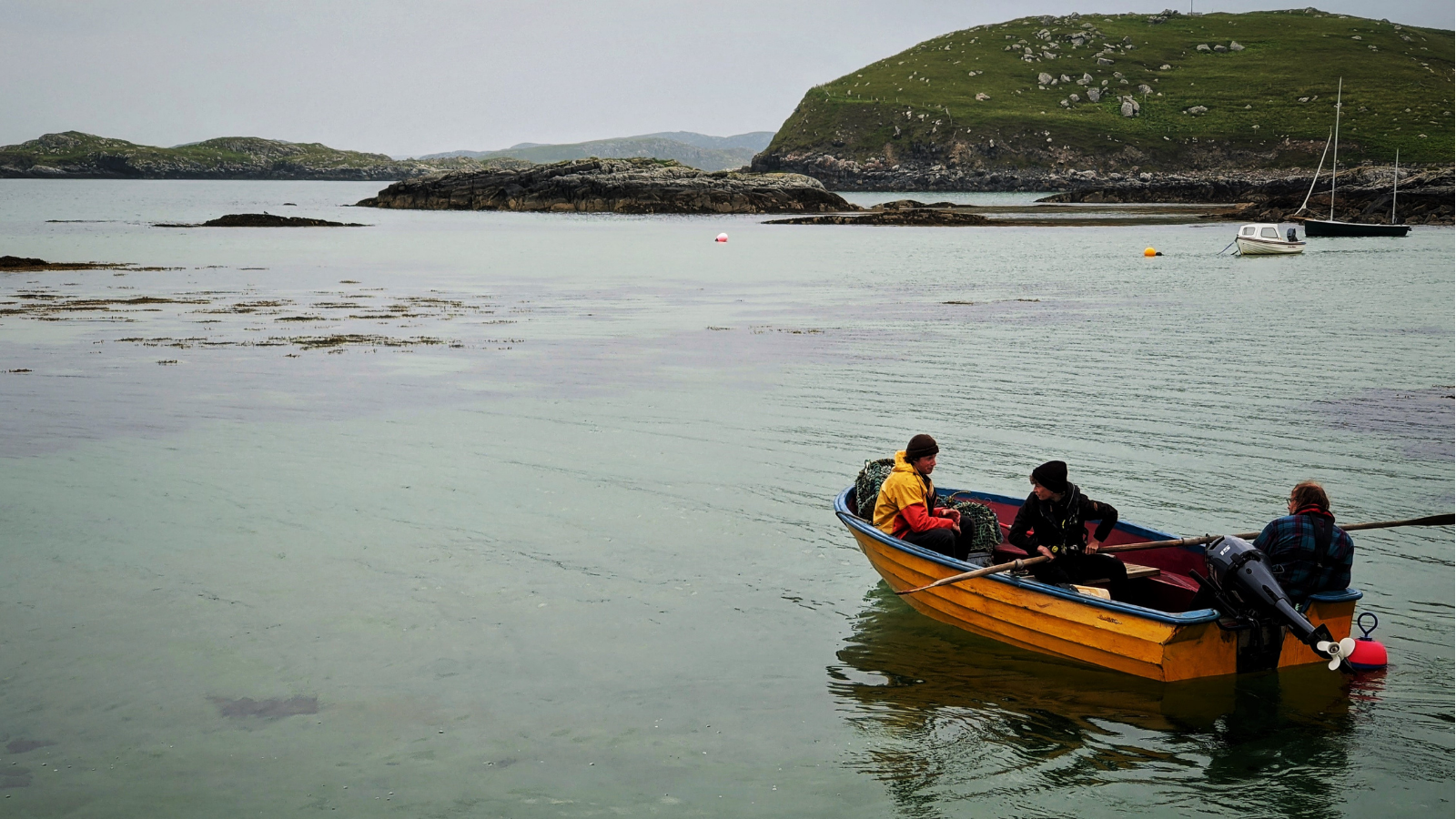 L/R: Aiden Smith, Lois McCartney, Johnny Barrington filming Silent Roar.
Young says: "We are so excited to take this opportunity afforded us by BBC Film, BFI and Screen Scotland, to give Scottish film-making a shot in the arm with a new theatrical feature destined for release next year in UK cinemas.
A film which captures the unique landscape of the Hebrides as a backdrop to a story which celebrates the joy and the pain of adolescence in the context of surfing.
Audiences have already enjoyed Johnny Barrington's unique view of the world, combining real pathos with unexpected humour and a taste for the sublime.
Having lived here for over twenty years, I've longed to find a film that can express the power and the glory of this landscape and its people, and Silent Roar is that film. Johnny is exactly the kind of talent we hope to unearth and support at Young Film Foundation - a great new writer with something unique to offer to global contemporary cinema.
We are hugely indebted to the people of Uig who will be providing us with their support and goodwill, not to mention our local line producer Shona Mackenzie.
Our ambition greatly exceeds our budget but as I discovered with The Inbetweeners, the key to success lies in the strength of the script, the director and the actors and I'm confident that we have found that magical combination here. Watch this space!"
Barrington adds: "Silent Roar is about the weird and wild things people do with their grief. It is inspired by recent life events and my childhood, all mixed up so nobody would ever recognise it. Ever!
I'm humbled by the support and inspired by the amazing cast and crew we have got together here in Uig on the Isle of Lewis. Although Silent Roar is my script it's already become a creative endeavour that depends on the talent and hard work of a huge group. I've been dreaming of and working towards making a feature film for 20 years now so I can't wait for us all to start shooting!"
Media Details
For interviews, images and to discuss press set visits please contact: Ruth Marsh on 07824468396 / [email protected]
Header Image: L-R Lois McCartney, Chris Young, Ella Lily Hyland, Johnny Barrington.
---
About BBC Film
BBC Film supports invigorating and imaginative filmmaking. Firmly established at the forefront of UK film, BBC Film has an ambitious slate featuring many of the most exciting filmmakers working today. Every film is linked by a sense of urgency – these are stories for now.
BBC Film supported five films at Cannes 2021: Andrea Arnold's COW in Cannes Premieres, Joanna Hogg's THE SOUVENIR PART II and THE SOUVENIR in Directors' Fortnight, Clio Barnard's ALI & AVA also in Directors' Fortnight, and Steve McQueen's LOVERS ROCK at Cinéma de la plage.
Upcoming BBC Film titles include Jane Campion's first feature film for 10 years, THE POWER OF THE DOG starring Benedict Cumberbatch, Jessie Plemons and Kirsten Dunst; TUESDAY, the debut feature from Daina O'Pusic starring Julia Louis-Dreyfus, Lola Petticrew and Arinzé Kene; MEDUSA DELUXE, the debut from Thomas Hardiman; GOD'S CREATURES starring Emily Watson and Paul Mescal and directed by Saela Davis and Anna Rose Holmer; EAR FOR EYE, the second feature from debbie tucker green featuring an ensemble cast including Lashana Lynch, Tosin Cole, Carmen Munroe, Danny Sapani, Nadine Marshall and Arinzé Kene; Harry Wootliff's second film TRUE THINGS starring Ruth Wilson and Tom Burke; Sean Durkin's THE NEST, starring Jude Law and Carrie Coon; PIRATES, the directorial debut of Reggie Yates; HERSELF directed by Phyllida Lloyd from a script by Clare Dunne and Malcolm Campbell; HERE BEFORE, the debut of acclaimed playwright, Stacey Gregg starring Andrea Riseborough; TRIANGLE OF SADNESS, the English language debut of Ruben Östlund starring Woody Harrelson, Harris Dickinson and Charlbi Dean; THE ETERNAL DAUGHTER, also from Joanna Hogg and starring Tilda Swinton; PEOPLE JUST DO NOTHING: BIG IN JAPAN, directed by Jack Clough and written by Steve Stamp and Allan Mustafa, with additional material by Asim Chaudhry, Hugo Chegwin and Lily Brazier; and SUPERNOVA from Harry Macqueen starring Colin Firth and Stanley Tucci.
About The BFI
We are a cultural charity, a National Lottery distributor, and the UK's lead organisation for film and the moving image. Our mission is:
To support creativity and actively seek out the next generation of UK storytellers
To grow and care for the BFI National Archive, the world's largest film and television archive
To offer the widest range of UK and international moving image culture through our programmes and festivals - delivered online and in venue
To use our knowledge to educate and deepen public appreciation and understanding
To work with Government and industry to ensure the continued growth of the UK's screen industries
Founded in 1933, the BFI is a registered charity governed by Royal Charter.
The BFI Board of Governors is chaired by Tim Richards.
The BFI Film Fund invests around £25 million of National Lottery funding a year into developing and supporting filmmakers with diverse, bold and distinctive projects, that have a cultural relevance or progressive ideas, and which reflect people from different backgrounds, as well as a range of activities to increase the opportunities for audiences to enjoy them.
Recent features supported include seven-time BAFTA nominee and multi BAFTA-winning Rocks directed by Sarah Gavron and written by Theresa Ikoko and Claire Wilson, Ammonite directed by Francis Lee starring Kate Winslet and Saoirse Ronan, and Saint Maud directed by Rose Glass featuring EE BAFTA Rising Star nominee Morfydd Clark. Recently released titles include Aleem Khan's debut feature After Love and Harry MacQueen's second feature Supernova, starring Colin Firth and Stanley Tucci, and the BIFA-winning and BAFTA-nominated Limbo directed by Ben Sharrock. Supported films in selection at international film festivals in 2021 include Joanna Hogg's The Souvenir: Part II, her follow up to 2019's BIFA-nominated release, which screened in Directors Fortnight at Cannes in 2021, alongside Ali & Ava, directed by Clio Barnard, which will receive its North American premiere at the Toronto international Film Festival (TIFF). Also premiering at Cannes and at TIFF in 2021 is Mothering Sunday, directed by Eva Husson and written by Alice Birch. True Things, directed by Harry Wootliff, will receive its world premiere at the 2021 Venice Film Festival, and features in the Contemporary World Cinema section at TIFF. Premiering in the Venice VR Expanded sidebar is Goliath: Playing with Reality directed by Barry Gene Murphy and May Abdalla. Both Terence Davies' Benediction and Lucile Hadzihalilovic's Earwig will have their world premiere at TIFF and are also in official selection at San Sebastian, alongside Joanna Hogg's The Souvenir: Part II. Other forthcoming releases supported by the BFI include ear for eye, the second feature from BAFTA-winning director Debbie Tucker Green, Herself directed by Phyllida Lloyd and written by Malcolm Campbell and Clare Dunne, and debut features from Reggie Yates, Dionne Edwards and Aml Ameen for Pirates, Pretty Red Dress and Boxing Day respectively.
About Screen Scotland
Screen Scotland is the dedicated partnership for screen in Scotland. With funding from Scottish Government and the National Lottery, Screen Scotland is driving the cultural, social and economic development of all aspects of the sector in Scotland, through enhanced funding, services and support. Screen Scotland sits within Creative Scotland and is a partnership with Scottish Enterprise, Highlands and Islands Enterprise, Skills Development Scotland, Scottish Funding Council, working in close collaboration with the sector to ensure its success. Find out more at screen.scot and follow us on Twitte and Instagram.