The first events have been announced for Glasgow Film Festival (GFF) 2022. The 18th annual festival will take place from 2 - 13 March in a new hybrid format, with screenings presented both in cinemas and online.
The festival will return to the big screen in 2022 with in-cinema events at GFF's home venue, Glasgow Film Theatre (GFT) and Cineworld Renfrew Street. GFF will also take its premiere screenings nationwide for the first time in 2022, partnering with cinemas across the UK to make a selected programme available to film fans across the country. Building on the huge success of GFF's digital edition, which took place during lockdown in 2021, the festival will once again be accessible online to audiences across the UK with a specially curated programme available to watch on GFF's digital platform, Glasgow Film At Home. Today, GFF unveiled details of the return of two of the festival's most popular strands.
Retrospective
The Glasgow Film Festival Retrospective offers free morning screenings of modern masterpieces and cult classics that will have hundreds of delighted festival-goers queuing round the block. The 2022 Retrospective, Winds of Change: Cinema in '62, takes us back to 1962 and a year in which the world felt on the brink of seismic changes. It was the year of the Cuban Missile Crisis, tensions in the Cold War, Kennedy in the White House and the dawn of political change in the UK. Cinema reflected this by taking baby steps towards maturity.
English-language films began to tentatively confront race, sexuality, violence, private freedoms and public responsibilities. From Robert Mulligan's adaptation of Harper Lee's beloved novel To Kill a Mockingbird to Sean Connery's first appearance as 007 in Dr. No, the line-up showcases some of the standout films of an eventful year. Step back into the paranoia of the Cold War in The Manchurian Candidate, rediscover the cold-blooded sadist who set the bar for mainstream screen villains in Cape Fear, and decide whether David Lean's monumental Lawrence of Arabia really is the greatest epic ever made.
Each Retrospective film will have a special introduction from Allan Hunter, GFF Co-Director. Tickets for the Retrospective screenings are free and available on the day of the screenings from the GFT Box Office.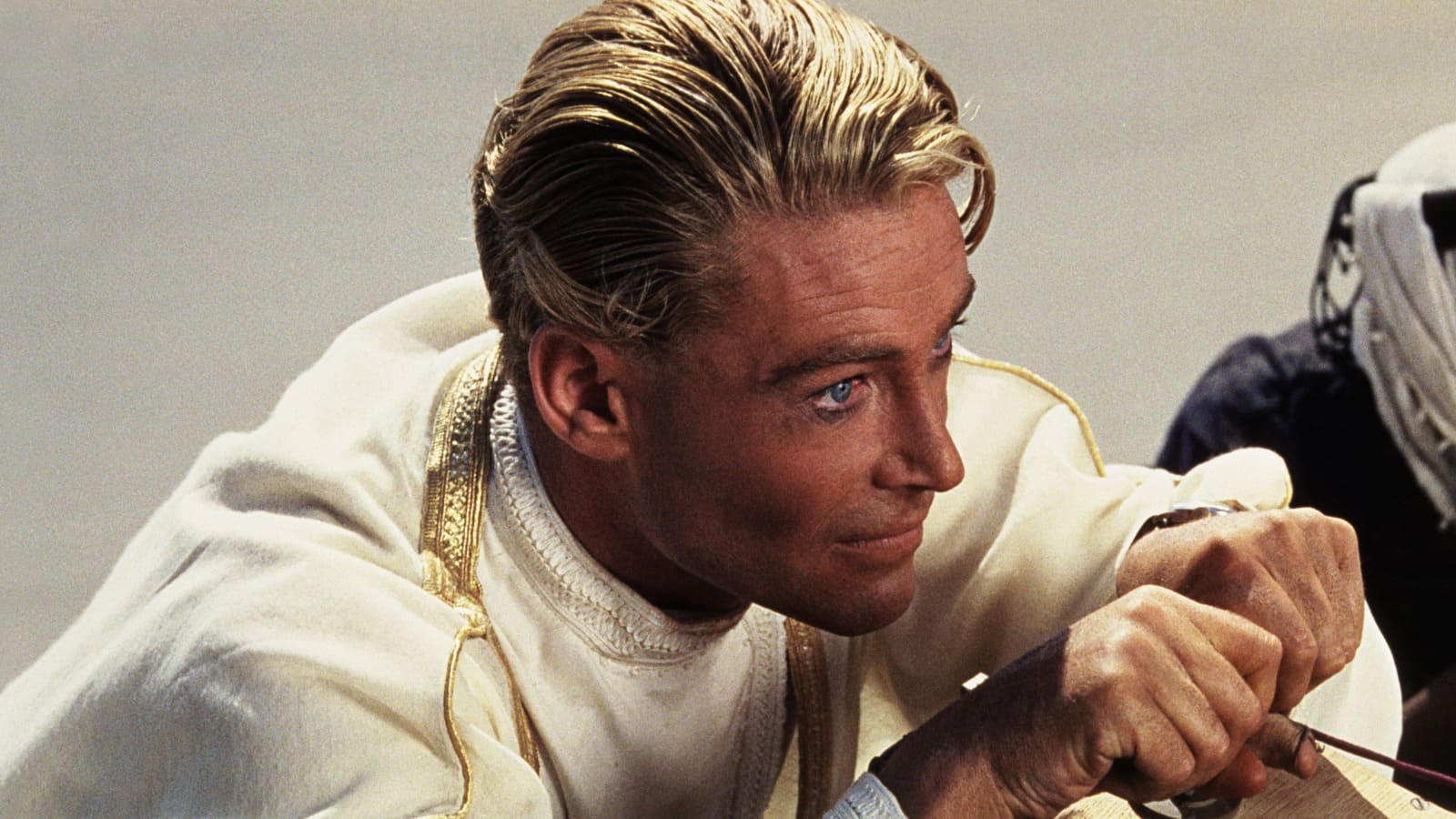 Still from Lawrence of Arabia shoacing in the Retrospective strand of the festival.
Industry Focus
The seventh edition of GFF's Industry Focus programme will take place from 6 - 10 March at the Doubletree by Hilton Glasgow Central Hotel. Featuring guest speakers, unique networking opportunities, topical panel discussions and diverse professional development, the Industry Focus programme is suitable for those at all stages of their career, from students eager to make their first steps into the industry, to seasoned professionals keen to stay fresh on the latest developments and best practice. Early Bird Passes will be available to purchase from 15 December from https://glasgowfilm.org/glasgow-film-festival.
The full film programme for Glasgow Film Festival 2022 will be announced on Wednesday 26 January. GFF is one of the leading film festivals in the UK and run by Glasgow Film, a charity which also runs Glasgow Film Theatre (GFT).
GFF is made possible through support from The National Lottery and the Scottish Government through Screen Scotland, the BFI (awarding funds from the National Lottery) and Glasgow Life.
Allison Gardner, GFF Co-Director and Glasgow Film CEO, said: 'GFF has always been the film festival for audiences, and we are delighted that 2022 will be our most accessible festival yet. After bringing the festival to our audience's living rooms during lockdown earlier this year, we can't wait to be able to enjoy the GFF experience together in person this year. Our partnerships with cinemas across the UK and the continuation of our successful online programme on Glasgow Film At Home will allow film fans across the length and breadth of the country to share the festival experience we love so much. We have some incredible premieres lined up for 2022, and we can't wait to unveil the programme in January.'
Sambrooke Scott, Head of Audience Development at Screen Scotland said: "Screen Scotland is a proud supporter of Glasgow Film Festival and we're thrilled that audiences will be able to enjoy its exciting return to the big screen in 2022. This edition looks both forward and back; looking forward with new UK screening partners and an enhanced digital programme, and back, with a brilliant retrospective marking one of the most exciting and watershed years in cinema history. With the industry programme nurturing and supporting filmmaking talent this year's edition promises to be one of discovery and charting new horizons."
Winds of Change: Cinema in '62 titles:
Cape Fear (1962) Dir: J Lee Thompson
Cleo from 5 to 7 (1962) Dir: Agnès Varda
Days of Wine and Roses (1962) Dir: Blake Edwards
Dr. No (1962) Dir: Terence Young
Lawrence of Arabia (1962) Dir: David Lean
Lonely Are the Brave (1962) Dir: David Miller
The Manchurian Candidate (1962) Dir: John Frankenheimer
The Man Who Shot Liberty Valance (1962) D: John Ford
The Miracle Worker (1962) Dir: Arthur Penn
To Kill a Mockingbird (1962) Dir: Robert Mulligan
---
More information
For further information, images or interviews please contact Lindsay Clydesdale, Glasgow Film Marketing Manager, on [email protected]
About Glasgow Film Festival
The 18th annual Glasgow Film Festival will run from 2 - 13 March 2022. Previous GFF guests include Richard Gere, Alan Rickman, Joss Whedon, Terry Gilliam, John C Reilly, Saoirse Ronan, George MacKay, Richard Dreyfuss, Karen Gillan, Jessie Buckley, Sir Michael Palin, Jonathan Glazer, Richard Johnson, Gemma Arterton, Ben Wheatley, David Tennant, Cliff Curtis, David Robert Mitchell, Carol Morley, Gemma Jones, Jason Priestley, Neil Jordan, agnés b., Armando Iannucci, Jack O'Connell, Dexter Fletcher, Peter Mullan, George Sluizier, Peter Capaldi, Ty West, Richard Ayoade, David Dastmalchian, Eli Roth and Jean-Pierre Jeunet. www.glasgowfilm.org/festival
About Glasgow Film
Glasgow Film is an educational charity which runs Glasgow Film Theatre (GFT), Scotland's original independent arthouse cinema and the home of film in Glasgow; Glasgow Film Festival (GFF), one of the UK's leading public celebrations of cinema; and Glasgow Youth Film Festival (GYFF), a fast-growing international three-day festival co-curated by teenage film-lovers in the city. Glasgow Film is also the lead organisation for Film Hub Scotland, a membership organisation that supports more than 200 exhibitors across the country.
As one of the UK's leading independent cinemas, GFT plays an important part in the cultural life of Glasgow, screening a wide variety of international cinema, classic films and documentaries, alongside locally made work and material aimed at a range of community groups. GFT also has a strong education programme of outreach, courses and school screenings. GFT was awarded Accessibility Champion at the SCoD Star Awards 2016 and became the first UK cinema to scoop the Autism Friendly Award 2017. GFF was named Outstanding Festival of the Year at The Herald Scottish Culture Awards 2019. Glasgow Film Theatre is a charity registered in Scotland. No. SC005932. www.glasgowfilm.org