The National Film and Television School (NFTS) has opened applications for the new intake of its hugely successful Virtual Production Certificate programme. The part time, six month course welcomed its inaugural cohort of 15 students in January 2022. It will return in January 2023, in partnership with Warner Bros. Discovery Access and StoryFutures Academy, with the addition of Screen Scotland as joint co-sponsor.
The recent rapid growth of Virtual Production has seen high demand for qualified crew equipped with VP skills. Warner Bros. Discovery Access are supporting the course for the second year running to help close the skills gap and ensure VP training is as accessible as possible, further strengthening their commitment to diversity and inclusion within film and television. In addition, thanks to the support of Screen Scotland, a number of places will be ring-fenced for creative professionals living and working in Scotland. The joint funding will enable 12 new participants to join the course with 75% of their fees underwritten.
Reflecting on her experience as a student on the first Virtual Production Certificate course, Cinematographer Maria Guerberof said: "I joined the course because I wanted to add new skills to my practice as a cinematographer. Working in an LED volume was an exhilarating and fascinating experience. The content of the course was exceptional and the mentors are at the top of the game when it comes to the rapid changes and uses of the new technologies within this fast-paced area of filmmaking."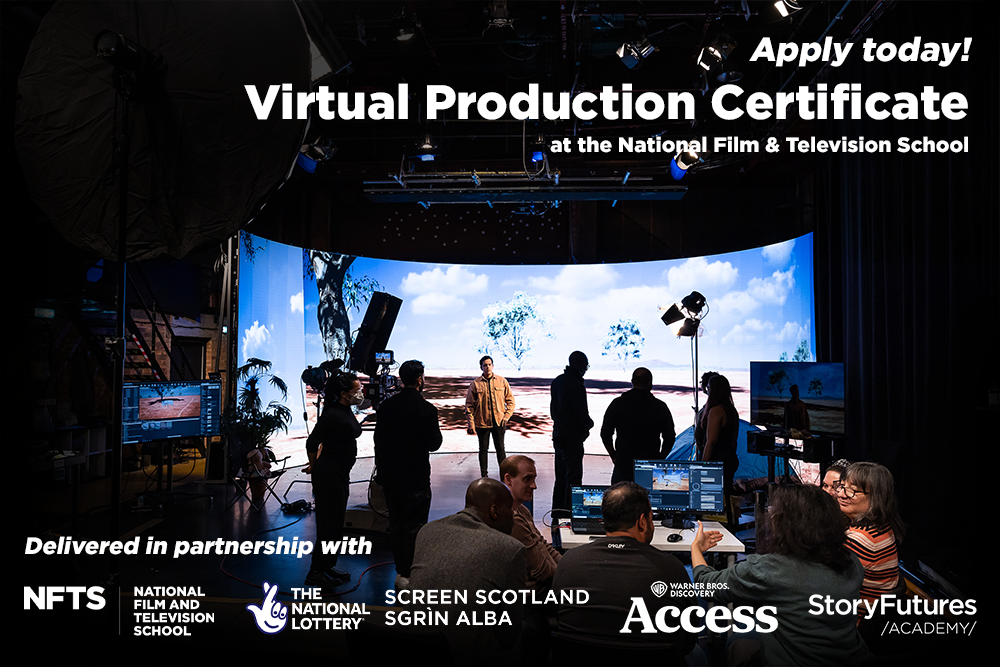 Applications for the 12 subsidised spaces are currently open until Thursday 13 October, with the second iteration of the course led by Becky Gregory-Clarke, Head of Immersive at StoryFutures Academy, run by the National Film and Television School and Royal Holloway, University of London. By combining CGI, game-engines, and virtual reality technologies, Virtual Production enables completely new ways of making film and TV, from virtual scouting, to set design, to real-time, on-set visual effects. Virtual Production techniques impact many core disciplines within filmmaking, from cinematography, to production design, VFX, animation, directing and beyond.
Participants of the first course are now working on a variety of projects using Virtual Production techniques for companies including Netflix, Yahoo Studios and &Why in a range of specialisms including Cinematography, VFX, Motion Capture and Documentary making.
The skills and technology provided by the programme represent the future of production and will give students the core tools needed to build and progress a career in the thriving Virtual Production field. For the newest intake, the NFTS is looking for applicants with at least two years of screen industry experience and some production or post-production experience. Prospective students can come from varied technical and creative backgrounds including games, VFX, 3D animation, graphics design and technical film crew (i.e. camera department). NFTS is particularly interested in receiving applications from candidates that come from historically under-represented backgrounds, and additional financial support will be made available to ensure that the course is as accessible as possible.
Jon Wardle, Director of the National Film and Television School commented: "We were blown away by the appetite for the first Virtual Production course and are excited to do another deep dive when it returns in early 2023. Many new technological leaps await and participants will shape the future in the cutting edge field of Virtual Production by delivering a whole new level of creativity to the industry after six short months with us. We are hugely grateful to Warner Bros. Discovery and Screen Scotland for their support."
Asif Sadiq, Chief Diversity, Equity and Inclusion Officer at Warner Bros. Discovery said: "We are delighted to be partnering again with the NFTS on the Virtual Production Certificate programme. It is an important part of our efforts at Warner Bros. Discovery as we continue supporting skills development and working towards a more inclusive industry. Warner Bros. Discovery's sponsorship ensures that the course is accessible to as many people as possible as we strive to lower barriers to entry for this growing part of the industry."
Steven Little, Head of Production at Screen Scotland added: "Scotland's studio offer has expanded significantly over the last two years, with projects of scale from Warner Bros. Discovery, Amazon, and many others filming in Edinburgh, Glasgow and across Scotland. To ensure our crew base grows and develops, Screen Scotland continues to invest record amounts into training, to expand and upskill the workforce and to keep pace with new technology. Screen Scotland is pleased to be able to partner with the NFTS, StoryFutures Academy and Warner Bros. Discovery to give Scotland-based crew this essential training in Virtual Production."
The LED Volume which underpins the Virtual Production certificate programme is supported by Enterprise M3 Local Enterprise Partnership's investment in the createch economy with StoryFutures Academy and its partnership with Royal Holloway, University of London to benefit the UK's immersive economy.
As part of this partnership, one extra space is reserved for a nominated participant employed by a company in the Enterprise M3 region of the UK, which covers west Surrey and most of Hampshire, with 75% of the course fee subsidised by StoryFutures.
Application information
For more information and details of how to apply for the next intake starting in January 2023, please visit the course page: nfts.co.uk/virtual-production.
Application deadline: 13 Oct 2022
---
Background
About the National Film and Television School (NFTS)
The NFTS is one of the world's leading film, games and television schools and celebrated its landmark 50th anniversary in 2021. The School has been listed as one of The Hollywood Reporter's Top 15 International Film School's for over a decade and in 2018 received the BAFTA for Outstanding Contribution to British Cinema. NFTS alumni have gone on to win 14 Oscars and 162 BAFTAs with graduates including; double Oscar winning cinematographer Roger Deakins (1917) creator of global Netflix hit Sex Education Laurie Nunn and BAFTA winning director, Lynne Ramsay (You Were Never Really Here). The NFTS is a registered charity (313429). For more information see nfts.co.uk
About Warner Bros. Discovery
Warner Bros. Discovery (NASDAQ: WBD) is a leading global media and entertainment company that creates and distributes the world's most differentiated and complete portfolio of content and brands across television, film and streaming. Available in more than 220 countries and territories and 50 languages, Warner Bros. Discovery inspires, informs and entertains audiences worldwide through its iconic brands and products including: Discovery Channel, discovery+, CNN, DC, Eurosport, HBO, HBO Max, HGTV, Food Network, OWN, Investigation Discovery, TLC, Magnolia Network, TNT, TBS, truTV, Travel Channel, MotorTrend, Animal Planet, Science Channel, Warner Bros. Pictures, Warner Bros. Television, WB Games, New Line Cinema, Cartoon Network, Adult Swim, Turner Classic Movies, Discovery en Español, Hogar de HGTV and others. For more information, please visit www.wbd.com.
About Warner Bros. Discovery Access
At Warner Bros. Discovery we believe in authentic, meaningful connection—to each other, to culture, and to our consumer. That's why we empower fearless storytellers who bring our world into focus – and create cultural touchstones with the power to draw us together. Through best-in-class talent development programs, mentorship, placement opportunities and industry exposure, WBD Access serves as a powerful conduit connecting under-represented talent to our content and brands. For more information visit www.warner-access.com.
About Screen Scotland
Screen Scotland is the national body that drives development of all aspects of Scotland's film and TV industry, through funding and strategic support. Screen Scotland is part of Creative Scotland and delivers these services and support with funding from Scottish Government and The National Lottery. Find out more at screen.scot and follow us on Twitter and Instagram.
About StoryFutures Academy
StoryFutures Academy is the UK's National Centre for Immersive Storytelling, run by the National Film and Television School (NFTS) and Royal Holloway, University of London. Funded by the Arts and Humanities Research Council, part of UK Research and Innovation, the Academy develops cutting-edge creative training and research programmes, to ensure the UK creative workforce is the most skilled in the world in the use of virtual, augmented and real-time production technology for immersive storytelling.
Alumni of StoryFutures Academy labs have so far included Oscar and BAFTA winning Director Asif Kapadia, Oscar winning VFX Supervisor Paul Franklin and Turner Prize winning conceptual artist Gillian Wearing OBE.
With our partners, over £1m has been invested in UK immersive production, across co-productions with BBC3, a VP Accelerator programme with Future Screens NI, Epic Games and Industrial Light & Magic, as well as Production Booster and Kickstart development funding. The award-winning VR Documentary Common Ground was the first-ever funded co-production, premiering at the Tribeca Film Festival in early 2019. Violence, an artistic collaboration between film director Shola Amoo (The Last Tree) and producer Eleanor Whitley (Marshmallow Laser Feast), had its world premiere at the Tribeca Film Festival in June 2020. Laika, commissioned by StoryFutures Academy and directed by BAFTA and Academy Award winning filmmaker Asif Kapadia, made its world premiere in VR at the BFI London Film Festival in October 2021 as part of their LFF Expanded programme.
Website: www.storyfutures.com/academy | Twitter: @StoryFuturesA | Instagram: @StoryFuturesA |Facebook: @StoryFutures Academy | LinkedIn: StoryFutures Academy