Short Circuit has announced the seven films that will be produced through the short film scheme Sharp Shorts.
Short Circuit is a film talent initiative for Scotland delivered by Film City Futures in partnership with Glasgow Film, and funded by The National Lottery through Screen Scotland and BFI NETWORK. The programme supports new and emerging filmmaking talent across Scotland through a combination of funding, events and training opportunities.
The Sharp Shorts scheme aims to identify and support through training, 1-2-1 meetings, funding and mentoring the most exciting filmmaking talent in Scotland in the early stages of their career.
In April 2022, Short Circuit invited writers, writer/directors or filmmaking teams of writer, director and producer to submit a one-page outline of their film idea. After a rigorous selection process, 12 ideas were selected to take part in further development, supported by industry experts and the Short Circuit Talent Executives, to take their project from idea to script.
The twelve teams then pitched their project to a panel that was formed by Short Circuit Talent Executives; Claudia Yusef, Head of Development at BBC Film; and Brian Coffey, Producer at The Highland Midgie for the chance to receive production funding to make their film.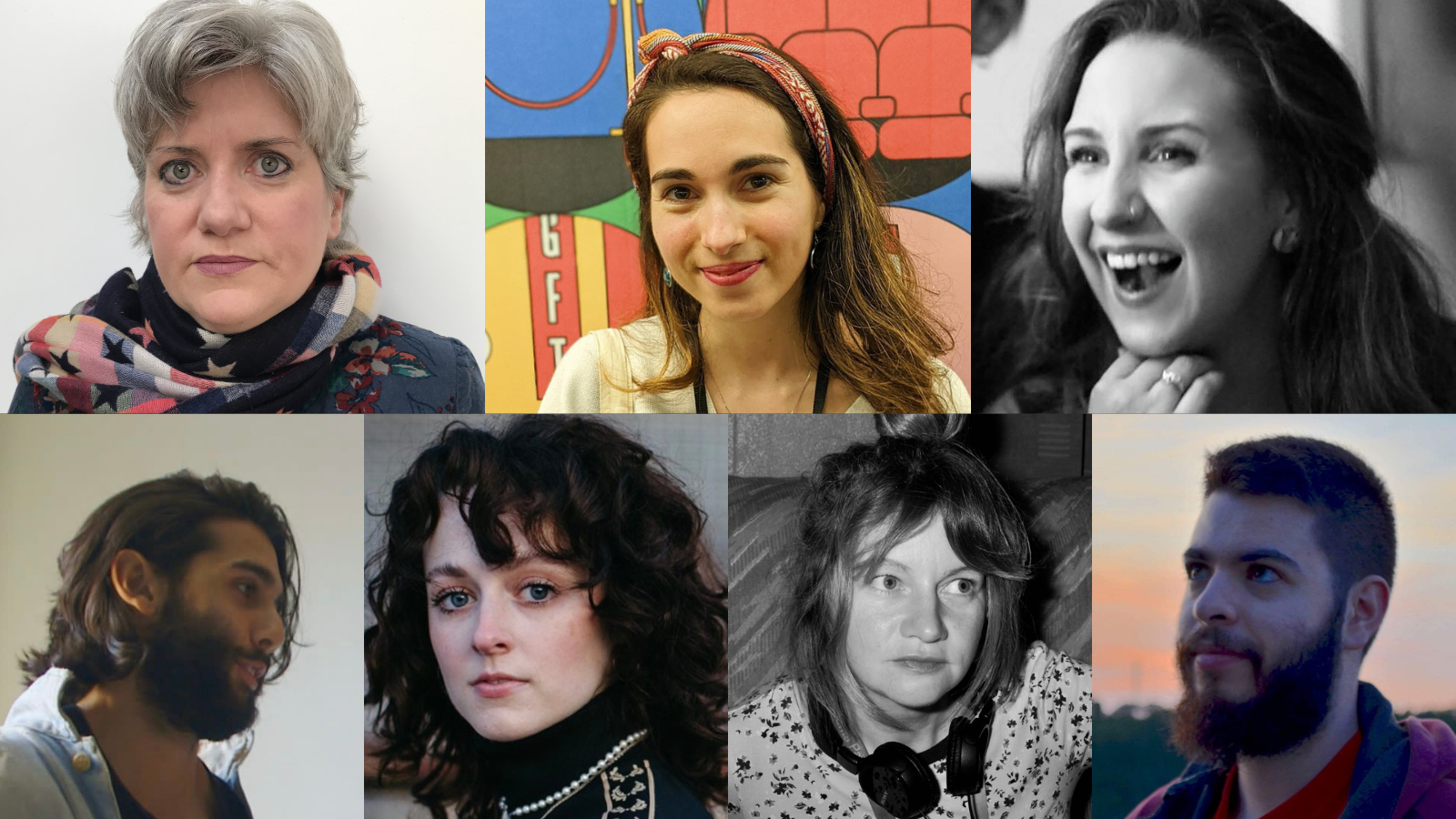 L-R Top Row: Ali Taylor, Ana Songel and Ciara Elizabeth Smyth
L-R Bottom Row: Ciaran Pasi, Eilidh Loan, Lisa Clarkson and Theo Panagopoulos
The following seven films are today announced as the selected projects:
A Beating Wing - Writer/Director: Ciaran Pasi; Producer: Shona Mackenzie
Over the course of one day, two young boys in South Glasgow face the pressures of the streets.
Beatless - Writer/Director: Ana Songel; Producer: Misha McCullagh
7-year-old Ailsa grew up with an old island tale, woven by her Mum to explain her Dad's absence. Beginning to notice the hole in their family, Ailsa bravely sets out to find the truth of her mum's tale, hoping she can make their hearts whole again.
Just Jackie - Writer: Ali Taylor; Director: Michael Lee Richardson; Producers: Reece Cargan and James Heath
Plus-sized 9 year old Jackie, who loves dressing up in his mum's clothes, seeks sweeties (and approval) from the girl-next-door.
Paternal Advice - Writer/Director: Lisa Clarkson; Producer: Alex Polunin
1994. A Scottish working class man teaches his son a Scottish working class lesson.
Slay + Prepare the Animal for Meat - Writer: Ciara Elizabeth Smyth; Director: Oisin Kearney; Producers: Tony Wood and Anna Burns at Buccaneer Media
When a suburban housewife's world falls apart, she meticulously plans revenge against her husband.
Soul - Writer: Eilidh Loan; Producers: Paula McGann and Zoe Fowlie
A coming-of-age story rooted in an electric subculture, Soul deals with the grief of letting your child leave home and the guilt working class people feel when leaving their town behind. Soul expresses the love for music, the values of community, the bravery to start again and the importance of identity.
The Lost Keys - Writer/Director: Theo Panagopoulos
After her estranged Palestinian father passes away, Linda returns to her childhood home in Glasgow and attempts to sell it and quickly move on. However, once she realises that her car keys are lost somewhere in the house, her 10 year old self appears and offers to help her find them.
The selected teams will each receive up to £15,000 to produce their film, plus an additional uplift for COVID costs of up to £5,000. Teams will also take part in intensive production training, and will be paired with an established Producer, Director or Writer who will mentor the team to help them to deliver their final film.
Gillian Berrie, Co-Director at Film City Futures, said: "The first two years of Sharp Shorts were a great success, with many films touring and winning awards internationally. We're delighted to be in year three and look forward to supporting Scotland's next generation of filmmakers to create world class material that properly reflects our time and place."
Alice Cabañas, Head of BFI NETWORK at BFI said: "BFI NETWORK is pleased to continue to support filmmaking talent in Scotland through Short Circuit. The selected teams will gain an invaluable experience and opportunity to develop their creative voice, hone their filmmaking skills and advance their careers. Supporting a diverse range of voices from across the UK is at the heart of what we do at BFI NETWORK, and we are excited to see this next slate of Scottish projects come to fruition."
Kieran Hannigan, Head of Scripted at Screen Scotland said: "This is an outstanding crop of short films from a diverse group of filmmakers. It speaks to a rich pool of talent in Scotland and we're excited to see the films that emerge."
Since the launch of Sharp Shorts in May 2020 the Short Circuit team and pool of readers have assessed over 800 submissions for the scheme. 44 short film projects have received development support and 25 projects have been awarded funding.
For more details about the selected projects, and to stay informed of events and further opportunities, visit the Short Circuit website: www.shortcircuit.scot
---
Background
About Short Circuit
Short Circuit is an ambitious film talent initiative for Scotland delivered by Film City Futures in partnership with Glasgow Film, and funded by Screen Scotland and BFI NETWORK, running initially until the end of March 2023.
The partnership between Film City Futures and Glasgow Film brings together two world-class film institutions based in Scotland, combining the filmmaking expertise at Film City with Glasgow Film's leadership in film exhibition with a strong following from young, diverse audiences. Short Circuit aims to become a key hub for emerging fiction filmmaking talent in Scotland, supporting writers, directors and producers to develop creatively and professionally, and stimulating the creative and commercial success of Scotland's film sector. http://shortcircuit.scot/
About Film City Futures
Film City Futures' mission is to connect people, space and opportunity, enabling access and entry to the screen industries for all. We offer industry focused programmes that are creative, challenging, and most importantly meet the needs of the screen sector in Scotland, from the engagement of new and emerging talent, to personal and business development. Projects to date include Jump Cut, a talent development initiative for 16-25 year olds; Frontrunners, an Executive Coaching programme for business leaders from television, film and related media businesses; and FOCUS, a business development initiative for screen businesses in Scotland.
Film City Futures is a not for profit organisation based at Film City Glasgow, a screen production facility which houses over 25 companies from across the Scottish production and post-production sector, which was co-founded by one of Scotland's most successful film production companies, Sigma Films. Film City Futures is the trading name of Jump Cut Crew, a registered Scottish charity with charity number SC031842.
https://www.filmcityfutures.com/about-us
About Glasgow Film
Glasgow Film is an educational charity which runs Glasgow Film Theatre (GFT), Scotland's original independent arthouse cinema and the home of film in Glasgow; Glasgow Film Festival (GFF), one of the UK's leading public celebrations of cinema; and Glasgow Youth Film Festival (GYFF), a fast-growing international three-day festival co-curated by teenage film-lovers in the city. Glasgow Film is also the lead organisation for Film Hub Scotland, a membership organisation that supports more than 200 exhibitors across the country.
As one of the UK's leading independent cinemas, GFT plays an important part in the cultural life of Glasgow, screening a wide variety of international cinema, classic films and documentaries, alongside locally made work and material aimed at a range of community groups. GFT also has a strong education programme of outreach, courses and school screenings.
GFT was awarded Accessibility Champion at the SCoD Star Awards 2016 and became the first UK cinema to scoop the Autism Friendly Award 2017. GFF was named Outstanding Festival of the Year at The Herald Scottish Culture Awards 2019. Glasgow Film Theatre is a charity registered in Scotland. No. SC005932. www.glasgowfilm.org
About Screen Scotland
Screen Scotland is the national body that drives development of all aspects of Scotland's film and TV industry, through funding and strategic support. Screen Scotland is part of Creative Scotland and delivers these services and support with funding from Scottish Government and The National Lottery. Find out more at screen.scot and follow us on Twitter and Instagram.
About BFI NETWORK
Made possible through National Lottery funding, BFI NETWORK exists to discover and support talented writers, directors and producers at the start of their careers. We collaborate with film organisations and leading cultural venues across the UK to provide funding for short films, support for the development of first features, as well as a range of professional and creative development programmes.
Find out more and watch supported work: https://network.bfi.org.uk/
About the BFI
We are a cultural charity, a National Lottery distributor, and the UK's lead organisation for film and the moving image. Our mission is:
To support creativity and actively seek out the next generation of UK storytellers
To grow and care for the BFI National Archive, the world's largest film and television archive
To offer the widest range of UK and international moving image culture through their programmes and festivals - delivered online and in venue
To use their knowledge to educate and deepen public appreciation and understanding
To work with Government and industry to ensure the continued growth of the UK's screen industries
Founded in 1933, the BFI is a registered charity governed by Royal Charter.
The BFI Board of Governors is chaired by Tim Richards.