Pupils at secondary schools across Scotland are learning all about filmmaking as part of a curriculum development programme being run by Screen Scotland.
Experienced film and screen educators are working with teachers in schools in Argyll and Bute, Dundee, Edinburgh, Inverness and Shetland to teach young people about practical film making and the wide range of work that goes into making film and screen content.
The work is another step toward Screen Scotland's ambition to introduce film and screen as an expressive arts subject* within the Scottish school curriculum. This second phase of development activity builds on work testing the innovative new curriculum that took place in nursery and primary schools earlier in the year.
Fi Milligan-Rennie, Screen Scotland's Head of Education said: "Screen Scotland is working towards film and screen education being available for every child in Scotland, in every school in Scotland and this expansion of the pilot programme into secondary schools is an important step on the way.
"The new Film and Screen curriculum is bringing filmmaking, as an expressive arts subject, into every classroom in our pilot schools. By engaging with the process of practical filmmaking pupils will learn about content creation, the craft and technical elements of making film and screen content, build skills as visual storytellers and develop capacities as collaborative and creative individuals and through the practice of film and screen production."
Screen Scotland, which drives development of all aspects of Scotland's film and TV industry, through funding and strategic support, is working with a wide range of partners on the programme, including the SQA, Education Scotland, the BFI, Industry Partners, and the Scottish Government.
Neil Millar, Senior Education Officer for Expressive Arts, Culture and Creativity at Education Scotland said: "Education Scotland has been delighted to actively support the development of the pilot Film and Screen curriculum within the Expressive Arts offering of Scotland's Curriculum for Excellence.
"The educational and social impact of the pilot curriculum on schools, teachers and most importantly pupils, has been immense and I have been privileged to see the curriculum 'in action' across the country. This added dimension to Scotland's curriculum builds on the vision and principles of Curriculum for Excellence as well as enabling the future-focussed knowledge and skills development that will sustain economic growth and drive accessibility and inclusion in a sector that is often seen as exclusive."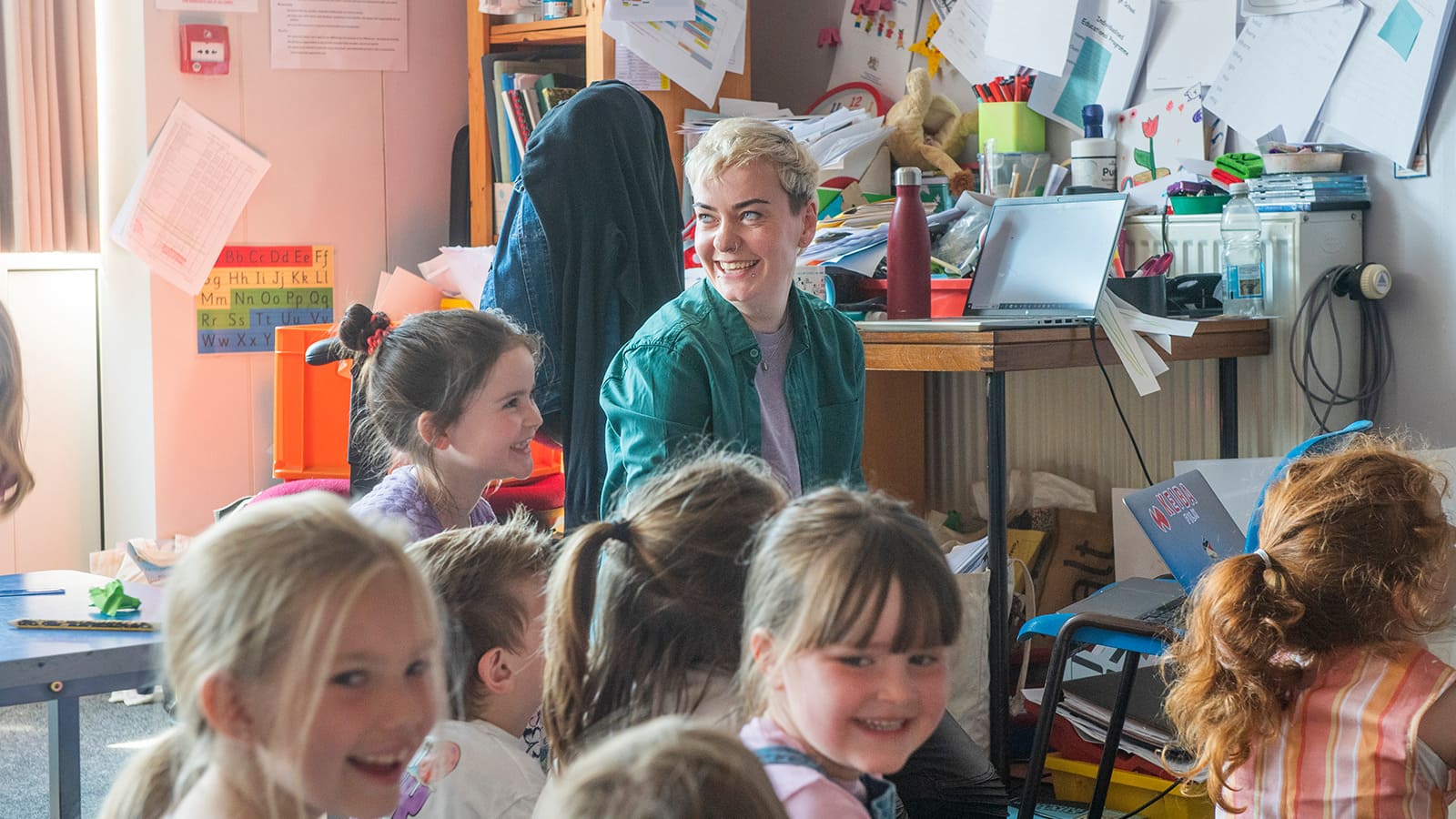 Screen Educator Keiba Clubb with pupils in the earlier primary age phase of the project at Brae Primary School in Shetland. Credit: Dave Donaldson.
Logan Nicolson, Headteacher of Brae High School in Shetland said: "Working with Screen Scotland and our Screen Educator in Residence has been a real positive for our school, and being involved in the Film and Screen Curriculum testing has been a brilliant experience for our staff and pupils. The approach taken by Screen Scotland is in line with our school values of creativity, aspiration, relationships and equality.
"Staff are full of praise for the work that our Screen Educator is doing with pupils, reporting increased engagement and motivation in their classrooms. From ELC-S6 pupils are keen to be involved in and it has helped some pupils find strengths and interests they may not have discovered without this work.
"Pupils who were struggling to find their niche have found a discipline where they shine. Seeing a disengaged learner smiling for the first time in a number of months is a benchmark of how much this project means to children who may otherwise struggle in school. Likewise, one of our teachers reported seeing a group of learners with additional support needs working as a team, feeling valued, and finding their tribe, another magic moment for the programme."
Award-winning Director Mark Cousins said: "I can hardly believe these new plans for teaching film in Scotland.
"Cinema remains one of the world's most vivid cultural forms but has always been under-taught. One of Scotland's best movie directors, Alexander Mackendrick, knew that film education was crucial. One of our greatest contemporary filmmakers, Lynne Ramsay, greatly benefited from film education.
"Now a new scheme will embed film education in schools? For kids as young as 3? We've wanted this for decades because it's the best way to democratise film, to create new directors, to enrich Scottish visual culture.
"Scotland had a late start in film history. This imaginative, immensely valuable new programme will help us get ahead."
David Smith, Director of Screen Scotland added: "If we want young people across Scotland to feel confident in making films and screen content, and exploring that as a potential career, it's important that they get every opportunity to make films and learn about filmmaking.
"Many feel that a career in film or TV is beyond their reach, somehow reserved for other people. That's far from true and we want to give them the knowledge and experience they will need to realise their ambitions whatever background they have, wherever they live.
"A film crew has so many different roles within it, good jobs that pay well but also really rewarding, creative jobs. We want everyone to feel it's something they can feel confident doing. This, in turn, will continue Scotland's growth as a thriving centre for film and screen, bringing proven economic benefits to the country."
Cabinet Secretary for Culture Angus Robertson said: "The Scottish Government believes culture is for all and this Film and Screen education programme will be an accessible pathway for Scotland's next generation of filmmakers to pursue.
"We believe the development of the programme will provide a fresh opportunity for young people to learn the skills that could lead to a fulfilling and successful career in a thriving film and TV industry – a platform to showcase authentic Scottish storytelling and creativity.
"The Scottish Government will continue to work with Screen Scotland, and partners in the education sector, including Education Scotland and SQA to boost screen education across formal and informal education settings – it really will be an exciting programme to be involved with."
More information
"Expressive arts" subjects are practical, hand-on courses, where pupils make films as well as studying them.
The secondary schools taking part are Brae High School in Shetland, Charleston Academy in Inverness, Drummond High School in Edinburgh, Grove Academy in Dundee, and Rothesay Academy in Bute.
Screen Scotland drives development of all aspects of Scotland's film and TV industry, through funding and strategic support. Screen Scotland is part of Creative Scotland and delivers these services and support with funding from Scottish Government and The National Lottery. Find out more at screen.scot and follow us on Twitter and Instagram.
Media Contact
Eilidh Walker
Media Relations and PR Officer - Screen
M: +44 (0)7545 402 064
Header image features pupils from Forthill Primary School in Broughty Ferry during the earlier primary phase of the Screen Curriculum project. Credit: Paul Reid.