Written and directed by Adura Onashile, Expensive Shit is a short film about a Nigerian toilet attendant working in a Glasgow night club, who has an extremely tough decision to make.
Ahead of the film's upcoming World Premiere at the BFI London Film Festival, we spoke to Adura about Expensive Shit, her transition from theatre into filmmaking, and working with production company barry crerar, who produced the film.
Can you tell us a bit about yourself and your background in writing and theatre?
"I'm first gen Black British, my parents are Nigerian, born in London and raised in Nigeria and London. I studied at Dartington College of Arts, which was focused much more on auteurs than traditional drama schools so I always had a sense of making my own work and working across disciplines.
"I actually started my professional life as a dancer, then I moved towards physical theatre as a performer. I did a postgraduate degree in acting and worked as an actor until I decided to write a one woman show. I really enjoyed writing and wanted to direct, so I wrote and directed a play with four actors which was Expensive Shit, the stage play.
"My progress through the profession has been fuelled by a desire to not only challenge myself but to find ways of having more autonomy in the work I make."
For those new to the project, what is Expensive Shit about?
"It's about Tolu, a Nigerian toilet attendant working in a Glasgow nightclub, who manipulates the behaviour of unsuspecting women for the titillation of men who watching behind the mirrors in the toilets.
"We meet her on a night when a line has been crossed and she is forced to hand out a drugged bottle of water.
"She struggles with the choice she has to make when Louise, a regular punter, and the only person that Tolu has a connection with becomes the target and is drugged.
"As the night spins out of control, Tolu, unable to live with what she has done, finds the strength to change everything."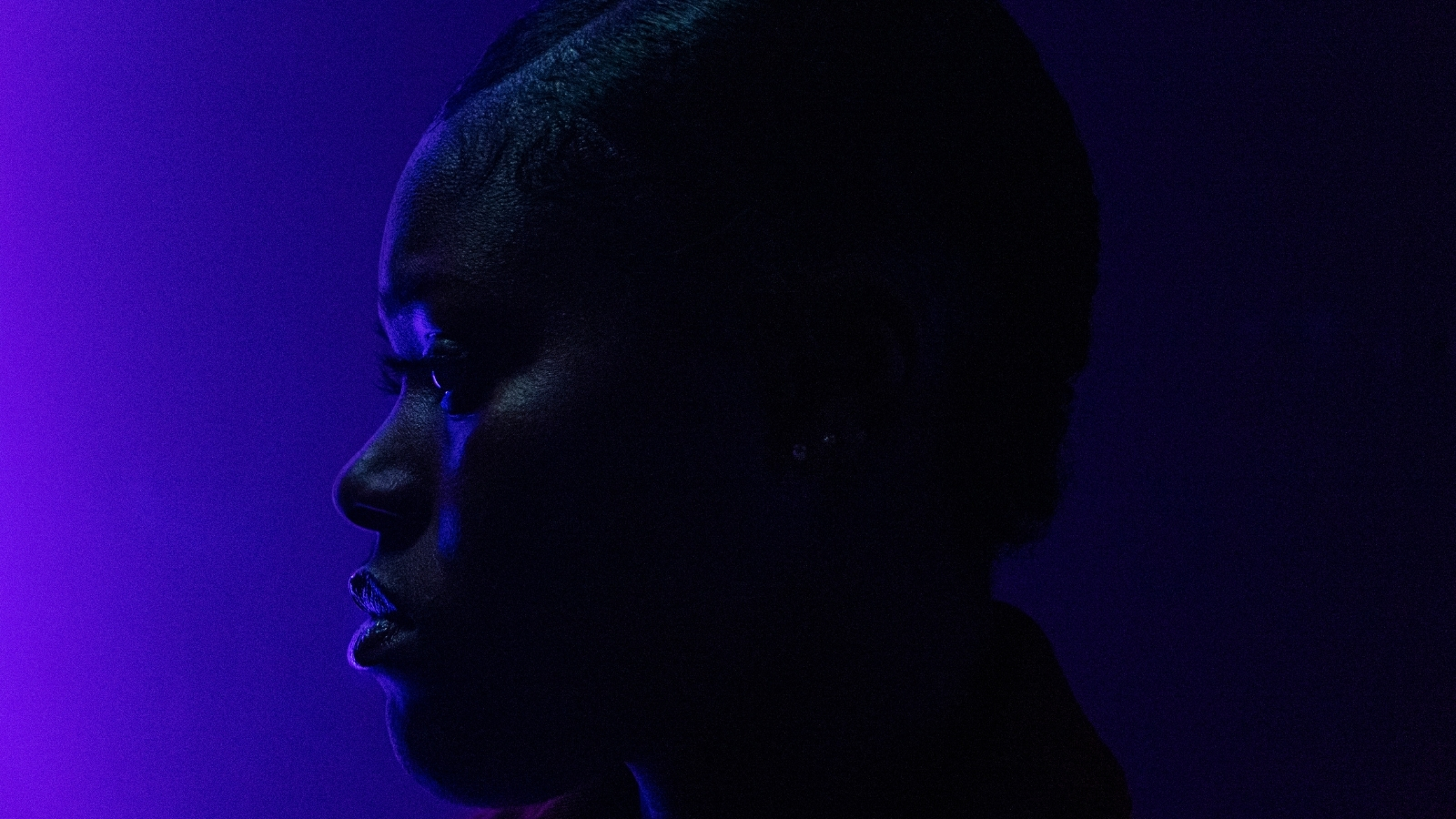 Modupe Adeyeye stars as Tolu in Expensive Shit
Expensive Shit was previously a theatre production – winning a Fringe First award in 2016. Can you tell us about the process of adapting it into a film project?
"Maybe it was a little bit like turning a novel into a short story. It has to become less an adaptation and more giving in to the new form and seeing what parts of the story still feel relevant or necessary.
"I found the process really exciting and liberating and it feels like an entirely different story to the stage production and that makes sense to me. I think the film is much more successful in allowing the story and audience into the various public and hidden spaces.
Being able to have a real two-way mirror on set opened up loads of new storytelling and visual possibilities. This visual element is probably the biggest change, because there is much less dialogue than the play, so you are forced to tell the story visually and that allows for more nuance."
Have you enjoyed working on film, coming from a theatre background?
"I have absolutely loved working on film, in fact I think I'm more suited to film than theatre. I won't be able to articulate why in any profound way, it's mostly a feeling. On the set of Expensive Shit, it just felt right, it felt like this was where I was supposed to be. It was quite emotional."
How did taking part in the Scottish Film Talent Network programme impact Expensive Shit?
"Expensive Shit wouldn't be what it is if we hadn't been through that rigorous and challenging process. The economy of dialogue, the obsession with story, the commitment to a collaborative process and the notes, notes, notes and more notes is why we have the film we have.
"I won't lie. There were moments where I was challenged by the ongoing development process throughout the editing and post-production process, but by then I had developed a trust of the process and I knew it was a feeling that would pass. It was always worth it in the end."
What is it like working with barry crerar?
"I wouldn't be on this journey if barry crerar hadn't seen the play, met me and thought I could write for film. I didn't believe them but I'm always game and I haven't really looked back. It has been a process with its challenges, but first and foremost they have been very supportive, inspiring and nurturing of my development as a filmmaker. I will always be indebted to them for that."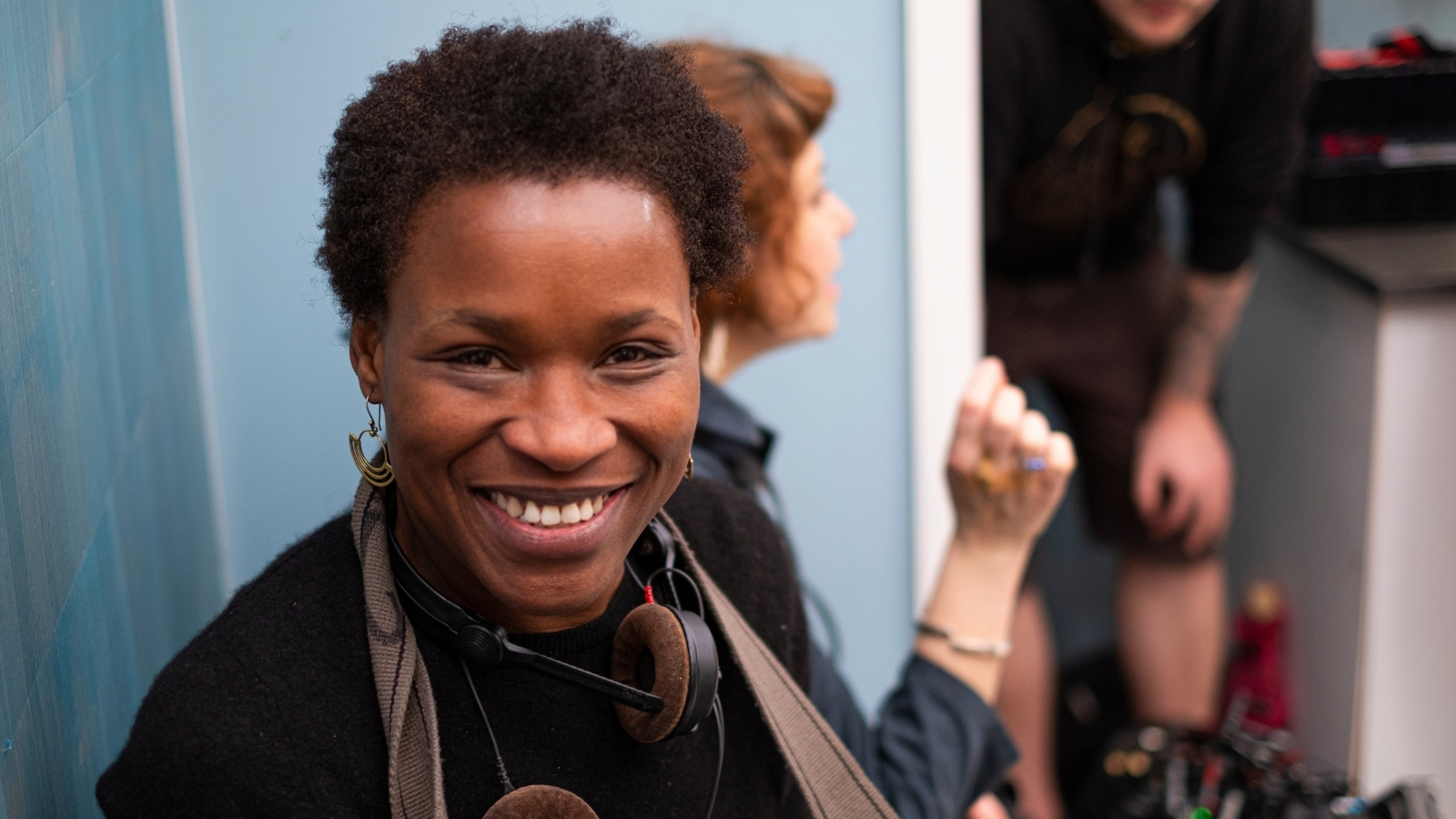 Adura Onashile on the set of Expensive Shit
Huge congratulations on Expensive Shit's upcoming BFI London Film Festival Premiere! What do you hope audiences will take away from the film?
"Thank you. We are really pleased. It's not an easy watch, so I hope that audiences feel connected to the emotional journeys of the characters, and that its' more redemptive ending makes up for the discomfort!
"I hope they appreciate it as a piece of dynamic storytelling and the craft behind that, and I hope it makes them want to see more!"
What do you hope for in the future for Expensive Shit, and your work as a filmmaker?
"I hope it shows at the Glasgow Film Theatre at some point, that would be a total dream! Otherwise I hope it has a good festival run and opens opportunities to continue to make film.
"I am also developing a feature, GIRL with barry crerar which feels really exciting. We have been working on it for a few years now, initially through SFTN's Write4Film, then iFeatures 2018 and we're now in final stages of development with BBC Films. It is our hope it to shoot it in 2021!"
More information
Expensive Shit is produced by barry crerar, developed through the Scottish Film Talent Network programme and co-funded by BBC Films.
From Wednesday 7 October until Sunday 18 October, Expensive Shit will screen on BFIPlayer as part of its BFI London Film Festival selection, where it is in competition for the Virtual Best Short Film Audience Award.
Image Credits: Brian Sweeney, courtesy of barry crerar