Series Editor: Ed Wardle
Exec Producer: Amanda Murray
Production Company: Fearless Television
Broadcaster: Channel 5
Number of episodes: 8 x 1Hr
---
Synopsis
With exclusive access to Britain's motorway patrol teams, this second series of The Motorway goes out on the road and inside high-tech control rooms, to follow an unseen army of men and women who watch over our fastest roads and come to our rescue 24/7.
Fast lane pile-ups, medical emergencies and the very worst of British drivers on some of the world's busiest motorways keep the patrollers on high alert. The motorways team deal with 30,000 incidents a day; from routine breakdowns and fatal pile ups, to runaway cows and drivers taking naps on the hard shoulder - all of which put the smooth running of the motorways in jeopardy.
A vast team of engineers and road-workers must also build, repair, inspect and maintain every mile of our high-speed roads to keep them in perfect condition. Whether it's a multi-million-pound bridge works, overnight litter-picking, light repairs or drain clearing, the work of the highways teams is vital. Alongside the patrollers and control rooms they all work together to keep the motorways moving.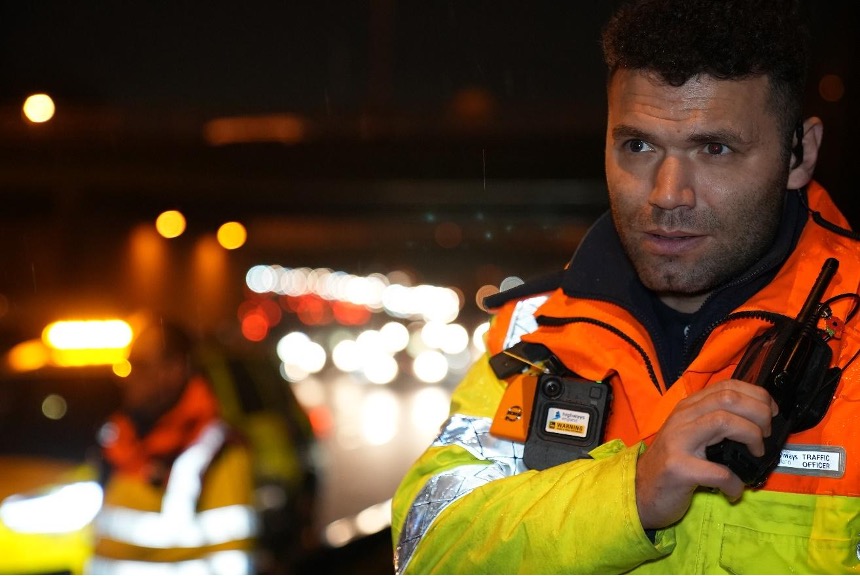 Still from The Motorway, courtesy of Channel 5
---
More information
Screen Scotland funding: This observational documentary series in its second run accessed £180,000 through Screen Scotland's Broadcast Content Fund. A prime-time eight-part documentary series from factual specialists Fearless that gives an unprecedented insight into the work of National Highways.
Release date: Monday 9 May 2022 at 8pm on Channel 5
---
Header image: Still from The Motorway, courtesy of Channel 5 and Fearless Television.