Glasgow Film Festival 2022 came to a close on Sunday evening following 12 packed days of premieres, guests and industry events. Celebrating its return to cinemas in Glasgow after last year's online edition, Glasgow Film Festival (GFF) also screened exclusive gala premieres in selected cinemas across the UK – from London to Lewis - for the first time in its 18 year history.
Guests on the final day included Gracija Filipović. lead actress of the Closing Gala, the UK Premiere of Croatian drama Murina, and Martin Compston who took part in a special 20th anniversary screening of Sweet Sixteen, the Ken Loach film which set him on the road to stardom. The winner of the prestigious Audience Award, sponsored by Caledonian MacBrayne and voted for by audiences during the festival, was announced as crowd-pleasing, heart-warming documentary, The Hermit of Treig, from first-time director Lizzie MacKenzie.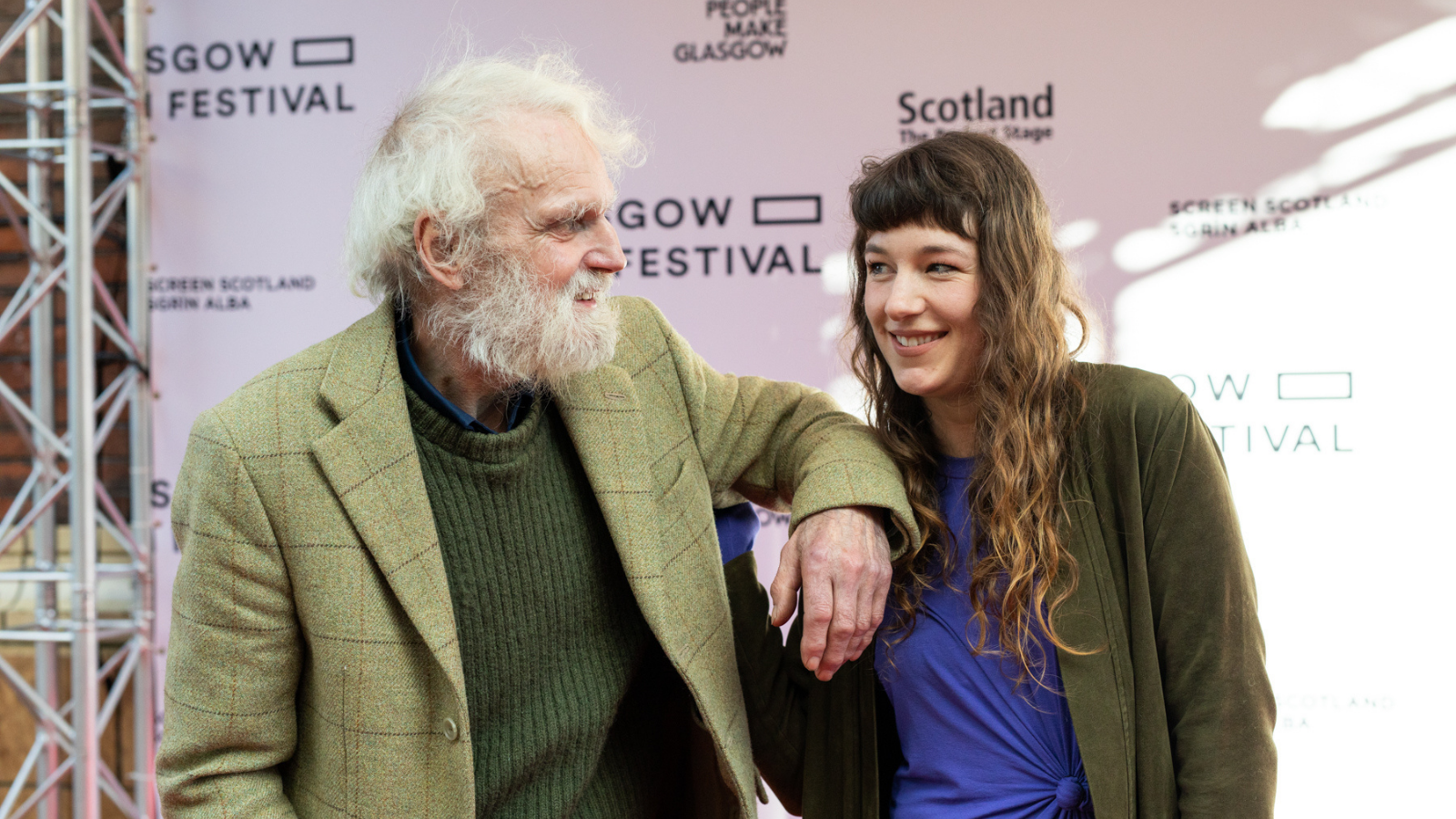 Lizzie MacKenzie and Ken Smith at The Hermit of Treig premiere at GFF 2022, courtesy of GFF.
This year's festival saw sell-out audiences attend a programme of 10 World premieres, 4 European premieres, 65 UK premieres, and 13 Scottish premieres. GFF continued to champion international female talent behind the camera, with 40% of new films screening at the festival and 5 of the 7 films nominated for the Audience Award directed by women.
The festival welcomed a host of guests onto the red carpet, including Alan Cumming, Jack Lowden, Don Letts, Armando Iannucci, Amanda Brugel, Icíar Bollaín, Ruth Paxton, Lulu and Alfred Enoch, and welcomed 565 delegates from around the world to the dedicated Industry Focus programme, which covered everything from pitching workshops to creating equal access to a career in filmmaking.
For the first time in its history, the festival's Opening and Closing Galas, The Outfit and Murina, along with International Women's Day Gala Happening, screened simultaneously at partner cinemas across the UK, taking GFF's distinct festival experience and key premieres from the programme far and wide . Audiences across the UK also enjoyed a selection of GFF films from the comfort of their own homes via the online platform, Glasgow Film At Home. These included all seven of the nominated Audience Award titles which were available to watch in cinema and online.
The festival closed with the announcement of the Audience Award winner, Lizzie MacKenzie's debut feature documentary The Hermit of Treig. The film follows a year in the life of Ken Smith, who has spent the past 40 years living in a log cabin near Loch Treig with no electricity or running water. Lizzie learned how to make films in order to tell Ken's tale and GFF were delighted to welcome Ken himself to the festival for the film's World Premiere, his first trip away from the Highlands in four decades. The Hermit of Treig is released in cinemas on 25 March and is produced by Aruna Productions.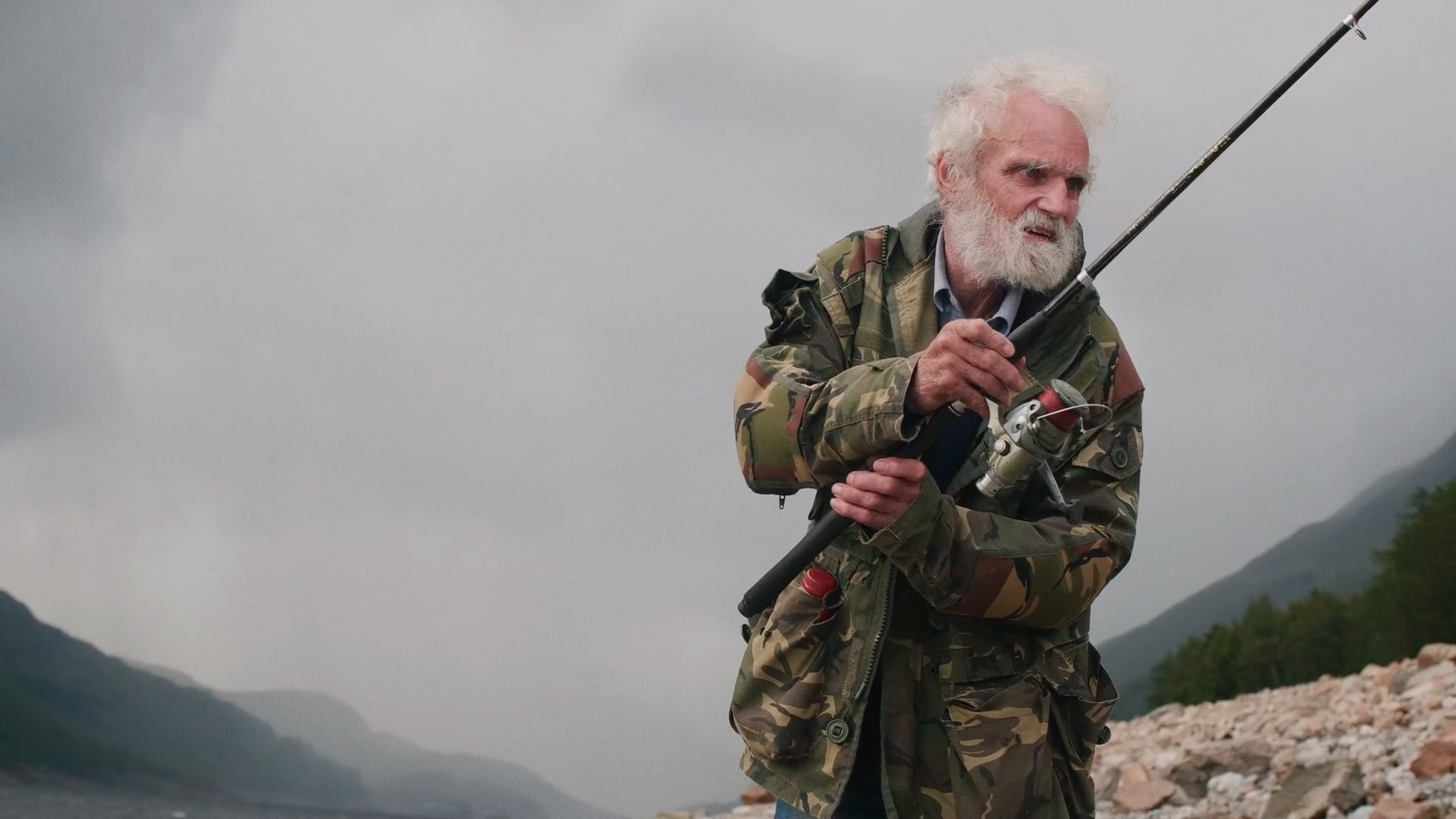 Still from The Hermit of Treig. Courtesy of Aruna Productions.
Lizzie MacKenzie, director of Audience Award winner The Hermit of Treig, said: "Wow wow wow! As if it wasn't an honour enough as a Highland lassie to premier my first film at Glasgow Film Festival, winning the audience award is just magic. I'm so chuffed that Ken has charmed the audiences much like he charmed me during our first ever encounter that sparked his whole thing off. Now for the long hike into the woods to break the news over a glass of birch wine! From all Team Hermit, a massive thanks."
GFF is one of the leading film festivals in the UK and run by Glasgow Film, a charity which also runs Glasgow Film Theatre (GFT). GFF is made possible by support from Screen Scotland, the BFI (awarding funds from the National Lottery), Glasgow Life and EventScotland, part of VisitScotland's Events Directorate.
Allison Gardner, Co-Director of GFF, said: "We were excited to welcome audiences back to GFF22 and our wonderful audiences didn't disappoint us. We have had the most wonderful array of guests and the films have been outstanding. The joy of working with a fabulous team and seeing people excited to be back in the cinema watching films on the big screen has uplifted us all."
Sambrooke Scott, Head of Audience Development at Screen Scotland, said: "Glasgow Film Festival's triumphant return has seen sold-out screenings (many made by and starring Scotland-based talent), filmmaker appearances and a buzzing industry programme, proving the unparalleled power and connection that happens when we come together. The digital programme of screenings and Q&As allowed audiences unable to return, to safely be part of the festival on their own terms. Screen Scotland is a proud supporter of the festival, and of the Audience Award-winning film. We congratulate Allison, Allan and the whole GFF team on delivering an exceptional edition in difficult times and can't wait to see what they come up with next."
---
Background
Glasgow Film Festival (GFF) is firmly established as a key event in the UK's cultural calendar. Launched in 2005, GFF has grown greatly in significance and is now a key launching pad for films and one of the top film festivals in the UK. GFF continues to grow and develop its international reputation. Held annually, it presents a unique programme of feature film premieres, special events, live and interactive experiences, and an Industry Focus programme for filmmakers at every stage of their career.
GFF was named Outstanding Festival of the Year at The Herald Scottish Culture Awards in 2019; GFF 2020 achieved more than 43,000 admissions; and in 2021, when the festival moved online due to the pandemic lockdown, GFF had a UK-wide audience of more than 41,000. The 2023 festival will take place from 1 to 12 March 2023.
Previous GFF guests include Richard Gere, Alan Rickman, John C Reilly, Saoirse Ronan, George MacKay, Richard Dreyfuss, Karen Gillan, Jessie Buckley, Sir Michael Palin, Josh O'Connor, Jonathan Glazer, Richard Johnson, Gemma Arterton, Ben Wheatley, David Tennant, Cliff Curtis, David Robert Mitchell, Carol Morley, Gemma Jones, Jason Priestley, Neil Jordan, agnés b., Armando Iannucci, Jack O'Connell, Dexter Fletcher, Peter Mullan, George Sluizier, Peter Capaldi, Ty West, Richard Ayoade, David Dastmalchian, Eli Roth and Jean-Pierre Jeunet. www.glasgowfilm.org/festival
Glasgow Film Festival would like to thank its partners:
Screen Scotland
Screen Scotland is driving the cultural, social and economic development of all aspects of Scotland's film and tv industry through enhanced funding, services and support with backing from Scottish Government and The National Lottery. Screen Scotland sits within Creative Scotland and works in partnership with Scottish Enterprise, Highlands and Islands Enterprise, Skills Development Scotland, Scottish Funding Council to ensure the sector's continued growth. screen.scot / Twitter / Instagram. Learn more about the value of art and creativity in Scotland at www.ourcreativevoice.scot
The BFI
The BFI Audience Fund invests £5.6m of National Lottery funding each year to expand access and encourage greater enjoyment of cinema by connecting audiences with great films - in venues, at events and online. We do this by supporting:
leading exhibition organisations, including film festivals, to deliver culturally rich and nationally significant programmes and events on a year round basis;
projects which help exhibitors and distributors bring the best of UK and international cinema to audiences across the UK through events, distribution releases, multiplatform distribution proposals, touring film programmes and more;
initiatives that address under-representation and are innovating audience development.
The BFI is the UK's lead organisation for film, television and the moving image. It is a distributor of National Lottery funding and a cultural charity that:
Curates and presents the greatest international public programme of world cinema for audiences; in cinemas, at festivals and online
Cares for the BFI National Archive – the most significant film and television archive in the world
Actively seeks out and supports the next generation of filmmakers
Works with Government and industry to make the UK the most creatively exciting and prosperous place to make film internationally
Founded in 1933, the BFI is a registered charity governed by Royal Charter. The Interim Chair of the BFI Board of Governors is Pat Butler.
Glasgow Life
Glasgow Life is an independent charity which provides culture and sport services to citizens and visitors to Glasgow on behalf of Glasgow City Council. In 2019/20, more than 18m attendances were recorded across our venues, events and festivals.
For more information on the work we do in Glasgow and how you can support it please visit www.glasgowlife.org.uk
EventScotland
EventScotland is the national events agency. EventScotland is working to make Scotland the perfect stage for events. By developing an exciting portfolio of sporting and cultural events EventScotland is helping to raise Scotland's international profile and boost the economy by attracting more visitors. For further information about EventScotland, its funding programmes and latest event news visit www.EventScotland.org. Follow EventScotland on Twitter @EventScotNews. EventScotland is a team within VisitScotland's Events Directorate, the national tourism organisation which markets Scotland as a tourism destination across the world, gives support to the tourism industry and brings sustainable tourism growth to Scotland. For more information about VisitScotland see www.visitscotland.org
About CalMac
CalMac is the UK's largest ferry operator, running 29 routes to over 50 destinations, across 200 miles of Scotland's west coast. Our fleet of 34 vessels complete approximately 136,000 sailings a year with crossings ranging from five minutes to five and a half hours. CalMac provides an everyday lifeline service to west coast communities, and for tourism, we play a critical role in enabling its development, which is hugely important for the area's economy.
For additional information, visit:
www.calmac.co.uk
www.facebook.com/calmacferries
https://twitter.com/CalMacFerries
Media Contacts:
Scottish and visiting press:
Ruth Marsh: [email protected] 07824 468 396
Amy Taylor: [email protected] 07843 096 365