GMAC Film has announced the twelve new filmmakers and producers selected for the third year of its short film commission programme Little Pictures.
Little Pictures the micro budget short film programme, which is run by GMAC Film and funded by The National Lottery through Screen Scotland, has just finished the selection process for new and diverse voices on screen in Scotland. Each filmmaker will receive up to £2,000 to complete their short films by March 2023 after joining a development programme and production support.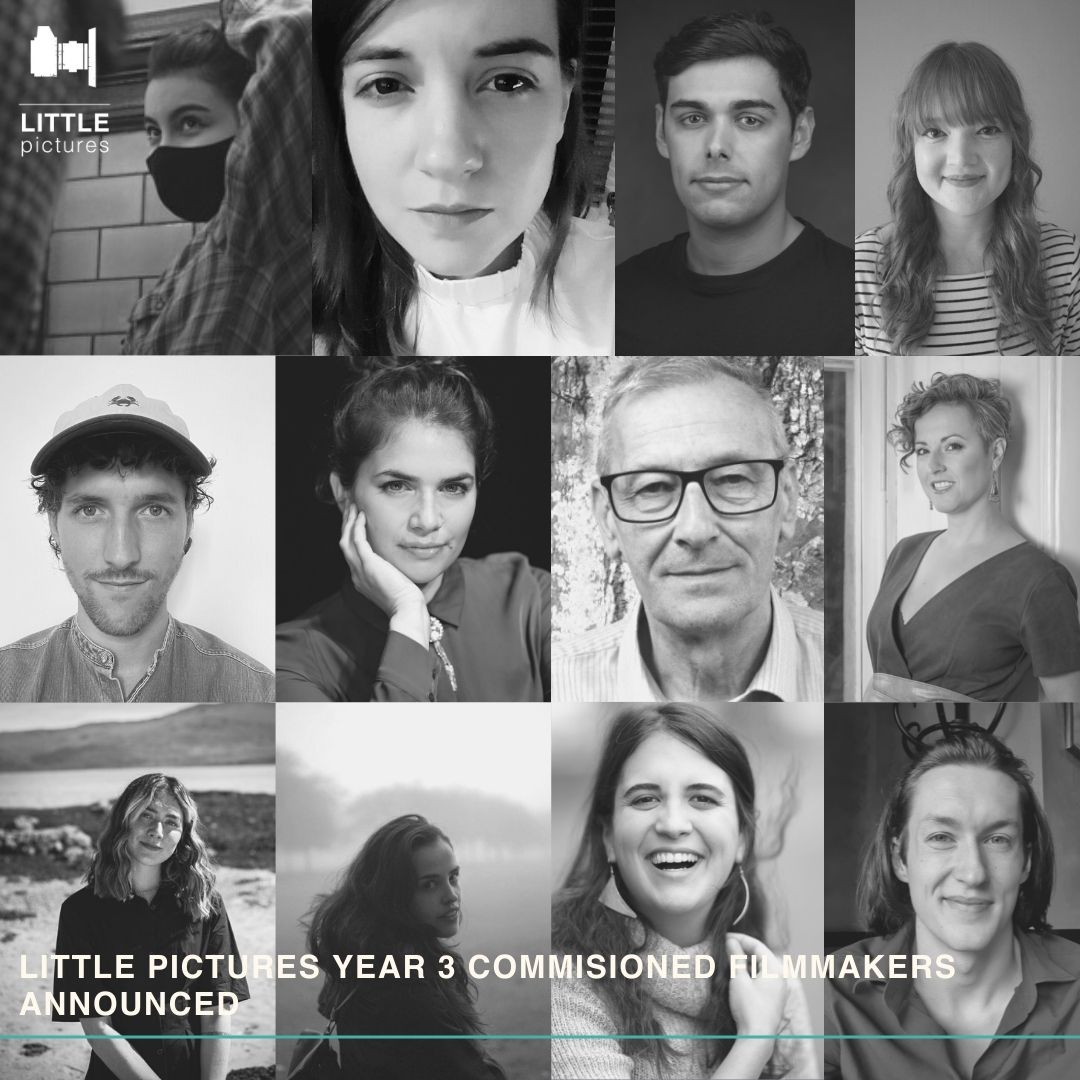 Headshots of the Little Pictures commissioned filmmakers. Courtesy of GMAC.
The twelve commissioned projects, with 50/50+ commissions by women, range from fiction, documentary, animation and experimental film:
Ashley Dick – Time is on my side (Documentary)
Benedetta Zanetti – Outcast (Fiction)
David Robertson– Hugh Ferguson's Football (Fiction)
James Crang – Boy on the moon (Animation)
Jay Alexander-Ali – Zany (Fiction)
Kate Hammer– BEAR (Fiction)
Mar Felices – Return of the Arabs (Archive/Documentary)
Sabina Torres– Hope (Fiction)
Heather Andrews– The Werewolf Complex (Experimental/Documentary)
Jack Guariento– The letter (Experimental/Fiction)
Shanine Gallagher– Between two Thorns (Documentary)
Seyma Dag– Next in line (Fiction)
The fifteen selected producers, who received industry training from producers Carol Brown and Paddy Higson and will aim to work in the commission projects:
Alex Popa
Andrew Hart
Chloe Berger
Debbie King
Deise Fernandes
Gabija Linkeviciute
Isabella Bassett
Jane Somers
Katriona Tweedie
Kieran Smyth
Nelly Vuokko
Lynne Cowie
Kitty McMurdo-Shad
Ursula Grant
The filmmakers and producers will receive free training, mentoring and support from GMAC Film to make their first commissioned film. Little Pictures will be supporting them to develop their voice, bring their unique perspectives and experiences into the programme and encouraging them to take creative risks during the making of their films. The programme will provide further support for commissioning and employment opportunities to help kickstart their careers in the Scottish Film industry.
Paddy Higson, Executive Producer for GMAC Film, said: "It has been especially exciting for me this year to have been part of the Producer Training element of Little Pictures. It has been amazing to meet so many people eager to learn more about producing; having so much enthusiasm to help and support the commissioned filmmakers. They have shown great skill in reading and understanding the ideas that have been put forward by the filmmakers - it bodes really well for the success of the films. The ideas I have read are so varied and exciting - it feels like there will be some truly excellent finished films."
Jennifer Armitage, Executive Producer for Screen Scotland, said: "This year's expanded programme recognises the strength of Little Pictures in finding, nurturing, and developing new filmmaking talent in writing, directing, and producing roles. The commissioned films include dramas, documentaries, and experimental forms by filmmakers with a diverse range of backgrounds and experiences, each telling a powerful, and often personal, story. We wish the filmmakers and their teams the best of luck as they move into this phase of their journey."
To find out more about Little Pictures Short Film Programme 2022 go to https://www.gmacfilm.com/filmmakers/little-pictures/ or get in touch with Little Pictures via email at [email protected].
---
More information
About GMAC Film
Established as a charity in 1982, GMAC Film is an open access media centre that delivers a creative and artistic programme for all people interested in film, regardless of age, background, or income; enabling anyone to acquire the skills, knowledge, resources and confidence to realise their ambitions in film and elsewhere in the creative sector. The mission of GMAC Film is, as it has been for nearly 40 years, to promote equality of opportunity for all; inclusive of ethnicity, creed, sexual orientation, gender, age and disability – our target groups. GMAC Film seeks to empower people of all ages and backgrounds to engage in projects free at the point of delivery so that low income is never a barrier to taking part, giving confidence, knowledge and ambition to those who become involved, allowing each voice to be heard. Visit gmacfilm.com or follow us on Twitter, LinkedIn and Instagram
The National Lottery has raised more than £41 billion for more than 565,000 good causes across the UK since 1994. Thanks to National Lottery players, up to £600 million has been made available to support people, projects and communities throughout the UK during the Coronavirus
crisis. https://www.national-lottery.co.uk/
About Screen Scotland
Screen Scotland is the national body that drives development of all aspects of Scotland's film and TV industry, through funding and strategic support. Screen Scotland is part of Creative Scotland and delivers these services and support with funding from Scottish Government and The National Lottery. Find out more at screen.scot and follow us on Twitter and Instagram.