BBC ALBA will kick off the new year in bold fashion with the launch of Harris Tweed-based drama, An Clò Mòr.
The new, six-part series will premiere on BBC ALBA and BBC iPlayer on Monday 2 January 2023 at 9pm.
This vibrant Hebridean based international industry has been dramatised in a bold tale of passion, rivalry and intrigue for audiences in Scotland and the UK. From mysterious arrivals to illicit love affairs and a family on the brink of collapse, this fresh, new drama is punctuated with super charged, tension filled moments.
The series is set around MacSween's Mill - a traditional family-run tweed business – and opens with the business in crisis. A skeleton workforce cling onto their jobs by their fingertips, and time is running out for mill owner, Seumas MacSween (Ewan MacKinnon), as he tries to rescue his business.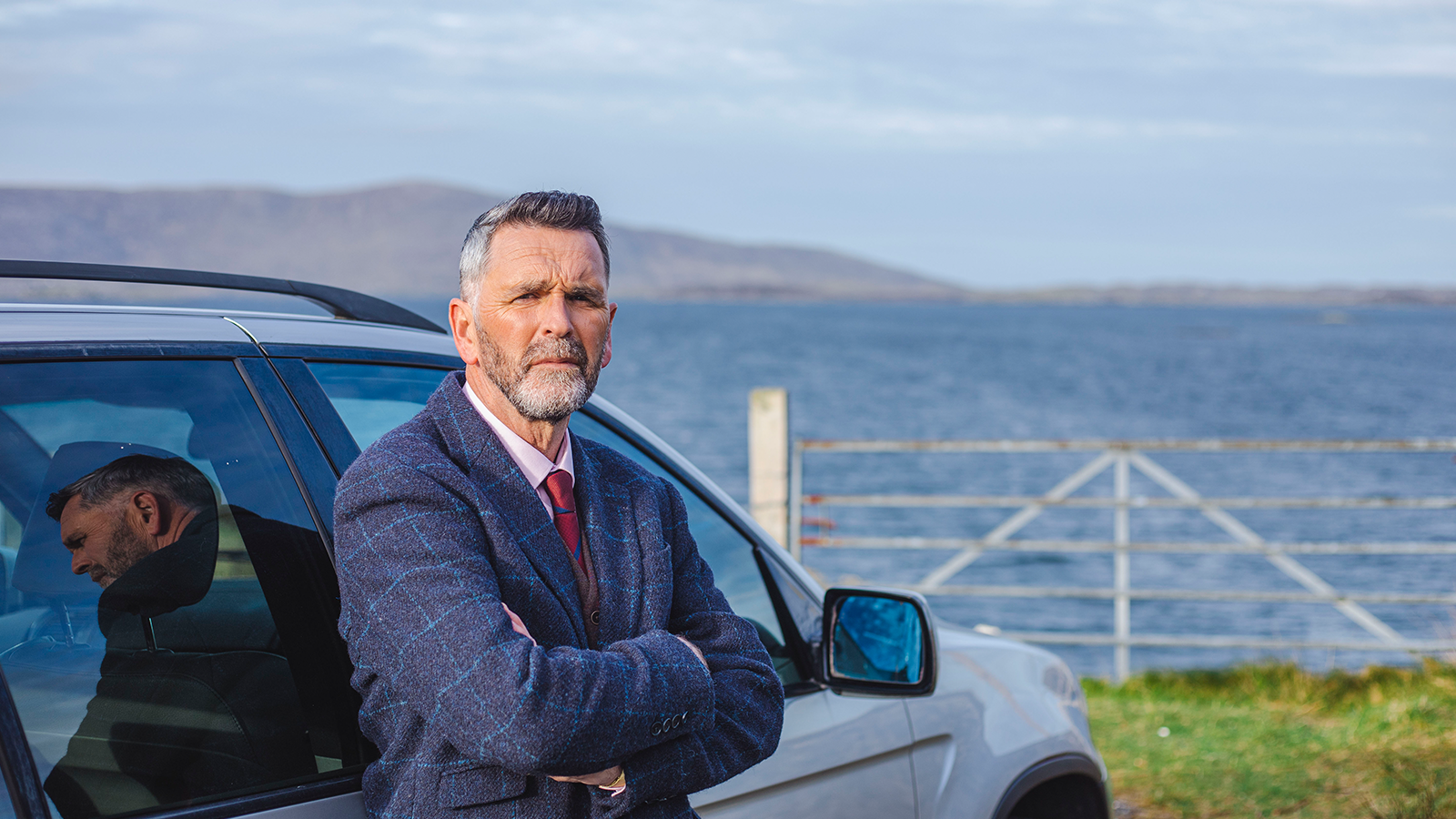 Ewen MacKinnon - who plays mill owner Seumas MacSween. © Sradag Creative / Solus Productions / MG ALBA.
In a desperate attempt to bail out his business and continue with traditional ways, Seumas seeks the financial help of old family friends from Norway.
Norwegian businessman Johan Furseth (Fredrik Malte Petersen) arrives on the island full of swagger and cut-throat business plans but soon clashes with mill manager, Sìleas MacSween (Erica Morrison).
Old resentments and underlying tensions in the MacSween family are unearthed, delivering a host of gripping, contemporary storylines.
The rich colour palette of the Harris landscape, the atmospheric soundtrack of fast-paced looms weaving rich and textured tweed and a family teetering on the brink of collapse provides a vibrant back drop for this stylish drama.
An Clò Mòr is produced by Solus Productions for BBC ALBA and is funded by MG ALBA and Screen Scotland.
Executive producer/director Tony Kearney said: "The Harris Tweed industry is colourful and fascinating. Basing a drama around this topical, international and exciting world gives us so much story potential.
Filming in the traditional artisan Carloway Tweed Mill on the west side of the Isle of Lewis was an experience I shall never forget. The staff were so accommodating and witnessing this 19th century craft up close was an utter privilege.
"It was also a joy to film against the backdrop of the beautiful Isle of Harris. We had an incredibly-talented cast, each and every one of them immersed themselves into their respective characters, adding their own particular nuances along the way. We're just so excited to share this new drama with the wider public now!"
Executive producer Jim Webster added: "We at Solus Productions strongly believe that this new stylish, vibrant, high-quality Gaelic language drama will have maximum broad appeal to the heartland Gaelic-speaking audiences and beyond.
"It's an ambitious drama which pushes our characters to the brink and, in turn, should make the audience wince, laugh and cry along the way. We hope the audience enjoys watching it as much as we enjoyed shooting it in the beautiful Western Isles."
Executive producer and commissioner Bill Macleod said: "We are absolutely delighted to be able to bring this stunning production to BBC ALBA. "Set amongst the wonderful landscape and industry of the Western Isles, An Clò Mòr is a magnificent representation of our Gaelic heartland, but also carries an international flavour.
"We can't wait to start watching the drama unfold with you in the new year."
Sean Greenhorn, Screen Scotland screen officer - scripted said: "An Clò Mòr is a riveting story of familial passion and rivalry based in the Hebrides, for today's audiences.
"Through collaboration with our colleagues at MG ALBA and Comhairle nan Eilean Siar, alongside Solus Productions, this production made it possible to deliver a valuable training programme to the local community.
"Developing the crew base is essential to the rapid growth of our screen industry, as we continue to deliver training and production support right across Scotland."
Episode one of An Clò Mòr airs on BBC ALBA on Monday 2 January at 9pm and will be available to watch on BBC iPlayer.
---
More information
Key cast and crew
Co-creators & Executive Producers: Jim Webster and Tony Kearney (Solus Productions)
Executive Producer for BBC ALBA: Bill Macleod
Director: Tony Kearney
Writers: Patsi Mackenzie and Catriona Lexy Campbell
Story Producer: Kathleen Isaac
Cast: Ewan MacKinnon, Erica Morrison, Kathryn Mackay, David Mackenzie, Eoghan MacDonald, Emma Macleod, Daibhidh Walker, Anna Murray, Rachel Kennedy, Iain MacAulay, Fredrik Malte Petersen, Màiri Sìne Campbell, Eoin P. Ó Murchú and Calum Fraser
About Solus Productions
Solus Productions was founded in 2009 by director Tony Kearney and producer Jim Webster. Solus is an award-winning independent television production company who specialise in bold, original stories for UK and international audiences.
About MG ALBA
MG ALBA delivers media across a range of platforms to allow audiences to be informed, entertained and educated through Gaelic. In partnership with the BBC, MG ALBA oversees the day-to-day operations of BBC ALBA including post-production support, scheduling and quality control.
MG ALBA also oversees the annual Gaelic short film competition, FilmG; Gaelic learning resources, LearnGaelic and SpeakGaelic; and user generated content-sharing platform, càrn.
About Screen Scotland
Screen Scotland is the national body that drives development of all aspects of Scotland's film and TV industry, through funding and strategic support. Screen Scotland is part of Creative Scotland and delivers these services and support with funding from Scottish Government and The National Lottery. Find out more at screen.scot and follow us on Twitter and Instagram.
Image: Executive producer / director Tony Kearney (centre) with cast members Ewen MacKinnon and Rachel Kennedy