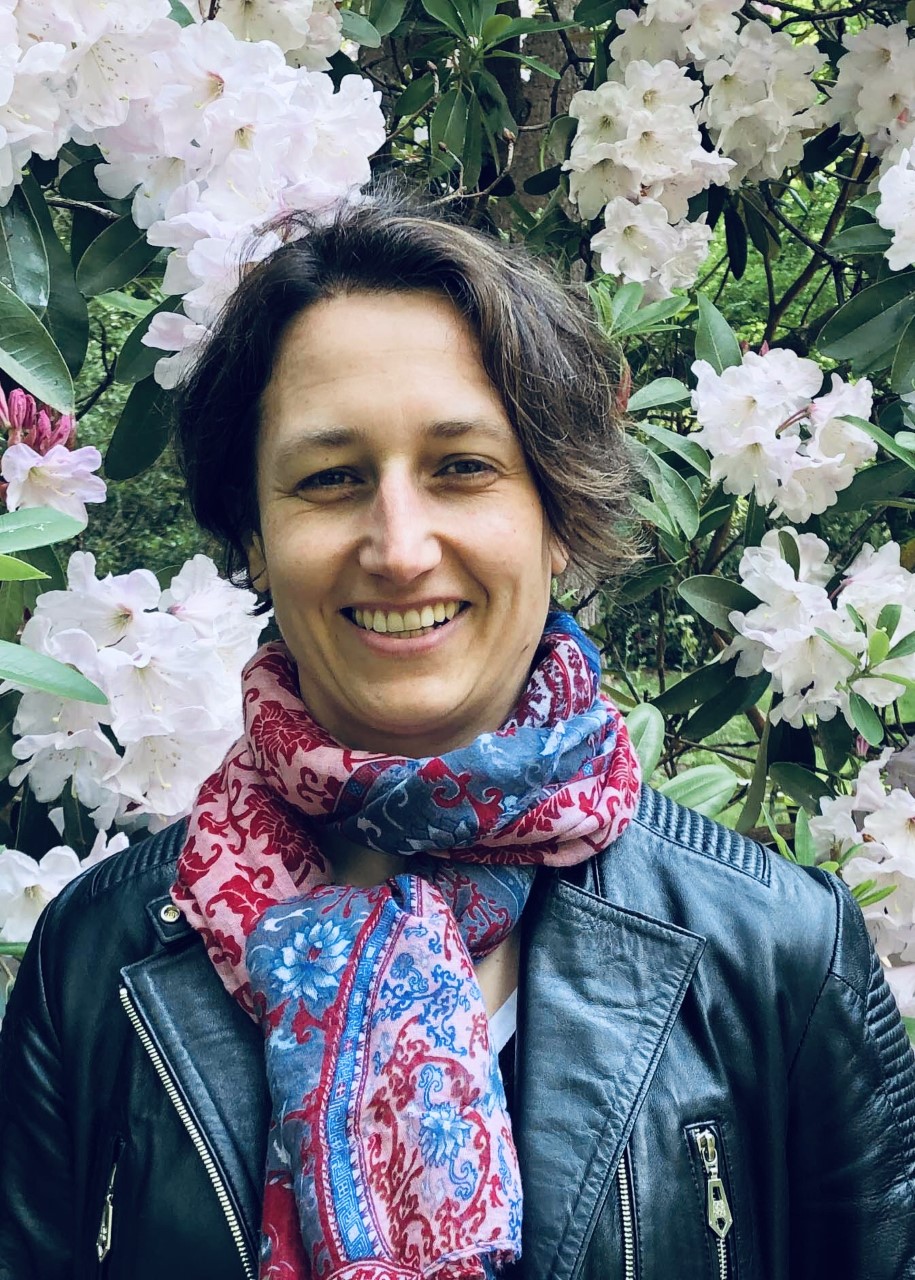 Sonja Henrici is an Edinburgh based writer/producer who has worked in the film and TV industry in Scotland for over 20 years.
Having been the Co-director/Executive Producer of the Scottish Documentary Institute (SDI) from 2013 – 2020, Sonja has exec-produced multiple award-winning feature documentaries and has played a significant role in putting new Scottish documentary on the world map. In 2021, Sonja founded a new production company Sonja Henrici Creates for all her creative and production work.
Two of Sonja's recent projects, Merkel and The Oil Machine, have been selected to showcase at the International Documentary Film Festival Amsterdam (IDFA) 2022. Both feature documentaries were supported through Screen Scotland's Film Development and Production Fund.
We spoke to Sonja about the development of these two projects, how it feels to have her films recognised at a world-renowned international festival, and the growth in Scotland's documentary output.
Congratulations on having two films screening at IDFA this year. The two documentaries are distinct in their subject matter, how did you get involved with both projects?
Thank you! They are very distinct - The Oil Machine is about our complex relationship with oil, and Merkel is about the first female German chancellor. But strangely both are a lot more overtly political than my previous work. A sign of our times perhaps. And both use interviews and archive. I'm agnostic in terms of documentary form. I believe that all films need to find their language and I want to be the director's partner in how to find that form and the story that underpins it.
How I get involved with projects is changing a bit. I'm a lot more realistic about what it takes to pull off a project and I want to continue to work with a variety of partners to make ambitious new work, internationally. Merkel had an incredible international producing team, I loved that collaboration - even though we barely got to meet in person! I've known both directors, Emma Davie and Eva Weber for a long time so in both cases I was there right from the start, discussing what the films could be and how they might get made.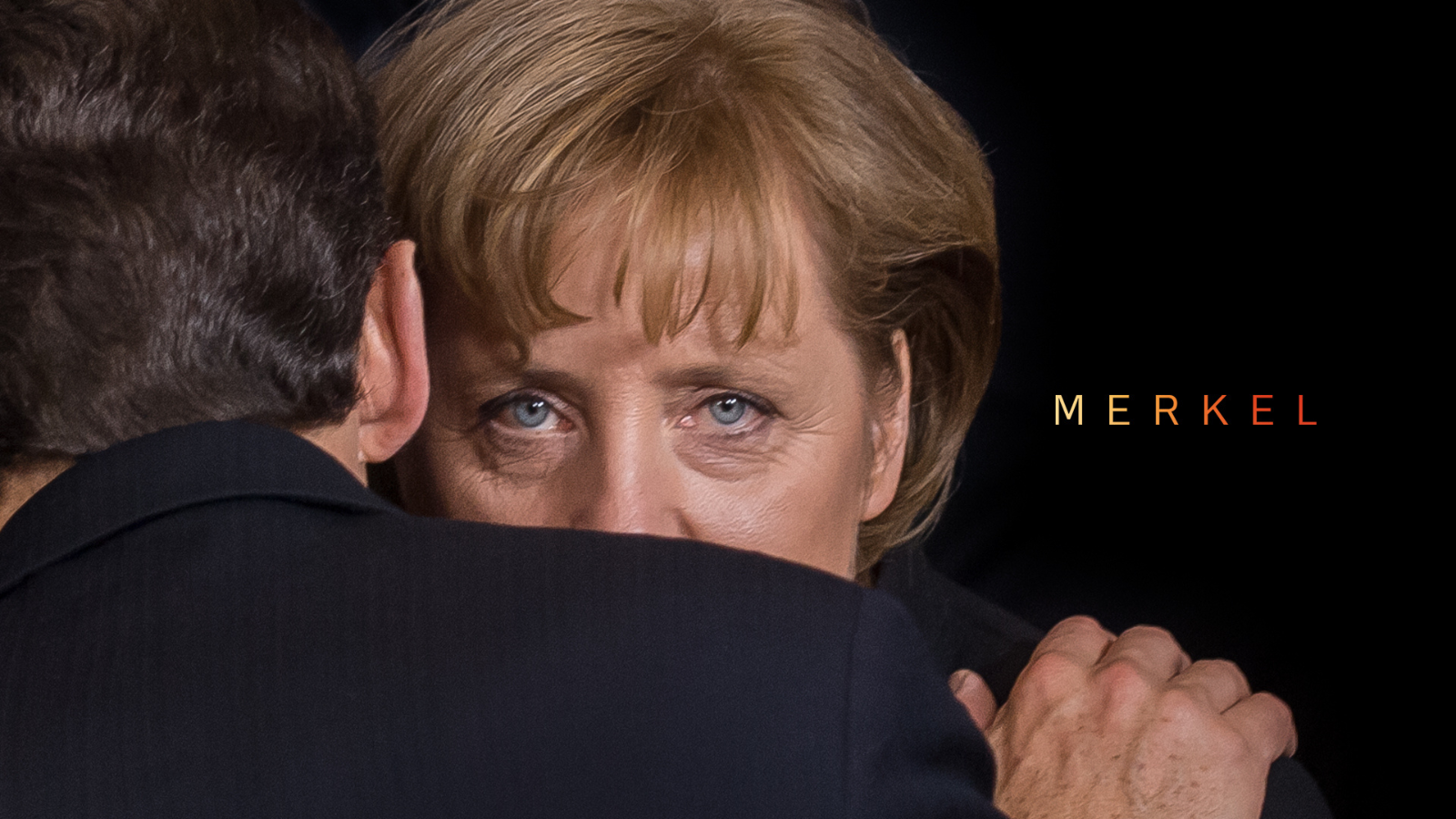 Merkel key art, courtesy of Sonja Henrici Creates
Can you tell us a little bit about the development process for both documentaries?
On The Oil Machine writer James Marriott had nudged Emma Davie to do "something about oil", and because of our previous films together (I Am Breathing and Becoming Animal), she asked if I might be interested. We had many false starts on how to tackle this subject - the obvious route would have been to, say, follow a young activist as they battle for the cause but we didn't want to make a pure activist film that preaches to the choir. Adapting the big new book, Crude Britannia, by James Marriott and Terry Macalister was also not an option - and in the end we realised the asset was right in front of us: James himself and his epic knowledge about the empire of oil, and eventually the concept of "The Oil Machine" emerged; we started researching diverse voices that could speak to our "carbon entanglement", including activists, Oil executives, Investors etc. We are proud that the film brings together people that should be in a room more often, but so rarely are. COP 26 being hosted in Glasgow was our financing opportunity.
Merkel was born during Covid, when a lot of people were looking at archive ideas. Merkel's announcement to depart as chancellor gave us a good hook for financing. We looked at a number of existing TV documentaries but didn't find any with an international angle, and none that would immerse the viewer more deeply in the archive. While watching the early archive footage, Eva became more interested in evoking her life as a younger woman from the East who grew up behind the Iron Curtain. We discussed if we needed to get Merkel "exclusively" attached to the film, and soon realised that she would never sign up for something like this, plus we had more freedom working purely from archives. That way, Merkel is still telling her story in her own words, only supplemented by a few key interviews with her contemporaries. All this made us appreciate how epic her story is - she came into politics as a triple outsider: as an East German, as a scientist and as a woman. No matter what you think of her policies, you can't help but admire her. But truly, there are many films that could have been made, we had over 3500 archive clips!
How does it feel to have two films showcase at IDFA and how important is it to attend international festivals for you as a filmmaker?
It feels incredible. IDFA is probably my favourite festival. Our IDFA premieres of I Am Breathing in 2012 and Time Trial in 2017 remain some of my absolute career highlights. And now it's 2022... It's hugely important to travel and connect with buyers, distributors, producer colleagues - many of whom have become friends. During Covid this vital aspect of connecting with people in person was completely gone, and it made the job a bit unbearable at times. Day in and day out on the computer, on zooms, but not really nurturing real relationships.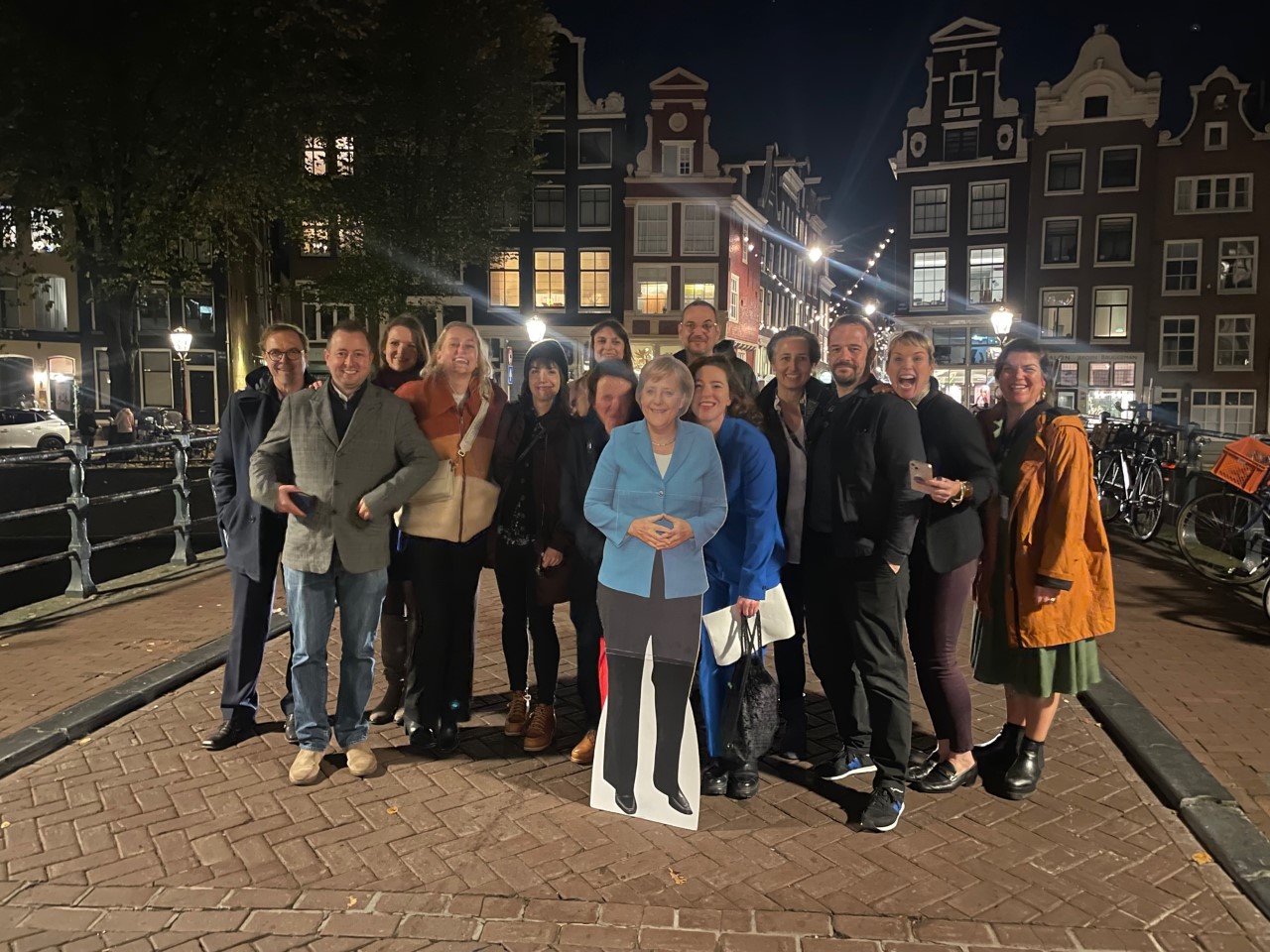 Merkel team at IDFA, courtesy of Sonja Henrici
What do you hope audiences will take away from both films?
I think with The Oil Machine the clear message for me is that we are all part of this machine, whether we want to or not. We are complicit in it, but it's also a human construct and we can undo it. We can imagine a different world, and we can rebuild. Covid showed us that with political will, the unthinkable is possible. Who would have thought we'd get a basic income guarantee - called furlough? People can change behaviour overnight. It was extraordinary, and we need to hang on to this sense of possibility.
With Merkel, we started with a desire to tell the story of an exceptional female leader, and it became a film about leadership in an era of rising populism, with democracy under threat. Merkel is a politician who knows she is a public servant; she was never interested in personal enrichment. No private scandals to be found! The fact that she was also one of the very few women on the political world stage is still striking.
So both films - I suppose - have a message of accountability and self responsibility. I really connect with these themes.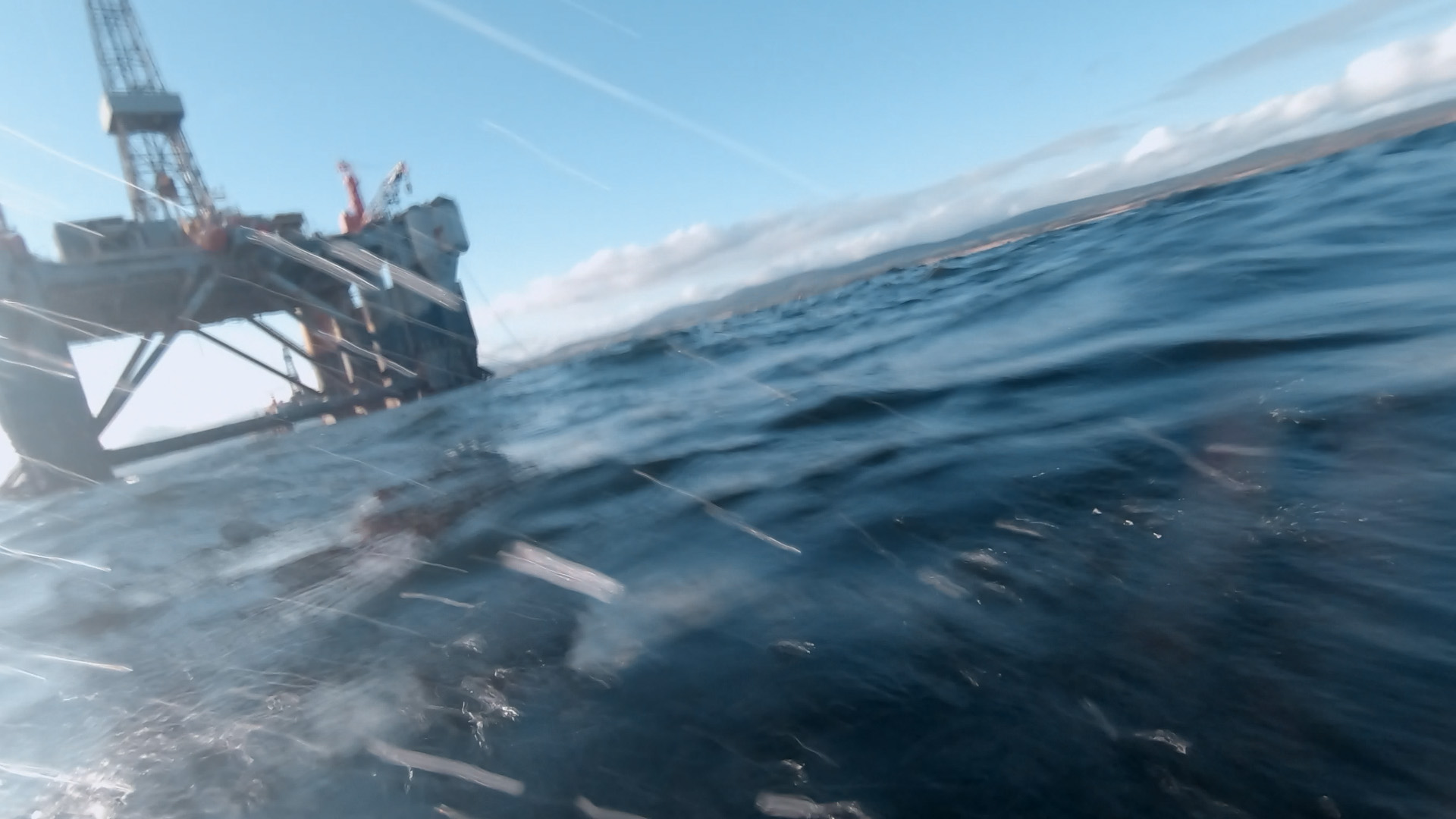 Still from The Oil Machine, courtesy of Sonja Henrici Creates
You have worked in the industry for a number of years now, how do you feel documentary output in Scotland has evolved in that time?
When I started with Scottish Documentary Institute in 2004 it was the year Michael Moore's Fahrenheit 9/11, was the first doc to win the top prize at Cannes, and it possibly remains the highest grossing doc ever. So back then, some documentaries were starting to make a mark in cinemas. With TV being such a big commissioner in the UK at the time, the documentary output in Scotland was still very TV based and very few people made international co-productions. That's no longer the case. By necessity or by choice, we all have had to look further afield for financing. I'm proud that my previous features (starting with Future My Love) have been part of a new era of Scottish documentary.
I'm always thrilled when a filmmaker finishes a film, it's such a big journey for everyone and such a testament to persistence and self-belief. The documentary scene in Scotland is still small, but it's influential - and growing. It's well connected and increasingly well-travelled. We show our work at key festivals globally and I'd like to think we all support each other by bringing new contacts, knowledge and partnerships back to Scotland. As the films have grown in significance, Screen Scotland's support of documentary has also increased over the years. I'm very grateful for that.
What do you enjoy most about working in the documentary genre?
The people you meet, the themes and lives you explore, the many different tools you can use to tell a story - and the idea of making a difference.
---
More information
Merkel is directed by Eva Weber and produced by Eva Weber, Sonja Henrici, Lizzie Gillett, Sigrid Dyekjaer.
The Oil Machine is directed by Emma Davie and producerd by Sonja Henrici
Header image: Emma Davie and Sonja Henrici, courtesy of Sonja Henrici