A new free resource, Working Differently - a short documentary style film and Good Practice Guide - has launched today on Screen Scotland's website, to support awareness and highlight the importance of Neurodivergent (ND) people working within the Scottish Film and Television Industries.
Directed by BAFTA Scotland award-winner, Hannah Currie (That Joke Isn't Funny Anymore, Not Your Average Influencers) Working Differently celebrates diversity, inclusion, and the wealth of talent that Neurodivergent people bring to the creative industries.
Through a series of honest and insightful interviews with a range of mostly ND contributors - from entry level crew through to established industry figures - the film welcomes their personal experiences, and looks at the way ND people can think, operate, and reach goals in ways that can differ to a neurotypical person.
Neurodiversity represents various cognitive abilities, including autism, ADHD, dyslexia, and other neurological variations. Working Differently explores the challenges and triumphs of Neurodivergent professionals, highlighting their unique perspectives and invaluable skills that enrich the creative landscape of film and television.
Working Differently aims to ignite conversations within the industry about the value of neuro-inclusion, and show how the implementation of new practices could better support ND people to thrive in their roles, whilst enhancing the quality of productions.
Commissioned by Screen Scotland, Working Differently was created and co-produced by The Portal Studios and Blazing Griffin Pictures, with partnership support from BECTU Vision, demonstrating the collaborative effort to elevate Neurodivergent representation within the industry.
This consists of the Working Differently short film, a downloadable Good Practice Guide offering useful tips and guidance for people, and also a padlet with links to information about neurodiversity.
Working Differently is currently being piloted on, Dinosaur which is currently filming in Glasgow. It follows Nina (Ashley Storrie), an autistic woman in her 30s, who adores her life living with her sister and best friend Evie. However, when Evie rushes into an engagement after only six weeks and makes Nina her maid of honour, Nina is floored. Forced to reconcile with her sister's impulsive decision, Nina grapples with what this new challenge means, leading to a surprising journey of self-discovery. Producer Brian Coffey and Access Consultants from Access All Areas, implemented the resource during pre-production, ensuring a neuro-inclusive environment for crew and cast was considered throughout. Dinosaur (6 x 30) is a Two Brothers Pictures (Fleabag, The Tourist) production for Hulu, BBC Three, BBC iPlayer and BBC Scotland in partnership with All3Media International.
Working Differently (the film, Good Practice Guide and supporting materials) have all been created by a majority Neurodivergent team, with the advice and support of screen industry leaders and practitioners.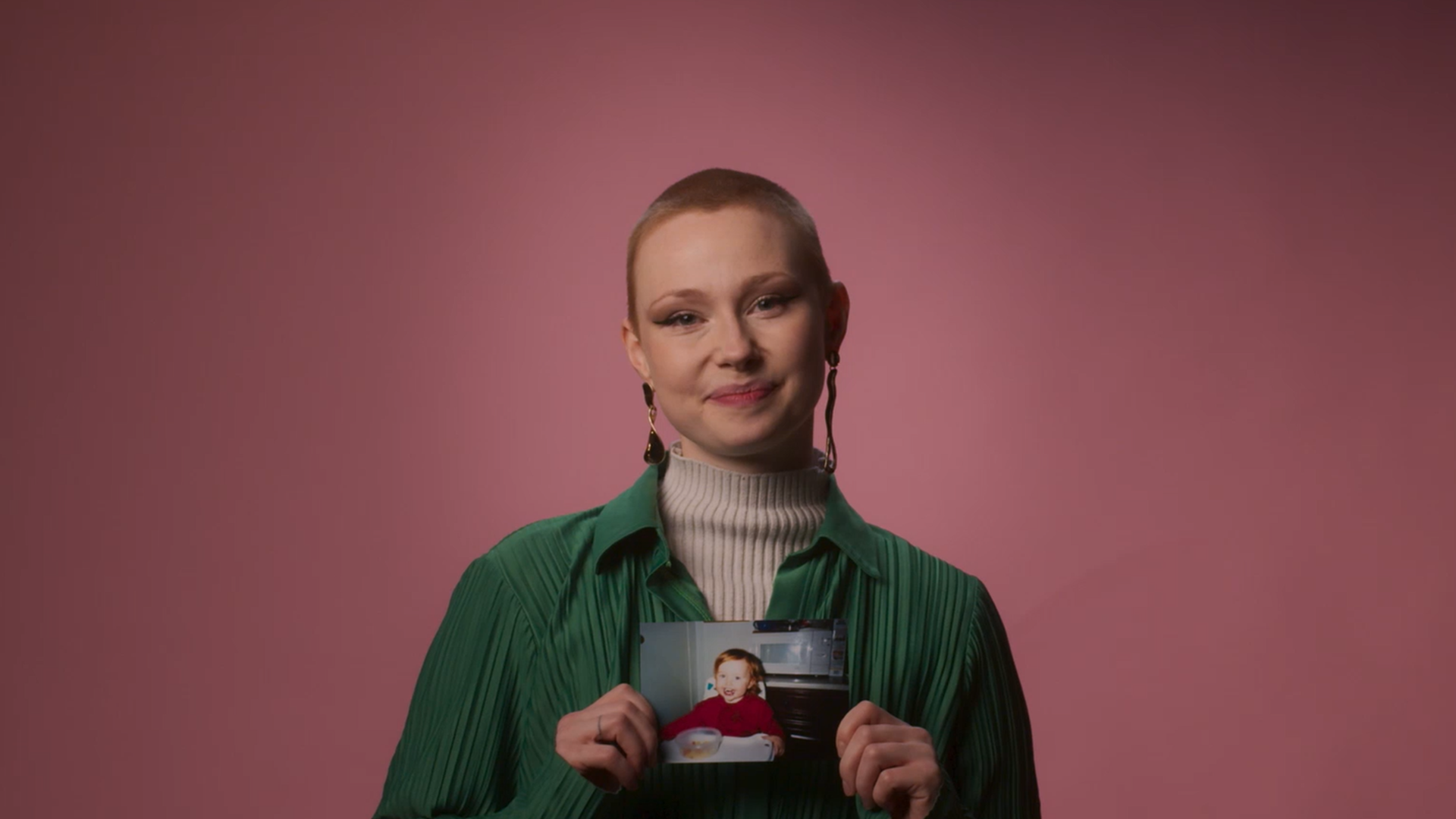 Still of Rhiannone Stone in Working Differently, credit: The Portal Studios
Hannah Currie, Director - "Directing 'Working Differently' was a fascinating and enriching process which taught me so much - answering my own queries about neurodivergence, debunking deeply ingrained stigmas about what it means for people, and meeting really talented and wonderful neurodivergent film and television professionals who proved why it's so important to improve inclusion and understanding in the industry. I'm looking forward to sharing the film and hope it reaches the right people to promote change in the near future." 
Fi Milligan- Rennie, Head of Education – Screen Scotland – "It is fantastic to be able to support this programme of work which showcases the value and benefits of working with neurodiverse crew and provides helpful 'how to' guidance for neuro-inclusive practice  in Scotland's Screen Industries."
Moya Crowley, Producer, The Portal Studios - "We are delighted to finally be able to share this beautiful, insightful and thought-provoking resource with the industry. We hope it will be a valuable tool for productions and people to refer to, encouraging everyone to think about the importance of neuro-inclusive teams, paving a way towards setting a new industry standard".
Lauren Lamarr, Producer, Blazing Griffin Pictures - "Diagnosed with dyslexia in primary school, I thought I understood its impact on me. However, whilst creating 'Working Differently' I gained deeper insights into my neurodivergence, alleviating much of my shame about working differently from those I admired. This new perspective underscored the value of diverse thinking in our industry. I hope this film fosters greater understanding and conversation around neurodivergence."
Linda Fraser, Co-Manager, BECTU Vision - "We are proud to support the creation of the Working Differently film and the much welcomed Good Practice Guide which will enable productions and practitioners to better support Neurodivergent workers, and bring positive change in the industry for all."
Brian Coffey, Producer, Dinosaur - "On Dinosaur, a comedy series featuring autistic characters, played by autistic actors, we wanted to ensure we were working inclusively, taking into account all of our Cast and Crew's access requirements. We incorporated 'Working Differently' into our Crew Training plan and it has been really effective, there's a short film and accompanying information that we were able to send to all our cast and crew that helped to start the conversation about everyone's access requirements that enabled us to put in place Access Support for all. 'Working Differently' will form part of our training plans on all my future projects."
Start the conversation today on social media using the hashtags #startworkingdifferentlytoday and #workingdifferently
---
More information
THE PORTAL STUDIOS
The Portal Studios is the film production arm of The Portal Arts charity. The Portal Studios focus on access and diversity within film creativity, provides production training for new entrants, and the creation of engaging, impactful and audience focused films.
BLAZING GRIFFIN PICTURES
Blazing Griffin were founded in 2015 through the merger of three start-ups and have since grown into a group of BAFTA award winning companies spanning video game development, film and TV development, and postproduction services, with a 72-strong team.
SCREEN SCOTLAND
Screen Scotland drives development of all aspects of Scotland's film and tv industry, through funding and strategic support.
Screen Scotland is part of Creative Scotland and delivers these services and support with funding from Scottish Government and The National Lottery.
We are funding, developing and growing Scotland's screen sector by:
Boosting production by increasing funding and support to grow the number and diversity of film and TV productions from Scotland

Creating specialist business development provision for screen businesses ensuring that advice and support is appropriate and easy to access
Improving employment opportunities in the sector through increased and co-ordinated opportunities for training and development

Developing audiences by improving access to Scottish film and TV productions at home and internationally

Growing and improving Scotland's screen infrastructure including studio facilities

Developing Scotland's reputation as a destination for international productions and co-productions, supported by our world-class talent, crews, facilities and unique locations
BECTU VISION
BECTU Vision delivers targeted short courses, industry development and a drama training programme of activity to support the skills development of film and television crew in Scotland.
ACCESS ALL AREAS
Access All Areas makes award-winning, disruptive performance by learning disabled and autistic artists.
Our productions create intimate moments of interaction between performers and public, occupying unexpected spaces in venues, on the streets, online, and in public buildings.
As well as making shows, our company of Associate Artists works to make our culture more inclusive for learning disabled and autistic talent. We run access training, offer bespoke creative support to learning disabled and autistic talent, and co-create scripts. We engage communities, train artists of the future, and work closely with TV, film, and theatre companies to make their work and workplaces more accessible.
We've developed a programme of work that challenges exclusion at every level of our culture. All our work, from productions, to consultancy, to training, to creative workshops, is co-led by Access All Areas' learning disabled and autistic artists, ensuring lived experience drives everything we do.
Media contacts
Ceitlin Lilidh Russell Smith
Marketing Executive, Blazing Griffin
T: (0)141 406 5000
E: [email protected]
Helen Sim Robertson
Producer, The Portal Studios
E: [email protected]
T: 0141 440 0080
Header image: Still of Jonathan Mullen in Working Differently, credit: The Portal Studios