The eighth annual celebration of LGBTQIA+ filmmaking talent will run at CCA, Glasgow from 26 - 30 September with all tickets priced on a pay-what-you-can basis.
SQIFF (Scottish Queer International Film Festival) 2023 programme highlights include energetic day-in-the-life films Mutt and Nowhere; Gender-bending Speculative Fiction in feature (Tending) (to) (Ta) and shorts programme Alien Body, Human Dreams; and uncompromising documentaries Kokomo City and Sex Change: Shock! Horror! Probe! spotlighting the realities of trans lives, from the 80s to the present day.
SQIFF 2023 also features an analogue film workshop, two immersive art installations, a craft fair with local makers, a dedicated massage area for relaxation, and a sure-to-be-legendary party at local Queer club Bonjour.
From SQIFF's ambitious new team and collaborative partners, features include:
Mutt is a 24-hour spin around the life of a young trans man named Feña in New York. It has a 'coming of age' vibe for the moment of transition where all relationships shift around: to strangers on the street, to family and to old lovers. This new release is the heartfelt, funny and heart-wrenching final film of our 2023 festival.

Kokomo City is a striking black and white documentary that shares the stories of four Black transgender sex workers in New York and Georgia. Director D Smith brings an exciting and uncompromising social commentary to the table as the subjects of her film share the reality of their lives with warmth and frankness.
Peafowl follows transgender woman Shin-myung on a journey of two dances: firstly the final dance battle in a waacking competition - a form of voguing - which would secure her a pot of prize money to pay for her gender affirming surgery. The second is a traditional drum dance which she is summoned to perform after her estranged father's death. Director Byun Sung-bin's debut feature guides us through these visions of forgiveness and transformation with grace and poise.

(Tending) (to) (Ta) is a speculative fiction film which follows an exchange of internal letters between two protagonists imagining one another across parallel dimensions. Presented with a writing session before and after the film, this screening will ask "what would you ask somebody living in a parallel universe to ours, one freed from the confines of language, gender, and hyper-separation between human and nature?"

Sex Change: Shock! Horror! Probe! brings us to Thatcherite Britain where transexuals are fighting back. Spotlighting the stories of four transexual people negotiating the complications of family, work and social life that gender transition heralds, with fierce determination. Pioneering director, Kristiene Clark will join this screening for a Q&A after the film.

Nowhere is an extraordinary 90s dark comedy drama from director Gregg Araki. Now a Queer cult classic, this film intertwines camp teenage silliness with the darker elements of coming of age as it follows the strange lives of a group of LA college students for a day.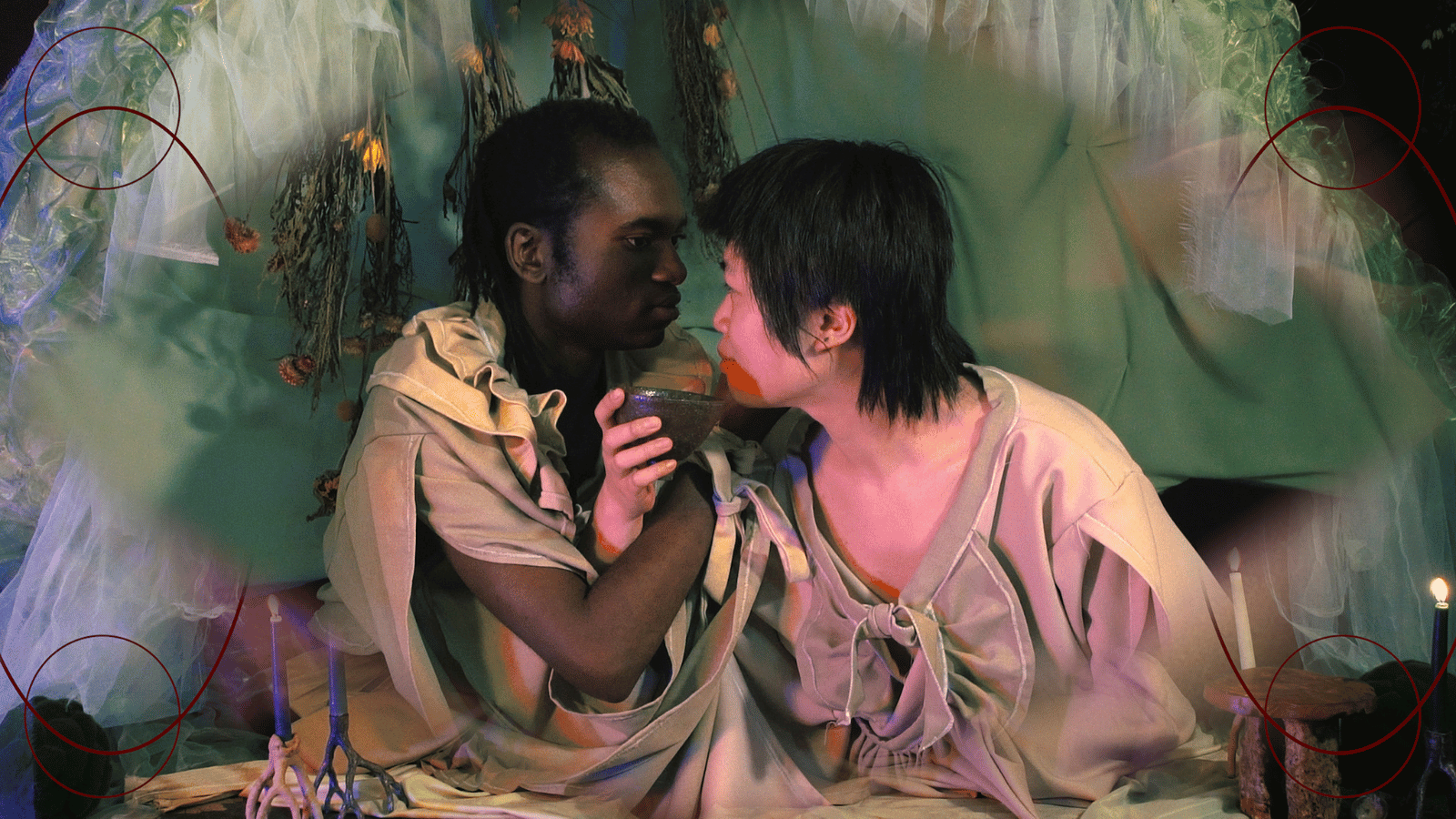 Still from (Tending) (to) (Ta), courtesy of SQIFF
This year's Shorts programmes include:
Tantalising curations from the SQIFF team including Fleeting Love, capturing brief (but tender) romantic encounters with longing and lust; and Are you into emotional edging?, a collection of distinct experimental shorts made by trans and non-binary people, using a range of film techniques to explore the varied ways our community tell stories of forming and navigating relationships.

Alien Body, Human Dreams, presented by Queer East, a feast of speculative realities which centre the body as a potent site of hybridity, rejecting false binaries of identity to construct their own embodied, multifaceted ways of being.

The ever-popular Scottish Shorts, our opening programme of short films exclusively by artists based in Scotland, which highlights the diverse talent on our home turf. This year, films include Selkie, which brings Scottish mythology and folk song to queer cinema; and Pixie, following the local party girl as she shares her experience of coming out, transitioning and go-go dancing.
As well as a packed programme of film, SQIFF 2023 offers drop-in art exhibitions, with creative work ranging from Inverness-based Queer Youth Arts Collective, celebrating the talents of young queer artists, to Phreaking Gender, a multi-sensory exploration of radical trans-sensuality, eroticism and autonomy, centred around a new documentary about D.I.Y. hormones.
Also on offer are workshops including a Cameraless Filmmaking session where participants will work directly on celluloid and explore a range of techniques to create their own short 8mm film loops, to be screened to the public later that day and then made available online for communal use.
For a moment of down time in the busy programme, as usual SQIFF will offer a quiet room to chill out with hot drinks, sensory toys, and comfy seating. If that's not enough relaxation, for the first time this year, SQIFF will host Cool Amber Massage, offering short massage sessions on a donation basis. Visitors will also be able to visit a craft fair with local artists to meet local creative talent and pick up a souvenir from SQIFF 2023.
Of course, SQIFF 2023 will go out with a bang with a party at Bonjour, a local club, events, and community space that prioritises underrepresented groups in the LBGTQ+ community. The party will feature a full BIPOC line-up of artists, with DJs and performers to be announced closer to the time.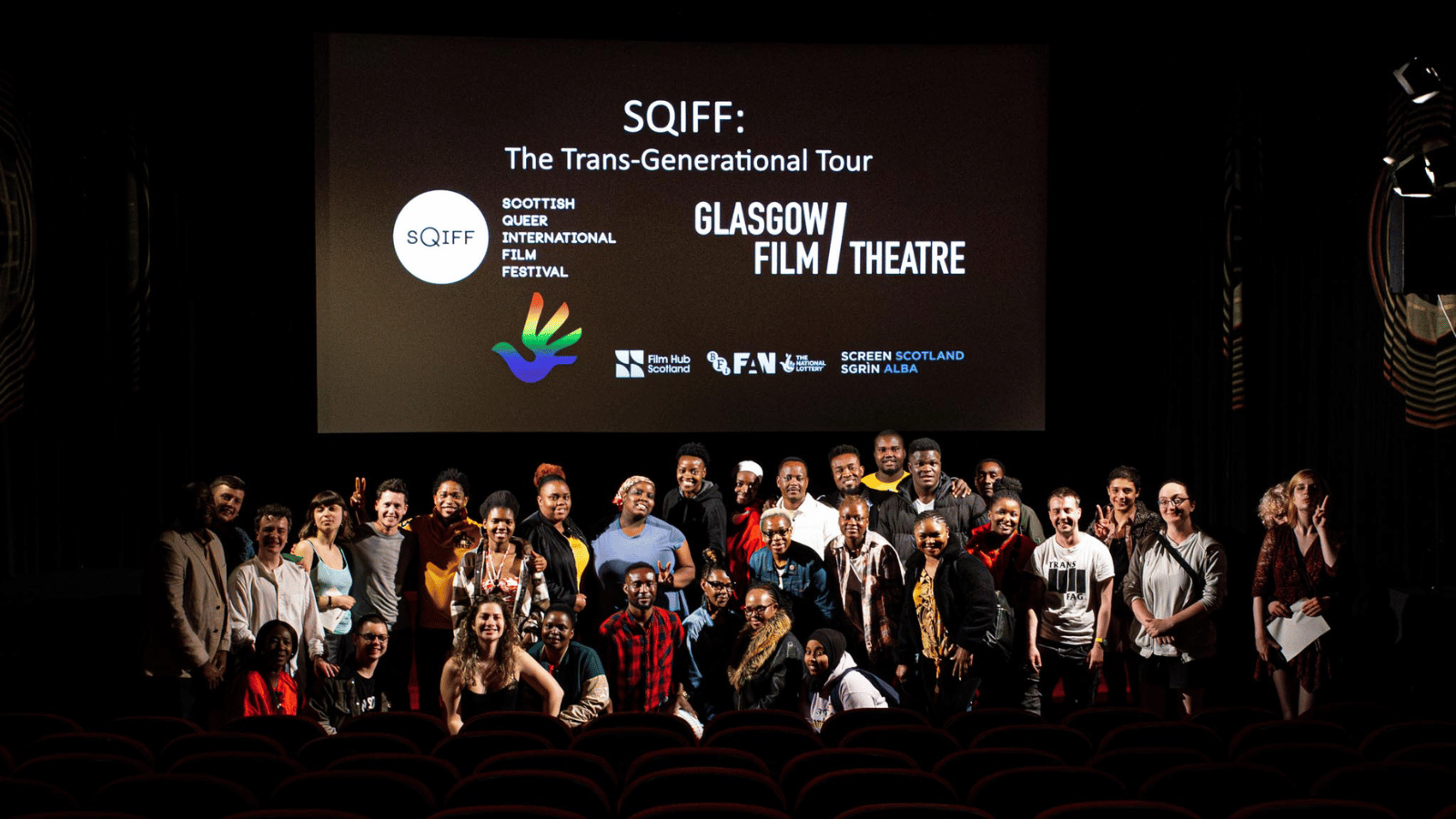 SQIFF Trans-Generational Tour screening, courtesy of SQIFF
Indigo Korres, Director, SQIFF said: "We're so excited for SQIFF to come back! This is the first festival completely run by SQIFF's new team. We've been doing year round projects focused on community building events across Scotland, and we're really excited to present SQIFF 2023 all in person at CCA (Centre for Contemporary Arts), Glasgow. Our audience can expect incredible collaborative screenings, workshops as well as new types of events, with installations and a massage space during the festival."
Katharine Simpson, Screen Scotland, said: "SQIFF's punchy programme is both serious and fun and their events are going to bring people together in supportive, exciting, and enriching ways. We appreciate the fantastic work they have done to connect with LGBTQ+ audiences across Scotland over the last year and wish them every success on their return to the full festival in Glasgow this September."
Nicola Kettlewood, Film Hub Scotland Manager, said: "Every year we see the positive impact that SQIFF has on increasing audiences for independent, queer films across the country. We are proud to support them once again to deliver an innovative and accessible programme of events that spotlights queer filmmakers and builds a genuine sense of community around them."
Tickets to all screenings are priced on a pay-what-you-can scale from Free- £10. They go on sale on 8 September at 12pm at www.sqiff.org.
Supported by Film Hub Scotland, part of the BF's Film Audience Network, and funded by Screen Scotland and National Lottery funding from the BFI.
---
More information
SQIFF (Scottish Queer International Film Festival) was formed with the aim of adding to the exciting and growing amount of queer film stuff happening around Scotland. Since 2015, we have held an annual Festival in Glasgow alongside providing year round events across various locations. Our goal is to get people watching, talking about, and making more queer films. We want to screen movies that people might not otherwise get a chance to see and create inspiring and informative events. We also want to challenge inequalities and barriers to accessing the arts.
Screen Scotland drives development of all aspects of Scotland's film and tv industry, through funding and strategic support. Screen Scotland is part of Creative Scotland and delivers these services and support with funding from Scottish Government and The National Lottery. Find out more at screen.scot and follow us on Twitter and Instagram.
Film Hub Scotland is one of the eight Film Hubs that make up the BFI's Film Audience Network (FAN) and is funded by BFI National Lottery and Screen Scotland. FAN was created to extend film choice, increase film audiences and enhance opportunities for audiences to engage with film. With over 250 members – from community cinemas to film festivals - Film Hub Scotland provides funding opportunities, screening programmes, training, networking events and audience research to help Scotland's exhibitors to reach as many new and existing audiences as possible.
Media contact
For more information, interviews and press tickets please contact Rabi Bhose on [email protected] / 07791170849