Charlotte Hailstone is a producer based in Edinburgh, Scotland. She has worked across the world on a variety of different film projects and collaborations including the acclaimed documentaries Aquarela (2018) and Gunda (2020).
Her most recent project Born in Damascus was developed during Charlotte's time on the Scottish Documentary Institute's Bridging the Gap programme. The film follows Scottish director Laura Wadha as she tries to reconnect with her cousin after being separated by the war in Syria.
The powerful short film was selected to compete at Berlinale 2022 in the Generation 14plus competition, where it won the prestigious Crystal Bear for Best Short Film at the festival.
The film has also been included in Scotland's Year of Stories Short Film Award Selection at the 2022 Glasgow Short Film Festival.
Following their win at Berlinale, we spoke to Charlotte about the inspiration behind Born in Damascus, her experience on the Bridging the Gap scheme, and how the programme has helped shape her career within Scotland's screen sector.
Find out more about Charlotte and her production company on the Hailstone Films website.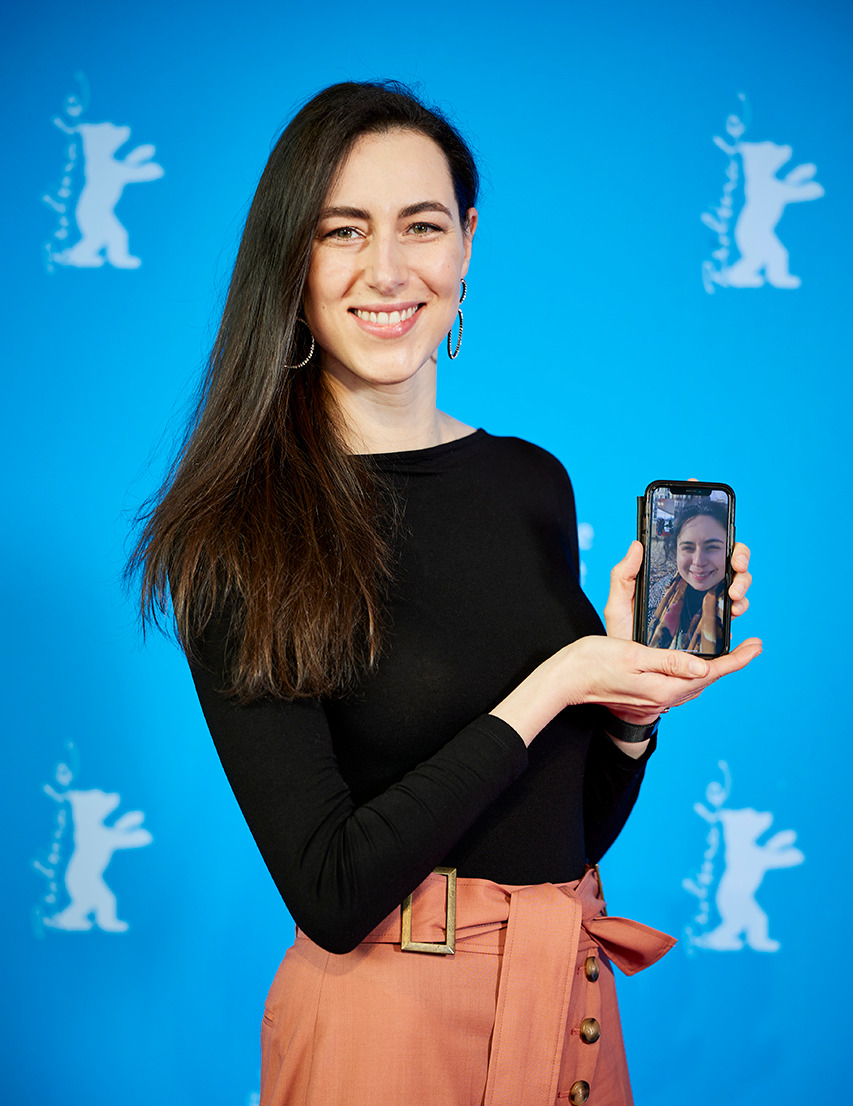 Charlotte Hailstone at Berlinale 2022 with director Laura Wadha
via video call. Credit: Jan Kraus, @jan_foto_kraus
What is Born in Damascus about?
Born in Damascus follows director Laura Wadha's journey to reconnect with her closest cousin, Lujain, whom she hasn't seen since war broke out in Syria. Made during the pandemic, the film takes place inside the computer and through family archive of Syria before the war. Laura discovers that their memories of Syria are in a very different state, and uncovers the long term impacts of the war on her cousin's life.
What inspired the creation of this film?
When we went into the first lockdown in 2020, people everywhere were feeling the effects of separation from their loved ones, connecting only over the phone and through social media. Laura realised that this was actually the situation that her family had been in for the last decade, scattered over the world after fleeing from the war in Syria. She wanted to explore this distance and the effect it has on relationships. Long after the initial displacement, there are effects on identity, memory and family connections. Without the pandemic, Laura may not have made this film, at least not in this form. It created a limit within which she could really being to explore these thoughts and feelings.
The film was made through the Bridging the Gap programme. Can you tell us a bit about it and your experience on the scheme?
This is my second year producing with Bridging the Gap, which is a fantastic scheme for emerging documentary directors. From a producer's point of view, it is an opportunity to have encounters with new up-and-coming directors and support them as they explore their vision. We are very fortunate to have this kind of space to develop ideas and the director's voice here in Scotland.
How has the Bridging the Gap initiative impacted your career?
Although pitched as a talent development scheme for directors, I have found it to be a great space to find my voice as well. It gave me the opportunity to make important first steps as a producer, and now with Born in Damascus, I was able to dive into a project I felt was really important, and support director Laura Wadha as she explored a complicated, personal space. With our selection to Berlinale 2022 in the Generation 14plus competition, and subsequent win of the Crystal Bear for Best Short Film, I can't thank the scheme enough for providing us this chance to be visible on the world film stage. Laura and I are now developing a feature, and it is thanks to Bridging the Gap that we met. The scheme has real potential to impact careers in a tangible way.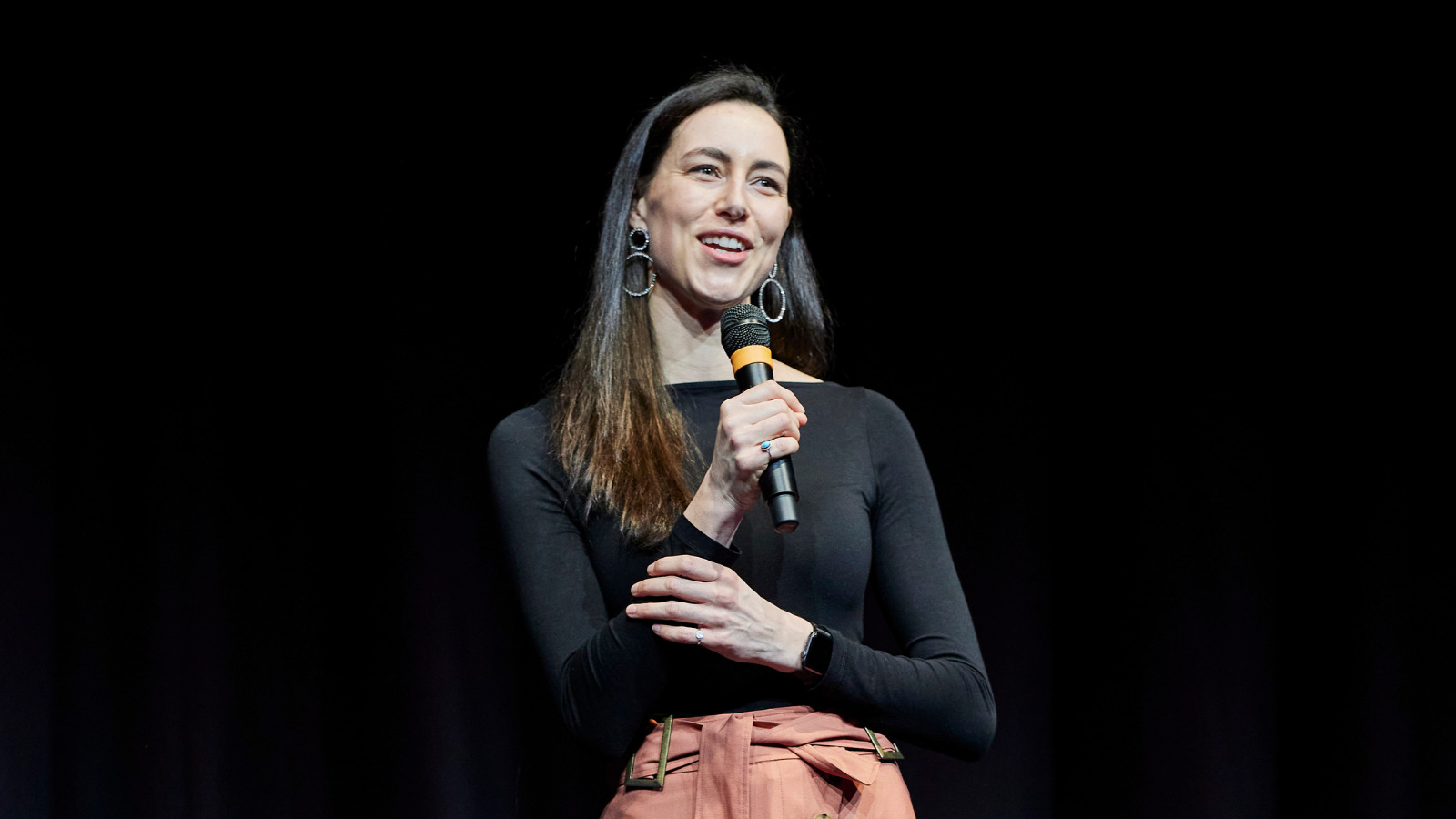 Charlotte Hailstone on stage at Berlinale 2022. Credit: Jan Kraus, @jan_foto_kraus
What is the key message you hope viewers will take from watching Born in Damascus?
Laura and I both hope that people will appreciate what has been lost in Syria. Her archive and memories are of a beautiful, vibrant city, and holidays with family. Audiences may not have seen Syria this way. Her personal perspective allows people to think about the lasting impacts of war, when you are separated, sometimes permanently, for your family, friends and culture. Beyond the shock of warfare and flight, this trauma can be long-lasting.
How does it feel to have your short film recognised at Berlin Film Festival?
Laura and I were so thrilled to be invited to Berlinale. To then go on and win the Crystal Bear was something we didn't expect. The Youth Jury were so kind about the film, and it was rewarding to hear how they were moved, and continued thinking about the film after watching. That's all you can hope for with a film. Unfortunately, Laura wasn't able to come to Berlin, but we have been able to celebrate together back home, and she is looking forward to the Glasgow Short Film Festival. Our win in Berlin makes us all the more excited to be diving into the feature development, and we hope to bring something as thought provoking to audiences in the near future.
---
Header image credit: Max Kullmann @happypeoplephotography @stille_als_luxus