Year: 2021
Director: Anthony Baxter
Producer: Richard Phinney
Executive Producers: Mark Thomas, David Harron, Beatrix Wood
---
Synopsis
Struggling with the loss of his sight, renowned landscape painter James Morrison attempts one last painting.
This documentary follows him as he picks up the brushes again at the age of 85, after being sidelined by a series of operations, and explores what it means to be a landscape painter. It is also the poignant and universal story of a creative mind dealing with his own mortality, and the physical frailties that catch up with all of us. Eye of the Storm intertwines Morrison's struggle with old age, with his lively views as a much younger painter, captured in remarkable archive filmed more than 50 years ago. Pivotal moments in Morrison's career are also brought vividly to life by Scottish animator Catriona Black.
As Morrison begins painting again, he is particularly troubled by the fact that, on doctor's orders, he can't paint outside. His lifelong compulsion to paint what he sees has taken him around the world, from Africa to Paris to Greenland.
The son of a shipyard pipefitter, Morrison entered the famous Glasgow School of Art in 1950. While other students embraced the overtly political and abstract art fashionable at the time, he was attracted to the landscape painters of a different era, such as Claude Lorrain, Jean-François Millet and Scotland's own Horatio McCulloch.
Morrison's first major subjects were the crumbling Glasgow tenements, home to thousands of working-class families soon to be relocated to the outskirts of the city. Though painted without people, Morrison's haunting paintings are memorials to a lost way of life, and would find their place in major museums. His concern with documenting fleeting, disappearing worlds, would become a recurring feature of his work.
His work then underwent a dramatic shift when he moved to the tiny fishing village of Catterline in north east Scotland in 1959. Here, Morrison effectively established what would become a famed artists' colony, along with painter Joan Eardley. As he views archive from the time, unseen in half a century, Morrison relives his artistic and personal friendship with the woman who some consider the greatest Scottish artist of the 20th century. While Eardley became beloved for her portraits of children, Morrison never painted the human figure. Instead, he focused on the skies and landscape of Angus and the Mearns that would become a distinctive feature of his painting.
A new solo exhibition of his work is soon to be mounted at The Scottish Gallery, and despite his worsening sight, Morrison has promised the organisers one last piece.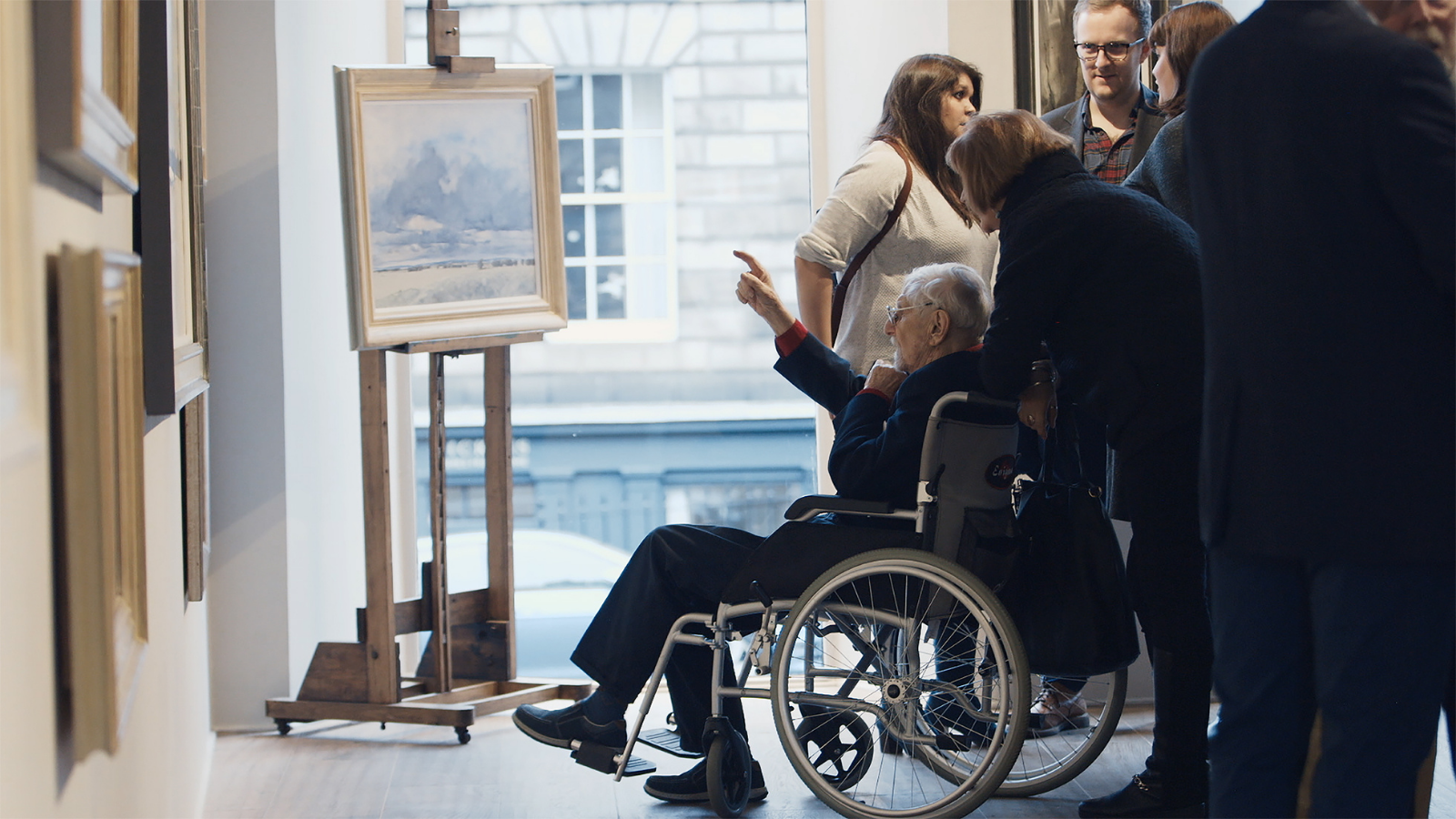 James Morrison attending his last exhibition with daughter Morrison Judith. Courtesy of Montrose Pictures
More information
Eye of the Storm screened on BBC Scotland on 30 March 2021. The film is now available on DVD and Download: https://vivaverve.com/film/eye-of-the-storm/
Header image: Approaching Storm by James Morrison