Sky has announced that it has commissioned a second series of the hugely popular kids show The Brilliant World of Tom Gates (20 x 11') from TG Entertainment Limited. The series is currently in production and will be available on Sky's on-demand service Sky Kids and streaming service NOW in the UK & ROI in early 2022. In response to the popularity of the music segments in the first series, Sky has also commissioned additional songs from the original Tom Gates songwriting team of Mark Flannery, Martin Cooper and Liz Pichon to create a new short-form music series as stand-alone programming which will run later this year. A 22' seasonal special is also in production.
In addition to the commission, global children's media and distribution company WildBrain has secured a number of international sales for the first series, which will see Tom's entertaining exploits airing this summer and autumn on ABC (Australia), Knowledge Network and TVOKids (Canada), JUJKO and Tuki Channel (Slovakia), E-Vision and ejunior (MENA and Pakistan), MBC Group's streaming platform Shahid (MENA), and PCCW – Now TV (Hong Kong).
A Sky Original kids series featuring a modular mixed-media magazine format, The Brilliant World of Tom Gates is based on the award-winning, multi-million-copy-bestselling Tom Gates books written and illustrated by Liz Pichon and published by Scholastic. Liz is also co-writer and presents the Draw It sections of the series.
A combination of 2D and stop-motion animation with live action, the series blends Tom's humour and school life with crafting ideas and makes which kids love to recreate, along with interactive games, gags and catchy songs. Tom and his friends pop up and interact throughout each episode, while Liz Pichon shares her own special advice on how to draw the characters and provides a wealth of other tips!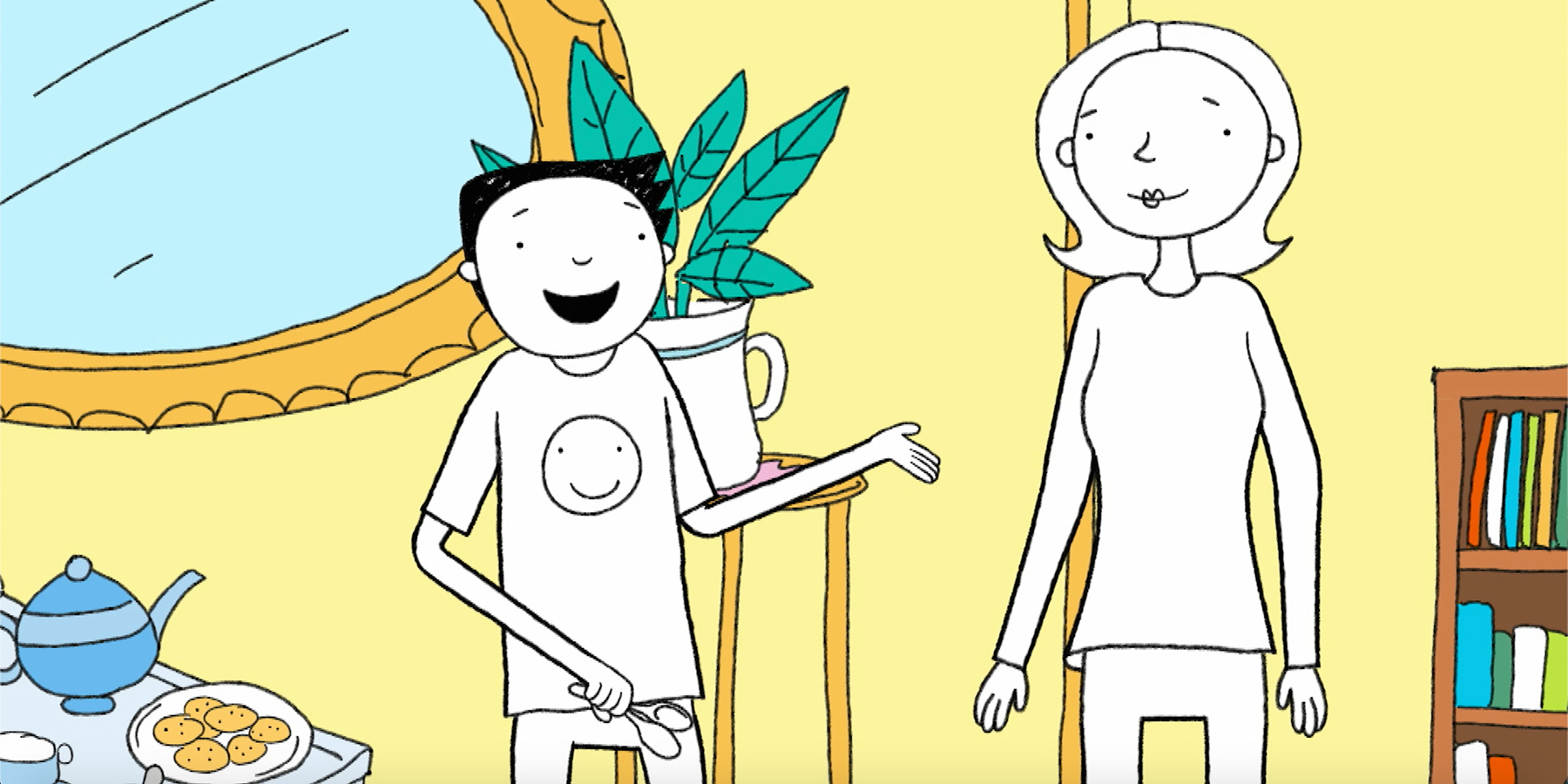 Image of Tom Gates and his mum Rita Gates voiced by Catherine Tate. courtesy of TG Entertainment.
Series 2 will see Tom embark on more hilarious adventures at home and at school, with his friends and family. Favourite characters such as best friend Derek with his dog Rooster and Tom's grumpy sister Delia, the 'fossils' (aka Tom's grandparents) and school mate Marcus Meldrew reappear in new and original stories, making this series an even more compelling proposition for fans. Tom's doodling gets him into tricky situations with headteacher Mr Keen and beady-eyed Mr Fullerman. Mum's cinema RULES prove a challenge for Tom and Leroy when it comes to not eating snacks loudly. And what could possibly go wrong for Tom while looking after Mark Clump's hamster, Marble? (Spoiler alert - everything.) We also meet some new characters including Mrs Nap, the fabulously eccentric music teacher; Linda the singing Llama from FarmerLlama Land; and even The Wrinklies, Tom's Mum's parents, make a special Christmas appearance.
2021 is the 10th anniversary of Tom Gates, Liz Pichon's award-winning book series that has sold more than 11 million copies worldwide and has been translated into 45 languages. The heavily illustrated novels, in handwritten font with Tom's doodles and pictures embellishing the text, document in hilarious detail his everyday trials and tribulations at home and school which all kids can relate to. The new book, Tom Gates: Random Acts of Fun is out in October 2021.
Lucy Murphy, Director of Kids Content at Sky UK & Ireland, said: "Tom Gates has been a real crowd-pleaser and has proven appeal to a broad age group of our viewers. We're really pleased to be teaming up again with Liz Pichon and TG Entertainment to bring more of Tom's adventures to life and inspire our young audiences to get creative."
Screen Scotland's Jennifer Armitage said: "This is fantastic news for Scotland-based production company TG Entertainment and this recommission will support further significant growth opportunities for Scotland's animation sector. The Brilliant World of Tom Gates has brought to life on screen a widely beloved character in Tom Gates and inspired children through art and craft projects from creator Liz Pichon, which has proven vital over the last year. It is exciting to see that the first series will also be reaching international audiences too through this new deal."
The Brilliant World of Tom Gates is produced by TG Entertainment Ltd – a company jointly owned by Black Camel Pictures and Wild Child Animation – with additional investment from The National Lottery and Scottish Government through Screen Scotland, and WildBrain. The Executive Producers are Ken Anderson from Wild Child Animation, Arabella Page Croft from Black Camel, author illustrator Liz Pichon, and Ian France, Commissioning Editor at Sky. Series Director is George Sawyer, Series Producer is Sueann Rochester and Head Writer on the show is Ben Ward and animation production services are provided by Wild Child Animation.
For further information contact:
Valerie Taylor
Publicity Consultant
Mob: 07889 666594
[email protected]
---
About TG Entertainment Limited
TG Entertainment Ltd was set up to produce and manage the audio-visual rights, licensing and merchandising rights based on the best-selling book series The Brilliant World of Tom Gates by Liz Pichon. The company possesses a wealth of knowledge, talent and experience in kids and family entertainment across: TV, film and animation from its award-winning founders and owners, Arabella Page Croft from Black Camel Pictures (Sunshine on Leith and Falling For Figaro) and Ken Anderson from Wild Child Animation (64 Zoo Lane and Dennis and Gnasher).
About Sky
With 24 million customers across seven countries, Sky is Europe's leading media and entertainment company and is proud to be part of the Comcast group. Our 32,000 employees help connect our customers to the very best entertainment, sports, news, arts and to our own local, original content.
Following the success of Sky originals like Chernobyl, we plan to double our investment in original content by 2024. We're also developing a new TV and movie studio, Sky Studios Elstree, which is expected to lead to the creation of over 2,000 new jobs and generate an additional £3 billion of production investment in UK creative sector in the first five years alone.
Our technology allows customers to watch what they want, when they want, how they want, and as we connect millions of families to content they love, we believe it is our responsibility to do it safely. That's why we offer services like Sky Broadband Buddy and the Sky Kids app. And our online streaming service, NOW TV, brings viewers all the enjoyment of Sky with the flexibility of a contract-free service.
We also believe that a company of our scale has a responsibility that goes beyond our business, and into the community. We're committed to being Europe's first net zero carbon entertainment company by 2030 – two decades before we have to – and we're an inclusive employer recognised by The Times and Stonewall for our commitment to diversity. We're a proud employer – recognised by The Times and Stonewall for our approach to inclusivity.

About Screen Scotland
Screen Scotland is the dedicated partnership for screen in Scotland. Sitting within Creative Scotland, it is a partnership with Scottish Enterprise, Highlands and Islands Enterprise, Skills Development Scotland, Scottish Funding Council, working in close collaboration with the sector to ensure its success. With funding from Scottish Government and The National Lottery, Screen Scotland is driving the cultural, social and economic development of all aspects of the sector in Scotland, through enhanced funding, services and support. For further information please visit: screen.scot, and follow @screenscots
About WildBrain
At WildBrain we inspire imaginations to run wild, engaging kids and families everywhere with great content across all media. With approximately 13,000 half-hours of filmed entertainment in our library – one of the world's most extensive – we are home to such brands as Peanuts, Teletubbies, Strawberry Shortcake, Caillou, Inspector Gadget, Johnny Test and Degrassi. At our 75,000-square-foot state-of-the-art animation studio in Vancouver, BC, we produce such fan-favourite series as The Snoopy Show, Snoopy in Space, Chip & Potato, Carmen Sandiego, Go, Dog. Go! and more. Our shows are enjoyed worldwide in more than 150 countries on over 500 streaming platforms and telecasters, and our AVOD business – WildBrain Spark – offers one of the largest networks of kids' channels on YouTube, garnering billions of views per month from over 150 million subscribers. We also license consumer products and location-based entertainment in every major territory for our own properties as well as for our clients and content partners. Our television group owns and operates four family entertainment channels that are among the most viewed in Canada. WildBrain is headquartered in Canada with offices worldwide and trades on the Toronto Stock Exchange (TSX: WILD).
About Scholastic
For 100 years, Scholastic Corporation (NASDAQ: SCHL) has been encouraging the personal and intellectual growth of all children, beginning with literacy. Having earned a reputation as a trusted partner to educators and families, Scholastic is the world's largest publisher and distributor of children's books, a leading provider of literacy curriculum, professional services, and classroom magazines, and a producer of educational and entertaining children's media. The Company creates and distributes bestselling books and e-books, print and technology-based learning programs for pre-K to grade 12, and other products and services that support children's learning and literacy, both in school and at home. With 15 international operations and exports to 165 countries, Scholastic makes quality, affordable books available to all children around the world through school-based book clubs and book fairs, classroom libraries, school and public libraries, retail, and online. Learn more at www.scholastic.com.