Genre: Feature Documentary
Year: 2017
Director: Finlay Pretsell
Producer: Sonja Henrici
Exec Producers: Ian Davies, Iain Smith
Editors: Kieran Gosney and Dino Jonsäter
Composer: Dan Deacon
Director of Photography: Martin Radich
Sound Design: CJ Mirra
Screen Scotland funding: TIME TRIAL accessed £150,000 through Screen Scotland's Film Development and Production Fund to launch the debut feature film from Scottish director Finlay Pretsell and support a strong Scottish team of creatives bring together a high quality film with international appeal.
---
Synopsis
The end of an athlete's career is a race against time and a fight against an inevitabledemise. The addictive need to participate defies logic and creates a mesmerising and painfulspectacle. TIME TRIAL takes us into the final races of cyclist David Millar's career, leading upto his last encounter with the Tour de France. A sensory ride through the thrill and hardship ofprofessional cycling. We are hurtled off a hillside, details blurring like watercolours. The euphoriaand the fatigue, the highs and the lows. It's as if it were ourselves struggling through the bumpyroads of France. David bluntly and fearlessly narrates his last season in the saddle, intimateand immediate, along with the intricate relationships of cyclist, road crew, fellow competitors,manic fans, and the media circus surrounding it all.
We go inside the peloton, we're pushed up impossible climbs and forced down rapid descents,we lie alongside him in his hotel room in post-race agony. We ride in the support car, the sourceof comfort, supplies and fleeting relief from the cold. And we know that every mile traveled is amile closer to the end. TIME TRIAL gets us close to David Millar, revealing how the human spirit isdriven by a force deeper than success and glory. Filmed using pioneering techniques, bespokevehicles and on-bike cameras, and with a new score by US composer Dan Deacon.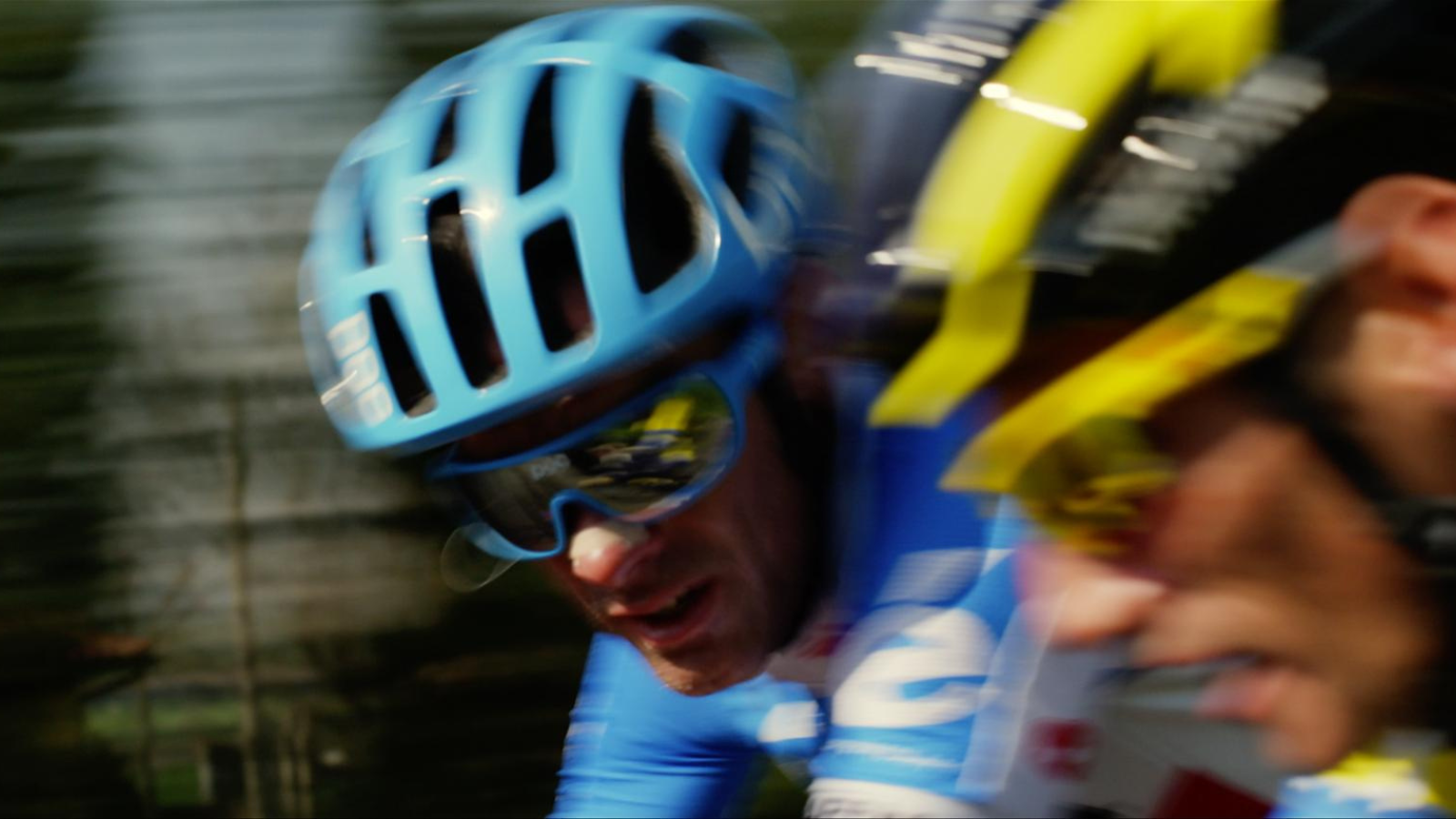 Still from TIME TRIAL, courtesy of Cycling Films
Reviews
"a rage against the fading light... a compelling study of the waning of an elite sportsman'spowers" Richard Williams / The Guardian
"Remarkable... gets as close to the race as any non-competitor can" Geoffrey McNan
"Immersive and surprisingly intimate" Damon Wise / Variety
More information
World Premiere: IDFA (Sunday 19 November 2017)
Nordic Premiere: Göteborg Int'l Film Festival (January 2018)
North American Premiere: SXSW (March 2018)
Select Film Festivals: Tempo Doc Fest (March 2018), Sofia Int'l Film Festival (March 2018), CPH:DOX (March2018), Cleveland Int'l Film Festival (April 2018), Full Frame (April 2018), IFF Panama (April2018), Visions du Reel (April 2018), Riverrun (April 2018), Dokfest München Nominated forthe Arri Amira Award (May 2018), DocEdge NZ (May/June 2018)
Find out more on the official TIME TRIAL website.