It has been revealed that Charlotte Wells' critically acclaimed debut feature film Aftersun will open the 75th edition of Edinburgh International Film Festival on Friday 12th August.
The Opening Night Gala screening, sponsored by The Scotsman, is expected to have the Edinburgh-born Director Charlotte Wells and actors Paul Mescal and Frankie Corio in attendance to present the film which will take place at the Vue Edinburgh Omni on Leith Street.
Aftersun tells the story of Sophie (played as an adult by Celia Rowlson-Hall and a young girl by Frankie Corio) who reflects on the shared joy and private melancholy of a holiday she took with her father (Paul Mescal) twenty years earlier. Memories real and imagined fill the gaps between miniDV footage as she tries to reconcile the father she knew with the man she didn't.
Aftersun won a Critics' Week Award during this year's Cannes Film Festival. The film is directed and written by Charlotte Wells. Produced by Adele Romanski, Amy Jackson, Barry Jenkins and Mark Ceryak.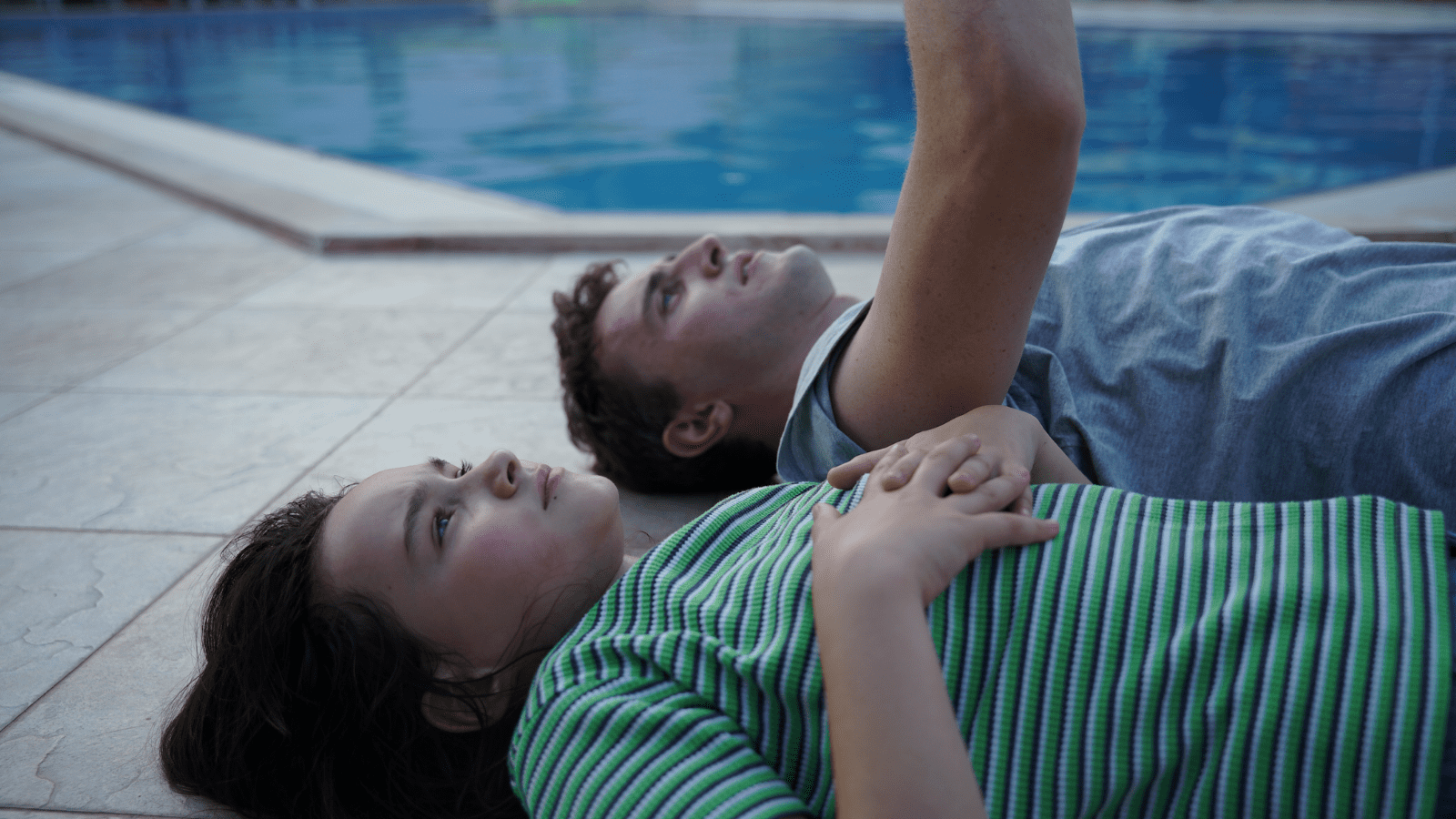 Still from Aftersun, courtesy of EIFF
Filmmaker Charlotte Wells has said "As a teenager, I spent just about all the money I had saved each summer on tickets to EIFF, sitting on the floor at Fountainbridge in hour long queues for box office opening, leafing through the weighty program which offered my first exposure to independent and international cinema. In 2006, I bought tickets to the Duplass brothers' The Puffy Chair based on its inch-square picture and synopsis. The Q&A that followed made clear how explicit the connection between filmmakers and their work could be; what personal filmmaking could be. In 2006, I attended the opening night film: The Flying Scotsman. In 2022, I'll attend again. Edinburgh is home and so is the EIFF. I can't wait."
Kristy Matheson, Creative Director for EIFF added "It means so much to have Aftersun open our festival and celebrate a homegrown talent whose artistry is entirely international in its scope and appreciation. My heartfelt thanks to Charlotte and the whole Aftersun team for sharing their film with us. After wowing Cannes Film Festival audiences and critics alike, I can't wait for EIFF audiences to experience the journey that Charlotte and her incredible cast take us on together."
This year the EIFF celebrates its 75th anniversary, with a host of soon to be announced films, events and programmes that feed into the film festival's history of supporting new film talent by connecting audiences with innovative and essential storytellers.
More information
Aftersun will be released theatrically in the UK and Ireland by MUBI.
Edinburgh International Film Festival 2022 programme launches on 20th July 2022
Edinburgh International Film Festival runs from 12th to 20th August 2022.
EIFF 2022 Festival Theme: In 1972, the Edinburgh International Film Festival presented the first global film event entirely dedicated to the cinematic achievements of female directors, curated by Claire Johnston, Lynda Myles, and Laura Mulvey.  Honouring the spirit of this original programme provocation, EIFF's 2022 Theme will acknowledge the multiplicity and variety of feminisms in contemporary society across our entire programme with a focus on: contemporary directorial works, two large-scale retrospectives, training, and targeted professional programmes.
Tickets for the Opening Night Gala of Aftersun are on sale now at www.edfilmfest.org.uk
---
About Edinburgh International Film Festival
Inspired by the unique identity of Edinburgh and our love of film, EIFF connects audiences with essential storytellers. Intimate in scale, ambitious in artistic scope, EIFF is your annual celebration of screen, at the heart of a global cultural gathering. On our 75th anniversary, EIFF returns to the Scottish capital's summer festival season, to centre film as a major art form within this vibrant, cultural conversation and invite audiences, artists, and innovators to imagine new worlds with us.
EIFF is supported by Screen Scotland, the PLACE Programme (a partnership between the Scottish Government, City of Edinburgh Council and the Edinburgh Festivals), the Scottish Government through the Festivals Expo Fund, the City of Edinburgh Council, EventScotland and the British Film Institute.
The Edinburgh International Film Festival Limited is a company registered in Scotland No: SC132453. It is a subsidiary of the Centre for the Moving Image (CMI) which is a company limited by guarantee with charitable status with Scottish Charity No. SC006793. The Centre for the Moving Image (CMI) currently comprises EIFF, Filmhouse in Edinburgh and the Belmont Filmhouse in Aberdeen.