Maryam Hamidi is a writer and actor born in Iran, raised in England and based in Scotland since she was 18. Living in Glasgow with her partner, 2 children and a dog, she's currently writing for high end TV drama as well as developing her own projects.
Her first steps into the world of Screen were training as an actor at Queen Margaret University College and working on her career for ten years, including stints on the stage, but it was her time on River City that allowed her to build a strong TV network.
"I'd always had a passion for film and TV." Maryam said. "I knew I wanted to reach broader and more diverse audiences than theatre can give access to".
Maryam's first break into writing came when she was selected for the inaugural Scottish Writer's Development Programme funded through Screen Scotland and BBC with screenwriting jobs on CBeebies' Molly & Mack and Lime's Hollyoaks. She's also written and directed short films Bahar through Short Circuit and Bloody Love through Scottish Film Talent Network for women filmmakers. Her proudest achievement is making this leap into writing and filmmaking whilst having young children.
"Juggling the early stages of torrential rejection, self-doubt and the precarity of the industry alongside parenting on a low income was a huge challenge".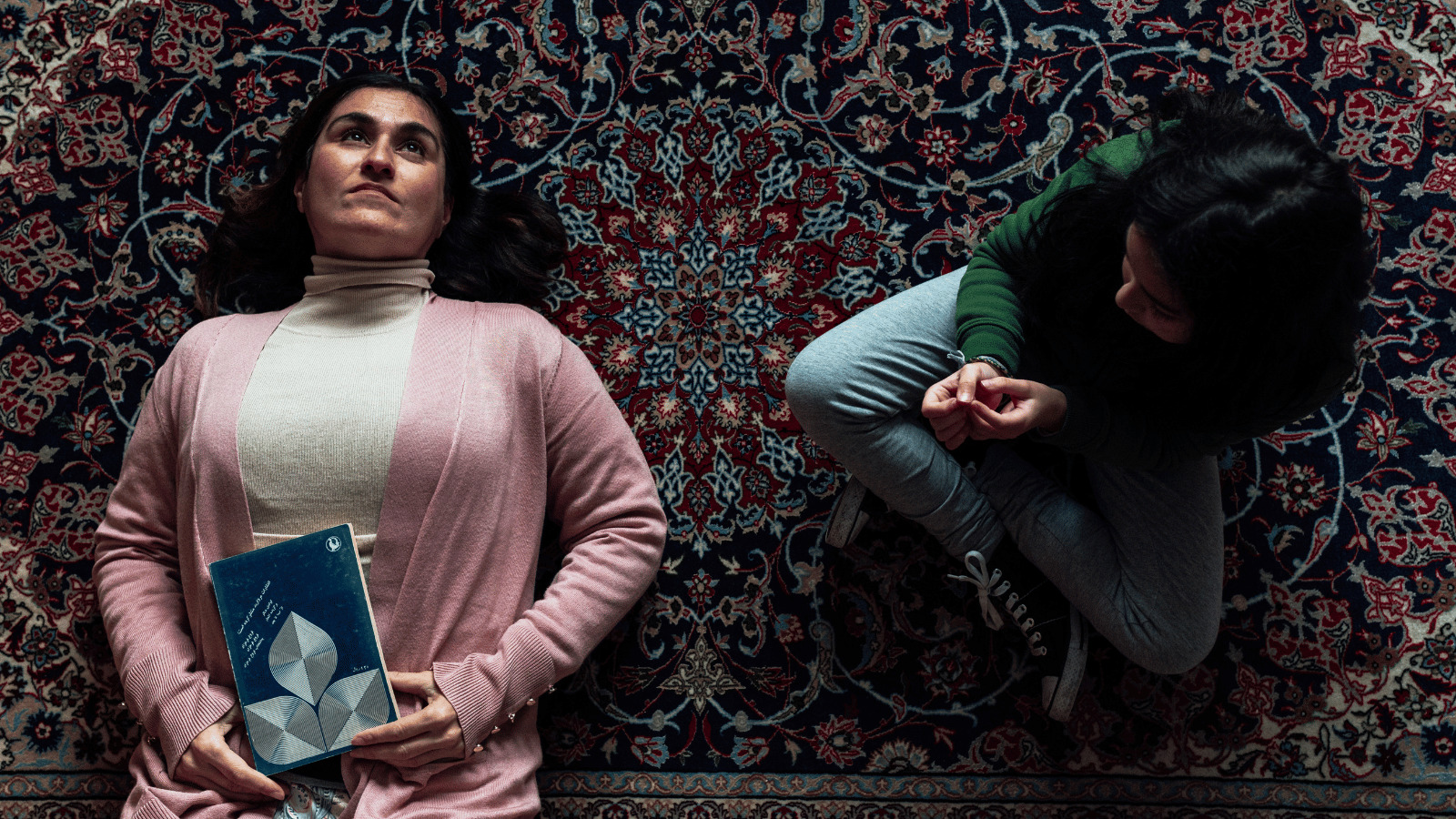 Still from Bahar, courtesy of Maryam Hamidi
Maryam credits being surrounded by a community of writers for her ability to grow and thrive in recent years. "I have a circle of professional playwright and screenwriter pals who I have built friendships with through various development programmes. I met Raisah Ahmed when we were both coaching on GMAC summer schools and she was a huge inspiration to me in finding my voice in this industry and continues to be a massive support whilst she's also navigating her own exciting career".
These connections of writer's rooms replicate the collaborative experience of working in theatre and remedies what can often be a lonely journey, according to Maryam. "You will always, always learn more from working amongst others than working alone".
As well as the benefits of hybrid working, Maryam points to a growing appetite for more Scotland-based writing talent and productions, as an advantage to basing herself here, alongside more investment from UK-wide broadcasters in Scotland.
"The wealth and diversity of talent here is pretty awesome and whilst I do think there is a lag here in terms of under-represented talent finding a sustainable path - it feels like we're perhaps moving beyond tokenised representation into truly trusting diverse talent".
This doesn't come without its challenges though as Maryam cites shifts in audience expectations for stories, AI, broadcaster budgets and streaming as hurdles for writers and how they're valued, saying "now is the time to have those up-front conversations about our value and the unmatchable nuance and rigour of our work as writers".
Her solution lies in the home-grown talent of Scotland, telling authentic and original stories. "We need bolder productions that say something new to Scottish and global audiences".
Leading by example, Maryam is developing some interesting genre-bent TV dramas with Scottish based indies that bring together elements of horror, supernaturalism and folklore, as well as working with Sky and Carnival on another project and has written one episode of World Production & BBC Scotland's VIGIL series 2.
Maryam's lasting message is that the way is often winding and to trust in your ambition. Mentorship, bursary support and structured programme opportunities are integral to tackle the very real financial and social barriers. When in doubt, reach out to relevant organisations for advice and access requirements.
"...this industry is filled with people who are playful, open and empathetic".
---
Header image: Photography by Kevin J Thomson